NEWS RELEASE JULY 2014
Granular Media Filters Will Account For 26 Percent of the $6.6 Billion Liquid Filtration Market In 2015
Sales of macrofiltration equipment and consumables will reach nearly $6.6 billion in 2015. The granular media segment will generate revenues of $1.7 billion or 26 percent of the total, this is the conclusion reached by the McIlvaine Company in Liquid Filtration and Media World Markets.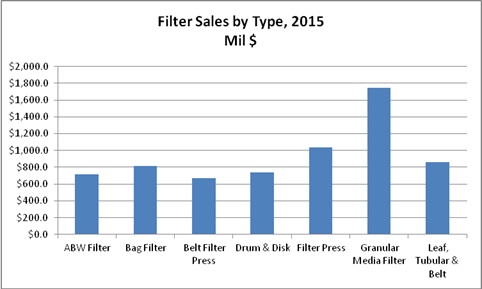 The largest use of granular media filters is in drinking water plants. However, they are used for pre-filtration of intake water at many industrial plants. They are also used to purify wastewater. The second most popular filter type will be filter presses. This design is used to dewater products and waste. Filter presses are capable of converting 5 percent slurry to moisture levels below 10 percent. The presses are widely used in the chemical industry where the substance dewatered is the chemical product.
Automatic backwash filters represent the category with the largest growth over the last twenty years. These units are capable of removing particles as small as 25 microns in diameter. Amiad and Eaton are leading suppliers of this filter type.
Belt filter presses are primarily used to dewater municipal sludge. Small numbers are also used in coal mining. The food industry also uses these presses to dewater wastes. Bag filters are used where small particles must be removed from liquids which contain relatively small quantities of solids. Unlike the other filter types, the bags are not cleanable.
For more information on Liquid Filtration and Media World Markets, click on: http://home.mcilvainecompany.com/index.php/markets/2-uncategorised/118-n006
NEWS RELEASE JULY 2014
Asia Will Account For 43 Percent of the Air and Water Monitoring Market Next Year
Sales of instrumentation and controls to monitor air and water will exceed $23 billion in 2015. Asia will account for 43 percent of the total. This is the conclusion reached in Air and Water Monitoring: World Market published by the McIlvaine Company.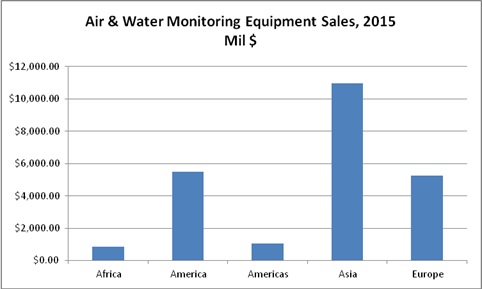 China will account for 25 percent of the total expenditures. This may be one reason that the world air pollution control research center for Thermo Fisher is located in this country. The biggest growth segment within the Chinese market is associated with coal. The amount of air and water monitoring equipment purchased in association with coal-to-chemicals and coal-to-syngas plants in China will exceed the total monitoring expenditures for conventional petrochemical plants in any other country of the world.
The projects converting coal-to-syngas will consume large quantities of water. This requires intake and process monitoring. Monitoring of wastewater quality, pH and other parameters are also necessary. These projects generate pollutants which must be monitored. They also require sophisticated process controls in the gas stream.
In the large coal-to-chemicals program, both air and water monitors are required. China is also the largest producer of cement where both air pollution and gas process controls are needed. As a leading semiconductor producer, China buys expensive monitors to precisely measure minute quantities of contaminants in the ultrapure water needed to wash the chips.
The Chinese government is increasing its enforcement activities and requiring more extensive use of continuous monitors both for air and water. The highly polluted air and water throughout the country will continue to be a big driver of the market.
For more information on Air and Water Monitoring: World Market, click on: http://home.mcilvainecompany.com/index.php/markets/2-uncategorised/106-n031
NEWS RELEASE JULY 2014
Coal-fired Power Generators to Spend $400 Billion On New Plants and Upgrades Next Year
Hundreds of new units and thousands of upgrades to coal-fired boilers in 2015 will generate a market of over $400 billion. This is the conclusion reached by the McIlvaine Company by aggregating the projects in the Utility Upgrade Tracking System and World Power Generation Projects.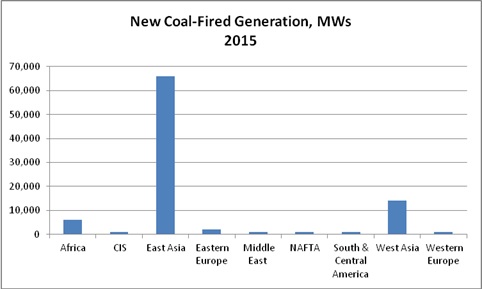 East Asia will be the biggest investor in new coal-fired power plants. There are nearly 160 boilers averaging 600 MW which will be scheduled to start operation 2015.
The new boiler additions in China are going to be fewer over the next five years than were reached at the peak, but will average 19,000 MW/yr.
China Power Generation Forecasts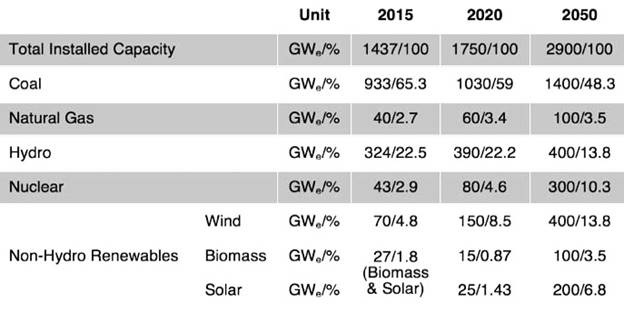 There are hundreds of upgrade projects in the U.S. Most are to meet more stringent environmental rules. The European Union is undertaking a significant number of upgrade projects as well. Even though the average Chinese coal-fired boiler is much newer than those in the U.S., there are a surprisingly large number of upgrades in progress. The retrofitting of 400,000 MW with SCR is such a large expenditure that it exceeds the entire U.S. upgrade program.
For more information on the tracking of individual projects, click on:
40A World Power Generation Projects
For projections of new capacity, click, on N043 Fossil and Nuclear Power Generation: World Analysis and Forecast
NEWS RELEASE JULY 2014
Precipitator Market to Level Off in 2015
Electrostatic precipitator owners will spend $15 billion on new systems and repairs of existing systems in 2015. This will represent no increase over 2014. This is the latest prediction in the McIlvaine publication, Electrostatic Precipitator World Market.
Despite the very sizable $5 billion expenditure for new systems in East Asia, it is this sector which will be smaller than 2014.
Bottom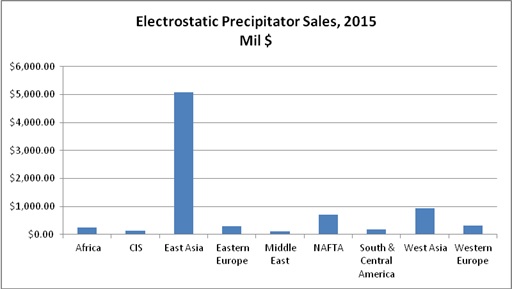 China utilizes electrostatic precipitators on most new coal-fired power plants. In the past, there have been years when China constructed electrostatic precipitators to handle 70,000 MW of generation capacity. In 2015, the total will be only 55,000 MW and will fall to 20,000 MW/yr over the next few years.
This is assuming the Chinese do not switch to fabric filters for particulate control. New particulate regulations will make it difficult to meet the limits with precipitators. Major forecast changes will be necessary if any massive switch is undertaken.
There is a $7 billion market for repairs and service which is going to increase at 5 percent per year over the short term. In addition to standard repairs, there are significant upgrade expenditures to meet tighter emission limits. In the U.S., there are installations of dry sorbent injection (DSI) where the SO2 reacts with lime or sodium compounds in the ductwork. The resulting sulfates are captured in the precipitator. The sodium tends to lower resistivity and, therefore, to increase precipitator efficiency. The lime injection can increase resistivity and lower precipitator efficiency. With high SO2 levels, the quantity of sulfate equals that of the flyash. So, even if precipitator efficiency remains constant, the total particulate will double. Precipitators are being upgraded to prevent an increase in emissions.
For more information on Electrostatic Precipitator World Market, click on:http://home.mcilvainecompany.com/index.php/markets/2-uncategorised/111-n018
NEWS RELEASE JULY 2014
Droughts and Water Shortage Is a Large Opportunity for Treatment and Flow Providers
Many countries are facing major economic and political problems due to water shortages. However, a combination of new technologies and more intelligent water use can virtually eliminate the problem while boosting the economy. This is the conclusion reached by the McIlvaine Company in Air/Gas/Water/Fluid Treatment and Control: World Market. (www.mcilvainecompany.com)
Israel is the shining example of what can be done. Not only was water in short supply a decade ago, but the available supply has shrunk further due to droughts. However, Israel now has a water surplus and a booming economy. The reason is it has embraced the latest desalination technologies and has adopted a policy of water reuse. Eighty percent of the water now used in Israeli cities is desalinated seawater. All municipal wastewater is reused. Furthermore, Israel has led the world in drip irrigation.
The Amiad, Arkal and other filter technologies developed in Israel were originally to filter water which has to move through tiny drip tubes and must be free of contamination. So Israel is now the headquarters for a number of international filtration companies. Amiad has developed into a $100 million corporation.
Desalination is decreasing in cost while the true cost of water from fresh sources continues to rise. San Diego is installing a large desalination system rather than rely on imported water. Water shortages in the Southwest U.S. are causing municipalities to rethink pricing of water. In fact, in some of the hardest hit communities, water prices are actually lower than in some Eastern cities where water is plentiful. If cities reset prices to levels based on demand, the cost of desalination will be comparatively attractive in many areas of the U.S.
Treated municipal wastewater should replace fresh water at power plants. Studies show that there are power plants in the proximity of nearly all large municipal wastewater treatment plants. There are chemical and physical treatment methods to make treated wastewater acceptable for all power plant requirements.
There are many technology advances which make desalination more cost effective. Larger membrane modules with lower pressure drop are now available. The recovery of reverse osmosis pump energy is another. Pre filters caused problems at Tampa Bay. However, there are reliable inexpensive pre filters which are available. Improvements in treatment chemicals keep the membrane surfaces clean. Improved pumps and valves reduce maintenance expense. Cost effective corrosion resistant materials are also now available.
For more information on Air/Gas/Water/Fluid Treatment and Control: World Market, click on: http://home.mcilvainecompany.com/index.php/markets/27-water/445-n064-air-gas-water-fluid-treatment