NEWS RELEASE NOVEMBER 2014
Huge Air Pollution Market Shift Away From OECD
Established OECD air pollution companies face a monumental challenge as the market shifts to other regions. This is the conclusion of the McIlvaine Company in Air Pollution Management. (www.mcilvainecompany.com)
The shift away from OECD is demonstrated by viewing the market in percentage terms. The world market in 2000 is 100 percent. All other years are shown as a percentage of 2000 and normalized to 2000 dollars. There has been a huge growth from just 8 percent of the 2000 market in the 1960s to a projected 230 percent in 2030.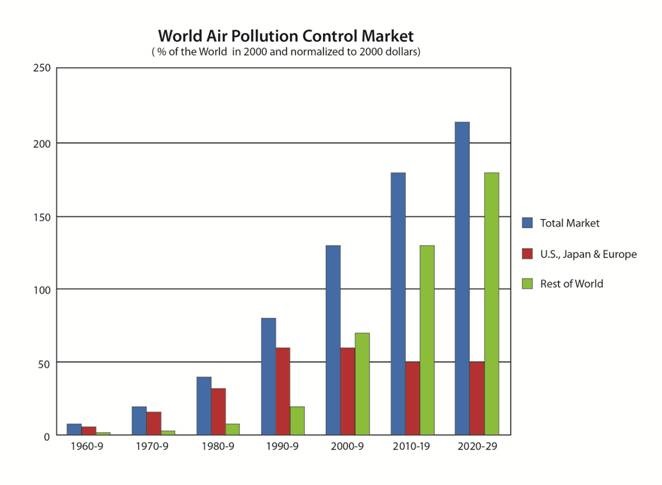 The OECD countries including the U.S., Japan and Europe enjoyed most of the air pollution market prior to 2000. The market share went from 75 percent in the 1990s to just 46 percent a decade later. In the present decade, the market share will drop to 28 percent. In the 2020-29 period, the market share will shrink to just 22 percent.
The major markets of the future are in Asia. Coal combustion will remain the largest single application for air pollution control. China already combusts 33 percent of the 9 billion tons of coal burned worldwide each year. The country plans to convert another 1.5 billion tons to synfuels and chemicals. This conversion initiative alone is equal to 20 percent of the entire world air pollution control 2000 market. If it takes place over five years, it will increase the world market by 4 percent each year.
The market in the 1960s was primarily particulate control for power plants, foundries, steel mills and heavy industry. Starting in the 1970s, removal of acid gases such as SO2 and HCl greatly expanded the market. In the 1980s, NOx control became a big market. Today mercury and air toxic reduction is the area of greatest expansion.
The market growth in ROW is a combination of industrial expansion and regulation of emissions. In China, the emission limits are similar to those in OECD. Some other Asian nations are behind China but moving forward with programs.
Some of the traditional OECD air pollution equipment companies have disappeared through mergers or even bankruptcy. Others have prospered by expanding their international scope. Because of the size of the Chinese market, it will be difficult for any international supplier to succeed without some activity there. One route has been cross licenses. MET licenses wet SO2 scrubbers in China and is the licensee for a Chinese dry scrubber technology. Increasingly, Chinese companies will join the ranks of international suppliers and pursue the OECD markets.
For more information on Air Pollution Management, click on: http://home.mcilvainecompany.com/index.php/markets/2-uncategorised/100-5ab
NEWS RELEASE NOVEMBER 2014
Water, Wastewater Treatment Chemicals Companies Are Re-Positioning To Take Advantage of a Changing Market
As the $26 billion water and wastewater treatment chemicals market shifts to Asia, international companies are re-positioning to maintain share and offset some of the advantages created for local Asian companies. These developments are reported in McIlvaine Water and Wastewater Treatment Chemicals: World Market.
The 2015 revenues will increase to $26.4 billion of which more than 50 percent will be generated in Asia.
Wastewater and Water Treatment Revenues ($ Millions)
| | |
| --- | --- |
| Continent | 2015 |
| Total | 26,471 |
| Africa | 989 |
| America | 7,140 |
| Asia | 12,299 |
| Europe | 6,043 |
Globalization of the industry includes expansion by Japanese companies into the international market. Kurita Water Industries has purchased APW, the water treatment business owned by Israel-based manufacturer ICL Israel Chemical Ltd (ICL.TA) for €250 million ($316.94 million),
The transaction, expected to be completed by the end of the year, will help Kurita expand into European markets and also fits with ICL's plan to spin off non-core assets.
Finnish company, Kemira, has opened its biggest water treatment chemicals manufacturing plant at Dormagen (Germany). "Kemira is the market leader in chemical treatment of raw and wastewater in the developed markets. Our Dormagen plant will help us sustain this leadership position in Europe. This plant is also an example of our continuous efforts in improving the resource efficiency of our production plants and operations. It will operate on 100 percent recycled hydrochloric acid, supplied by the TDI-plant of Bayer MaterialScience, from which we manufacture specific water chemicals used successfully in municipal and industrial water treatment applications. This will secure Kemira's long-term, cost-efficient access to this key raw material used in coagulant manufacturing," said Jari Rosendal, President and CEO, Kemira.
The clear benefits that the Dormagen location brings are explained by Frank Wegener, Managing Director of Kemira Germany GmbH, "In addition to well-established site infrastructure, including the high standard of safety and protection due to the plant design and plant fire brigade, Kemira highly values the optimal transport connections and proximity to our markets in the Benelux countries, Germany and parts of France. Chempark Dormagen is very centrally located and offers us all opportunities to carry our product optimally, presently by truck and, looking ahead, also by rail tank cars."
OCI Company Ltd., the world's leading manufacturer of solar-grade polysilicon and other chemical products, has disposed of its wastewater treatment unit as part of an effort to improve its financial standing due to the downturn in the solar business. The environmental chemical 50:50 joint venture OCI-SNF was sold to the French partner SNF at the cost of 95.7 billion won.
Established in 1998 jointly with SNF of France that was a dominant player in the world's flocculant (or polymer coagulant) market, OCI-SNF currently accounts for 60 percent of Korea's market and posted 160.2 billion won in sales revenue on 17.4 billion won operating profit last year.
The U.K.'s leading advanced anaerobic digestion and integrated biogas-to-energy businesses with over 200 installed anaerobic digestion systems, Monsal has particular expertise in optimizing anaerobic digestion assets to create strategic renewable energy centers for the water and waste markets.
Clariant, a company dealing with specialty chemicals, announced that it has closed the sale of its water treatment business in Africa to AECI, domiciled in South Africa. The total value of the divestment amounts to CHF 34 million in cash at closing. The transaction was subject to certain precedent conditions, as well as regulatory approvals.
AECI is an explosive and specialty chemicals group domiciled in South Africa and its businesses are characterized by application know-how and service delivery in many African countries. It already has a footprint in the industrial water and municipal and wastewater markets in South Africa, supplying a total water solution to its customers.
For more information on Water and Wastewater Treatment Chemicals: World Market, click on: http://home.mcilvainecompany.com/index.php/markets/27-water/449-n026-water-and-wastewater-treatment-chemicals
NEWS RELEASE NOVEMBER 2014
Filter Media Sales to Exceed $12 Billion Next Year
Sales of non-woven, woven and membrane filter media will exceed $12 billion in 2015. This is the conclusion reached by the McIlvaine Company by aggregating forecasts in multiple reports.
Filter Media Revenues

Filter Type

2015 Sales ($ Billions)

Air Filtration (air)

2

Fabric Filters (dust )

2

Cartridge Filters (liquid)

2

Cross-flow Membranes

2

Mobile

2

Miscellaneous

2

Total

12
The market can be divided into six $2 billion segments. Air filtration includes residential, commercial and industrial HVAC filters and inlet filters to gas turbines. Fabric filters involves separation of dust from stack gases. It is distinguished from air filtration by the higher dust loads and the inclusion of media cleaning. Cartridge filters are purifying liquids and are distinguished from cross-flow membranes by the fact that they are dead-end. All the liquid flows through the cartridge. Cross-flow membranes reject a portion of the liquid and, thereby, provide a mechanism for keeping the surface clean.
Other applications of filter media have been aggregated to provide $2 billion segments. They include media used in liquid macrofiltration. This media is used in filter presses and bag filters. This segment also includes respirator media.
There are many innovations which are impacting the market potential as well as the competitive dynamics. Nanotechnology is playing a big role and promises to become increasingly important. Membrane developments will contribute to a high growth rate for desalination.
A brief coverage of all these technologies is found in:
N064 Air/Gas/Water/Fluid Treatment and Control: World Market.
Specific forecasts are found in:
N021 World Fabric Filter and Element Market
N022 Air Filtration and Purification World Market
N024 Cartridge Filters: World Market
NEWS RELEASE NOVEMBER 2014
Desalination Will Account For 35 Percent of Membrane Use Next Year
Sales of membrane systems and modules for desalination will account for 35 percent of the $11 billion cross-flow membrane market next year according to the latest updates in the McIlvaine RO, UF, MF World Market. (www.mcilvainecompany.com)
Desalination is becoming more economical as larger modules and more efficient filtration are being implemented.
Ultrafiltration membrane pre-filter systems are now increasingly used in conjunction with the final reverse osmosis (RO) systems. One recent example is an order to BASF subsidiary inge GmbH to supply more than 4000 T-Rack 3.0 series ultrafiltration (UF) modules for a desalination plant in Jamnagar, India. The inge modules will provide 450,000 cubic metres of pretreated water per day to one of India's largest oil refineries.
Research and development continues. Longer term an expensive compound called Graphene could make desalination highly affordable. Graphene behaves strangely around water. Water can pass through it, but almost nothing else can. (Lockheed claims a Graphene filter would reduce energy costs of reverse osmosis desalination by 99 percent).
Water reuse is another factor in the high growth rate of the cross-flow membrane industry. The Middle East now realizes that the 40 percent of treated sewage wastewater that flows into the seas could be economically and efficiently reused.
A very large market is developing due to water requirements for conversion of coal to fuels, chemicals and synthetic natural gas. A huge program in Western and Northern China will convert 15 percent of the world's annual coal production into gasoline, fertilizer, methanol and substitute natural gas. The worldwide environmental concerns about the water implications of this initiative are being met by a plan to maximize water reuse.
Korea and other Asian countries are closely watching the Chinese program. Ukraine is moving forward with two large plants to counter the threats of reduced gas suppliers from Russia.
For more information on RO, UF, MF World Market, click on: http://home.mcilvainecompany.com/index.php/markets/2-uncategorised/120-n020
NEWS RELEASE NOVEMBER 2014
Particulate Air Pollution Definitions and Goals Keep Changing
For those tasked with making decisions relative to reducing particulate air pollution there is a special challenge. The definitions and the goals keep changing. All these changes are documented in a number of McIlvaine publications and services.
The confusion starts with the very basic definition of particulate. Small particles penetrate the lungs and are of greater concern than large particles. So a definition based on particle diameter (10 microns or 2.5 microns) is used. However, most particles are not spheres. The actual measurement is based on impaction which is a function of size, weight and shape. Needless to say, there is lots of room for confusion and poor decision making based on the definition variables.
Another problem is based on the distinction between total particulate and condensibles. Compounds, which exit the stack as vapors but condense in the atmosphere, are important contributors to pollution. The original power plant air toxic rules limited the total particulate including condensibles but the final version focused just on the discrete fraction.
Measurement methods are a big variable. Stack cleanliness is measured with High Efficiency Particulate Filters (HEPA). However, cleanrooms use HEPA filters for processes and test their efficiency with particle counters. Ambient air is considered clean from a weight perspective, but could contain hundreds of thousands of small particles in every cubic foot.
EPA determined that almost no mercury was discharged as particulate from power plant stacks. So its regulations require only the measurement of gaseous mercury. Unfortunately most of the reduction methods involve converting gaseous mercury to particulate mercury prior to removal. The result is that a plant can report low mercury emissions. but can be discharging the mercury in a particulate form.
McIlvaine tracks all the complexities in a number of publications.
For more information, click on:
N021 World Fabric Filter and Element Market
N018 Electrostatic Precipitator World Market
N056 Mercury Air Reduction Market
44I Power Plant Air Quality Decisions