NEWS RELEASE June 2017
Fifteen Coal-fired Plant Operators will buy 50 Percent of the Flow and Treat Products and Services
Fifteen coal-fired plant operators will spend $75 billion/yr for flow and treat products and services. The top five operators will purchase over 36 percent of the total $153 billion/yr. This is the latest analysis from the McIlvaine Company based on aggregation of forecasts in a number of McIlvaine reports and databases. The products and services analyzed include those used to treat or control any gas, air, or liquid.
The No. 4 purchaser NTPC and the No. 8 purchaser Vietnam Power will be purchasing mostly for new facilities. Those utilities in China and Africa will have a mix of purchases for new and existing facilities whereas the operators in the U.S. and Europe will be spending mostly on repair and upgrades.
Company

Country

Rank

Average Annual % of Total Coal-fired Flow & Treat in the Next 5 Years

Average Annual Flow & Treat Revenues Next 5 Years
($ Billions)

AEP

U.S.

9

1.1

1.68

BWE

U.S.

14

0.6

0.92

Datang

China

3

7

10.71

Duke

U.S.

10

1

1.53

Enel

Italy

13

1

1.53

Eskom

South Africa

5

6

9.18

Guodian

China

2

7.5

11.48

Huaneng

China

1

9

13.77

Huadian

China

6

6

9.18

J-Power

Japan

16

0.5

0.76

National Thermal Power Corporation (NTPC)

India

4

7

10.71

NRG

U.S.

11

1

1.53

Shenhua

China

7

4.5

6.88

Southern

U.S.

12

1

1.53

Uniper

Germany

15

0.6

0.92

Vietnam Power (EVN)

Vietnam

8

2

3.06

Sub Total

55.8

85.37

Other

44.2

67.63

TOTAL

153
The biggest expenditures will be made for cooling, heat exchange and combustion. The air pollution control investment will be more than $36 billion/yr in a large part due to the demand in Asia. There is a very large potential to completely automate coal-fired boiler operations. The advantages are not only decreased labor costs, but much higher efficiency while at the same time meeting environmental goals. The relatively fast adoption of IIoT and Remote O&M will radically change the marketing environment and create a $42 billion/yr sales opportunity.
Flow and Treat Average Annual Coal-fired Boiler Market 2017-22

Products

$ Billions

Acid Gas (Flue Gas Desulfurization and NOx Control)

16

Particulate Control (Fabric Filters, Precipitators, Mercury)

20

Water and Wastewater Treatment including Ultrapure Water for Steam and Cooling Water

10

Fans, Pumps, and Valves, Compressors

5

Cooling, Heat Exchange and Combustion

60

Instrumentation, Automation and Third Party Remote Monitoring and O&M

42

Total

153
McIlvaine has determined that less than 300 companies purchase half the flow and treat products and services. This small number of companies and the ability to reach key decision makers at these companies is addressed in Detailed Forecasting of Markets, Prospects and Projects
More details on specific markets are found at:
N018 Electrostatic Precipitator World Market
N021 World Fabric Filter and Element Market
N027 FGD Market and Strategies
N056 Mercury Air Reduction Market
N031 Industrial IOT and Remote O&M
N029 Ultrapure Water: World Market
N028 Industrial Valves: World Market
N006 Liquid Filtration and Media World Markets
N005 Sedimentation and Centrifugation World Markets
NEWS RELEASE June 2017
Just 555 Companies buy 60 Percent of the Flow and Treat Products and Services
Five hundred and fifty-five companies in 13 different industries will spend $240 billion or 60 percent of the total amount that will be spent in 2018 for flow and treat products and services.
| | | |
| --- | --- | --- |
| Industry | | No. Included |
| Total | | 555 |
| Chemical | | 40 |
| Electronics | | 15 |
| Food | | 40 |
| Metals | | 30 |
| Mining | | 20 |
| Oil and Gas | | 50 |
| Pharmaceutical | | 30 |
| Power | | 70 |
| Pulp & Paper | | 50 |
| Refinery | | 60 |
| Stone | | 50 |
| Wastewater | | 50 |
| Water | | 50 |
The way these 555 companies make buying decisions is changing.
Large companies are increasing their share of purchases through mergers and acquisitions. The pending Dow/DuPont merger is a prime example.
Global sourcing is becoming common.
Industry 4.0 and IIoT are generating continuous analyses of flow and treat performance.
As most flow and treat products and services become integrated in IIoT and data analytics systems purchasers will have the ability to buy based on known lowest total cost of ownership (TCO) parameters.
This availability of lowest TCO information will raise the revenues and profits for those companies with the best products.
Instant communication is becoming dominant. Mobile devices are now the most important tool for initiating buying decisions.
The empowerment of IIoT with IIoW (Wisdom) will be a major influence on buying decisions.
The processes included are filtration, separation, combustion, disinfection, heat exchange and cooling, transfer, storage, reaction, mixing, distillation, disinfection, purification and any other processes involving liquids, gases or free flowing granular materials.
Products include fans, burners, compressors, pumps, valves, seals, couplings, instrumentation, piping, filters, scrubbers, adsorbers, absorbers, SCR, SNCR, FGD, thermal oxidizers, heat exchangers, furnaces, centrifuges, clarifiers, cartridge filters, crossflow membranes, and software
Consumables include treatment chemicals, filter elements, seals, coatings and all the component repair parts.
Services include design, construction, consulting, monitoring and testing, and remote operation and maintenance support.
Media includes water, oil, lubricants, slurries, granular solids, compressed air, gases, ambient air, stack gas, process gas.
Most suppliers already have separate sales efforts for the large potential purchasers. Since 60 percent of the products will be purchased by just 555 companies' suppliers can justify the prioritization of sales to this group. McIlvaine has a program to identify the companies, projects, people, and the ways not only to reach them, but to convince them.
N064 Air/Gas/Water/Fluid Treatment and Control: World Market analyses the market for flow control and treatment at a high level. Since this market is now being transformed by IIoT this service is now available as part of N031 Industrial IOT and Remote O&M.
Specific forecasts for purchases by the 555 companies of each product or service are now included in the McIlvaine Market report Markets
The plants and projects for the 555 companies are reported in Databases
Contacts at those 550 plants are included in several ways including several databases People
The systems to expand IIoW are shown in Decisions
A customized program can be provided which not only provides interconnection between supplier and purchaser, but interconnection to other influencers and interconnection among company employees.
NEWS RELEASE May 2017
Water Treatment Chemical Companies will play a Leading Role in IIoT and Remote O&M
Water treatment chemical (WTC) companies presently derive substantial profit from their process knowledge. This asset will be leveraged in the new world of IIoT to create double digit profit growth for those who seize the opportunity. The profit increase will include:
Higher margins per pound of chemicals sold
Broader sales penetration
Global sourcing opportunities
Feedback leading to faster product development and more profitable products
Ancillary IIoT related products and services
Reduced travel and sales expense
Water treatment chemicals companies have traditionally been selling a combination of knowledge and product. Sales engineers have fulfilled a service and advisory role. The value added has been process knowledge and the ability to provide the right mix of chemicals.
Specific Opportunities
IIoT and Remote O&M can be viewed in terms of a pyramid of bits of data.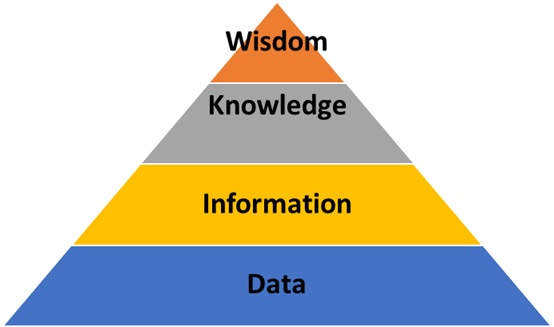 But in terms of profitability, wisdom and knowledge will be even more important than the information and data. WTC companies can leverage this in their core WTC and non-core businesses to add revenues of $30 billion in 2025.
Water Treatment Chemical IIoW Empowered IIoT Opportunity

CATEGORY

2025 REVENUE

($ BILLIONS)

PERCENT

Conventional Treatment Chemical Revenue

39

2.8

IIoT Supplemental Opportunity

30

2.2

Sub Total

69

5

Total Specialty Chemical

1400

100
The $69 billion is only 5% of the specialty chemical opportunity. For companies such as Suez the larger opportunity is measured in tens of billions of dollars. In the McIlvaine IIoT and wastewater webinar the power of the combination of GE Water with Suez remote monitoring and operation of water and wastewater treatment facilities was demonstrated.
BASF has an opportunity even larger than that of Suez. In the broadest sense, it is investing heavily in sustainability. As a result, BASF can offer clients improved "sustainability" and not just higher profits. (McIlvaine has developed a simple metric to measure sustainability based on individual life quality impacts ((Sustainability Universal Rating System). BASF can leverage its IIoT efforts in its manufacturing plants with its WTC IIoT efforts.
The core market includes chemicals to treat water, wastewater, steam and slurries.
Pulp and Paper Making is a unique market for many treatment companies. Water treatment chemicals are part of a larger category labelled specialty chemicals or performance chemicals. The market for this broader category is $1 trillion per year. Large players include Dow Chemical, BASF, Bayer, INEOS Group and DuPont.
The IIoT and Remote O&M market for these major chemical companies is huge. This effort can be combined with the IIoT efforts at their manufacturing plants. BASF has taken a further step and offers industrial wastewater treatment as a service in an area surrounding one of its German plants.
For more information:
NEWS RELEASE May 2017
$24 Billion Chemical Industry IIoT and Remote O&M Market by 2024
The revenues generated by IIoT and Remote O&M in the chemicals industry will grow to over $24 billion in 2024 from just $11 billion in 2017. This is the conclusion of the McIlvaine Company in the latest updates N031 Industrial IOT and Remote O&M. By 2024 the East Asian market will rise above $7.6 billion per year as compared to $5.5 billion for NAFTA.
A number of companies are moving forward with robust programs. Covestro has three approaches:
In the short-term the company aims to optimize supply by innovating its day-to-day business through improving reliability and supply chain performance.
In the mid-term Covestro wishes to leverage growth and innovate the ways customers do business with the company.
Long-term Covestro is considering completely new digitally enabled business models.
Covestro and other chemical companies will gain from improved condition monitoring. Valves, pumps, and heat exchangers are high on the list for improved monitoring. Covestro has assets in many countries in Europe as well as two sites in Asia and one in the U.S. Monitoring assets at all these locations in one cloud-based system will benefit the many large chemical companies with multiple sites around the world.
Progress will be achieved by expanding from individual automation systems provided by one supplier for one plant to cloud-based systems with open platforms to accommodate the input from a wide variety of systems in all the plants. The foundation will be the automation systems already perfected.
McIlvaine is conducting a webinar on IIoT and Remote O&M for the chemical industry on Wednesday, June 7, 2017. It will be examining a number of successful systems including:
Blaser Swiss ALube use of GE software for improved process quality and 45% improvements in energy efficiency.
Profertil (Argentine petrochemical manufacturer) improvements generated by GE Asset Answers.
Schneider Electric Wonderware IntelaTrac deployed at more than 120 chemical industry sites.
Nexen Chemical use of Emerson Delta V Digital Automation System.
Rockwell comprehensive automaton system at Syngenta Crop Protection.
Valmet automation system for INOVYN at their Swedish chlorine plant, for a Kemira sodium chlorate plant and Borealis Polymers olefin facility.
ABB automated oil blending system at the Peluma, Indonesia lubricant plant.
These plants can integrate the present systems into cloud-based open platform systems to cover the balance of the plant.
The industrial Internet of Wisdom (IIoW) empowers IIoT. This involves the interconnection of people and knowledge. It specifically depends on the delivery of the 4 knowledge needs: Alerts, Answers, Analysis and Advancement. Training courses are important for Advancement. Honeywell has a training course on Distillation as part of its Automation College program. This course is for operators.
At a higher level decision guides are a route to both Analysis and Advancement. McIlvaine has created a decision guide on mechanical vapor recompression options for distillation. Thousands of such guides are needed for chemical industry processes.
An important aspect of IIoW is the interconnection between divisions in supplier companies. Pall has built a filter business around process knowledge and the tailored solution for a myriad of process requirements reflecting the diversity in the chemical industry. Pall Total Fluid Management integrates properly selected filtration and separation equipment into production processes to yield the highest efficiency at the lowest total cost.
Pall is a division of Danaher who also owns Chemtreat and Hach. Chemtreat furnishes the treatment chemicals needed with the filtration systems. Hach supplies the sensors and monitoring to allow Danaher to provide remote O&M of the filtration and separation processes.
Suez has purchased GE Water. Suez is remotely operating water and wastewater treatment plants around the world. With GE Water this capability can be extended to the chemical industry. GE Water has many successes. For example, a petrochemical plant in Thailand was experiencing severe fouling in a debutanizer. GE Water analyzed the problem and provided a solution. GE Water eliminated the calcium carbonate scaling problems at a fertilizer plant in the U.S. with a proprietary organic acid created for this type of problem. The Suez/GE Water combination provides a strong foundation for an IIoT and Remote O&M offering in the chemical industry.
To register for the June 7 webinar click on Weekly IIoT Webinars
For more information on IIoT and Remote O&M click on N031 Industrial IOT and Remote O&M
NEWS RELEASE April 2017
Coal-fired Power Generators have Lots of "Clean" Opportunities
In many Asian localities coal will be the only near term solution to create electricity, prosperity and health. In Japan, the U.S. and Europe coal will continue to provide much of the electricity for decades to come.
Coal can be greener than any other form of generation. An example would be a system which uses 70% coal and 30% biomass and is producing CO2 which is injected to enhance oil recovery. This system is taking CO2 out of the cycle. This makes it greener than solar or wind.
Here is another example. Let's compare (1) a system using electricity from the grid with (2) distributed generation from a dedicated coal-fired boiler.
The first plant draws all its electricity from a utility which has a mix of solar, wind and gas generator sources. The plant needs a reliable power source which is assured with gas-fired power in the mix. The plant needs process steam and heat. Therefore, it burns gas for these purposes.
The second plant generates its own electricity using coal. It is a combined heat and power plant providing steam and heat for local industries or residences. Its efficiency is over 70% compared to 35% without the credit for heat and steam. This means that plant number one is using lots of gas to equal the heat provided by CHP in plant number two.
| | | |
| --- | --- | --- |
| | Plant 1 | Plant 2 |
| Total Combined Heat and Power Use (MW) | 60 | 60 |
| MW of Electricity | 30 | 30 |
| MW of Heat and Power | 30 | 30 |
| CO2 from Electricity Generation | X | 6X |
| CO2 from Heat and Steam Generation | 4X | 0 |
| Total CO2 | 5X | 6X |
This comparison is based on a generation mix from the central utility of 1/3 gas-fired power. At higher ratios of gas-fired power generation at the central utility the CO2 is less from the combined heat and power plant. The tremendous increase in efficiency for combined heat and power has led GE to predict that distributed generation will be the wave of the future and that large central 1000 MW power plants will disappear.
This comparison could be considered biased by not comparing a gas-fired CHP to central electricity supply. CO2 emissions would only be 4X. This is the vision prompting GE's bullish forecast. On the other hand, for much of the world gas is not available. Even in the U.S. many coal-fired industrial power plant operators have learned that the cost of a gas transmission line to their plant from the closest source would be prohibitive.
There is another aspect which will reduce CO2 emissions. CO2 is a plant fertilizer. The BHE Currant Creek plant pipes CO2 from the power generator to an adjacent greenhouse which grows 22 million lbs of carbon consuming tomatoes per year.
This brings up an ethical question relative to the harm from CO2. When you increase CO2 from 400 ppm to 600 ppm plants grow 40% faster. Shell pipes CO2 to 550 greenhouses in the Netherlands. Forty universities and government organizations have completed a study using satellite images which show that the earth is greening. The ethical question would be whether you choose to prevent starvation of a few in the short-term or reduce the long-term harm to the many. This is a complex question as covered in Sustainability Universal Rating System.
For countries with both inadequate food supplies, electricity and natural gas indoor farming with combined CO2 fertilization, heat and power with coal will save lives. Coal can be as clean as natural gas in terms of all the pollutants. China has a policy to invest in air and water pollution equipment to ensure that the entire fleet of power plants has emissions as low as the cleanest gas turbine plant. In fact, with their zero-liquid discharge policy (ZLD) there is no discharge of water to streams and rivers. Air cooled condensers (rather than wet cooling towers) and dry scrubbers (as opposed to wet) can eliminate water use.
Coal is made even more attractive with by-product flyash and gypsum production. This eliminates CO2 which would be caused by alternative production processes. The newest discovery is that the FGD systems can be the lowest cost option for rare earths feedstocks. HCl Scrubbing and Rare Earth Recovery from Coal-Fired Power Plants and Gasifiers are the Perfect Marriage.
Despite pressure from environmentalists more money will be spent in the next decade to build, operate, and maintain coal-fired plants than for any other generation option. Solar and Wind may very well eliminate fossil-fired generation someday, but that day is generations away. In the meantime, there is a big opportunity to make coal-fired power generation:
More efficient

Less costly

Cleaner
The Industrial Internet of Things (IIoT) empowered by the Industrial Internet of Wisdom (IIoW) provides the route to more efficient, less costly and cleaner coal-fired generation N031 Industrial IOT and Remote O&M.
IIoW is created by the interconnection of people with actionable knowledge as in 44I Coal Fired Power Plant Decisions. It is further created by interconnecting people in each plant with the suppliers as in 4S01 Berkshire Hathaway Energy Supplier and Utility Connect.
The biggest benefits of IIoT will come in the developing countries. Initiatives such as that between Juniper and India Power to provide O&M support at Indian power plants and the MHPS remote control center in the Philippines will provide the world's coal-fired generation wisdom to localities lacking it.