NEWS RELEASE JULY 2015
Standard Market Research Reports Are Only the Starting Point
Conventional market research reports on pumps, valves, filters, treatment and instrumentation have been the basis of strategic planning for many decades. But today the relative value of these reports has shrunk in comparison to new tools.
The best analogy is the product brochure. It is very desirable to prepare product brochures and to mail them to prospects. But power point presentations, emails, internet displays and many other tools have decreased the brochure importance. The same is true for conventional market research reports. They should be just one of the strategic planning tools. Inadequacies of the conventional market research report are:
They do not reflect the latest intelligence
They do not provide the specifics necessary for setting individual country, product and industry quotas
The knowledge explosion makes tremendous amounts of useful strategic data available. Plant environmental and operating permits are hundreds of pages in length with detailed information on existing and planned process equipment as well as specific limits on modes of operation and effluent quality. Municipal water boards post minutes of meetings with details on expansion plans and problems. Bid reviews supply competitor prices. Publicly held companies provide continuing updates of their expansion plans.
Millions of pages are added to the internet in one form or another each month. They contain valuable competitor, regulatory, technical and commercial information. The flow control and treatment markets are often changed by technology improvements. News on these improvements is not limited to European and American sources. China is generating large amounts of valuable technical analysis and is moving forward with the most sophisticated technology such a zero liquid discharge systems (ZLD).
Strategic planners need to work with their sales, marketing and engineering counterparts to take advantage of this knowledge explosion. The result can be market forecasts with enough detail to set realistic quotas for the local salesmen. The resultant analyses should be detailed enough to set research and promotion budgets.
Holistic Approach to Market Research
Strategic Management

Marketing

x

Market forecasts, SWOT analyses, market shares, research goals, sales quotas, project leads,

promotional budgets

Engineering

------------------

R&D

Sales
This effort will be costly but, if the result is not only good intelligence but actionable information resulting in sales, the value well exceeds the cost.
McIlvaine provides the services to achieve this holistic approach. Specific choices can be found under:
NEWS RELEASE JULY 2015
Environmental and Energy Knowledge Gap
The best environmental and energy decisions are often not being chosen. The knowledge gap is not because of retirements but due to the avalanche of new information.
"The experienced people are retiring and their replacements lack the critical knowledge for decision making." This is a widely held belief which places blame on the new recruits. The real problem is that the new recruit is accessing a knowledge base ten times larger than that faced by the previous generation. If he continues to use the decision making tools of the previous generation, the knowledge gap will only grow.
The assertion that we are losing net experience does not hold up under scrutiny. Asia is graduating large numbers of engineers. The many environmental and energy projects around the world are providing direct experience for hundreds of thousands of workers. The ratio of electrical to mechanical, civil and chemical engineers may be increasing; but so is the need for software, automation and smart valves and pumps.
Chinese power plants are now operating more ultra supercritical boilers and more air pollution control systems than the United States, Germany and Japan combined. In just two decades, the Chinese have achieved what took five decades in the big three user countries. So the knowledge gap cannot be blamed on lack of experienced engineers.
How serious is the knowledge gap? The answer is that the glass is half empty rather than half full. We are doing better than the previous generation but we are failing to maximize the available knowledge and move forward much faster and more economically. We should have air pollution control systems which achieve higher efficiency at lower cost. There should be no visible steam plumes which indicate lost heat and water.
Recovery of fertilizers, solvents, building materials and even rare earths from our environmental and energy systems are all possible. Sewage treatment and power plants should be co-located for many synergistic benefits. Better materials selection should greatly increase equipment life. Smart products and automation should lead to whole new ways to operate and maintain plants.
How do we take advantage of the knowledge explosion? Here are the building blocks of recommended change:
Organize knowledge to minimize the loss from retirees
Foster niche expertise
Change the ways we access and use knowledge
McIlvaine is building these blocks one area at a time. Areas can be defined as industries or technologies. The present industry focus is on the power industry with two knowledge systems. One is focused on coal-fired power plants and another on gas turbines. The first technology focus is on filtration and its use in every industry including power plant wastewater treatment and gas turbine air inlet filters but also on food, oil and gas, etc.
Here are the key deliverables in each area:
Comprehensive knowledge systems offered at modest cost to suppliers and consultants and at no cost to end users.
Operating systems with the 4As: Alerts, Answers, Analysis and Advancement.
Coordination among organizations, e.g. for gas turbine intake housings. McIlvaine, American Filtration Society, International Filtration News, KCI (Stainless Steel World) and Combined Cycle Journal are coordinating relative to articles, conferences, etc.
For more information on the two power knowledge systems, click on
Gas Turbine and Combined Cycle Decisions
NEWS RELEASE JULY 2015
Multi Billion Dollar Zero Liquid Discharge Opportunity in China
The per capita rainfall in China is only 25 percent that of the U.S. Large scale industrialization has necessitated major expenditures to reduce water use. The Zero Liquid Discharge (ZLD) concept is now viewed as an attractive solution for coal-fired power plants, coal-to-chemicals, refineries and other heavy industry.
China does need international technology. Several U.S., Japanese, and European companies are pursuing this market.
Veolia Water: As part of the Veolia Water group of companies, HPD Veolia Water Solutions and Technologies has built more than 700 ZLD systems to date. HPD has 85 years of experience in ZLD technology and has in recent years widened its American base with projects worldwide including a system for a coal-fired power plant in China.

GE: ZLD systems combine GE membranes and ultra-filtration systems to improve water recovery efficiency. The company has supplied a number of ZLD systems around the world. It is also a major supplier of coal-to-chemicals plants in China. These plants use very large amounts of water. There has been international environmental pressure to reduce water consumption from coal-to-chemical projects in China.

Aquatech: The U.S. based company has developed a ZLD technology for shale gas water, as well as power plants and coal-to-chemicals facilities. Its technology was chosen for the Yunnan Yuntianhua's
coal-to-chemical facility located in China's Inner Mongolia province.
The main sources of contaminants are from the raw water reverse osmosis (RO) plant and the cooling tower blowdown streams. These effluents are first mixed in an equalization tank before further treatment (Figure 1).
Combined wastewater is rich in contaminants like oil and grease, volatile organic compounds and has a relatively high Chemical Oxygen Demand (COD) and Total Dissolved Solids (TDS) of about 16,000 mg/l.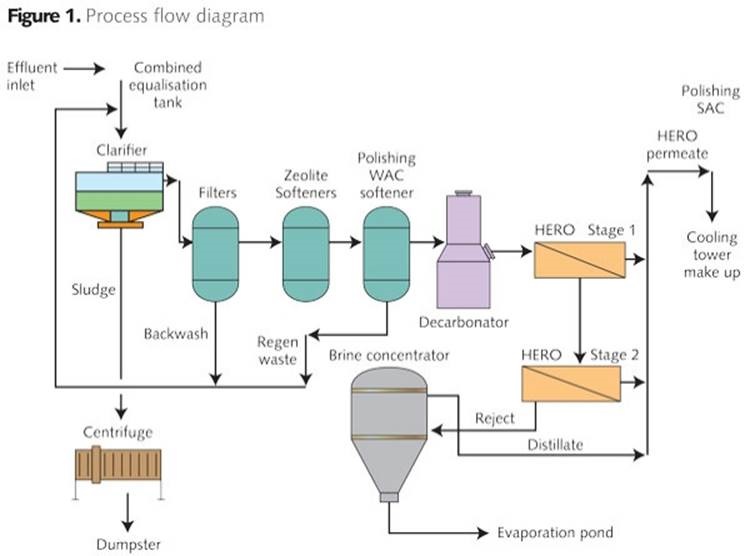 McWong: Mengda New Energy Chemical Co. Ltd contracted with McWong for a coal-to-chemicals ZLD system. The overall capacity of this project is 13,200 m3/d including water from the project's own wastewater equipment and discharged wastewater from water pumping stations and desalination stations. McWong
utilized its own patented zero-discharge process package (UF + RO + vibrating membrane + multi-effect evaporation concentration) technology to achieve zero discharge and recycle coal chemical industry wastewater.
IDE: The company is involved in desalination but can provide ZLD plants. A hybrid system has been installed at the Tianjin power plant, 200 km northeast of Beijing. The plant provides high quality drinking water for the local population, as well as industrial boiler makeup and process water for the power plant. The system is powered by waste heat from the power plant, thereby reducing the net greenhouse gas emission and reducing energy costs.
MHPS:Mitsubishi Hitachi Power Systems has a spray drier which uses the hot flue gas to dry the power plant sludge. This results in dry disposal instead of ponds and potential contamination. It is a low cost approach for coal-fired power plants. There are 1,000 boiler systems in China operating wet flue gas desulfurization systems. The spray dryer approach can be combined with the use of treated municipal wastewater as the raw water source. This results in a net reduction in water contamination rather than just avoidance of additional contamination.
Information on various ZLD projects in China is found in:
N049 Oil, Gas, Shale and Refining Markets and Projects
Information on the use of membranes is found at: N020 RO, UF, MF World Market
NEWS RELEASE JULY 2015
Hot Gas Filtration Questions Replace Regulations as the Most Important Air Pollution Control Subjects
Regulations are normally the most important factors changing the world's air pollution control decisions. However, advances in the ability to treat hot gases make technology questions the most important subjects for air pollution control purchasers in China, the U.S. and the rest of the world.
The regulations leave no doubt that existing precipitators on coal-fired boilers, kilns and furnaces will need to be replaced or upgraded to higher levels of efficiency. In addition, refinery catalytic cracker and precious metal mining and smelting plants are looking for new routes to separate high value products. So the stage is set for development of new technology to address these interests.
There are many new hot gas filter developments and no clear solution. The questions can be organized in two main categories: process and application.
| | | |
| --- | --- | --- |
| Process | | Application |
| Temperature: 850oF, 400oF, 325oF, or 200oF | | Coal-fired boilers |
| Heat recovery | | Coal gasifiers |
| NOx removal | | Cement and other kilns |
| Acid gas removal | | Catalytic crackers |
| VOC removal | | Furnaces and smelting operations |
| Product separation | | Mining and rare earth recovery |
There are hundreds of process questions involving which contaminants need to be removed and what heat recovery benefits can be achieved.
There are presently many operating and planned retrofit projects involving installation of synthetic filter bags in existing precipitator casings. This approach can be combined with sorbent injection ahead of the air heater to reduce the acid dewpoint. The heat exchanger can be modified to capture more heat and discharge 200oF flue gas. Lots of potential advantages and questions arise about the benefits and approach.
Would the temperature reduction by itself improve precipitator efficiency enough to avoid a bag retrofit?
Can a lower cost bag, such as acrylic, be used as long as continuous temperature control is assured?
How does this solution fit into the overall need to remove multiple pollutants?
The answers to these questions then generate a host of more detailed questions.
| | |
| --- | --- |
| Fibers | Shape and chemical characteristics? |
| Media | Woven, non-woven, membrane? |
| Bag design | Pleated, tubular, star? |
| Bag size | Diameter and length? |
| Cleaning mechanism | Pulse with high pressure or medium pressure, reverse air? |
| Components | Cages, seals? |
| Installation | Need for bag covers for membrane bags? |
The selection is highly dependent on the particulate constituents. If the collector is part of a dry FGD system with spray drier or fluid bed scrubber preceding it, a large quantity of calcium sulfate will be captured. Dry sorbent injection creates the same challenge.
The most novel development is the catalytic filter which has now been proven to be commercial for glass plants, biomass combustors and mining. When this is combined with ammonia and dry sorbent injection, it is possible to remove particulate, acid gases and NOx at 850oF.
Another version of the catalytic filter using synthetic media and embedded catalyst operates at 350oF and depending on the catalyst selected can remove NOx or VOCs. Can the one device provide total removal of multiple pollutants or does it need to be supplemented by SNCR or other technology to meet the emission requirements?
Coal-fired boilers represent a multi billion dollar immediate potential for filter upgrades. Other applications are also significant. Many coal gasification systems with hot gas filters are presently under construction or planning. Refineries can potentially replace precipitators and recover more valuable catalyst with ceramic filters. NOx control can also be included with the catalytic filter.
Product recovery is an important potential. Metal and ceramic filters are already in use in a variety of hot gas filtration applications where product recovery is the most important filter function. Rare earth recovery from flyash could be a big potential for hot gas filters.
The many questions and rapidly developing technology are being addressed by McIlvaine with a holistic approach. There are multiple decision systems. Within each system are decision guides to allow the user to focus on specific aspects. Most of this is contained in 44I Power Plant Air Quality Decisions(Power Plant Decisions Orchard). Despite the title, the decision system does cover the range of hot gas applications in many industries. It includes webinars, summaries, fabric filter and precipitator newsletters and many other decision tools.
NEWS RELEASE JULY 2015
The Biggest Opportunity in Air Pollution Control Is "Total Solutions"
Owners of power plants with air pollution challenges are increasingly looking for suppliers who will provide a "Total Solution." In the broadest sense, this can be the determination of how to meet the emission goals followed by a turnkey installation with operational and maintenance support. A webinar at 10:00 a.m. CDT on August 20 will review the opportunities and provide owners with options that are available and the advantages of each. This webinar is free of charge.
The most common explanation for the lack of "Total Solutions" knowledge in the industry is the retirement of experienced people and the lack of replacements. McIlvaine contends that the real reason is the explosion of knowledge. The complex technology options and support knowledge available to the young engineer are an order of magnitude greater than to his predecessor. If he does not have the same full grasp of the knowledge, it is because there is ten times as much to try to assimilate.
This gap between user and supplier knowledge is greatest in developing countries. It is also true in China where much development has taken place, but there are still many areas where international companies have far superior knowledge.
Plant owners are increasingly aware of this inadequacy. They can readily be persuaded to pay suppliers for the solution. Here are some of the factors justifying an outside vendor solution.
| | |
| --- | --- |
| Factor | Example |
| Complex systems with multiple control steps | Coal-fired boilers, cement kilns, chemical processes, aluminum rolling mills |
| Valuable final product recovery | Precious metal mining |
| Valuable process product recovery | Refinery catalyst, solvents in chemical and surface treatment |
| Difficult compliance with air permit | Many industries in many countries where even start up and shut down emissions are important. McIlvaine is helping a large Chinese power plant which must meet zero liquid discharge requirements |
| Safety | Explosive gases |
| Health | Semiconductor toxic fumes |
| Potential for air pollution control system to negatively impact operations | Many industries |
| Lack of skilled personnel within the plant | Continuous trend |
| Success of remote monitoring | Applicable to all pollutants and operating parameters |
| Ability of suppliers to provide a lower cost alternative | Reduction of repairs, downtime, energy consumption, etc. |
The options available include:
| | |
| --- | --- |
| Options | Example |
| Preliminary system design | CECO offers CFD modeling and design for rolling mill fume control including the important industrial ventilation ductwork to reduce air volume |
| Turnkey system with unique combination of pollution control devices | Megtec sewage sludge incineration systems with oxidizer, scrubber and wet precipitator. Tri Mer supplies PM2.5 NOx reduction and acid gas capture in one device |
| Turnkey system with total operational control | FLS offers this option for cement kilns |
| System and reagent integration | Dürr and ClearChem supply pulverized limestone injection in the furnace followed by a catalytic filter |
| BOO and by-product sales | MET offers this system to convert SO2 to ammonium sulfate fertilizer |
| Remote monitoring of operations | Many examples |
| Guaranteed cost bag replacement program | Supplier monitors operations and replaces bags as needed at a fixed yearly cost |
| Routine service programs | Replace all parts in system, regular inspections, continuous remote monitoring |
The webinar will be free of charge to both suppliers and plant owners. McIlvaine will be compiling a decision guide with assistance from the suppliers over the next few weeks. Those with information on Total Solutions which they would like to share should contact Bob McIlvaine at: This email address is being protected from spambots. You need JavaScript enabled to view it. . This email address is being protected from spambots. You need JavaScript enabled to view it. 847 784 0012 ext. 112