NEWS RELEASE February 2017
Role of Power Plant Consulting Firms in IIoT and Remote O&M
Power plant engineering and consulting firms have both a big potential IIoT opportunity but also the threat of a radically different environment which would reduce revenues.
The success or failure may depend on the IIoW contribution. IIoW is the Industrial Internet of Wisdom which will likely empower IIoT. But it is a cycle. The invaluable information generated by the IIoT systems should lead to new procedures and new technologies chronicled by IIoW which will lead to new IIoT generated insights and then to even newer and better technologies.
Positive Aspects of IIoT & Remote O&M empowered by IIoW for consulting companies:
Substantial revenues directly associated with IIoT and Remote O&M
Promotional value of niche expertise leading to larger contracts
Ability for U.S. or European based firms to leverage skills around the world
Negative Aspects of IIoT and Remote O&M empowered by IIoT for consulting companies:
IIoT will generate more potential knowledge than can be handled by the traditional consulting company
There will need to be hundreds of thousands of specialized niche experts who provide much of the insight
Consulting firms tend to employ only people who generate billable hours and if necessary will hire experts for modest input
In an IIoW empowered IIoT world the consultant may lose his knowledge edge to new kinds of organizations who most efficiently utilize the niche experts
If you are going to improve operations at a power plant you can hire a consulting engineering firm to analyze the existing operations and recommend changes. They can then create a set of specifications and evaluate bids. The firm can then oversee the installation and can provide follow on services.
Many of the world's largest power plant consulting firms are U.S. based. They include broad based consultants such as AECOM, Bechtel, Black & Veatch, Burns & McDonnell, Kiewit and Sargent & Lundy. They also include focused firms such as, MPR and Trinity Consultants. A number of European utilities have formed consulting groups. Laborelec. Steag and Uniper are examples.
Design firms often compete with EPC contractors. In Asia, the typical approach is to invite turnkey bids from EPC firms. In the U.S., the most common approach is creation of specifications for a project by an A/E firm who then overseas bids from the EPC firms or from sub-system bidders.
Most of the large firms have operations and maintenance services. Many have embraced IIoT and some have acquired software companies to enable them to compete with large management consulting firms such as Accenture and Genpact.
The large consulting companies are an important source of the niche expertise needed to advance the power industry. A utility would look to the consultant to evaluate technology options and create bid specifications based on knowledge assumed to be superior to that available within the utility and unavailable in an unbiased way from the technology suppliers.
Specific Examples
Kiewit: has substantial consulting activities to supplement its engineering and construction businesses. McIlvaine has conducted webinars with Kiewit air and water experts. There are links to some of these presentations in the promotional material for the Gas Turbine IIoT Webinar on the McIlvaine Home Page. Here is an example of how Kiewit niche expertise would work.
Brad Buecher was a chemist at a power plant before joining Kiewit. He is a world expert on water chemistry for power plant steam cycles. Here is a scenario as to how his services could be utilized:
MHPS has a remote monitoring center in the Philippines and oversees gas turbine operations at plants in Asia. Let's assume that they expand from just monitoring rotating parts to the full balance of plant monitoring.
Hach monitors water quality parameters.
Nalco monitors water treatment chemical use.
Flowserve monitors valve and pump conditions
All this data flows through the MHPS center and is available to Brad in the U.S. He then uses his knowledge of flow accelerated corrosion and water chemistry to provide periodic advice as part of a yearly contract. He is also available in an emergency.
Kiewit has electrical, instrumentation and telecommunication activities in many industries e.g. common platform for artificial lift pumps at the Peregrino oil field. The Kiewit subsidiary INEIGHT has IIoT services focused on power plant constructors but could expand into services for the power plants themselves.
AECOM: McIlvaine has beenconducting webinars for BHE on NOx removal. AECOM has been supporting BHE with analysis of options and has suggested using technology successfully employed in the refining industry for NOx oxidation ahead of the scrubber. A novel hybrid reductant may also be employed for front end SNCR. If these combinations are successful, the AECOM project manager has the potential to take this knowledge to the many plants in Asia who are struggling with new NOx limits.
AECOM has complete IIoT programs for leak detection including visibility across the operating asset fleet, automatic alerts, and IT integration with security safety, and environmental regulations.
MPR: has CFD analyses which will help plants removing SO2 with direct sorbent injection. The program is designed to make trouble shooting much more cost effective. MPR has developed expertise in wind turbine drive train technology and could be providing remote services to wind power generators around the world.
Black & Veatch: tells clients that optimization is the next step after digitization and involves human action with all that data. Further B&V says that asset management is not about managing assets but creating value.
Trinity Consultants: has unique expertise in analyzing the local and state environmental regulations and permitting which apply to a given power plant.
McIlvaine has set up a beta IIoT site including all the plants operated by BHE. 4S01 Berkshire Hathaway Energy Supplier and Utility Connect
There are a number of relevant air and water permits and rulings which are applicable to each plant. Enough of these were posted in the BHE site to determine that:
A continuous posting of permits, rulings, case histories, and component information on each plant could be cost effective.
The present practice where power plants use the local consultant to analyze the local situation and then a variety of other consultants to aggregate and utilize the data leaves much to be desired.
A system wide approach to information gathering for each plant will facilitate IIoW empowered IIoT.
Trinity Consultants would be in a position to aggregate and interpret the regulatory data for each U.S. power plant.
Laborelec (ENGIE) is leveraging the knowledge of the Belgian electricity industry to offer both laboratory services and consulting. It is providing condition monitoring for turbines in the Middle East. It provided water chemistry solutions for an Asian power plant with problems. It analyzed air inlet filter operations at 40 U.S. plants for one operator. This group is showing the niche expertise to take this from the one-on-one level to the one on industry level.
The consultant role in IIoT and Remote O&M as well as IIoW empowerment is evolving. You can track this evolution in N031 Industrial IOT and Remote O&M
NEWS RELEASE February 2017
$22 Billion Sedimentation and Centrifugation Market will take many Potential Purchasing Routes
Due to the rapid development of the Industrial Internet of Things (IIoT) it is clear that there will be a large sedimentation and centrifugation market, but it is less clear who will be the purchasers. Centrifuge manufacturers are well positioned to take a leading role due to the challenging maintenance requirements for this high-speed equipment. Many centrifuge manufacturers already have remote monitoring programs. Centrysis wireless remote monitoring is web-based and tracks 32 key parameters. It includes alerts, reports and service.
Alfa Laval has several remote monitoring initiatives including decanter centrifuge condition monitoring at the Metropolitan Wastewater Reclamation District of Chicago. Vibration is monitored and controlled through a X20 PLC from B&R Industrial Automation. A custom I/O module has reduced costs and made remote monitoring attractive.
Alfa Laval has expanded the concept to related remote monitoring and service. The Octopus biosolids dewatering centrifuge autopilot monitors and controls all aspects of the dewatering process. This includes material feed, polymer dosing and internal decanter settings. Infrared sensors analyze performance and automatically make the necessary adjustments.
GEA is using SAP HANA software as part of a predictive maintenance and service program for food processors. The program also is geared toward optimizing the performance of decanters and separators. The program opens the door to modular service-level agreements, warranted availabilities and insurance for customers.
A similar program called GEA IO provides remote operation of separators on merchant ships and ferries. Performance on lube oil purification and water treatment is optimized. The operation is seamlessly integrated into the central digital control system for the ship. GEA is pointing to a future of autonomously operated ships. The elimination of the crew reduces operating costs by 20 percent. The first prototypes have already successfully completed test runs. A team of operators remotely monitors operations and if necessary can take control.
Level control is fundamental to any sedimentation process. With the advent of microprocessors, ultrasonic technology moved into the level instrumentation mainstream where today it is one of the most common and favored techniques in use at wastewater treatment plants. Many of the characteristics unique to ultrasonics can be managed automatically by signal processing algorithms programmed into each instrument. Today's operators can take successful performance of an ultrasonic instrument for granted assuming the instrument is properly applied and installed.
The Drexelbrook CCS4000 Multi-Channel Sludge Blanket Level Monitor helps keep track of effluent quality in up to four separate water and wastewater treatment clarifiers and thickeners. The system uses ultrasonic technology to measure the compacted sludge level, the lighter rag material above the interface, and clarity loss in the water above the blanket and rag levels. The monitor eliminates worry about the adverse effects of denitrification, septic sludge, washouts, and mechanical breakdown of rakes. Compacted sludge tracking ensures that only dense sludge is withdrawn from the vessel, reducing pumping and disposal costs. At the same time, the lighter rag layer can be tracked to monitor the settling characteristics of the vessel, and the output can be used to control the use of chemical additives.
The heart of any clarifier or thickener drive unit is the main gear and bearing. One of the most obvious design features of the DBS drive unit is its torque gauge. DBS has used a large diameter stainless steel gauge that accurately indicates torque in foot-pounds or Newton-meters. The DBS torque gauges can be fitted with 4-20 mA torque transducer for remote monitoring and control. This information allows industrial users to increase the throughput and efficiency of their process.
IIoT and Remote O&M developments will help boost sedimentation and centrifugation revenues to just under $15 billion by 2026.
Sedimentation and Centrifugation Revenues ($Millions)

Segment

2026

Centrifuge Equipment

4,000

Service On-Site

1,000

Remote Service and Monitoring

1,800

Sedimentation Equipment

5,800

Service On-Site

940

Remote Service and Monitoring

1,200

Total

14,740
The projected remote O&M revenue is $3 billion which is in addition to just under $2 billion in onsite service.
There are pump, valve, treatment chemical, and related operation and maintenance revenues which are not included in the narrower definition of sedimentation and centrifugation but are part of the total revenue potential. There is an additional $8 billion in potential revenue for third party suppliers.
Third Party O&M with Sedimentation and Centrifugation ($Millions)

Segment

2026

Equipment

9,800

Service on Site

1,940

Remote Service and Monitoring

3,000

Potential Third Party Purification Process Revenues

8,000

Total

22,740
The move toward third party O&M will create an annual market potential of $22.7 billion by 2026. This includes $8 billion which would otherwise be in plant expenditures but will be instead provided by third parties.
There is likely to be both sharing and competition among suppliers. Companies such as Accenture, Genpact, and Wipro are offering digital process management systems which have procurement as a service component. It is possible that Accenture could purchase the water treatment chemicals, pumps, and valves. SAP is already partnering with GEA and has Asset Intelligence Network with a registry of components such as pumps with cloud-based support to provide details on parts. Nalco and other water treatment chemicals companies have 24/7 remote monitoring centers up and running.
The other type of competition will come from those companies, such as Suez, that are offering total operation and maintenance of the purification systems. Such companies are already operating municipal water and wastewater plants. The build, own, operate concept can be applied to industrial water and wastewater treatment systems as well. With IIoT and specifically digital process management, the elimination of operators makes third party contracts much more attractive.
Suppliers of sedimentation and centrifugation equipment can take bigger or smaller pieces of the pie. In the case of GEA which already supplies complete food processing systems, the role of third party O&M will be a natural transition. For many suppliers, it will be important to partner with companies who have the best potential to capture market share.
Ultimately there will be much more awareness and reward for those companies supplying products with the lowest cost of ownership. With sensors providing performance and maintenance data on a continuous basis there is clarity as to superior products. Some sedimentation and centrifugation suppliers have the opportunity to invest in better products and leave the remote O&M to others. The path for each company is likely to be unique and challenging due to the rapid evolution of what McIlvaine coins as IIoT empowered by IIoW (Wisdom). McIlvaine is providing a strategic planning package which includes some consulting and access to both the following reports.
N005 Sedimentation and Centrifugation World Markets
N031 Industrial IoT and Remote O&M. (Formerly Air and Water Monitoring) click on: http://home.mcilvainecompany.com/index.php/markets/2-uncategorised/106-n031
NEWS RELEASE February 2017
Ultrapure Water Market bolstered by IIoT will exceed $12 billion in 2026
The market for ultrapure water systems and components will exceed $12 billion in 2026 according to the latest McIlvaine forecasts. This includes $2 billion of IIoT related products and services supplied by ultrapure water system and product manufacturers. In addition, $2 billion of ultrapure water products previously sold directly to operators will now be sold to third party O&M companies. As a result, there will be a $4 billion market shaped by IIoT.
Ultrapure Water System and Component Market 2026
($ Billions)

Total Market

IIoT Related Market

Power

5

Electronics

4

Pharmaceutical and Other

2

Additional IIoT Revenues

2

2

Rechanneled Revenues

2

Total

13

4
A supplier of pumps, filters, valves, piping, treatment chemicals, or instrumentation has the opportunity to boost revenues. A smart pump or valve needed to communicate with the cloud is worth more than a dumb one. Suppliers of water treatment chemicals such as Nalco can boost sales with remote monitoring services.
These suppliers will also find that part of their market once served directly will now be served through third parties, so identification of new potential purchasers and specifiers is important.
System suppliers are one potential revenue source. MHPS, Siemens, and GE already have remote O&M services for turbines. It is very likely that one or more will expand into O&M for the related ultrapure water systems. Suppliers of pharmaceutical and semiconductor manufacturing equipment will also expand their offerings with IIoT.
A UPW supplier may also move into the broader O&M role. Danaher is moving aggressively into IIoT. The company supplies Pall filters, Hach water monitoring and Chemtreat treatment chemicals, so it could take on a larger role and possibly partner with valve and pump companies to provide integrated O&M.
3M is another candidate. 3M products for ultrapure water, include Pre-RO, Resin Trap, Point-of Use Pre-Filtration, and Point-of-Use Final Filtration. Degasification membranes are also supplied. 3M has installed sensors on its ScaleGard Blend Series of water filtration products. ScaleGards are typically used at restaurants to purify the water for soda machines. By digitizing the water systems, the restaurant managers receive alerts on their computers or mobile phones when a part on the machine needs to be replaced. The system also automatically sends an alert to 3M channel partners, letting them know when to deliver the replacement part.
3M's Active Safety software lets plant managers track safety issues on the production line. They attach an RFID tag to each piece of personal protection equipment, so managers can keep tabs on who's wearing what device, whether they are properly trained and if the equipment is in compliance with regulations. So, expansion into a broad IIoT role is a possibility.
Another group are O&M specialists. There are a number of such companies offering O&M services for gas turbines.
The digital process management companies are still another set of contenders. They offer analytics and Procurement As A Service (PAAS) as part of their packages. Accenture, Wipro, and Genpact are examples.
Some of the specific players are filtration companies such as GE Water and Ovivo. Pump companies include Flowserve, and Sundyne, a division of Accudyne. Both provide other products and would have the depth to play a larger role. Danfoss is another pump supplier. Its complimentary products include drives and HVAC equipment used in pharma and chip manufacturing.
Prochem, Hach, Mettler Toledo and other instrument suppliers offer remote monitoring including input from:
Resistivity monitors/controls
Resistivity alarms
Flow meters
Pressure meters
Silica monitors
Total organic carbon monitors
pH probes
Dissolved oxygen monitors
Kurita has a remote monitoring system and since it supplies water treatment chemicals it can include its chemicals supply as part of the program.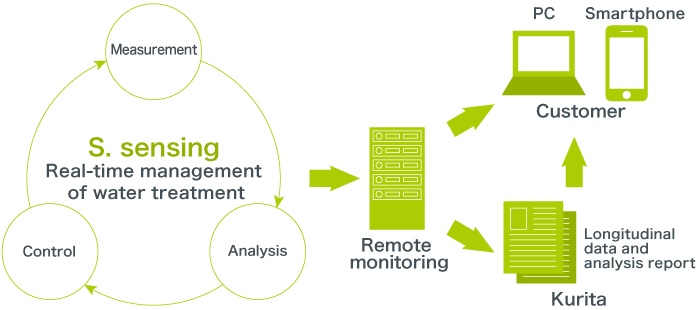 Veolia supplies complete UPW systems. The Orion package features Reverse Osmosis (RO) membranes, integral recovery RO and concentrate recycle along with purified water.
Orion includes TFT HMI with the options of Siemens and Allen Bradley PLC units. This updated HMI technology displays key sustainable parameters such as CO2, water and energy savings. The latest Integrated Smart Module (ISM) sensors have also been used for monitoring and control aspects. The Orion can be linked to the new Veolia technology, Vision. This customer portal is a private, secure web-based platform that allows access to all information regarding Orion, its products and services. Vision Air also allows for remote monitoring, giving further control and enabling access to real-time encrypted performance data, including alarms and equipment status.
Large semiconductor tool makers could also expand into UPW O&M. A leading-edge fab might contain >1,000 tools, with several dozen key sensors on each tool, and each wafer may see as many as 1,400 process steps. Huge streams of information are coming from fab tools, wafers, GDS (design) files, and facility systems such as chillers. Applied Materials is a major tool provider but also provides IIoT services.
Applied's technology-enabled services go beyond the maintenance-driven relationships Applied has with chipmakers. Most large manufacturers are already collaborating with the company on data-driven analysis projects, drawing upon Applied's E3 performance-tracking and data-mining software, as well as libraries and models. Applied engineers record vibration data, wafer placement images, optical emissions, and other sets of information to help enrich analysis models.
An aspect of the IIoT in pharma is the modularization of pharmaceutical production plants. IIoT infrastructure allows modular automation to scale production up or down according to market needs. This enables faster time-to-market for pharmaceutical products in accordance with the regulations and required approvals for specific markets and regions.
The challenge for the future of pharmaceutical manufacturing is to be highly flexible with adaptable automated production. Today, there are still many manual processes in drug substance and drug product preparation. Managing the data and being able to make automatic adjustments or decisions based on the data implies advances which IIoT promises to deliver. Cloud based systems can also integrate the important UPW data and make the UPW system as flexible as the rest of the manufacturing operation.
The impact of IIoT and Remote O&M will be substantial. The path to success will be complex. McIlvaine has two services to help guide the suppliers:
IIoT and Remote O&M N031 Industrial IoT and Remote O&M
UPW World Markets N029 Ultrapure Water: World Market
NEWS RELEASE February 2017
IIoT and NOx Control: The Opportunity and the Challenge
The industrial internet of things (IIoT) combined with remote operations and maintenance promise to make the reduction of NOx much more cost effective. Luminant and Duke Energy already have remote centers monitoring the rotating parts at all their plants. Yara has a remote center monitoring the levels of NOx reagent in storage and automatically setting delivery schedules for the next truckload when required. Thermo Fisher has a remote center monitoring the NOx and other emissions continuously.
MHPS has a remote center in the Philippines and is expanding into monitoring of combustion in coal-fired plants. Siemens has licensed tunable diode laser instrumentation and can determine O2 and CO levels at any point in the combustion zone. GE has neural networks which learn from burner damper settings and optimize their location. They have SootOpt which controls cleaning of the boiler tubes but balances NOx caused by additional energy consumed in the soot blower vs NOx resulting from inefficiency from ash laded tubes.
Flowserve has remote monitoring of valves and pumps. Howden has remote monitoring of fan and compressor operations. These systems can reduce the cost of NOx control maintenance by being proactive as opposed to predictive or reactive. Several companies offer remote monitoring of coal flow and insure that the correct weight (not volume) is introduced into the boiler.
With the new open access platforms and the cloud, it is now possible for operators and their suppliers to view all the relevant information at any location. Furthermore, the impacts on balance of plant can be constantly included in the decision making with inclusion of other centers such as the one created by Nalco to measure water quality impacts.
The integration of this information for the plant operator is only the first step. Remote monitoring will enable remote operations and maintenance. This means that a plant in a developing country can be operated with the same expertise as one in a country steeped in NOx control experience. Uniper (the large German utility) and India Power have a joint venture to provide O&M services to Indian power plants. Luminant is offering to use its remote center to provide monitoring activities for industrial plants in Texas and other areas.
The cost of sensors is falling while the ability to measure critical parameters is expanding. Wireless telemetry makes possible communication of vast amounts of information at low cost. So how does the NOx control industry take advantage of the opportunity. The answer lies in climbing the pyramid.
Emerson calls the decision pyramid DIKW. At the bottom you have data. Next is information, followed by knowledge. At the top is wisdom. Here is how that pyramid can be applied to NOx control.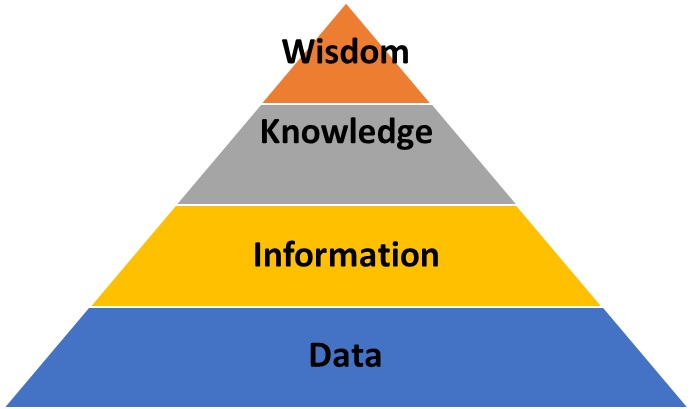 Means

Parameter

Data

Sensors, Instruments, Wireless Telemetry

Vibration, Temperature, Pressure, NOx, NH3, N2O, CO2, etc.

Information

Historian, Edge Computing, Permitted NOx and NH3 Emissions

Burner Damper Settings, flow of coal, urea, air. Emission Totals

Knowledge

Data Analytics

Clean Catalyst

Rejuvenate Catalyst

Regenerate Catalyst

Trend in loss of NOx removal, increased pressure drop but also mercury oxidation.

Wisdom

Remote Monitoring, Subject Matter Expertise, Knowledge Systems

How do you schedule catalyst replacement for each layer with both mercury and NOx as considerations?
The market opportunities for IIoT are analyzed in Industrial IoT and Remote O&M
The NOx market opportunities are analyzed in NOx Control World Markets