NEWS RELEASE APRIL 2016
New Route to Reach Prospects in Flow Control and Treatment Applications
The sales process for air, water, liquid and gas flow control and treatment equipment can be likened to a trip using GPS with a series of zoom steps. It is all possible because of digital technology. There was a time when the national road atlas was the major tool for a trip across country. To find local information you had to stop and ask questions.

This older system can be likened to the most common market approach to flow control and treatment: a general market report and a continuous flow of sales leads. The general market report is used by senior management to set the course but is not detailed enough to help set targets for individual sales people. The deficiencies in this approach are:
A general report may not provide the best forecasts,
A report which is not continually updated is obsolete,
The specific relevant market segments may not follow general trends.
A general report may not provide the best forecasts. A top-down general forecast is suspect. McIlvaine reports contain many thousands of individual forecasts which aggregate to a general forecast. How do you reliably determine the aggregate without determining the components? The suppliers of these general reports claim to interview the experts and analyze all the financial information. Any expert who does not have access to all the individual forecasts is hampered in making a general forecast.
General reports typically rely on data provided by governments and associations. These sources are good for determining the past but not the future. The most useful data is very detailed. Use of government data which assess the mining activity in each country is of questionable value compared to the use of specific coal, iron ore, bauxite, potash, copper, gold and other mineral production data. McIlvaine uses individual mineral forecasts. An approach which tries to assess the mining opportunities generally in a region without a specific breakout for each ore is flawed because mining activity varies widely depending on the ore. Chile is a leading copper producer, whereas Canada is a leading potash producer.
A report which is not continually updated is obsolete. The sudden drop in oil prices resulted in an immediate need to evaluate and change many flow control and treatment forecasts. The magnitude of the drop and the remaining political uncertainties require continuous adjustment of forecasts. It is desirable for management to set a flexible course for the year but also to make periodic adjustments in advertising, promotion and manufacturing based on revised forecasts.
The specific relevant market segments may not follow the general trends.
Flow control and treatment markets are frequently impacted by environmental or other regulations. So the general industry trends do not reflect the markets. The huge flue gas desulfurization (FGD) expenditures for pumps, valves, scrubbers, monitors and belt filters are a function of regulations which impact not only new plants but existing ones as well.
SALES LEADS: A large amount of money is spent on sales leads. They are often too late if you are selling based on the best product rather than the lowest cost. Since they are also provided simultaneously to competitors, the unique value is diminished. Much of this expense can be avoided with the new McIlvaine program: Detailed Forecasting of Markets, Prospects and Projects
This program can be likened to the road trip with several zoom steps on the GPS. The first step is to identify the markets which should be prioritized. McIlvaine provides a number of standard reports on air, water, contamination and energy markets:MARKETS
The second step is to zoom in on the most relevant markets. Customized segmentation provides forecasts which can be used at the individual salesman level.

The next zoom step is to identify the large users and decision makers. The large oil and gas, power, cement, food and mining companies buy the majority of the flow control and treatment products. These companies should be a continuous focus for the supplier.
The final zoom step is to focus on the projects being developed by the large users, OEMs, and A/Es. The systems to provide this data are shown at: Databases
NEWS RELEASE APRIL 2016
The Impact of Non-Traditional Needs and Solutions on Pump Industry Profitability
Investors are attracted to pump companies because of the large size of the pump market and the fact that their products are needed in growing industries such as water treatment. Investment analysts do a good job of predicting the profitability of the segments of the market dealing with traditional needs and traditional solutions but have difficulty anticipating the impact of non-traditional needs and solutions. The future in the case of non-traditional needs and solutions will not be an extension of the past.
We are now at the bottom of a pump industry cycle. The fortunes of the companies focusing on traditional solutions tend to look brighter than the fortunes of those who rely in part on non-traditional solutions. If we look out five years, we need to take into account four scenarios.
Pump Needs and Solutions

Need Type

Desired Solution

Traditional needs

Superior traditional solutions

Traditional needs

Superior unique solutions

New needs

Market leadership

Creating needs

Pro-active development of products and services
The traditional needs are exemplified by the municipal wastewater industry. Processes are slow to change. Because of the nature of the bidding process, traditional solutions are encouraged. An oil and gas floating platform lends itself to unique solutions. A pump requiring less maintenance is valued more highly when the service engineer has to make a boat trip to make repairs. The high pressures and unique conditions to which subsea pumps are exposed dictates new solutions. The development of pumps for energy recovery in desalination reverse osmosis (RO) plants is one of many examples where a need was created by a technical development.
As the pump industry rebounds, there will be many opportunities for market leadership and development of new products and services. Analysts should take this into account in their assessment of various pump companies.
Xylem and Flowserve are two of the four leading pump companies in the world. They have different markets and strategies.
Name

Pump Sales
($ million)

Company Ranking by Sales

Grundfos

$3,400

1

Schlumberger

$2,430

2

Flowserve

$2,400

3

Xylem

$2,100

4
Xylem exemplifies a large supplier targeting superior traditional solutions. It is focused on industries with slow but steady growth. It is the world's fourth largest supplier with pump revenues of $2.1 billion. Total revenue in 2015 was $3.65 billion which was down $200 million from an average of the previous two years. Despite lower sales, the operating margin was up from 11.8 percent in 2013 to 12.9 percent in 2015. On the other hand, R&D dropped $10 million to $95 million and represented 2.6 percent of sales in 2015.
The 2015 revenue split was 44 percent industrial, 33 percent public utility, 21percent residential and commercial and 2 percent agricultural. Transport generated 41percent of the revenues and building services 21 percent. The pump or transport activities are complemented by treatment and test products. More than 40 percent of revenues come from repair and services. Most of the industrial revenues come from transport of water. For example, a power plant extracts river water in the same quantities and manner as does a water utility.
Due to the fact that many of the customers are public utilities, there is an inherent resistance to change and a focus on initial price rather than total cost of ownership. Forty-one percent of the present revenues are in the U.S. compared to only 13 percent in the Asia/Pacific region. Application of superior traditional solutions leveraged by the U.S. experience offers substantial growth opportunities in Asia/Pacific.
Flowserve has a business model which lends itself to capitalize on "new needs." It focuses on cyclical markets but ones with long-term positive drivers. 2015 sales were $4.6 billion. Oil and gas accounts for 36 percent of sales whereas "water" accounts for only 4 percent. Thirty percent of Flowserve's revenues come from engineered pumps, seals, and systems. Flowserve and Xylem have not competed with each other since the Xylem/ITT split which resulted in the industrial pump activity remaining with ITT.
The cycle magnitude has been reduced by the change in mix of orders. Traditionally new large projects accounted for 20 percent of sales. Now it is between 10 and 15 percent. Short-term smaller projects such as replacement and upgrading now account for more than 40 percent of sales. The aftermarket segment now represents more than 40 percent of sales. The big drop in sales to the oil and gas industry has reduced earnings but cost reductions have partially offset the revenue losses.
The challenge for Flowserve and similar companies is to minimize profit reductions in the low end of the cycle and maximize opportunities at the high end. Manufacturing migration is one of the steps the company is taking as it right sizes its assets to deal with geographic market conditions.
Another challenge is to leverage the "engineered solutions" to provide products with lower total cost of ownership. Life of pump parts in applications such as fracking is measured in months. So there are major opportunities to differentiate themselves with superior materials and designs.
The McIlvaine Company analyzes the traditional and non-traditional pump needs and its impact on the industry in pumps. For more information on N019 Pumps World Marketclick on: http://home.mcilvainecompany.com/index.php/markets/2-uncategorised/116-n019
NEWS RELEASE APRIL 2016
Petrochemicals Is a Growth Market for Flow Control and Treatment
2017 will be a good year for those flow control and treatment companies selling into the petrochemical industry in East Asia. Production for this region will exceed 45 percent of the world total. There has been growth in the NAFTA region due to the availability of low cost natural gas, but it does not match the growth in China.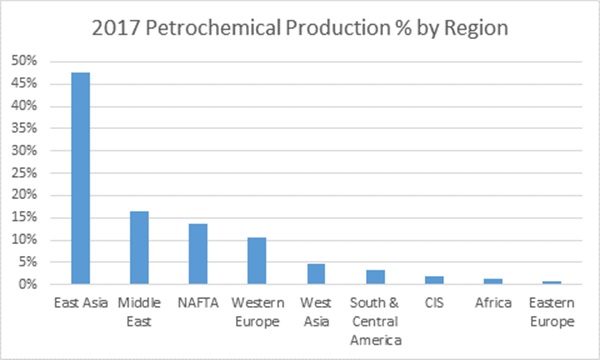 The investment in flow control and treatment in East Asia will be more than 60 percent of the total because of the feedstock source. A large portion of the Chinese petrochemicals will be derived from coal-based feedstocks rather than natural gas. The gasified coal must be filtered to eliminate ash. The acid gases also need to be removed before they even reach the conventional gas-to-petrochemicals process. Coal also contains unacceptable levels of mercury which require carbon beds or ionic impregnated bead beds for removal. Dehydration requires molecular sieves. Generally, three molecular sieve units are needed to allow for regeneration. The molecular sieve switching valve is expensive due to the temperature and corrosion exposure as well as the zeolite particles.
The large quantities of H2S generated in the coal gasification process require conversion to sulfur or sulfuric acid. Scrubbers, pumps and valves are all needed for this process.
The forecasts for flow control and treatment in the petrochemical industry is addressed in N049 Oil, Gas, Shale and Refining Markets and Projects.
Individual product forecasts for the petrochemical sector are found in:
N008 Scrubber/Adsorber/Biofilter World Markets
N028 Industrial Valves: World Market
NEWS RELEASE APRIL 2016
2017 Water and Wastewater Treatment Chemicals Purchases Will Exceed $27 Billion
Next year the purchases of water and wastewater treatment chemicals will exceed $27 billon. This represents the final price to the end user. Much of the revenue sticks with the companies who mix commodity chemicals to provide custom treatment. Ecolab and GE Betz are examples of the companies with the expertise to recommend the right chemical blend and then to furnish it. Much of the value is generated by the process knowledge of the supplier.
Water and Wastewater Treatment Chemicals Purchases
($ Millions)
Industry 2017
| | |
| --- | --- |
| Total | 27,585 |
| Chemical | 921 |
| Electronics | 438 |
| Food | 889 |
| Metals | 927 |
| Mining | 538 |
| Oil & Gas | 1,055 |
| Other Industries | 1,466 |
| Pharmaceutical | 389 |
| Power | 5,324 |
| Pulp & Paper | 1,665 |
| Refining | 3,093 |
| Wastewater | 4,970 |
| Water | 5,910 |
Municipal wastewater treatment represents the largest single industry segment. The problems with lead contaminated water in Flint, Michigan underscore the importance of treatment chemicals for this application.
The power industry is the second largest purchaser. Coal-fired power plants in China will spend over $1 billion for treatment chemicals in 2017. There are many supercritical and ultra-supercritical boilers in operation in the country. High quality treatment chemicals are needed to keep them operating.
Wastewater is a steady growth industry as developing countries are installing secondary treatment systems and need to purify the discharged wastewater as well as to dewater sludge.
The oil and gas industry must treat water from various sources including the produced water which is extracted along with oil. The lack of new drilling sites is encouraging water treatment since there are fewer options for reintroduction of the water which is already being produced.
For more information on Water and Wastewater Treatment Chemicals World Market, click on:
http://home.mcilvainecompany.com/index.php/markets/27-water/449-n026-water-and-wastewater-treatment-chemicals
NEWS RELEASE APRIL 2016
Multibillion Dollar Hot Gas Filtration Market will be Technology Driven
The large market for hot gas filters is growing and changing. The drivers are:
More stringent air emission limits on particulate
Desirability to integrate filtration with DeNOx and acid gas capture
Development of new systems to remove dust at high temperature
Development of systems to remove multiple pollutants
Opportunities to improve efficiency of processes and reduce greenhouse gases
There are a number of ways to remove dust from air. Dry precipitators presently remove more dust than all the other technologies combined. On the other hand, the market share for dry precipitators has dropped from 90 percent decades ago to closer to 50 percent now. In the future, the dry precipitator share will drop even farther as power plants switch to fabric filters.
| | | | | | | |
| --- | --- | --- | --- | --- | --- | --- |
| Industry | <450oF Filters | 850oF Filters | Catalytic Filters | Dry Precipitators | Scrubbers | Wet Precipitators |
| Coal-fired Power | P | P | P | P | S | S P |
| Waste-to- Energy | P | P | P | P | S P | S P |
| Cement | P | P | P | P | | |
| Steel | P | P | | | S P | |
| Sewage Sludge Incineration | | | | | P | S |
| Coal Gasification | | P | | | P | P |
| Natural Gas Processing | P | | | | | |
| Biomass Firing | P | P | P | P | S P | S P |
| Glass Furnaces | P | P | P | P | S | |
| Gas Turbine Intake | P | | | | | |
P = primary, S = supplementary (yellow = most used blue = most promising)
The industry has responded to these drivers with a range of new technologies. It is, therefore, going to be a challenge for the operator to select the best option for his specific situation. Here are some of the new choices:
Membranes and laminates with microfibers to achieve higher efficiency at equivalent pressure drop.
Filter media to best deal with the large load increases caused by direct sorbent injection of activated carbon or lime.
Filter media to cope with sulfuric acid condensate as coal-fired boilers burning high sulfur coal are utilizing filters.
Compact pleated filters to fit inside the shell of a precipitator.
Filters to remove organics as well as dust.
Filters to reduce NOx as well as capture dust.
Filters to operate at 850oF.
Filters to operate at 500oF.
Here are some of the developments in specific industries:
Coal-fired power: DSI, catalytic filters, removal of dust prior to air preheater, insertion of filter bags in existing precipitators, membranes for higher efficiency, consideration of a venturi scrubber/wet precipitator option instead of DSI fabric filter; SBS injection and lowering air heater temperature to where a bag with 250oF limits could be used.
Waste-to-Energy: Mercury and acid gas capture along with dust, elimination of the first-stage filter with a system to produce salable hydrochloric acid and valuable metals.
Cement: Coping with hazardous waste and sewage sludge as well as kiln dust, separate loop for mercury removal and capture, options to extract phosphorous from clinker kiln dust.
Steel: Capturing fugitive dust, replacing precipitators with fabric filters, dealing with sinter plant variables.
Sewage Sludge: Improving scrubber dust removal and final capture in WESP.
Coal Gasification: Ceramic filter with improved performance, venturi scrubber and production of rare earths and 30 percent hydrochloric acid.
Natural gas processing: Coalescing filters for droplet removal, ionic liquid impregnated pellets for mercury removal, filters to remove fines leaving carbon bed filters.
Biomass firing: Filters to deal with sticky contaminants released by combustion.
Glass Furnaces: Use of the catalytic filter with DSI injection using high reactivity lime.
Gas turbine intake: Filters to resist the salts and moisture of offshore turbine locations, HEPA efficiency to reduce turbine maintenance, membranes vs. nanofiber laminates, static vs. pulsed.
Filter selection decision guides in each industry will be discussed in a Hot Gas Filtration Hot Topic Hour slated for April 21, 2016.