NEWS RELEASE August 2017
Hundreds of Product Forecasts for 550 Largest Combust, Flow and Treat Purchasers
In the new IIoT environment purchases and specifications will increasingly be made at the corporate home office and not in the plants. These decisions will be based on a flow of knowledge from remote monitoring at the plant sites. This requires a new marketing approach shown at Marketing Program for Combust, Flow and Treat.
Product decisions will be greatly impacted by the IIoT environment at each of the 550 companies. Eight automation companies will have an impact on purchases at just under 10% of the purchases.
Sales of IIoT and Process Equipment to the Pulp and Paper Industry 2018 - $ millions
Product
Total Product Revenues
IIoT Impact
All suppliers
8 companies
All suppliers
8 companies
Guide
330
25
330
25
Control
550
45
550
45
Measure
220
20
220
20
Total Direct IIoT
1100
90
1100
90
Valves
1500
65
150
7
Air Pollution Control Systems
300
10
40
2
Pumps
1200
30
150
3
Water Treatment
2000
50
200
5
Wastewater Treatment
1000
30
100
3
Variable speed drives and motors
1800
120
200
12
Turbines, Fans, and Compressors
3500
600
350
60
Other Process Equipment, Chemicals, and Services
10,000
140
1000
14
Indirect IIoT
21,300
1045
2190
106
Ratio of Indirect to Direct
19
12
2
1.2
The eight automation companies will have a direct IIoT market in pulp and paper of $90 million. They will also sell another $1 billion of combust, treat, and flow products and services to this industry. By making these products smarter they can boost revenue by $106 million.
With better collaboration between the divisions, the eight companies can use their direct IIoT products to increase market share for all their products. With a 10% increase in market share along with the higher product revenue they could boost revenue by $212 million.
Product suppliers who are not starting to leverage IIoT will lose market share and the potential to increase revenues per unit of product with better and smarter offerings.
Only two of the 8 companies (Emerson and GE) are major valve suppliers. The other six can be pursued for purposes of collaboration.
GE could be a formidable competitor in air pollution control with the Alstom acquisition. Siemens sold Wheelabrator. So, the other seven are collaboration prospects.
Sales of IIoT and Process Equipment to Specific Pulp and Paper Producers 2018 - $ millions

All Producers

International Paper

Nine Dragon

Stora Enso

Guide

330

16

8

6

Control

550

33

16

12

Measure

220

11

5

2

Total Direct IIoT

1100

60

29

20

Valves

1500

90

45

30

Air Pollution Control Systems

300

18

9

6

Pumps

1200

72

36

24

Water Treatment

2000

120

60

40

Wastewater Treatment

1000

60

30

20

Variable Speed Drives and Motors

1800

108

54

36

Turbines, Fans, and Compressors

3500

210

105

70

Other Process Equipment, Chemicals, and Services

10,000

600

300

200

Indirect IIoT

22,800

1278

639

426

Ratio of Indirect to Direct

21

21

21

21
Forecasts of sales for specific products to each of 50 pulp and paper producers as well as 500 manufacturers in 11 other industries will provide a basis for collaboration among divisions within multi product companies as well as for setting up sales programs for each.
The IIoT & Remote O&M report has the forecasts for guide, control and three measurement segments for each of 550 companies x 3 continents = 8250 forecasts.
The Valve report has forecasts for 550 companies' x 8 control valve types plus 8 on/off valve types x 3 continents = 26,400 forecasts
The scrubber, fabric filter, precipitator, thermal/catalytic, liquid filtration, cartridge, RO/UF/MF, ultrapure water, cleanroom, sedimentation and centrifugation market reports also have detailed forecasts for the 550 companies
Custom forecasts are available for the other products.
Level 2 is the market reports with the forecasts of each product for the 550 companies.

Markets
Level 3 is the industry analyses with profiles of each of the 550 companies and continuing project information on each. Oil/gas/refining/petrochemicals is one report. Pharmaceutical, semiconductor and food are in another. Municipal water and wastewater are in one service. The other profiles are in the N031 report. Details are found at

Databases
For more information contact Bob Mcilvaine at 847 784 0012 ext. 112: email This email address is being protected from spambots. You need JavaScript enabled to view it.
NEWS RELEASE August 2017
Pulp and Paper Industry will spend $1.1 billion on IIoT Next Year
In 2018 the pulp and paper industry will spend an estimated $1.1 billion for guide, control, and measure products and services. This is the latest forecast in IIoT and Remote O&M published by the McIlvaine Company. The "guide" category includes automation consulting, software and services. This will generate revenues of $330 million. Control which includes automation products will result in purchases of $550 million. $220 million will be spend on measurement including analyzers.
The report provides forecasts for 550 companies in 12 industries including 50 in the pulp and paper segment.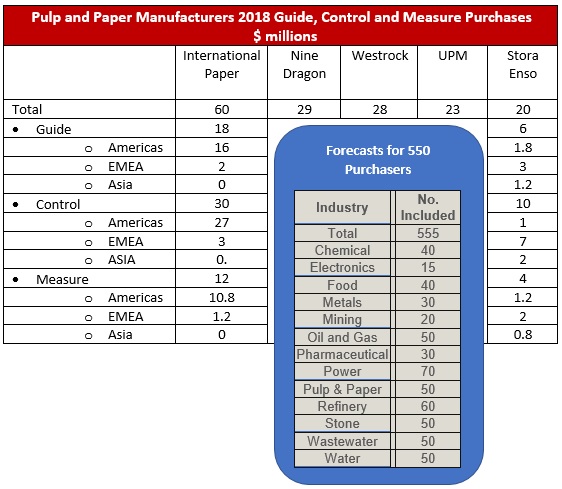 On August 23 Mcilvaine will conduct a Pulp and Paper IIoT and Remote O&M webinar. You can register at Weekly IIoT Webinars .
The 12 industries representing those with significant combust, flow, and treat processes for liquids, gases, and powders will spend $33 billion for guide, control and measure products and services next year. For more information on this report click on IIoT and Remote O&M.
For more information contact Bob Mcilvaine at 847 784 0012 ext 112 : email This email address is being protected from spambots. You need JavaScript enabled to view it.
NEWS RELEASE August 2017
550 Companies buy 80 percent of the Fabric Filter Equipment and Bags
$13 billion will be spent for fabric filter systems, equipment and bags in 2018. 80 percent of the total will be spent by just 550 companies. The top 50 purchasers will account for more than 40 percent of the total. The top five cement companies will purchase 20 percent of the fabric filter products purchased by the segment and 9 percent of the purchases by all industries.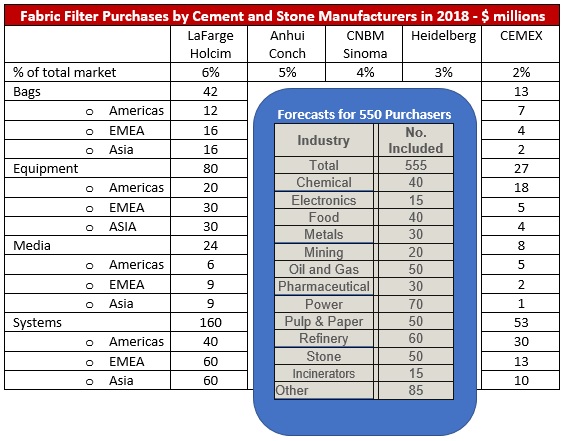 The forecasted purchases for each of the 550 companies segmented by region as well as in total are provided in N021 World Fabric Filter and Element Market. Continuous revisions to the estimates are provided in this on-line system.
Remote monitoring of bag performance and cloud based analytics will allow corporations such as Arcelor Mittal, BASF, Lafarge, and Duke Power to upgrade to the bags, cleaning mechanisms and designs which result in the lowest total cost of ownership. These end users will be empowered with knowledge which will make them less reliant on sales support. They instead will be looking to discuss technology at a high level. Furthermore, they will increasingly expect instant answers delivered through digital mobile communications. This change dictates a new approach to sales and promotion which is outlined at Marketing Program for Combust, Flow and Treat
NEWS RELEASE August 2017
Guide, Control, and Measurement Purchase Forecasts for 550 Companies
McIlvaine is forecasting the automation, instrumentation, IIoT and Remote O&M expenditures for each of 550 companies who have combust, flow, and or treat processes involving gases, liquids, or powders. ABB, GE, Emerson, Honeywell, Rockwell, Schneider Electric, Siemens and Yokogawa all have different definitions and segmentation of the market they serve in this broader space. These eight companies are forecast to achieve sales in the guide, control and measurement space of $8.5 billion which represents 8 percent of the total market of $106 billion forecast for 2018.
McIlvaine introduced the Industrial Internet of Wisdom (IIoW) label to cover the very important initiative needed to empower IIoT. This category includes knowledge about the components such as valves, pumps, and filters as well as digital products. The IIoT and Remote O&M forecasts include a much larger market than one served by the primarily automation and digital product companies. Forecasts for their products are also being provided in the report. We have elected to use the broad segmentation used by ABB. Their grouping of consulting, services, and software has been labeled as "guide". The other two categories are "control" and "measure".
ABB Segmentation
ABB Today
ABB Future
McIlvaine Category

Consulting, Services, Software

15

45

Guide

Digital Products, Systems and Automation

30

50

Control and Measure

Conventional Products and Systems

55

60

Total

100

155
ABB display is from Barclays London Conference in December 2016
The 550 companies we selected to evaluate buy the majority of the guide, control, and measurement products in the industries with significant combust, flow, and treat processes. The segmentation is the same as defined by Yokogawa as their target markets.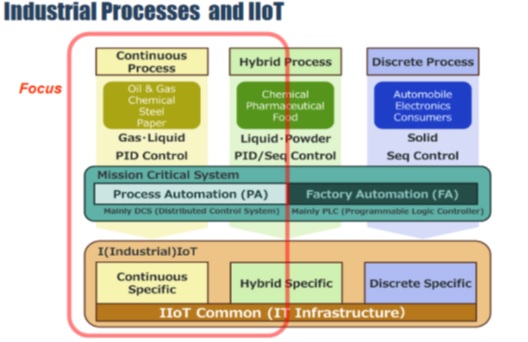 *Yokogawa market focus
Here are some samples of the forecasts for the food industry.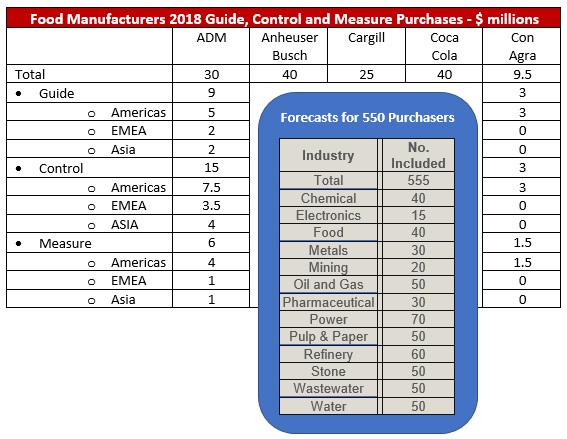 The forecasts for the 550 companies are included in the continuously updated N031 Industrial IOT and Remote O&M.
For more information contact Bob McIlvaine at 847 784 0012 ext. 112 or by email at This email address is being protected from spambots. You need JavaScript enabled to view it.
NEWS RELEASE July 2017
Valve Sales Concentrated among 2500 Purchasers
Industrial valve sales exceeded $58 billion last year. Five hundred and fifty-five companies bought 40 percent of the total. 1500 companies accounted for 60 percent of the total. 2500 companies purchased 70 percent of all valves. Sinopec which is the largest oil and gas producer and is also a large refiner and EPC purchased nearly 2 percent of the total. The top five oil and gas companies purchased nearly 5 percent of all valves. The top five power companies purchased 1.5 percent of all valves. The top 10 chemical companies purchased over 1 percent of all valves. Therefore, the top 20 purchasers accounted for 7.5 percent of the total. This is the latest tally in the McIlvaine industrial valve market report N028 Industrial Valves: World Market.
The 555 companies are in 13 different industries. There are only 15 electronics companies included in the group. Valve sales are much lower to this group than most of the others. The water and wastewater valve sales are substantial. However, there are relatively few large purchasers. For example the Metropolitan Sanitary District of Chicago spent $10 million for valves, but this is only 0.25 percent of the total valves purchased for the wastewater utility segment and is less than .02 percent of the valve total. None of the publicly owned utilities has even a 1 percent share. On the other hand, a few private companies have larger shares. Suez operates 50 percent of water and wastewater plants in Chile, is active in China and other Asian countries, has a significant share in France and is active elsewhere in Europe. It accounts for more than 0.5 percent of the total when both water and wastewater utility purchases are included.
The top 200 companies purchased 39 percent of the world's chemical valves in 2016.
| | | |
| --- | --- | --- |
| Rank | Percent of Total Valve Purchases | Cumulative Total |
| 1-10 | 10 | 10 |
| 11-20 | 4.5 | 14.5 |
| 21-30 | 4.0 | 18.5 |
| 31-40 | 3.0 | 21.5 |
| 41-50 | 2.0 | 23.5 |
| 51-100 | 7.1 | 30.6 |
| 101-200 | 8.6 | 39.2 |
Coal-fired plants represent the largest purchasing segment in power. Coal purchases are more than twice as large as those for nuclear or gas turbine plants. The top five operators purchased over 36 percent of the total valves purchased by coal-fired power plants. The top 15 companies purchased 55 percent of the total.
The rankings keep changing for multiple reasons. Mergers are one factor. Also some of the industries such as oil and gas are volatile whereas others such as pharmaceutical are steady. The advent of IIoT will lead to more mergers due to the economics of scale with automation and with remote monitoring and control by third parties who take over valve maintenance and replacement. The details are found in N031 Industrial IOT and Remote O&M.