NEWSRELEASE NOVEMBER 2015
448 Companies and Projects Will Account For 41 Percent of Liquid Macrofiltration Purchases
Sales of liquid macrofiltration equipment will be $6.9 billion in 2015. Suppliers who focus on 448 purchasers, engineering firms and large projects will be addressing 36 percent of the total potential. This is the conclusion reached by the McIlvaine Company in N006 Liquid Filtration and Media World Markets.
Large operators, system suppliers and architect engineers influence the majority of the purchases. A relatively small number of large projects also account for much of the market. There is overlap in that most of the large projects involve large operators and many of the filter specifications are made by large engineering firms. Some of the large projects such as a big new potash plant in Canada do not involve major operators. If a supplier pursues the large projects as well as the large operators, suppliers and engineering companies, he will be addressing 36 percent of the market.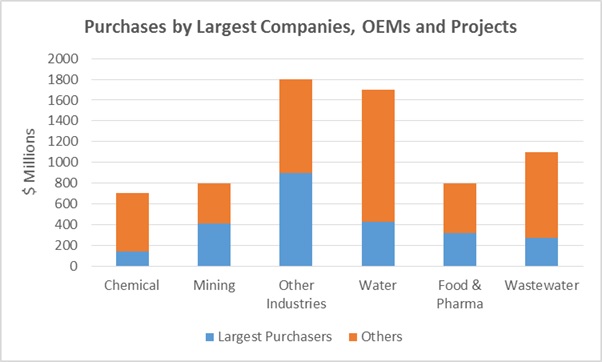 The scope of the report includes filter presses, belt filter presses, drum filters, automatic backwashing filters, granular media filters and bag filters.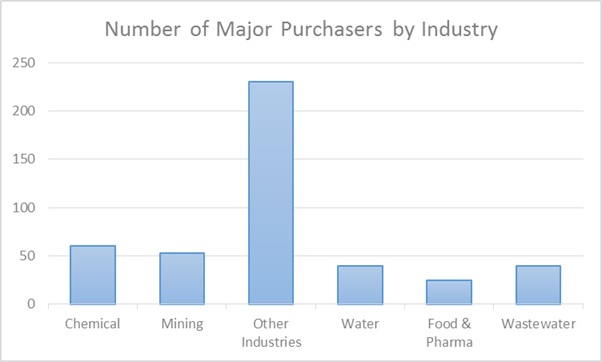 There are thousands of purchasers of filters. Many of the projects are quite small. These small projects involve filter sales of less than $40,000. Large projects with filter equipment needs of more than $40,000 account for 15 percent of the revenue in the chemical industry and 30 percent of the revenue in the mining industry.
Sixty large companies and projects will address 20 percent of the chemical industry market of $700 million. Average purchases for the 60 will be $2.3 million creating an opportunity of $140 million.
There is a concentration among chemical industry purchasers. For example, BASF will account for 1.8 percent of the liquid filtration purchases in the chemical sector. The top 10 chemical companies will account for 10 percent of the purchases.
In the "other industry" sector, 230 companies/projects have been identified whose purchases will average more than $3.9 million each.
The mining sector is concentrated with just 53 companies making 51 percent of the decisions. ArcelorMittal operates coal and iron mines but also operates close to 100 steel mills as well. It purchases more than 1 percent of all liquid filtration equipment.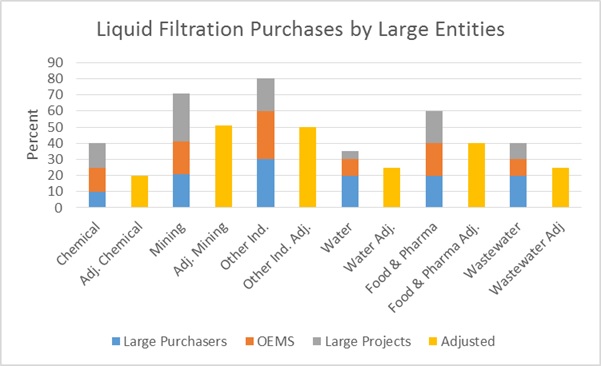 It is recommended that liquid filtration suppliers create specific programs to address this combination of companies and projects. The relatively small number of large opportunities makes a proactive approach possible. McIlvaine has created a unique route to market by combining the Detailed Forecasting of Markets, Prospects and Projects with McIlvaine project tracking services.
For more information on this program contact Bob McIlvaine at This email address is being protected from spambots. You need JavaScript enabled to view it.
NEWS RELEASE NOVEMBER 2015
The Market for Mercury Removal Will Be Growing Robustly In the Next Decade
Recent estimates of annual global mercury emissions from both natural and anthropogenic sources are in the range of 5,000 to 8,000 metric tons per year. These estimates include mercury that is re-emitted.
The U.S. EPA analyzed the harm from mercury and came to the conclusion that reduction expenditures as high as $30,000 per pound would be warranted. On this basis the potential market for mercury removal would be $300 billion per year. However, the cost of removal of some mercury will be as low as $1000/ton. The cost is related to efficiency of removal. So, if only 60 percent of the world's mercury or 3,000 tons per year were eliminated, the cost would be closer to $5,000/ton so the annual market would be $15 billion/yr. This is the conclusion reached by the McIlvaine Company in Mercury Air Reduction Markets.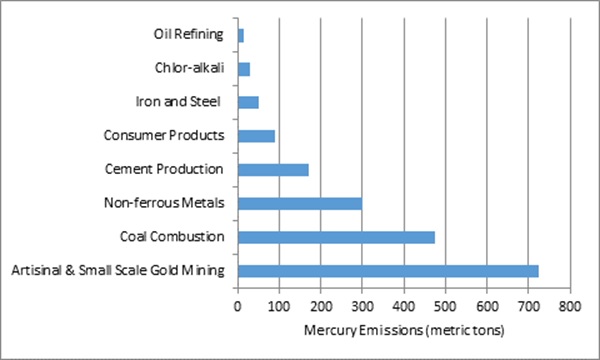 The market is presently well over $1 billion per year. U.S. coal-fired power plants are accelerating their expenditures to meet the new air toxic regulations which will be enforced from 2016 forward Most waste incinerators around the world are removing mercury.
Most mercury expenditures are justified by the reduction in environmental harm. However, some segments of the market are driven by other considerations. The natural gas industry needs to remove mercury to protect equipment and pipelines.
Mercury is present in many natural gas streams. While mercury levels can vary greatly, even low levels must be removed to avoid damage to downstream equipment. Current methods for removing mercury from natural gas and condensate use fixed beds of mercury removal materials. There are three types of materials: sulfur impregnated activated carbon, metal sulfides or oxides on an alumina carrier, and silver impregnated molecular sieves. Carbon-based sorbents are the most commonly used, but the trend is towards a greater use of metal sulfides in order to remove higher concentrations of mercury and for occupational safety and environmental reasons.
The market for mercury removal adsorbents is primarily a function that the amount of natural gas produced and the average concentration of mercury in the gas. However, the concentration of mercury in natural gas varies greatly from region to region, from a low of 0.02 µg/Nm3 in the Gulf of Mexico to 300 to 400 µg/Nm3 in Southeast Asia. Consequently, the largest natural gas producing regions are not necessarily the largest markets for mercury removal products.
There is a large current investment in LNG facilities in South East Asia. It is estimated that mercury reduction processes will account for 1 percent of the capital investment. Expenditures for equipment and replacement sorbents for natural gas from all sources will exceed $150 million/yr. in the short-term and will increase at more than 6%/yr.
China is the largest growth market. There are scrubbers on more than 800,000 MW of coal-fired capacity. The potential market in coal-fired power generation is four times larger than the U.S. market. China also has five times the cement capacity as the U.S. A large potential market is coal gasification. To put it in perspective China's coal consumption just for gasification will equal 10 percent of the U.S. coal-fired generator coal consumption. Since this gas must be pipeline quality, the mercury removal expenditures will be very substantial. The likely technology to be employed is carbon beds similar to those installed by Eastman Chemical in a coal-to-chemicals plant in Tennessee.
For more information on Mercury Air Reduction Markets, click on: http://home.mcilvainecompany.com/index.php/markets/2-uncategorised/85-n056
NEWS RELEASE NOVEMBER 2015
52 Companies Buy 52 Percent of All the NOx Control Reagents Purchased by Stationary Sources
Sales of NOx control reagents for coal-fired power plants will reach $3 billion in 2016. This represents 75 percent of the reagents which will be purchased for stationary applications. Seven companies will account for 44 percent of the purchases by coal-fired power plants and 33 percent of the purchases by all stationary sources.
NOx Control Reagent Purchases

# Of Corp

SCR/SNCR Capacity For Each

MW x 1000

Total MW 1000

% of Total

Coal-fired Installed Base

Reagent

Purchases

$ Millions

% of Total

$26

Billion

Examples

7

Over 50

575

44

1,320

33

Big 5 Chinese Corp

10

10-50

150

12

360

9

AEP, TVA, Duke, Enel, EON

15

5-10

105

8

240

6

NRG, Xcel, Tokyo Electric, Chubu Electric

20

3-5

80

6

180

4.5

AES, EPDC, RWE, CEZ

52

Sub total

910

70

2,100

52

350

0-3

390

30

900

22

U.S., Europe, China

404

Total

1,300

100

3,000

74
Operators of coal-fired power plants inject nitrogen compounds in one form or another into the exhaust gas to react with the NOx. The result of the reaction is nitrogen and water. This process reduces up to 95 percent of ozone and smog producing NOx.
The nitrogen compound formulation is largely determined by economics and safety considerations. The least expensive compound is anhydrous ammonia. It is routinely used by farmers but does create safety hazards if not handled carefully. Aqueous ammonia includes enough water to minimize safety concerns but adds a cost to the process. Solid urea can be delivered to the power plant and converted to ammonia on site. This option requires investment in capital equipment.
Typically, power plants near cities opt for alternatives to anhydrous ammonia while those in rural areas use the lower cost option. China has chosen the use of urea with on-site conversion for most of its power plants. It has the most NOx control installations, so its selection has reduced the dominance of anhydrous.
The 5 largest Chinese suppliers are among the top 7 NOx system operators in the world. These 7 companies will buy 44 percent of the NOx control reagents in 2016. The next 10 companies, most of whom are U.S.-based, will account for 12 percent of the reagent purchased by power plants and 9 percent of all the reagent purchased by stationary sources.
The concentration of the reagent purchases into this small group of companies means that suppliers can sell directly throughout the world. There are purity differences in ammonia and other reasons that suppliers can provide value beyond purchased cost. McIlvaine has developed a program to help suppliers focus on the large purchasers. Detailed Forecasting of Markets, Prospects and Projects.
This program combines the following:
59EI Gas Turbine and Combined Cycle Supplier Program
NEWS RELEASE NOVEMBER 2015
Investment Plans for LNG Exceed $1 Trillion
Many areas of the world are without adequate natural gas supplies. They can import coal but prefer gas because of its environmental advantages. Renewables do not offer quantities of energy at reasonable cost in the near term. Liquefied natural gas (LNG) can supply the growing energy needs of the developing world. These needs have resulted in plans for LNG gasification, transport and regasification investments exceeding $1 trillion. This is the conclusion reached by the McIlvaine Company in N049 Oil, Gas, Shale and Refining Markets and Projects.
Over the next five years, owners will invest in new facilities generating 120 million tons per year of LNG. Investment costs will vary greatly from site to site depending on location and process. Construction at regasification sites (brownfields) could be as low as $500/ton of annual capacity. Floating liquefied natural gas (FLNG) could exceed $1800/ton.
At an average of $1200/ton, annual purchases will be $29 billion and the five year totals will be $144 billon. Equipment will represent 30 percent of the total or $6.6 billion per year. Nearly 800 MTPA (million tons of LNG per annum) of capacity is in the proposal stage representing investment of nearly $1 trillion.
Demand is expected to grow on an average of more than 5 percent through 2030.
U.S. projects at existing regasification plants have a competitive edge compared to other proposed projects globally. More than 50 liquefaction projects have been announced. Proposed capacity in the U.S. stood at 269.6 MTPA as of the first quarter of 2015, mostly located in the Gulf of Mexico. Proposed capacity in Canada reached 345 MTPA, including nearly 160 MTPA proposed in 2014 alone.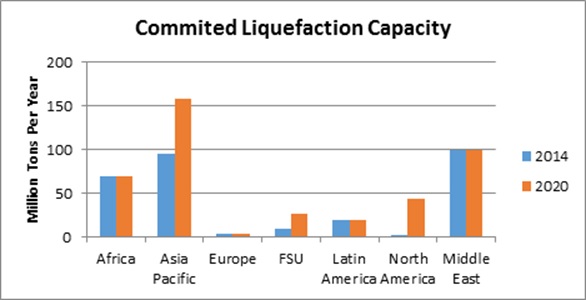 There are non-economic factors affecting decisions. They include security of supply and political considerations that will impact the investments in many regions. China is a notable example.
In November 2015, China approved a $20 billion pipeline for transporting gasified coal from northern and western China to cities throughout the country. It is designed to handle 30 BCM (billion cubic meters per year). The use of gasified coal will reduce demand for LNG in China. The longer term plan is for as much as 200 BCM. If China is able to gasify coal reliably and economically, there would be a big negative impact on the world LNG market.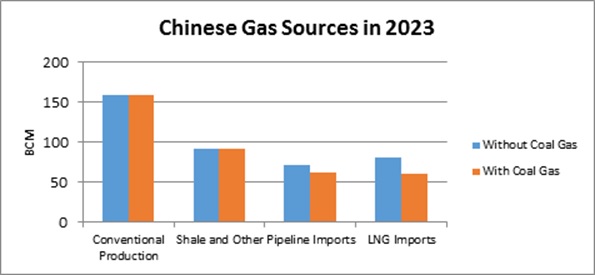 McIlvaine will continually evaluate the potential impact of the Chinese coal gasification program and other potential impacts on the market. McIlvaine will also adjust forecasts for filters, pumps, valves, treatment chemicals and other products based on the LNG forecasts. This analysis is then used to analyze the potential of projects reported daily in the program. Here is an example:
Petronas Selects Axens Technologies for Malaysia's RAPID Project

Petroliam Nasional Berhad (PETRONAS), has selected Axens as a technology provider for PETRONAS' Refinery and Petrochemicals Integrated Development (RAPID) project located in Pengerang, Johor, Malaysia. RAPID is part of PETRONAS' Pengerang Integrated Complex (PIC) development, which includes six major associated facilities namely the Pengerang Co-generation Plant, Re-gasification Terminal 2, Air Separation Unit, Raw Water Supply Project, Liquid Bulk Terminal as well as central and shared utilities and RAPID is estimated to cost US$16 billion while the associated facilities will involve an investment of about US$11 billion. PIC is poised for its refinery start-up by early 2019.

Regasification terminal will generate a cryogenic pump opportunity of $1 million and butterfly valve opportunity of $0.5 million. Total flow control and treatment opportunities for the project are over $200 million.
For more information on N049 Oil, Gas, Shale and Refining Markets and Projects, click on:http://home.mcilvainecompany.com/index.php/markets/28-energy/471-n049
NEWS RELEASE NOVEMBER 2015
The Top 200 Purchasers Buy More Than 50 Percent of the World's Water Treatment Chemicals
The largest users of water treatment chemicals are also the industries which are most concentrated. A few oil and gas companies produce most of the oil and gas. Large power companies produce most of the electricity. A few large electronics companies produce most of the semiconductors and flat panel displays. In fact, Samsung is a leader in both products.
Due to the government ownership of wastewater plants in many countries and the growth of third party operators such as Veolia and Suez, the water and wastewater industry is also relatively concentrated in terms of decision makers.
Water treatment chemical producers sell directly to some large users and sell through distributors to others. The percentage purchased by the large users is rising and calls for more focus on this segment by the producers. This is the conclusion reached by McIlvaine Company in N026 Water and Wastewater Treatment Chemicals: World Market.
The 2015 treatment chemical sales will exceed $26 billion. Sales of chemicals to provide ultrapure water (UPW) will be $1.1 billion.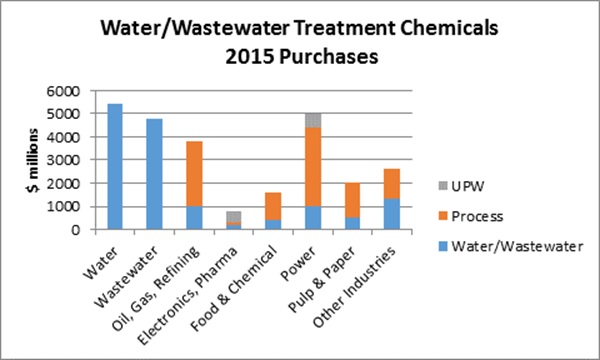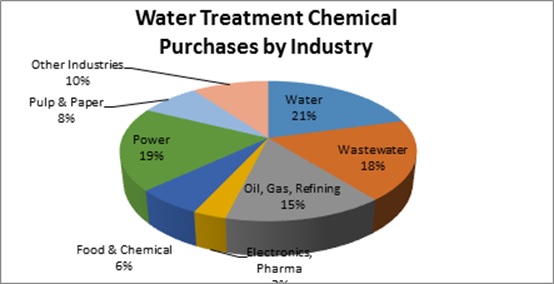 The electronics and power companies dominate the market for ion-exchange resins and other chemicals primarily used with ultrapure water. The UPW chemicals market includes $500 million of purchases by electronics and pharmaceutical manufacturers and $600 million by power plants. However, a few companies dominate the electronics business and they are among the largest UPW treatment chemicals purchasers.
| | | | | |
| --- | --- | --- | --- | --- |
| # | Company | Semi | Other Electronic | Power |
| 1 | Samsung | x | x | |
| 2 | Intel | x | | |
| 3 | TSMC | x | | |
| 4 | EDF | | | x |
| 5 | LGE | | x | |
| 6 | Sony | x | x | |
| 7 | SK Hynix | x | | |
| 8 | Micron | x | | |
| 9 | China Datang | | | x |
| 10 | China Guodian | | | x |
Samsung is the largest UPW treatment chemicals purchaser followed by Intel and TSMC. The largest power purchaser is EDF who ranks fourth.
For polymers and other chemicals used in UPW systems but also used elsewhere, the power plants rank above the semiconductor companies. The power companies are also large purchasers of corrosion inhibitors and anti scalants. Total treatment chemical purchases by power plants in 2015 will be $5 billion of which $3 billion will be spent by the coal-fired power generators.
There is subset of this group which also operates flue gas desulfurization (FGD) systems. This process expands the treatment chemical needs. This group is highly concentrated with just seven companies accounting for 44 percent of the treatment purchases.
Water and Wastewater Treatment Chemical Purchases

by Coal-fired Power Companies with FGD

# of Corp

FGD capacity for each

MW x 1000

Total MW 1000

% of Total

Coal-fired Installed Base

WWTC

Purchases

$ millions

% of total

$26

billion

Examples

7

Over 50

575

44

1,320

5

Big 5 Chinese Corp

10

10-50

150

12

360

1.4

AEP, TVA, Duke, Enel, EON

15

5-10

105

8

240

0.9

NRG, Xcel, Tokyo Electric, Chubu Electric

20

3-5

80

6

180

0.7

AES, EPDC, RWE, CEZ

52

Sub total

910

70

2,100

7

350

0-3

390

30

900

3

U.S., Europe, China

404

Total

1,300

100

3,000

10
These seven companies will spend $1.3 billion for treatment chemicals this year. This represents 5 percent of all treatment chemical purchases. The average per company is 0.8 percent of total purchases. Other industries are also concentrated. The largest 200 companies across the various purchasing industries average more than 0.25 percent of the purchases. So in total they account for more than 50 percent of the market.
The McIlvaine Company has created a program for suppliers to maximize sales to the largest purchasers. It combines the treatment chemicals report with tracking of prospects and projects. Detailed Forecasting of Markets, Prospects and Projects.
For more information click on:N026 Water and Wastewater Treatment Chemicals: World Market
Other support services for the program include:
59EI Gas Turbine and Combined Cycle Supplier Program
N049 Oil, Gas, Shale and Refining Markets and Projects,
The new (Industrial Water Emitter) Industrial Water: Plants and Projects http://home.mcilvainecompany.com/index.php/databases/27-water/883-n033