NEWS RELEASE OCTOBER 2016
New Approach Allows Suppliers to Reach 50 percent of the World's Power Generation Market
Large utilities are expanding through merger and acquisition. As a result, 100 power generators around the world buy more than 50 percent of the products and services. These operators are expanding into wind, solar, biomass, geothermal and other renewable fuels. They have distributed generation initiatives. Many are making major investments to meet new environmental regulatory requirements. There are thousands of challenging decisions which have to be made. A new program is creating a unique path for decision makers to combine the hurry-up habits of the IPhone and Facebook with the wisdom of "wise crowd" decisions. The program for the first utility is now available.
Berkshire Hathaway Energy (BHE) includes PacifiCorp, NV Energy, Mid-American, BHE Renewables, Northern and Kern River Pipeline. The two pipeline companies transport 7 percent of the natural gas in the U.S. The power companies operate coal, gas, hydro, solar, geothermal, biomass, wind and other renewables generators.
McIlvaine now has Berkshire Hathaway Energy Supplier and Utility Connect to be used by suppliers as well as BHE personnel. It has details on every one of the hundreds of power generators within the system. It fulfills the 4 knowledge needs: Alerts, Answers, Analysis and Advancement. It combines 44I Power Plant Air Quality Decisions (Power Plant Decisions Orchard) and 59D Gas Turbine and Reciprocating Engine Decisions with the custom BHE program. This includes interfacing with hundreds of BHE people indirectly through the Alerts, case histories, etc., and directly through large and small webinars.
Function

Customer
Plant
Location
Applications
Processes

Products

Sales
Service
Engineering
Manufacturing

Consulting

Resource planning
Regulatory
Automation
Operations
Plant design

WA, OR, UT, WY, IA and non-regulated in many states and the Philippines

Coal

Wind

Biomass

Energy Recovery

Gas

Hydro

Geothermal

Gas Transmission

Water

Intake

Cooling

Ultrapure

Water

Ground Water

Gas Pipeline

Gas Storage

Compressor Station

Steam

Combustion

Wastewater

Fire Protection

Lubrication

Heat Recovery

FGD

Solid Waste

Solid Handling
The website has constantly updated data on each power generation, energy recovery and gas storage and transmission system operated by BHE. It also has details on all the larger industrial facilities in Iowa and the western states where BHE has electricity delivery. It includes all the facilities owned by BHE Renewables. Information on the compressor stations and power generators also includes the air permits with detailed regulatory information.
The coal-fired power plant information includes details on the furnaces, burners, coal size reduction, ID fans, heat recovery steam generators, SCR, particulate control, FGD, wastewater, ash disposal and instrumentation.
The gas turbine data includes details on the gas and steam turbines, inlet air systems, emission control systems, HRSGs and water and wastewater treatment.
The Alerts, webinars and other communication tools provided to suppliers assure an audience at power plants around the world.
For more information on Supplier and Utility Connect. 4S01, click on: http://home.mcilvainecompany.com/index.php/markets/28-energy/1185-4s01
NEWS RELEASE OCTOBER 2016
Utilizing the Excess Coal-fired Boiler Talent in the U.S.
The U.S. is not building new coal-fired power plants and will be shutting down nearly 70,000 MW of existing power plants. There is uncertainty regarding the remaining 190,000 MW depending on clean power regulations. The result of this shrinkage is a large excess of coal-fired boiler talent in the country. Two options for beneficial use are to channel this talent into:
Other types of power generation activities
Coal-fired boiler power generation overseas
This is easier said than done. This talent needs to gain new knowledge and to be integrated into to new organizational structures. McIlvaine believes that the best way to gain this knowledge and to create a structure is through "Wise Crowd" Decisions.
McIlvaine has created a system to cover all power generation knowledge regarding Berkshire Hathaway (BH).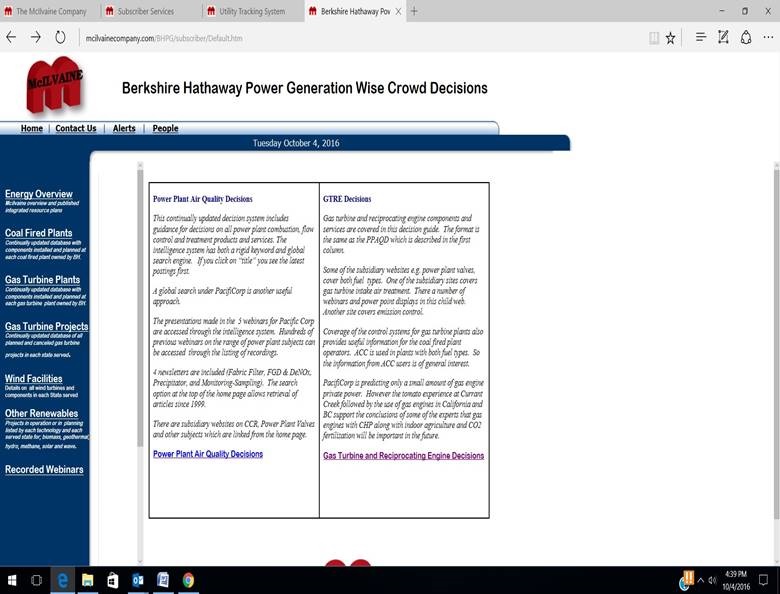 The ultimate goal is to create systems for the 300 largest power plant operators worldwide. These systems unleash the potential for "wise crowd" decisions through digital interconnection and delivery of the 4 knowledge needs: Alerts, Answers, Analysis and Advancement. These systems can be used by the U.S. coal-fired boiler talent to either transition to new types of power generation decisions or to bring their talents to the international coal-fired power generation industry.
Transition to Other Types of Power Generation Facilities
Already much of the coal-fired talent has been redirected to work on gas or renewable energy activities. There is an internal restructuring at most large power generating companies. Berkshire Hathaway (BH) has been building gas, solar, wind and biomass plants. To utilize coal-fired talent for the other types of generating facilities there may be relocation and training requirements. The "Wise Crowd" Decisions systems can positively address both challenges.
Relocation: With the internet of things and the delegation of certain tasks by specialty some of the coal-fired talent may not have to relocate. Let's take water monitoring systems as an example. The October Monitoring and Sampling newsletter is one of the tools in the BH "Wise Crowd" Decisions. It includes an analysis of Hach pH analyzer decisions made at the Mid-American Neal coal-fired power plant. It includes Hach water quality analyzer decisions being made at the PacifiCorp North Umpqua hydro plant and in the case of NV Energy the groundwater program for the Muddy River plant.
Specialization will minimize the need for relocation: One of the Mid-American coal people could be a leader in the pH and other water quality analyzer decisions for all the coal, gas, turbine, geothermal and hydro plants.
The hydro plants have further synergy in processes such as intake screens for coal and gas plants. With the fish ladders and other steps necessary to protect wildlife, the PacifiCorp hydro people have a number of in-house experts plus the modus operandi to work with outside testing firms. The fossil plants are challenged with new federal regulations impacting water intakes and discharge to reduce harm to fish populations. In the October Monitoring and Sampling newsletter, several hundred individuals at PacifiCorp and their contractors involved in this activity are identified. Power Plant Air Quality Decisions (PPAQD) has recorded webinars with companies such as Ovivo making presentations on screen designs to protect fish at coal-fired power plants. Ovivo is also involved in the hydro plants. It would, therefore, make sense to create a BH team which deals with fish protection at all the plants.
Bird kill is a concern with wind turbines. The BH hydro wild life protection expertise will be quite valuable to Mid-American who is building 3000 MW of new wind turbine facilities.
Training: The coal-fired talent which switches from coal to gas turbines immediately has access to Gas Turbine-Reciprocating Engine Decisions to select gas turbine inlet filters and to maximize their performance the talent can evaluate the negative impact of rapid cycling on valve selection. Aspects of the HRSG, SCR and monitoring are different and can be quickly understood with the access to hundreds of hours of webinars, and organized analyses and case histories. There are separate child webs on some components such as power plant valves which cover all fossil and nuclear requirements.
Coal-fired Power Generation Overseas
The goal is to create systems identical to the one for BH for all the large power plant operators around the world. The fact that BH and a large Indian utility are using the same system opens new markets. McIlvaine has conducted five webinars for PacifiCorp focused on reductions in NOx without the use of SCR. New NOx regulations in India will place many plants in the same position as PacifiCorp. PacifiCorp will be doing some testing and is likely to become the world leader in achieving NOx reduction without full SCR. This expertise is exportable.
The talent and the systems utilized by U.S. coal-fired boiler operators can be put to good use by coal-fired power plants in other countries. More than 90 percent of coal-fired generation takes place offshore. U.S. utilities do not have to own international generation facilities in order to leverage their coal-fired talent. They can provide operating support. If a utility creates specialists for its own plants and maximizes the information generated by machines, it can cost-effectively assist international plants to follow suit.
McIlvaine Decision Systems can be very helpful in supporting these international operations. Operators in many international coal-fired power plants will not speak English. However, if the basic technical options are defined in the local language, then the important communications are possible. In some cases, this means first clarifying the options. There was confusion among catalyst cleaning, catalyst rejuvenation and catalyst regeneration. It took a 40-minute webinar with catalyst suppliers and others to agree on definitions and terminology in both Chinese and English.
The U.S. has been a leader in developing cost effective clean coal technology. This resource should be leveraged rather than lost.
For more information, click on: 44I Power Plant Air Quality Decisions (PPAQD)
For more information, click on: 59EI Gas Turbine and Reciprocating Engine Supplier Program.
For more information on interconnection programs contact Bob McIlvaine at 847 784 0012 ext. 112 This email address is being protected from spambots. You need JavaScript enabled to view it.
NEWS RELEASE OCTOBER 2016
Interconnecting the Flow Control and Treatment Industry
It is the digital age and it is the dawn of machine-to-machine communications. But we are in the dark ages when it comes to interconnectivity. Large flow-and-treat end users and large suppliers have minimum connectivity within their own companies. McIlvaine has created a Global Decisions Orchard structured to maximize interconnectivity between individuals in diverse groups. The new embellishment is to maximize intra-group interconnectivity.
Owner/Operator Groups
More than half the flow control and treatment products and services are purchased by multiple plant owners. Custom websites and Decision Systems are being set up for these owners. The first such system is Berkshire Hathaway Power Generation Decisions.
Flow and Treat Suppliers
More than half the flow control and treat products and services are sold by companies providing multiple products from a number of locations. Interconnectivity has been slowed by divisional self-interest. The bottoms-up approach applied by McIlvaine avoids divisional rivalry. The interconnected owner/operator group with a bridge to the interconnected supplier conglomerate is now a reality.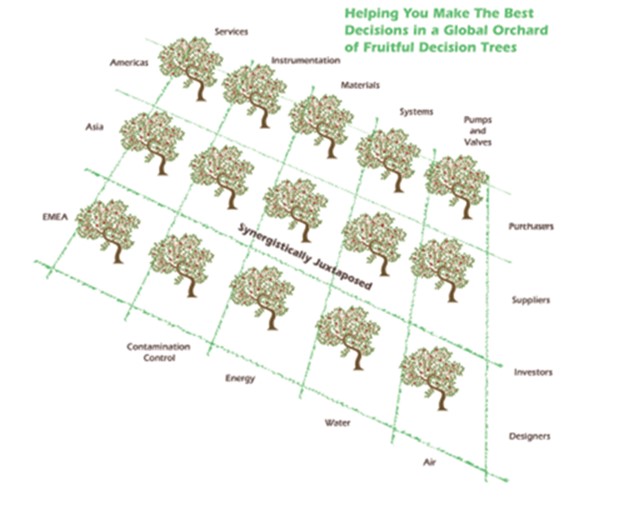 Interconnectivity between the suppliers and end users needs to be expanded to include consultants, investors and regulators. This requires niche experts who, like bees, pollinate one flower after another.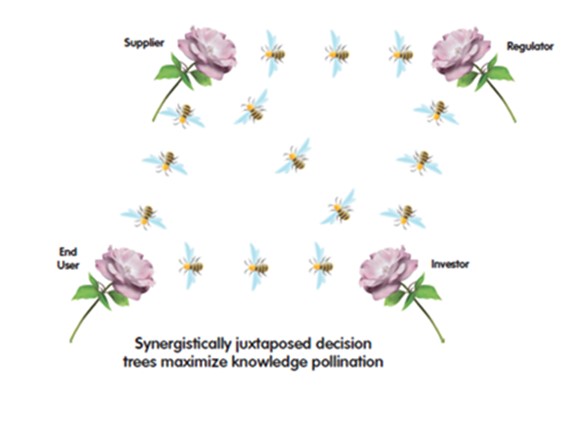 Funding for experts in narrow niches has been impossible because there has not been global support. Many of the world's most expert flow and treatment people retire each year and many become consultants. However, without a big demand for their niche specialty they are soon involved in extraneous activities and soon lose their knowledge advantage. With the Global Decisions Orchard there are enough flowers to support a large hive.
The expanded interconnection allows the "wise crowd" to make more valuable contributions. Each person is a niche expert in a number of areas. In one of five "wise crowd" webinars for a Berkshire Hathaway project a senior engineer volunteered information from an obscure R&D project conducted several years earlier. This apparently minor contribution has become important to greatly reducing the project cost. The "wise crowd" is necessary to take advantage of the rapidly expanding world knowledge.
For more information on the interconnection program contact Bob McIlvaine at 847 784 0012 ext. 112 This email address is being protected from spambots. You need JavaScript enabled to view it.
NEWS RELEASE OCTOBER 2016
Cartridge Filter Sales to be Just under $17 Billion Next Year
Sales of cartridges to industrial, commercial and residential customers not including mobile sources will exceed $7.4 billion next year. This is the latest forecast in Cartridge Filter World Market. NAFTA will be the leading regional purchaser followed by East Asia.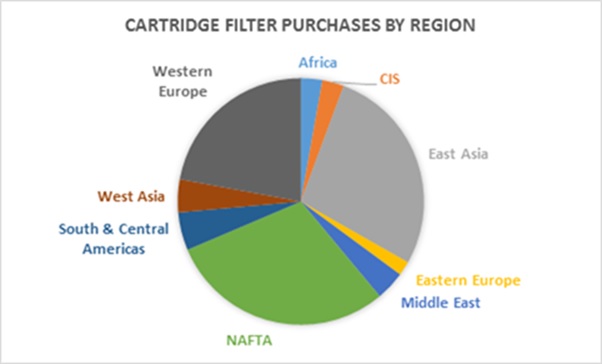 Carbon cartridges will be the leading type followed by non-woven designs. The market for cartridges with membranes is smaller but the fastest growing segment. This is due to the high removal high removal efficiency.
| | |
| --- | --- |
| 1 | Carbon |
| 2 | Non-Woven |
| 3 | Membrane |
| 4 | String Wound |
| 5 | Metal |
The cartridge market is primarily a replacement market. This segment is all classified as dead end and non-cleanable. As a result, the cartridges are replaced when the maximum acceptable pressure drop is reached. Two other McIlvaine reports N020 RO, UF, MF World Market and N006 Liquid Filtration and Media World Markets address filters which are cleanable.
For more information, click on: N024 Cartridge Filters: World Market
NEWS RELEASE OCTOBER 2016
Scrubber Sales to Reach $7.4 Billion Next Year
Sales of scrubbers to industrial customers and not power plants will exceed $7.4 billion next year. This is the latest forecast in Scrubber/Adsorber/Biofilter World Market. East Asia will be the leading regional purchaser followed by NAFTA.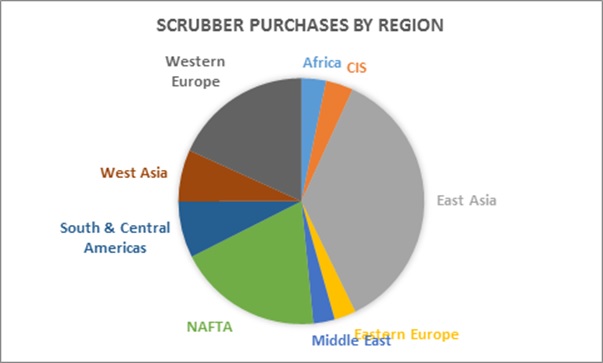 Absorbers will be the leading scrubber type. This includes packed towers and tray towers. Adsorbers with carbon or other media will be the second ranked product.
| | |
| --- | --- |
| 1 | Absorber |
| 2 | Adsorber |
| 3 | Particulate |
| 4 | Dry Scrubber |
| 5 | Biofilter |
| 6 | Other |
A large number of both dry and wet scrubbers are used to remove SO2, mercury and HCl formed by the burning of municipal or industrial waste. This will be the top ranked application.
| | |
| --- | --- |
| 1 | Incinerators |
| 2 | Wastewater |
| 3 | Other Industries |
| 4 | Metals |
| 5 | Chemical |
| 6 | Surface Coating |
| 7 | Pulp & Paper |
| 8 | Food |
| 9 | Electronics |
For more information click on: N008 Scrubber/Adsorber/Biofilter World Markets