NEWS RELEASE JUNE 2016
Evaluating LTCO Improves the Selection Process for High Performance Flow Control and Treatment Equipment
High performance (HP) flow control and treatment equipment tends to be purchased and sold using the same process as general purpose equipment. Price and delivery are prioritized. Evaluation of the lowest total cost of ownership (LTCO) is not elevated to the highest priority. This failure permeates the industry even to the point that bonuses are paid on performance in the past year rather than the past 10 years. The company that buys the lowest priced HP products does better this year but over time it will be a costly choice. The company that sells the lowest priced HP product can book profits in the current year but subsequent expenses and loss of reputation will affect future profits.
This condition needs to be corrected. The first step is to identify the high performance products that need to be evaluated separately. There are three main criteria:
Severe service
Critical service
Unique Service
Severe service: Corrosion, pressure, temperature, process operating fluctuations are all conditions that qualify an application as severe service.
Critical service: Safety, product purity, continuous operation, and product toxicity are criteria of critical service.
Unique Service: The distinction is often made between an engineered product versus an off the shelf or standard product. In any case, the decision making for unique service products needs to be made with prioritization of the LTCO.
McIlvaine Company is facilitating this identification of high performance needs by revising its market reports on air and water pollution control systems, filters, pumps, valves and instruments to segment the high performance and general purpose opportunities. For each industry high performance needs are further segmented by use e.g. air or water intakes, cooling, stack gas or wastewater treatment, and process. Process, in turn, is segmented by function e.g. evaporation, reaction, mixing, size separation, etc. This segmentation has been completed for pumps and valves. Now the 50,000 forecasts by product, industry, country and year can be further segmented by high performance or general purpose.
The second step is to make the LTCO evaluation process less costly and more accurate. It is easy to select the lowest price or most widely used product. There is no easy way to evaluate the LTCO for each option. Purchasers often hire consultants to help them evaluate the LTCO. The problem is that with the world's information doubling every few years, it becomes increasingly difficult to take advantage of the knowledge at reasonable cost.
One approach taken by Arcelor Mittal has been to emphasize global purchasing. Most of its 200 mines and steel plants have the same high performance needs. Recently, it purchased dust collection systems with one purchase order for plants in Europe and South America. The LTCO evaluation cost per system was greatly reduced.
McIlvaine is helping purchasers determine the LTCO with services such as:
44I Power Plant Air Quality Decisions (Power Plant Decisions Orchard)
59D Gas Turbine and Combined Cycle Decisions
For more information on the flow control and treatment market reports click on: http://home.mcilvainecompany.com/index.php/markets
NEWS RELEASE JUNE 2016
NOx Catalyst and Reagent Market Grows Nicely While Equipment Slumps
The sales of reagent for stationary NOx control in 2017 will exceed $3 billion. This does not include sales of AdBlue for mobile NOx control which are growing rapidly. The SCR catalyst market will also be down to just under $1.6 billion from a peak two years ago of $1.8 billion. The reason is that there was a surge of orders for new SCR in China which peaked in 2014. It is 3-5 years before this catalyst is replaced. However, the good news for catalyst suppliers is that there are a lot more power plants using SCR than there were a few years ago. The bad news is that with the large number of catalyst manufacturing plants built in China, the world capacity is also way up.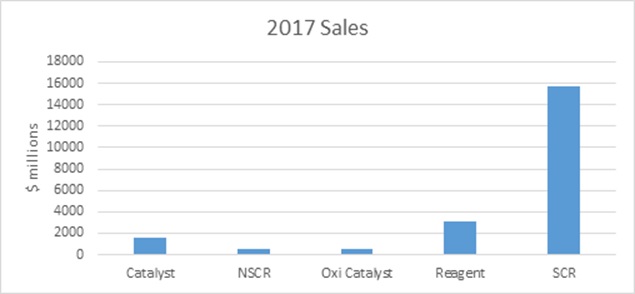 The SCR equipment market will be down by more than 30 percent from its peak a few years ago. A number of Chinese air pollution control companies will be looking to the international markets to fill their order books. The problem is that India and some other countries with lots of coal-fired capacity are not likely to invest in SCR.
The non-selective catalytic reduction (NSCR) catalyst market will show more than 5 percent growth as will the market for oxi catalysts for gas turbines.
There will be good growth in the NSCR market as cement plants and various industrial NOx emitters select hybrid systems.
The market for ozone generation will be growing robustly from a small base as it is increasingly utilized for the last incremental reduction. The cost of this approach is a straight line. It costs no more to go from 80 to 90 percent than it does from 10 to 20 percent. The cost to increase SCR efficiency from 80 to 90 percent will likely be an additional 50 percent. This is particularly true if one is trying to upgrade an existing unit where room was not provided for an additional catalyst bed.
The potential for catalytic filtration is very large. In fact, it could be a game changer. Tougher NOx control laws may come into force due to the potential to remove NOx and dust in the same device. When this is coupled with direct sorbent injection (DSI), three or even four pollutants can be eliminated in one vessel. There are several hundred installations using this technology. The entry of FLSmidth and Haldor Topsoe into this market is a positive sign that the largest suppliers believe in its future.
For more information on: N035 NOx Control World Market, click on: http://home.mcilvainecompany.com/index.php/markets/2-uncategorised/104-n035
NEWS RELEASE JUNE 2016
$11 Billion Membrane Filtration Market Growth Dependent on Technology, Demand and Regulations
In 2017 suppliers of reverse osmosis (RO), microfiltration and ultrafiltration equipment and membranes will generate sales of $11.2 billion. The growth rate for the industry in the next 10 years will certainly exceed GDP. The question is whether it can achieve growth close to 10 percent or whether annual growth will be a more conservative 5 percent a year.
Regulations are the most predictable of the three variables. Countries around the world will continue to tighten drinking water and wastewater standards. Demand is also predictable due to the shortage of fresh water and the projected increase in industrial water use around the globe.
Technology advances will be the most challenging to predict. The reason is that there is potential in three-broad categories: processes, equipment and membranes.
The food industry continues to develop unique ways to concentrate foods or extract products from liquids. Thermal desalination competes with membranes. Spray driers are competing with evaporation and membrane concentration in the power and coal-to-chemicals industries in countries such as China.
The production of gasoline provides a whole series of process choices which will impact the membrane market. One choice is to extract shale gas and then convert it to liquids. Produced water from gas extraction can either be treated with membranes or pumped underground. Another option, which is now popular in China, is to convert coal to fuels and chemicals. The government requires all these plants to employ zero liquid discharge (ZLD). One of the ZLD options includes both reverse osmosis and forward osmosis.
Improvements in equipment such as energy recovery pumps, pre-filters, valves and control systems will also be important. Some of the most important equipment developments cannot be easily assessed. For example, a new catalytic filter allows power plants to supply clean hot gas to a heat exchanger which will in turn provide the heat source needed for the forward osmosis unit in the ZLD process.
Membrane development will greatly influence the growth rate for the industry. A substantial investment is being made in aquaporin protein based membranes. Another initiative involves incorporating nanoparticles within the membrane structure to improve the energy/efficiency ratio.
The McIlvaine Company continues to forecast the future of the cross-flow membrane industry with the advantage of also forecasting and understanding the processes, industries and equipment which will shape the future For more information click on: N020 RO, UF, MF World Market
NEWS RELEASE JUNE 2016
$3.8 Billion Ultrapure Water Market in 2017
Sales of ultrapure water (UPW) filtration and treatment equipment will exceed $3.8 billion in 2017. Electronics companies will be the largest purchasers. Semiconductor, photovoltaics, flat panel and memory manufacturers will be purchasing UPW hardware and consumables for the purpose of washing etching solutions and other fluids from their products in process.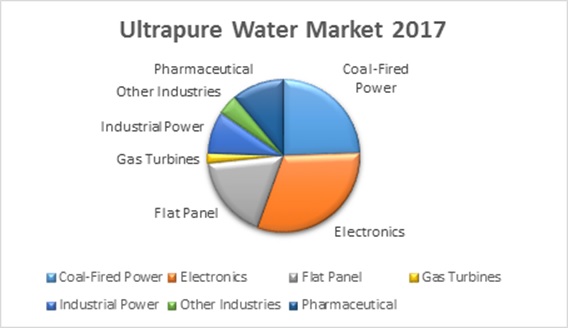 The largest application is boiler feedwater. Coal-fired power, gas turbine combined cycle and industrial power producers will spend $1.7 billion in 2017 to purify the water which is converted to steam.
Ultrapure water in the pharmaceutical industry is used for washing containers and products, but is also used directly in drugs and is classified as water for injection (WFI).
In the last decade, new uses for UPW have risen. One is water to be injected through fogging nozzles in gas turbine inlets. Humidification in data centers is another application.
Ultrapure water systems incorporate various membranes. Prefiltration is accomplished by microfiltration and ultrafiltration. Final purity is achieved with reverse osmosis (RO). Special pumps and piping are needed to assure that the UPW is not contaminated during transport.
For more information on N029 Ultrapure Water: World Market, click on: http://home.mcilvainecompany.com/index.php/markets/27-water/447-n029-ultrapure-water-world-markets
NEWS RELEASE JUNE 2016
Increasing Flow Control and Treatment Product Gross Margins
The best way to raise prices without losing business is to provide a product which justifies a higher initial price. To accomplish this you need to:
Develop a superior product
Convince the customer as to the value
Develop a Superior Product
McIlvaine is currently preparing a Decision Guide on choke valves for oil and gas applications. These are tough applications and require custom valves designed for severe service. This is only part of the story according to George Gorman of the Valve Institute. The success or failure of a valve rests not only on the valve merits but on how it is applied. Subsea pipeline valve needs are different from sub-sea Christmas tree needs. Both are certainly different from the needs at the surface or on shore. The best valve choice requires detailed knowledge of the unit operations. When it comes to subsea valves his Institute is dedicated to providing insights on best choices with separate training courses on subsea pipeline and Christmas tree valves.
But what are the needs of the long-time valve practitioner? Does he need an even more robust system? Input from a number of both supplier and end user experts in the McIlvaine Insights discussions leads to the conclusion that considerable analysis and discussion is needed. Muktiadi Rahardjo of Shell is the valve and sealing specialist at the Shell Pernis refinery and, based on this experience, recommends better communication relative to valve issues. He cited a lack of application knowledge on the part of some vendors and the inability to utilize the wisdom existing within the end user community.
If you rank the impact of a product on the process, the valve is at the bottom of the rankings. The product using the valve, e.g. a pump system, will be more important by virtue of the fact that it typically would include a pump and at least three valves. The scrubber company product which includes the valves, pumps, fans, nozzles and scrubbing tower is obviously of most impact on the process. So, if we agree that process knowledge is necessary to provide the best valves, then it follows that even more process knowledge is needed for suppliers of the sub processes What can we conclude from all of this?
IN ORDER TO DEVELOP A SUPERIOR PRODUCT YOU HAVE TO UNDERSTAND THE PROCESS WHERE THE PRODUCT WILL BE APPLIED.
TO CONTINUE TO PROVIDE THE SUPERIOR PRODUCT YOU HAVE TO KEEP UP WITH PROCESS CHANGES AND NEW REGULATORY AND OTHER CUSTOMER NEEDS.
FOCUS YOUR PRODUCT DEVELOPMENT EFFORTS BY PRIORITIZING CUSTOMER NEEDS IN SUCH A WAY TO MAXIMIZE MARGINS AND PROFITABILITY.
Convince the customer that you have the best product
The best product is defined here as the product with the lowest total cost of ownership. This definition is couched in the broadest terms. It has to take into account the severity of the service but also the criticality. A peaking gas turbine which cycles a few times per year and can be easily accessed for maintenance is in a non-critical application compared to the base-loaded turbine which is in operation 24/7 and cycles hundreds of times per year.
It is easy to pick the lowest cost product but much more difficult when you have to assess the lifetime cost based on both severity and criticality. The first step in creating a convincing program is to understand how decisions will be and could be made.
Decision making is a series of classifications. Whether it is the initial bidders list, the criteria in the specifications or the ultimate selection the decision maker is moving from one set of classifications to the next.
The elements of the classifications are: what, which, why and how. In order to be successful you have to convince some people of just the "what" and "which" and others you also need to add the "why." The "how" is the big challenge which provides credibility to the other elements.
What are the classifications?: If you are going to remove SO2,should you consider wet limestone, wet lime, dry sorbent injection, spray driers, or seawater scrubbing?
Which
Why is one the best choice?
How does the product perform uniquely enough to justify the prediction that it will result in the lowest total cost of ownership?
The what, which and why can be communicated through normal sales channels. The decision guides add clarity. The problem is that the credibility depends on the "how." It is a lot easier to claim the highest efficiency or lowest maintenance cycle than it is to prove it.
McIlvaine recognizes the challenge of convincing customers that a product has the lowest total cost of ownership and has a whole program to address it:
4 Lane Knowledge Bridge to the End User