NEWS RELEASE OCTOBER 2014
Hundreds of Subsea Projects with Thousands of Pumps Moving Forward Despite Shrinking Oil Prices
The recent plunge in oil prices has caused some subsea projects to be canceled or delayed but there are more than 100 projects moving forward. The subsea vessel industry is currently expanding at 7%/yr. Over 54 percent of the active fleet has been delivered over the past eight years. There are also an additional 115 vessels under construction. The status of projects is continually reported in Oil, Gas, Shale and Refining Markets and Projectspublished by the McIlvaine Company.
Pump companies play a critical role in the movement of working fluids and product. Their subsea activities are analyzed in Pumps World Market.
A number of large pump orders have been recently awarded. Lewa has won a €30-million ($41.6-million) order for 40 process diaphragm pumps for two large gas fields offshore Saudi Arabia. The development project is designed to process 70 MMcm/d (2.5 bcf/d) of ethane, propane, butane, and natural gas from the two fields, producing on average around 50 MMcm (1.8 bcf) of market-ready gas. However, peak demand could reach 86 MMcm (3 bcf).
The Lewa pump systems will be installed on 13 wellhead and two tie-in (drilling and export) platforms and will work at operating pressures of 140 to 500-plus bar (2,030 to 7,252 psi) to inject monoethylene glycol (MEG) and sulfur solvent. The MEG will circulate continuously between the platforms and the glycol regeneration units in the onshore preparation facilities, reducing the risk of hydrates in the two subsea pipelines.
One issue is that the sulfur content of the two gas fields is at a significantly higher concentration than in other areas, and starts to solidify at high temperatures. To prevent blockage of the pipeline and ensure reliable transport on land, a solvent for the sulfur must be injected continuously and reliably.
Sulzer Pumps Ltd and FMC Technologies, Inc. have an exclusive collaboration agreement to further leverage leading-edge technology including world-class pumps from Sulzer Pumps, pump services, and subsea systems and advanced permanent magnet motor technology from FMC Technologies. Over the last several years, Sulzer Pumps and FMC Technologies have developed, built and qualified a new, high-speed helico-axial multiphase subsea boosting unit based on Sulzer Pumps' topside pump designs.
ANDRITZ completed an order from two Chinese shipyards, Waigaoqiao Shipbuilding, Shanghai, and China Merchants Heavy Industry, Shenzhen, with twelve submersible motor pumps for use on jack-up rigs. The submersible motor pumps (multi-stage centrifugal pumps in combination with maintenance-free submersible motors) pump the raw water for the drilling platform from a depth of ten to 20 meters below sea level.
Flowserve has won orders for water injection and liquid transfer pumps for Sabah Shell Petroleum's Malikai oil field project, 110 km (68 mi) offshore Sabah, Malaysia.
The order comprises pumps for seawater lift, firewater, drain caisson, flare knockout drum, circulation, and sump services.
Flowserve will provide four variable-speed drive barrel pumps constructed from super duplex stainless; two WIK (BB5) multi-stage double-case diffuser pumps supplying high-pressure deoxygenated water for well injection; and two HSO (BB5) multi-stage, double-case volute pumps to transport crude from the field to the KBB processing facility. Additionally, the company will provide six WUC (VS6) vertical, double-case, multi-stage pumps, six Pleuger super duplex submersible pumps, and six HPX (OH2) single-stage API process pumps.
Subsea Production Alliance, combines Aker Solutions' offerings in subsea production and processing with Baker Hughes' strengths in well completions and artificial lift. The alliance will steer subsea well management planning away from heavy workover systems to light intervention, with easier access to subsea trees. As for boosting subsea recovery, the alliance can offer a wide range of single or multi-phase pump solutions combined with different types of intelligent completion and artificial lift solutions. The alliance would work on technologies including subsea-optimized downhole electric submersible pumps; integration of ESPs into subsea well jumpers for single-well boost or dual-boost applications, potentially in existing brownfield wells; medium-cost light intervention risers deployed from a rig, and ultimately riserless intervention; and on ways of lifting oil longer distances to platforms.
For more information, click on:
N049 Oil, Gas, Shale and Refining Markets and Projects
NEWS RELEASE OCTOBER 2014
Pharmaceutical Companies to Raise Cartridge Purchases to $2.1 Billion in 2015
Next year pharmaceutical companies will spend more than $2.1 billion for liquid cartridges. This is the latest forecast in Cartridge Filters: World Market published by the McIlvaine Company.
Pharmaceutical Cartridge Revenue ($ Millions)
| | |
| --- | --- |
| Subject | 2015 |
| Total | 2,155 |
| Carbon | 129 |
| Membrane | 1,078 |
| Metal | 43 |
| Non-Woven | 819 |
| String Wound | 86 |
Cartridges are used both to purify water needed in pharmaceutical plants and to separate product from liquids during manufacture. The smallest particles are removed with membrane cartridges. This market will be in excess of $1 billion next year. Non-woven cartridges remove particles as small as a few microns but are not as efficient as membranes. Metal cartridges are used for high temperature filtration.
The largest growth is coming in Asia where there is a construction boom centered on generic drug manufacture. The major drug companies of the world are building generic production facilities in China, India and other Asian countries.
There are four trends driving the rapid growth in the Asian market:
Increasing ability to pay for drugs
Low per capita expenditures in the past
New focus on health care
Tighter restrictions forcing more cartridge expenditures per unit of production
There is growth in Latin America as well. The Chilean pharmaceutical market is increasing at a compound annual growth rate of more than 10 percent. This rate is expected to continue over the next five years. Chile's pharmaceutical landscape is small but highly competitive. The pharmaceutical market is dominated by prescription drugs, with a smaller share of the market for nonprescription, over-the-counter medicines.
For more information Cartridge Filters: World Market, click on: http://home.mcilvainecompany.com/index.php/markets/2-uncategorised/117-n024
NEWS RELEASE OCTOBER 2014
The Future of Oil, Gas and Coal Dependent on Perception and Competition
Gas-to-liquids plants can cost up to $15 billion. Coal-to-liquids plants cost even more. Investments in these plants is highly dependent on the perceived demand. This factor, in turn, is a function of attractiveness of alternatives such as wind, solar, electrical energy storage, tar sands, coal bed methane, underground coal gasification, shale gas, shale oil, oil shale, small modular nuclear, small scale LNG, advanced coal-fired power plants, etc. All these alternatives are continually assessed in two publications: Oil, Gas, Shale and Refining Markets and Projects and Fossil and Nuclear Power Generation: World Analysis and Forecast published by the McIlvaine Company. (www.mcilvainecompany.com)
The biggest variable in the mix among these alternatives is coal conversion. The proven coal reserves (defined as presently known and economically minable) is 860 billion tons. This quantity would supply the world at present consumption levels for another 100 years. But coal has a much bigger potential than just this identified resource. Consider that there is one trillion tons of coal under the North Sea. Billions of dollars are being invested in underground gasification technology to inject steam and oxygen and extract gas. CO2 generated in the process would be used to increase yield of shrinking North Sea oil reservoirs.
China is well underway with a program to convert coal to gas, fuels and chemicals at a rate equal to the entire U.S. shale gas program. If the projects in the planning stage are implemented, China will utilize 20 percent of the world's annual coal consumption just to make gas and liquid products.
The ultimate mix between all these energy sources will be be determined by perception and competition. In a chess game, the winner does a better job of perceiving the moves of the loser. Among the losers to date are owners of LNG regasification terminals in the U.S. They did not perceive the moves of shale gas extraction companies. However, if they convert these terminals to export LNG and build others to do so, then power plants which are relying on large quantities of cheap gas will be the losers. So both the quality of the competition and the perception of the opponent are factors in success. Some of the important inputs include:
The differential price between diesel and LNG is a critical market factor.
Crude represents 65 percent of final fuel price.
The disparity between oil and gas prices on an equivalent Btu basis is a function of access.
Gas is not economically transported overseas except as LNG, whereas oil is economically transferred.
Even if the price of oil drops, the market for gas is not impacted if gas prices also drop proportionately.
Until the U.S. has the capability to sell large quantities of LNG offshore, the price disparity will continue.
Investors and gas producers are expecting gas in the U.S. to remain at $5/MMBtu.
China expects to make gas from coal at less than $5/MMBtu.
Shale gas operators are expected to keep expanding as long as oil is above $70/bbl.
Oil companies such as Chevron are bullish on increased oil and gas demand and are continuing with high levels of investment.
Saudi Arabia is able to increase or decrease output to maintain price levels. Many other producers need price levels above $90 barrel to keep their economies healthy.
The oil reserves of Middle East producers are less than 50 years.
The Saudi production cost is only $6/bbl.
The Saudi oil value is much higher than $100/barrel because it is a resource which is dwindling at 4 percent per year.
The result is that the Saudi supply will be adjusted to balance long term value and short term needs.
Stranded gas and other sources of LNG where the acquisition price of the gas is negative will be unaffected by oil fluctuations between $80-110 bbl.
Safety perceptions of nuclear energy vary widely from country to country.
Environmental perceptions including climate change also vary widely between the developed and developing economies.
All these factors will continue to make projections about the production from each of these resources very speculative.
For more information on Oil, Gas, Shale and Refining Markets and Projects, click on: http://home.mcilvainecompany.com/index.php/markets/28-energy/471-n049.
For more information on Fossil and Nuclear Power Generation: World Analysis and Forecast,click on:http://home.mcilvainecompany.com/index.php/markets/2-uncategorised/113-n043
NEWS RELEASE OCTOBER 2014
A Number of Gas Turbine Projects In Western Africa
Thanks to gas production in the region, there is now an affordable source of electricity in Western Africa. As a result a number of gas turbine projects are in planning and construction in the region. These are reported in Gas Turbine and Combined Cycle Supplier Program published by the McIlvaine Company.
Only 30 percent of Sub-Saharan Africans have access to electricity. Planned and unplanned black-outs are common. The picture is improving in West Africa, but there is a long way to go. Nigeria, which accounts for some 10 GW of the region's total capacity, has a population of 173 million. The U.S. has 100 times the electrical capacity with just twice as many residents.
There is a sharp divide between the better performing West African economies such as Ghana, Cote d'Ivoire and Nigeria where electrification rates range from 50 percent to 60 percent, and those such as Mali, Sierra Leone, Liberia and Guinea where rates range only to 15 percent to 20 percent penetration. The recent Ebola outbreak has been attributed in part to the lack of electricity.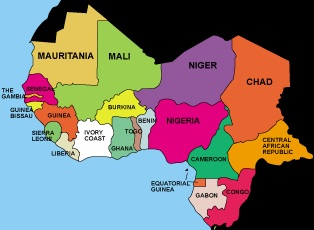 West Africa's power production has risen by roughly 8 percent per year in the last few years and this rate of growth is expected to continue due to economic expansion in the region. In Nigeria, more than a dozen gas-fired power plants totaling 5,000 MW are in planning and construction.
Power supply is the number one priority for the 13 countries in the West African Power Pool (WAPP). They need to boost the supply of power, for political and security reasons, in addition to the societal and economic ones.
Chinese, U.S. and other suppliers are targeting this market. GE's Distributed Power business will supply aeroderivative gas turbines in Nigeria to generate uninterrupted power at the Nigerian National Petroleum Corporation's state oil refinery. As a founding partner for President Obama's Power Africa initiative, GE committed to help bring online 5,000 MW of new electric generation capacity in cooperation with the Initiative's government and other private sector partners across six partner countries, including Nigeria.
For more information on the Gas Turbine and Combined Cycle Supplier Program, click on: http://home.mcilvainecompany.com/index.php/markets/28-energy/610-59ei
NEWS RELEASE OCTOBER 2014
Asian Ultrapure Water System Sales to Exceed $3 Billion By 2016
Double-digit annual growth will result in an ultrapure water system and consumables market in Asia which will exceed $3 billion /yr by 2016. This is the prediction in Ultrapure Water: World Market published by the McIlvaine Company.
Asian growth will exceed the other continents in the following applications:
Coal-fired Power
Nuclear Power
Photovoltaic
Flat Panel Displays
Memory
Semiconductors
Pharmaceuticals
Bottled Drinks
Asia will spend more for coal-fired ultrapure water systems than ROW combined. China is building ultra supercritical boilers which require the most expensive ultrapure water systems. India, Indonesia and other countries in the region are also planning large increases in coal-fired power generation.
Asia is the one region which has significant nuclear activity. Nearly all the photovoltaic manufacturing is taking place in Asia. The same is true for memory and flat panel displays. Taiwan has become the leading semiconductor manufacturer with China in pursuit. All these industries require ultrapure water at each processing step to remove the etching solutions and other chemicals used to form the lines and shapes.
The one area where Asia has not gained much ground is proprietary pharmaceuticals. However, Asia is the selected location for generic pharmaceutical manufacture. International drug companies are building very substantial research and production facilities in China and India. The growth in generics is higher than proprietary pharmaceuticals.
Asia is also expanding its manufacture of bottled water and other drinks where the source water has to be purified beyond the level of normal drinking water. This application does not require ultrapure water at the highest level. This is defined as water that has 18 Megohm-cm or greater specific resistance, with other attributes such as bacterial count, TOC (total organic carbon), pyrogen and/or endotoxin, etc. However, bottled water producers are using purification and monitoring techniques required by the traditional ultrapure water users.
For more information on Ultrapure Water: World Market, click on:http://home.mcilvainecompany.com/index.php/markets/27-water/447-n029-ultrapure-water-world-markets