N043 Fossil and Nuclear Power Generation: World Analysis and Forecast $3000.00/year (additional Users $150.00/year) Click here to order
This report formerly covered just coal-fired boilers but now includes nuclear, gas and oil power generation forecasts. Capacity projections for each country of the world are continually revised and displayed. Comprehensive analyses reveal the environmental demand, political and other factors providing the basis of the forecast. Monthly Updates have specific geographic, technological, regulatory, and economic insights. Recorded webinars are also included.
You also receive:
Insights based on continuous analysis since 1976.

Bottoms up forecasting thanks to complimentary technical analyses and project tracking.

Free 30 minute tutorial through GoToMeeting.

One Free excel table with more than 50,000 forecasts covering each product in each country in each industry.

Quarterly excel tables available at nominal cost.
A cost effective Serviceable Available Market (SAM) forecast can be supplied as a supplement.
Serviceable Available Market (SAM) Forecasts: The 50,000 forecasts provide an actionable Total Available Market (TAM) for each tier from the CEO down to the individual sales person. Mcilvaine also has detailed information on processes within each application and a technical understanding of the differentiation among products. This will facilitate the creation of sales quotas and promotional budgeting.
Based on the SAM, Mcilvaine can not only provide the Serviceable Obtainable Market (SOM) forecast but provide a program to enlarge and cost effectively address it. Detailed Forecasting of Markets, Prospects and Projects
Monthly Updates | Regional Forecast Sample | Country Forecast Sample
Click below to view a demonstration of this report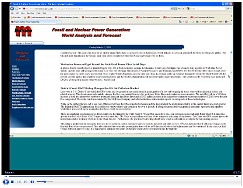 Also includes:
40A World Power Generation Projects $1400.00/year ($140.00/year each additional user) No charge for Fossil/Nuclear Report subscribers
Click here to order
1000's of nuclear, coal and gas turbine power plant projects in the planning or construction phase tracked on a continuous basis. The proposed fuel type, size, start up date, and project description are included. Awards to contractors are reported progressively from the A/E to the system suppliers and then component suppliers.
To view samples click below. Table of Contents | Sample 1 | Sample 2 | Sample 3
Click below to view a video demonstration of this report