N021 World Fabric Filter and Element Market $3600.00/yr. (additional users $150.00/yr.) Click Here to Order
Continually updated analyses and forecasts of fabric filter systems and replacement bags for power, incineration, chemical, and other industries in each country. Market share information. Directory of suppliers of systems and components. Fabric Filter Newsletter. Analysis of technology such as cartridges vs bags and membranes vs nonwovens.
Find out how this report reflects the latest developments by clicking here.
You also receive:
Insights based on continuous analysis since 1976.

Bottoms up forecasting thanks to complimentary technical analyses and project tracking.

Free 30 minute tutorial through GoToMeeting.

One Free excel table with more than 50,000 forecasts covering each product in each country in each industry.

Quarterly excel tables available at nominal cost.

Analyses of product sub categories or additional industries available at low cost.

Product analysis, acquisition advice, and a complete sales program also available.
Click links below for video demonstrations of the report:
Overview of the Report | Unique Forecast Approach | Networking Directory | Industry Analysis
Click below to view a video demonstration of the report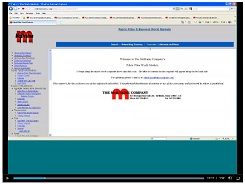 Fabric Filter Market report contents relative to specific industries
There are many sub reports by industry which are invaluable. They include project as well as analysis and forecast data.
Industry

Analysis
and
Forecast

Revenue
Forecast

News and
Projects

End User
People

Plant & Project
Databases

Stone Cement

Yes

Yes

Yes

Yes

Asphalt

Yes

Yes

No

No

Yes

Food

Yes

Yes

Yes

Yes

Chemical

Yes

Yes

Yes

Yes

Mining

Yes

In "other"

Yes

Yes

Chemical

Yes

Yes

Yes

Yes

Incinerator

Yes

Yes

Yes

Yes

Metal working

Yes

In "metals"

Yes

Yes

Industrial Boilers

Yes

Yes

Iron and Steel

Yes

In "metals"

Yes

Yes

Pharmaceutical

Yes

Yes

Yes

Pulp and Paper

Yes

Yes

Yes

Yes

Power

Yes

Yes
If included in the report it is noted with "yes". Otherwise a number identifying the relevant Mcilvaine publication is provided.
Additional information on this report and samples are displayed when you click here.