NEWS RELEASE November 2019
FGD Market Offers Billions of Dollars of Profits
More than $50 billion per year will be spent on the systems, parts, consumables and services by power companies to build and maintain flue gas desulfurization (FGD) systems. If these systems are not meeting SO2 emission limits the power plant must cease operations. All the elements of severe service are present: corrosion, temperature, and abrasion. As a result power companies are focused on buying products with the lowest true cost. This translates into billions of dollars of potential profits for suppliers.
These profits are achievable by identifying the potential for each customer, providing evidence of the lowest true cost and then convincing the customer (validating the claims).
A cost effective program is available. FGD Most Profitable Market Program costs less than $10,000 per year. It includes customized forecasts for each country and each purchaser for any one of the following.
| | | |
| --- | --- | --- |
| Chemicals | Ball Mills | Instrumentation |
| Compressors | Lime | Scrubbers - Wet |
| CEMS | Valves | Pumps |
| Filters | Mist Eliminators | Scrubbers - Dry |
| Filter Belts | Nozzles | Stainless Alloys |
| Fans | Limestone | Remote Monitoring |
| Filter Bags | Controls | Pneumatic Conveying |
This is an extension of http://home.mcilvainecompany.com/index.php/markets/air/n027-fgd-market-and-strategies
Identification of each purchaser and weekly project tracking is included in http://home.mcilvainecompany.com/index.php/databases/42ei-utility-tracking-system
The validation process with customers is accomplished through http://home.mcilvainecompany.com/index.php/silobusters/44i-coal-fired-power-plant-decisions
This service allows the purchasers to conclude which products have the lowest true cost. Here is a link to one of the recent webinars https://youtu.be/1GSbwSiTZrE
The broader Most Profitable Market Program is detailed at www.mcilvainecompany.com
Bob McIlvaine can answer your questions at This email address is being protected from spambots. You need JavaScript enabled to view it. direct 847 784 0013 and cell 847 226 2391
NEWS RELEASE October 2019
Determining the Market for Your Product at Every Food Plant
A program to help suppliers of flow and treat products sell to food producers has been introduced by the McIlvaine Company. It predicts the purchases of any product based on the tons of a specific food produced for the next five years. It provides enough technical details and process flow diagrams so that suppliers can craft lowest total cost of ownership (true cost) white papers. A route to the decision makers is also provided. The general program is explained at www.mcilvainecomany.com under Most Profitable Market Program.
Specific forecasts are available for each type of air pollution control, liquid filter or separator, pumps, valves, dryers, heat exchangers, instrumentation, software, steam and electricity generators e.g. for bagasse. Analyses of the potential from each producer also takes into account byproducts or finished products which are manufactured. For sugar this would include alcohol, ethanol and power generation. Here are the major food segments analyzed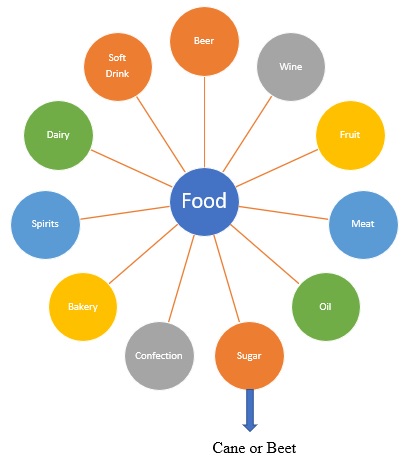 Cane sugar is being used as an example. It involves a number of flow and treat processes.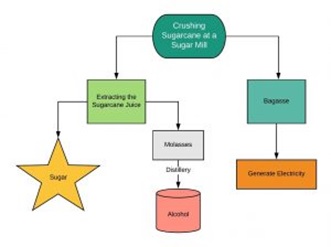 The quantity of crushed cane or bagasse is more than the amount of sugar produced. The bagasse is a good fuel. Sugar mills are combusting it to generate steam for their use and electricity for use and for sale. They are also major producers of alcohol and ethanol. Therefore companies such as Cosan and Tereos, who are major cane sugar producers are bigger prospects than large beet sugar producers in Europe and the U.S.
Flow and treat analyses and forecasts are based on the present and future production in each country and for each significant producer. Here is an example of production forecasts for total sugar production through 2024. We also have these for the cane and beet sugar segments.
Sugar Production - 1000 MT

2016

2017

2018

2019

2020

2021

2022

2023

2024

Afghanistan

0

0

0

0

0

0

0

0

0

Albania

4

5

0

0

0

0

0

0

0

Algeria

0

0

0

0

0

0

0

0

0

Angola

40

55

65

60

60

61

63

64

66

Argentina

2060

2050

1870

1665

1680

1726

1773

1821

1871

Armenia

3

3

0

0

0

0

0

0

0
The data is also available for the 250 largest sugar producers. We provide profiles and not only sugar production but also co-products such as ethanol.
Sao Martinho
Sao Martinho is a well-established Brazilian company that can trace its roots back as far as 1938. Sao Martinho was initially formed in a series of corporate take overs in which sugar mills were purchased and incorporated into the main corporate structure of Sao Martinho. Prior to 2006, Sao Martinho was known as Companhia Industrial e Agrícola Ometto. Today, Sao Martinho is one of the largest sugar companies in Brazil. Like the other major companies, it does not solely produce sugar, but also produces sugar ethanol as well as other sugar cane products. Sao Martinho currently has two mills dedicated to sugar and sugar ethanol production.
These mills are known as the Iracema Mill and Sao Martinho Mill.
It expects to process 8% more sugarcane in 2019/20 compared with the prior crop year. The company sees its cane crush rising to 22 million tonnes thanks to "better weather conditions and projects aimed at increased productivity, However, the amount of sugar derived from each tonne of cane will fall slightly. Sao Martinho said the total recoverable sugars are expected to be 139 kilograms per tonne, a 2% decrease from the previous season.
Sao Martinho predicted it would produce between 1.055 million to 1.4 million tonnes of sugar and 915 million to 1.1 billion liters of ethanol in the 2019/20 season.

Here are sugar production forecasts for 2019 for some of the companies.
Company

Location

Production

1000 tons 2018

Market share %

COSAN LIMITED

Brazil

4,000 (plus ethanol)

2.1

Sudzucker

Germany

4,800

2.5

Tereos

France, Brazil

2900

1.5

Nordzucker

Denmark, Germany

2500

1.3

Wilmar

Australia

2000

1.0

British Sugar

UK

1500

0.7

Mitr Phol

China

1300

0.6

American Sugar

Chalmette LA Refinery

1,000

0.5

E.I.D.-PARRY (INDIA) LTD. .

India

1600

0.8

American Crystal Sugar

Beet in Upper Mid-west

1500

0.7

Rogers Sugar Inc.

Vancouver Only

240

0.1

Nanning Sugar.

China

700

0.4
We analyze important product developments such as manufacture of cellulosic ethanol.
Raizen completed construction of its first cellulosic ethanol plant where the ethanol will be produced from sugarcane residue. The company invested R$237 million in the plant that will produce 40 million liters of ethanol from sugarcane residue. The plant is located in the city of Piracicaba in the state of Sao Paulo and right next door to one of Raizen's sugar mills that makes sugar and ethanol from sugarcane.
The sugarcane residue from the sugar mill is currently being burned to generate electricity to run the mill with the excess electricity sold back into the electrical grid. The company is now going to divert some of the sugarcane residue to its new facility to produce ethanol. The company feels there are a lot of saving and synergies by placing both plants next door to each other.
Raizen originally estimated that its company-wide ethanol production would increase 50% by producing second generation ethanol. The company had planned to construct seven more cellulose ethanol plants in Brazil by 2024. All of the facilities would be built next door to their existing first generation ethanol plants that use sugarcane. All of the new plants combined could produce up to one billion liters of cellulosic ethanol. However, technical and economic factors have slowed that development. These problems have now been resolved and the company expects cellulosic ethanol to be an important revenue source.
We search for data which will help determine the true cost of a product such as a filter belt or drum filter.
Cordoba belt filters at the Raizen Costa Pinto plant are shown in the YouTube video
https://www.youtube.com/watch?v=EZtc_QaR0lw
The following paper is an example of gathering all the evidence. In an effort to compare belt filters with rotary drum filters several areas of interest were investigated over the 2012 and 2013 crops. These included pol losses, bagacillo ratio (bagacillo % feed/mud solids % feed), filter retention (mud in filter cake/mud in feed), filter capacity (filter cake production and removal of mud), belt wash water loss and flocculant usage.
The pol % filter cake average of 3.47. Pol % filter cake from drum filters ranged from 1.00 to 7.36 and averaged 4.08% pol. Belt filters had an average pol % filter cake of 2.36 with a range of 0.46 to 5.86%.
Crop flocculant usage averaged 0.022 lbs./ton cane. Belt filters used a little more flocculant (0.024) on average than drum filters (0.020). On average 5.21 lbs. pol/ton of cane are lost in filter cake for rotary drum filters. Belt filters lost on average 2.71 lbs. pol/ton cane. This included losses in the belt wash water based on a rate of 100 gallons per minute. The overall average filter cake production was 1443 lbs./hr./ft. width. Drum filters averaged 1080 lbs. filter cake and ranged from 128 to 2606 lbs. filter cake/hr./ft. width. Belt filters averaged 2781 lbs./hr./ft. width, almost three times the amount for drums, and ranged from 1509 to 4027 lbs./hr./ft. width.
Regarding belt filters only, the capacity seems to be very high with sugar losses comparable to that of drums. Maintenance costs have yet to be determined. Options for disposal of belt wash water should be considered. https://www.lsuagcenter.com/MCMS/RelatedFiles/%7BBB9E504C-EEAD-4D0C-8249-C67F42F775AA%7D/2014.pdf
A sales program can be constructed with the detailed knowledge of the future purchases at each plant. the best contacts are easily determined through a LinkedIn initiative. Raizen has over 11,400 contacts. But if you want to talk about belt filters at the Costa Pinto plant you can start with the 18 people involved in filtration or the 185 people at the Costa Pinto plant.
Raizen LinkedIn Contacts

Subject

# of people

Total on LinkedIn

11,400

Centrifuge

2

Filtration

18

Pumps

69

Environment

1000

Pollution

13

Costa Pinto

185

Engineering

3748

Vice President

189

Cellulosic Ethanol

22
For more information on the flow and treat program for the food industry contact Bob McIlvaine at This email address is being protected from spambots. You need JavaScript enabled to view it. or 847 784 0013 or cell 847 226 2391.
NEWS RELEASE October 2019
True Cost of Limestone FGD Recycle Pumps
The McIlvaine Company is working with associations, media and suppliers to create true cost analyses of combust, flow and treat products and services. One such initiative is the "True Cost of Limestone FGD Recycle Pumps".
80,000 MW of limestone FGD recycle pumps will be purchased in India over the next three years. Over 1.5 million MW of these large pumps are continually being operated at power plants around the world. Their true cost (total cost of ownership) is a substantial percentage of the true cost for electricity production. One reason is the choice of pump energy over fan energy.
It can be argued that scrubbers using less recycling slurry but more fan energy are a better choice but the coal fired power industry has standardized on the spray tower type of limestone scrubber. For a 1000 MW scrubber the recycled slurry will be as much as 200,000 gpm delivered to the top of a spray tower at a 50-100 ft elevation. This slurry is an abrasive, corrosive combination of gypsum, calcium sulfite and limestone particles along with some residual flyash. The pumps are expected to remain functional for 20 years or more.
The true cost of the pump purchase is impacted by many factors
System design: the piping design, pump location, valve resistance, spray tower nozzle type, chloride bleed provisions, requirement for spares and other factors
Pump design including initial efficiency, deterioration characteristics, and pump characteristics
Energy consumption for the new pump and during the cycle prior to repair
Cost of energy
Cost of repair parts and frequency of replacement
Cost for service
Operational factors such as maintenance quality, hours of operation per year etc.
Downtime costs
Labor rates
Related costs such as greater use of limestone or treatment chemicals with varying pump performance
India has adopted specifications with minor modifications which were first written decades ago for projects in the U.S. or Japan. A recent BHEL specification for an FGD system in Bangladesh Is for two generators each 660 MW and each unit with one FGD system. Each FGD system will be provided with five recirculation pump (4 working + 1 standby) which are located inside the Recirculation Pump & Oxidation Blower House.
The specifications for the recirculating pump allow for rubber lining, stainless alloys or silicon carbide materials in contact with the sulfite slurry with a maximum of 27,000 ppm chlorides.
http://www.bhel.com/dynamic_files/tender_files/pdf/BIFPCL%20MAI%20%20FGD%20ARP%20R01.pdf
This worldwide standardization of scrubber designs and pump requirements means that there is ample evidence of true cost of the various pumps which have been utilized and the ability to project true costs for future installations.
True cost is impacted by the location where the pump is manufactured and the location where the pump is repaired. It is also impacted by the service personnel proximity and the option for remote monitoring and support.
Libra Fluid Equipment Co., Ltd is home based in China. It was founded in 1999 and provides pumps and parts for various industries. It supplies pump parts for any pump where the patents have expired. It supplies ceramic, alloy and rubber lined impellers. This has true cost implications. The true cost of a pump purchased from any company without recently patented parts may be reduced with the option of purchasing parts from others such as Libra.
Parts and repair is a major true cost factor. Duechting Pump manufactures pumps in Germany but has regional service centers around the world. Is the true cost greater or the same for pumps supplied in the U.S and Asia?
KSB is a German based company but purchased GIW and manufactures pumps in the U.S.
Trillium has multiple manufacturing and service locations.
Suppliers are being asked to provide true cost analyses which will be published in Coal Fired Power Plant Decision http://home.mcilvainecompany.com/index.php/silobusters/44i-coal-fired-power-plant-decisions. This is a service which is free of charge to utilities around the world.
The service already includes recorded webinars and case histories of FGD pump performance compiled over decades. The Utility Tracking System identifies every FGD system in the world and includes the pump supplier for many of them.
This is a continuing process. As suppliers gain additional evidence it can be incorporated. The process is likened to a criminal trial where the supplier is the prosecutor and the jury is the purchaser. The difference is that the jury is periodically asked to review its decision based on new evidence such as life of impellers and casings in this recent case history.
The scrubber recycle pumps in this plant have operated at a flow rate of 1,310 cubic meters per hour (m3/h), 21.1 meters (m) of head and 630 revolutions per minute (rpm) for nearly 20 years, requiring minimum attention and service. Of course, the mechanical seals were exchanged from time to time. Apart from that, four impellers, one casing cover and some minor components were replaced. An additional 24 pumps are installed in the second scrubber system and other applications in the plant.https://www.pumpsandsystems.com/pump-materials-wet-flue-gas-desulfurization
There should be separate true cost analyses for each location. It is particularly important to analyze the cost in India. A good example is the analysis by SHI FW relative to wet vs dry scrubbers for Indian power plants.
Sumitomo SHI FW has made a detailed analysis comparing CFB scrubbers to wet limestone scrubbers without wallboard quality gypsum production.
The lower quality of limestone available, the expected 15-year life for the older plants to which the system may be applied, and the much lower capital cost of the CFB design are key aspects in the determination. Here are the factors and calculations for a 300 MWe pulverized boiler contained in the linked paper.
http://home.mcilvainecompany.com/images/Article_Show_me_the_Money_CFBS_vs_Wet_FGD_Aug19.pdf

The analyses are being pursued with personal discussions including at the upcoming PowerGen in New Orleans - http://www.mcilvainecompany.com/PowerGen_2019/Power-Gen_2019_Information.pdf. There will be a PowerGen University half day session on Monday where McIlvaine will advise suppliers interested in reaching the international market to prepare detailed true cost analyses of their offerings. There will also be a tour guide. Speakers, exhibitors, and attendees interested in FGD recycle pumps will be listed in the directory with emails and mobile phone numbers to facilitate discussions during the conference.
For more information on Coal Fired Power Plant Decisions click on http://home.mcilvainecompany.com/index.php/silobusters/44i-coal-fired-power-plant-decisions.
To participate in the True Cost of Limestone FGD Recycle Pumps contact Bob McIlvaine at This email address is being protected from spambots. You need JavaScript enabled to view it. direct 847 784 0013 cell 847 226 2391.
NEWS RELEASE October 2019
True Cost of Gas Turbine Inlet Filters
The McIlvaine Company is working with associations, media and suppliers to create true cost analyses of combust, flow and treat products and services. One such initiative is the "True Cost of Gas Turbine Inlet Filters".
The true cost of a gas turbine inlet filter can be affected by a large number of factors. These factors are not constants but are changing. The filter purchaser is challenged to not only identify these factors but to keep up with the changes.
Large gas turbines are used to generate electricity by utilities. Smaller gas turbines drive pumps and compressors in locations with extreme conditions such as desert dust, artic snow or sea spray on an oil rig. As turbines have become more efficient, they have become more susceptible to damage from contaminants in the combustion air. This ambient air from the surrounding environment can contain high dust loads. In California with very tight emission standards the particulate in the inlet air to the turbine can exceed emission limits. Thus the gas turbine has to act as an air cleaning device.
The challenge for gas turbine inlet fiber, media, and filter suppliers is to increase gas turbine availability in all environments with newer and more sensitive gas turbines. The newer turbine designs are negatively impacted by small particles. This has led to the use of HEPA filters with efficiencies classed as H10/E10 and higher. Studies show that turbine maintenance can be reduced with even higher efficiency E12-U17. One study showed that even if the cost of higher efficiency filtration were four times higher than lower efficiency filters, the true cost would be lower.
One can choose a system with non-cleanable filters. They are relatively inexpensive but require continuous filter replacement. By using a sequence of inefficient but inexpensive pre filters and a final high efficiency filter, the replacement cost can be minimized.
An alternative is to use a cleanable filter. Periodic air pulsing knocks off accumulated dust. These systems are available from many suppliers if the F-9 efficiency is all that is desired. Cleanable filters with H12 efficiency are available from only a few suppliers. On the other hand there are many new developments which will expand the number of choices.
In terms of high efficiency dust capture mechanisms there is a choice between wet laid glass and synthetic nanofiber non-woven laminates or membranes. The traditional glass media for HEPA filtration has been used primarily in non-cleanable filters.
Quantifying the benefit is a balance between reduced fouling and increased pressure drop. The increased pressure drop can be estimated to restrict performance by approximately 0.4%, while cutting fouling provides a 1.2% improvement in output (empirical average). Therefore, the overall result is a potential efficiency improvement of 0.8%.
http://www.mcilvainecompany.com/GTairTech/Subscriber/Default.htm
Alliance Pipeline believes that the E12 filters from Gore may allow Alliance to extend the interval between overhauls of its aero engines from 25,000 to as many as 50,000 hours (from three to six years).
The many factors and media choices impacting gas turbine inlet filter selection have been discussed in a background document on display at
http://www.mcilvainecompany.com/Decision_Tree/subscriber/Tree/DescriptionTextLinks/Gas_turbine_inlet_filter_decision_guide_april_26830.pdf
In the past the most efficient filters which were used on gas turbine inlets were rated F-9 with efficiency of more than 95% on particles 0.4 um diameter. The most penetrating particle size is about 0.2 um where the efficiency is much lower. Higher efficiency filters are rated based on the most penetrating particle size as follows.
| | |
| --- | --- |
| HEPA Class | Retention (total) |
| E10 | > 85% |
| E11 | > 95% |
| E12 | > 99.5% |
| H13 | > 99.95% |
| H14 | > 99.995% |
| U15 | > 99.9995% |
| U16 | > 99.99995% |
| U17 | > 99.999995% |
Membrane laminates such as used for dust collection can meet efficiencies up to E12. The question is whether this is sufficient?
There are a number of new filter and media designs which need to be evaluated. Mann & Hummel Vokes introduced the Aircube Pro Power S which utilizes a new synthetic base media with much higher resistance to mechanical stress than glass fiber media and a stable high efficiency during operation. It is water and salt repellent while being extremely robust.
DHA filter has introduced a cleanable HEPA filter for gas turbine inlets which it will be displaying at PowerGen
The Guide to True Cost of Gas Turbine Inlet Filters will be used to facilitate discussions at a number of events in the coming months. It will be used along with a tour guide on the subject at the PowerGen exhibition in November.
http://www.mcilvainecompany.com/PowerGen_2019/Power-Gen_2019_Information.pdf.
It will also be the subject of a discussion at FiltXPO which will be held in Chicago in February.
The Decision Guide is continually updated and included Gas Turbine and Reciprocating Engines Decisions http://home.mcilvainecompany.com/index.php/silobusters/59d-gas-turbine-and-reciprocating-engine-decisions. It is free of charge to gas turbine and engine owners and funded through supplier subscriptions.
To participate in the True Cost of Gas Turbine Intake Filters contact Bob Mcilvaine at This email address is being protected from spambots. You need JavaScript enabled to view it. direct 847 784 0013 cell 847 226 2391.
NEWS RELEASE October 2019
Market Research from Leonardo DaVinci to IIoW
Market research is treated as a peripheral management tool but due to the abundance of available knowledge today, it can and should be used as the foundation of business plans.
There was a point in time when Leonardo DaVinci would have been the best market researcher for anything to do with art, medical science, or military engineering. However, the world's knowledge has been growing at exponential rates. Furthermore this knowledge is easily accessible as part of the Industrial Internet of Wisdom (IIoW). Leonardo would be astounded to learn that you can analyze employment at a competitor's pump factory by using google earth to count the cars in the parking lot; or that you can obtain a detailed description of the equipment in that plant from publicly available environmental and safety permits.
Market research in the combust, flow, treat industries can be likened to a criminal investigation. You start with eye witness descriptions of the perpetrator. Then you create a police sketch representing the knowledge available. If this leads to an arrest, the next step is to prepare comprehensive evidence.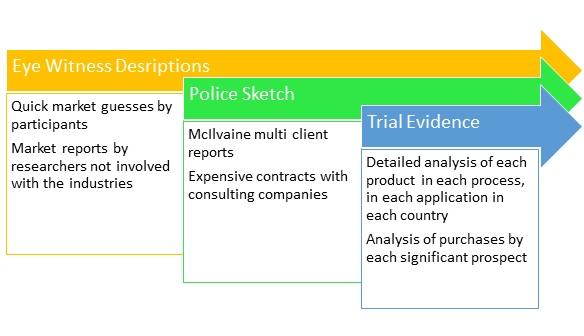 Since market research is typically considered to be a peripheral tool companies are content with guesstimates by sales and management people or a top down report by someone who is not familiar with the products and processes. This level of effort is similar to just gathering eye witness descriptions.
When higher accuracy is deemed appropriate a company may acquire a McIlvaine multi-client report or an expensive study from one of the consulting firms. This is common in mergers and acquisitions. McIlvaine reports each contain as many as 50,000 forecasts for eight years for each product in each industry in each of 80 countries and sub regions. This information is much more useful but could be classified as a high quality police sketch.
If market research is going to be the foundation of the business plan it requires more detailed information and the input of subject matter ultra-experts. The typical McIlvaine multi-client reports have forecasts for each of 80 countries and regions segmented into 13 industries.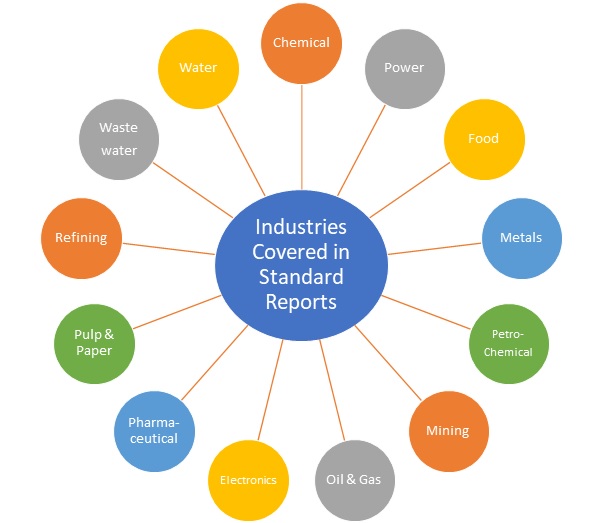 Food can be further segmented.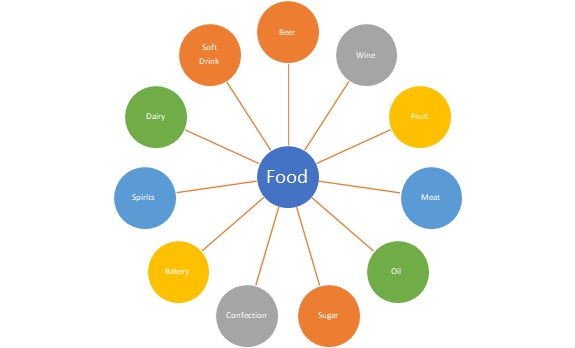 The food oil segment can be then be segmented by oil type. This is quite important since palm oil and soybean oil are produced in different areas with unique processes.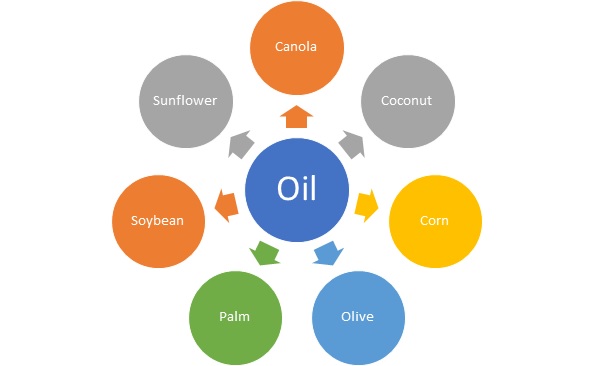 Forecasts of purchases by companies comprising 70 percent or more of the market are provided with the multi-client reports. This would include companies such as Cargill and ConAgra which are among the ten largest food industry purchasers of combust, flow, and treat products.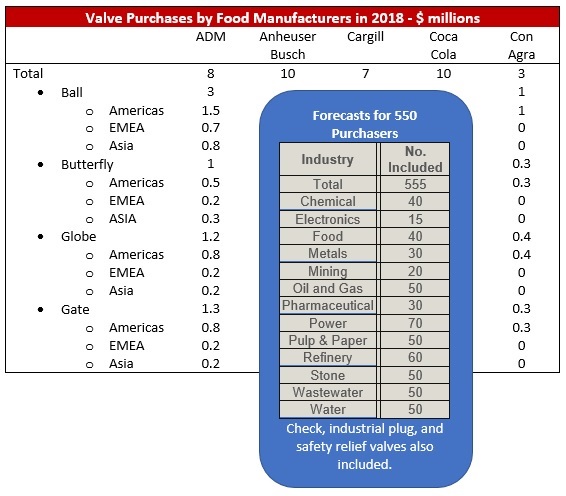 In the multi-client report forecasts are supplied for the two largest food oil producers among a total of ten food producers and 100 total purchasers of combust, flow and treat products.
In a further customized multi-client report just on the food industry, there would be ten food oil companies analyzed among 100 food companies. A further custom analysis of food oil companies would provide forecasts for 250 producers.
If this level of analysis is pursued for each industry, forecasts are produced for several thousand companies comprising 90 percent of the purchases for most industries. This is because 99 percent of the purchases are made by companies which already utilize the type of product being analyzed. This is not true in lithium recovery, biopharmaceuticals, and manufactured frac sands where there are many new entries. However this new group represents less than 3 percent of the total market.
The approach does also not adequately cover industry segments which are going to be driven by new technology or regulations. However, McIlvaine is involved with the new technology in many areas including recommending specific pursuits such as
Biomass Ready Coal Fired Plants and Massive Tree Planting will be the Compromise Climate Change Solution
The Future of Biopharmaceuticals will Depend on Perceived Value vs Cost
Join the Debate on Insitu Rare Earth Recovery
McIlvaine is also involved in those areas of the world where the most combust, flow and treat expansion is taking place.
India will be a Major Purchaser of Dry Scrubbers
This detailed market research makes sales leads obsolete and provides the basis for collaboration.
Would You Rather Share Sales Leads with Your Allies or with Your Competitors?
More information on the multi-client market reports is found at www.mcilvainecompany.com and then click on markets.
Bob McIlvaine can answer your questions at This email address is being protected from spambots. You need JavaScript enabled to view it. direct 847 784 0013 cell 847 226 2391