NEWS RELEASE January 2020
The Opportunistic Antidote to the Climate Change Doomsday Scenario
The U.S. Administration will support a trillion tree planting campaign along with many other nations. However, the U.S. still believes that warming may be caused by solar activity and that increased CO2 levels are a result and not cause of the warming. What if the U.S. government officials are wrong and the doomsday predicters are right? They say we are reaching a tipping point and it will be difficult if not impossible to prevent the catastrophic floods and fires without immediate cessation of fossil fuel burning.
Fossil fuel elimination will certainly threaten economic prosperity throughout Asia. If Asian nations are not participants any reductions in Europe and the U.S. will be insignificant.
The solution to this dilemma is a Doomsday antidote which is Opportunistic Biomass Combustion and Sequestration. A UK consortium is already generating a significant amount of its electricity from biomass burning and will be distributing CO2 and hydrogen to industrial facilities and sequestering the remaining CO2 underground. In Canada the SaskPower Boundary Dam 3 coal fired plant has now supplied 3 million tons of CO2 for enhanced oil recovery.
So there is no doubt that biomass combustion and CO2 sequestration is a legitimate option. The question is how costly will it be? It will not be cheap but on the other hand if the doomsday believers are correct then it could be the only option. This biomass combustion/sequestration will "suck the CO2 out of the air". Wind and solar are just neutral. So the biomass option is the antidote for the doomsday scenario.
The greater the impending doom the greater the amount of biomass which should be grown, combusted and sequestered. But to be opportunistic why spend the money if it is not needed. So the opportunistic approach is to build and retain biomass capable fossil fuel boilers. Should the coal fired boilers being retired in the U.S. be scrapped or should they be mothballed and ready for conversion to biomass firing if needed?
Should utilities reconsider scrapping the coal plants and building natural gas fired units? Or should they design natural gas fired plants for eventual biomass gasification and sequestration?
Should the Philippines make its new fleet of coal fired boilers biomass ready? It is a major target of the trillion tree initiative. There needs to be an optimization of four initiatives
Tree planting for long term sequestration (hundred years)
Biomass fuel growth with the most mass in the shortest amount of time
Biomass combustion
CO2 use and sequestration
Due to the uncertainties the wise course is to spend modest amounts to make combustion plants ready for biomass combustion while continuing to develop new sequestration strategies including substituting CO2 for water in hydraulic fracturing.
A biomass capable electricity generator becomes the highest ranking choice with wind, solar, hydro and other options falling behind. Biomass may never be burned but if the doomsday scenario becomes part of the strategy then it is the antidote.
Details on the strategies, projects, and on all coal fired generators around the world are included Utility Tracking System. http://home.mcilvainecompany.com/index.php/databases/42ei-utility-tracking-system
NEWS RELEASE January 2020
Urgent Answers for Flow and Treat Suppliers
The CEO may be evaluating an acquisition and needs a question answered immediately. The valve salesman covering BASF may be bidding a large project and want to know which companies have supplied control valves for condition monitoring. The Asian sales manager may want to plan his next trip to India so that he visits the most important prospects. The business development manager may want an opinion as to the impact of the U.S. endorsement of the trillion tree program.
These are all questions which require answers immediately. The McIlvaine Company has nearly 100 services which provide answers to these types of questions . However, they are only available to subscribers and they take time to search.
An alternative is the "Urgent Answer" program. The response can be a phone call, webinar or report. The client does not have to be a subscriber.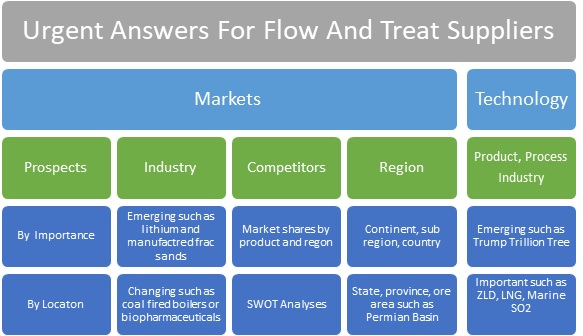 Answers are available for both market and technology questions. If it is important to know the size of the market in California or Thailand for valves, pumps, filters, centrifuges, etc. it is instantly available. If you want to know market share by FGD scrubber type in India it can be provided.
The Urgent Answer Program can be expanded to include monthly webinars on predetermined subjects or speeches at sales meetings.
For more information on this program contact Bob McIlvaine at 847 784 0013 or This email address is being protected from spambots. You need JavaScript enabled to view it.
NEWS RELEASE January 2020
U.S. Coal Fired Flow and Treat Market will be Diminished but Significant
Flow and treat product suppliers should not overlook the U.S coal fired generator market. It will be significant through 2040. The U.S. coal fired capacity will shrink to less than 50 percent of the 2010 peak. Operating hours will shrink even further as coal plants are used in conjunction with solar and wind. However, coal can maintain a contribution equivalent of 40 percent of that in 2010 if wise upgrade investments are made.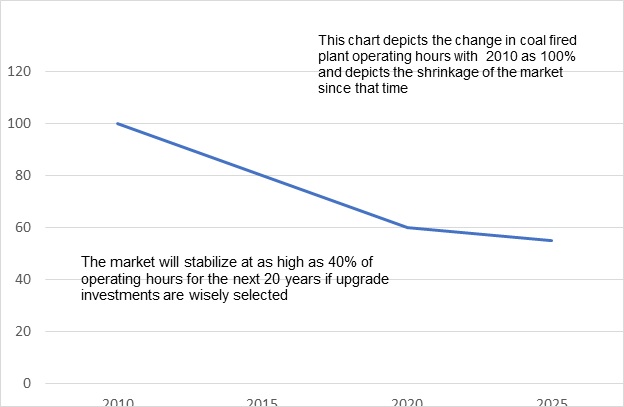 U.S. Coal Fired Power Operating Hours as a % of 2010
There are many uncertainties but the variables which are under control of the industry are more important than the political variables. The biggest factor affecting coal use in the U.S will be the price of natural gas which in turn will be closely tied to world oil prices as LNG plants are built in the U.S. and create a big gas export market.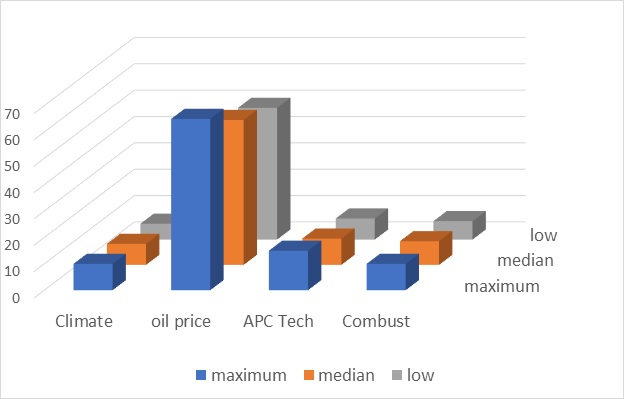 Impact of Factors on U.S. Coal Megawatt Hours
Assuming that any movement to prohibit hydraulic fracturing would be rebuffed the continued low price of oil and gas is highly predictable. As a result the gas price will be a large but predictable factor reducing coal use. Climate policy over the period through 2040 is likely to be a minor factor regardless of whether there is a Democratic or Republican Congress and Administration. There are not going to be any new coal fired plants. There will be continuing pressure to operate existing plants more efficiently to reduce CO2 and with reduced air pollution.
Investments in combustion and air pollution control technology will have more impact on operating hours than will climate change. These investments can make coal plants more flexible and able to operate more efficiently at reduced loads and in a cycling mode.
China is taking the approach of upgrading coal fired plants to make them equal to gas fired plants in terms of emissions. This includes upgrades to ultrasupercritical operation. Given an assumption of retirement in 2040 only a minority of U.S. plants will be able to justify this investment. However there are many investments with a high return over just a few years.
Injecting hydrated lime ahead of the SCR and the air heater can lower the SO3 concentrations enough to avoid maintenance and turn down issues. Injecting enough sorbent further upstream in the flue gas means utilities can lower load and capture waste heat that would typically escape from the stack. This also gives utilities flexibility to run the coal-fired units at a lower load, typically at night, and be more efficient. Buckeye Cardinal Unit 2 in Brilliant Ohio initiated this change in 2017 and is experiencing a high ROI.
There are many other initiatives which can be pursued. Here are some.
Catalytic filters with DSI ahead of the air heater and capture of heat and water which otherwise is lost through the stack (ideal where hot precipitators are still being used)
Byproducts such as rare earth feedstocks, hydrochloric acid, pure white gypsum to compete with precipitated calcium carbonate, ammonium sulfate, and sulfuric acid all have potential for certain site specific situations
CO2 as a product: SaskPower supplies CO2 for enhanced oil recovery from its Boundary Dam plant. BHE in Utah directs CO2 from its gas turbine stack to a commercial tomato greenhouse on site. Most commercial greenhouses purchase CO2. Hydraulic fracturing with CO2 is promising as a way to reduce water consumption and sequester greenhouse gases.
All of these initiatives and the fate of each coal fired plant is being analyzed and tracked in the McIlvaine Utility Tracking System: http://home.mcilvainecompany.com/index.php/databases/42ei-utility-tracking-system
Bob McIlvaine can answer your questions at 847 784 0013 or This email address is being protected from spambots. You need JavaScript enabled to view it.
NEWS RELEASE January 2020
Determining Flow and Treat Market Shares and Rankings
Flow and treat suppliers set a high priority on determining the market share for their products as well as their ranking among competitors. There is promotional as well as strategic value. The research needed to generate promotional value is modest. The research needed to maximize the strategic value is considerable.
Scope: To create promotional value it is relatively easy to pick a market scope which favors the company. To create strategic value it is desirable to carefully assess the following definitions
Product which is being evaluated
Application

Industry
Process
Medium (gases, liquids, free flowing solids)

Geographic scope
Time frame
Customers (the largest purchasers with centralized flow and treat purchasing are larger customers than half the countries of the world.)
Market Share and Rankings Analysis Needs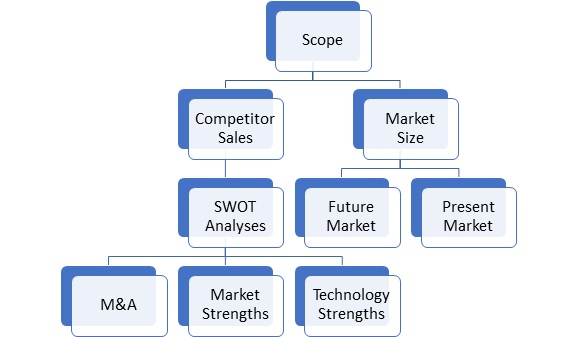 Market Size: The true market size often requires understanding of the industries, the applications and even the equipment choices. What percentage of sewage sludge is dewatered in belt filter presses, centrifuges, or recessed chamber filter presses? If you sell filter cloths or filter belts this is an important investigation.
Determination of the future market is very important. If the supplier can gain market share in an expanding market the impact on revenues is substantially greater than gaining market share in a stable or shrinking market.
Competitor Sales: It is desirable to not only assess the present sales of the major competitors but also predict their future sales and market shares. This requires considerable effort but there are multiple values. McIlvaine analyzes the participation of flow and treat companies in hundreds of exhibitions around the world. Some are industry oriented such as ACHEMA. Some are equipment oriented such as Valve World or FILTXPO. Exhibitions such as PowerGen are held in Asia, the U.S. and Europe. So insights on geographical strategy can also be ascertained.
It is also desirable to conduct SWOT analyses for major competitors and to assess their product development activity. The McIlvaine company has services on air pollution control, water pollution control, combustion, drying, separation and other processes which provide unique insights on product development progress and needs.
Market share is impacted by mergers and acquisitions which are resulting in larger and larger companies with increasing market share. Suppliers need to keep analyzing the consequence of a merger among competitors. In some cases market ranking may drop but market share will increase. For example two smaller competitors could merge but then their combined sales do not reach the level that they would have reached as independent companies.
With the broad range of market and technical services offered the McIlvaine Company is uniquely qualified to assist flow and treat companies with market share and ranking analysis. For more information contact Bob McIlvaine at 847 784 0013 or This email address is being protected from spambots. You need JavaScript enabled to view it..
NEWS RELEASE January 2020
Valve Market Share Analysis for 140 Companies
The McIlvaine market share analysis for each valve supplier is valuable for those companies considering acquisitions, divestiture or seeking to increase share organically. This continually updated database and analysis is part of Industrial Valves: World Markets https://home.mcilvainecompany.com/index.php/markets/water-and-flow/n028-industrial-valves-world-market
There have been a number of mergers, acquisitions, divestitures, and joint venture agreements undertaken by valve companies in the last three years. Emerson has been the most active. The purchase of the valve operations of Pentair (Tyco) the largest valve producer made Emerson the # 1 producer. In the latest 12 months sales are estimated close to $3.8 billion compared to $1.6 billion for # 2 Cameron Schlumberger. The largest divestiture was the GE sale of stock in BHGE to the now independent Baker Hughes with valve sales of $960 million.
Market shares are being continuously revised to provide worldwide rankings of valve sales by company and further segmented by corporate location.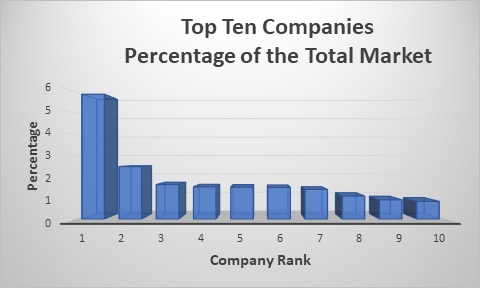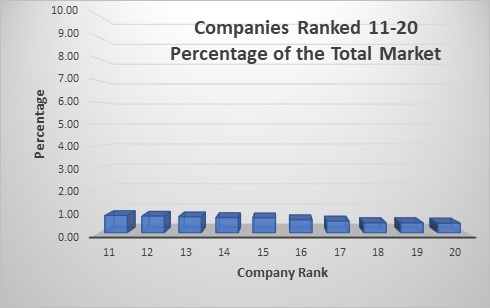 Of the top six ranked suppliers, five are home based in the U.S. Their sales are equal to 15 percent of the world market. There sales equal well over 50 percent of the U.S. market. Their success has come from penetration of the markets in the other two regions.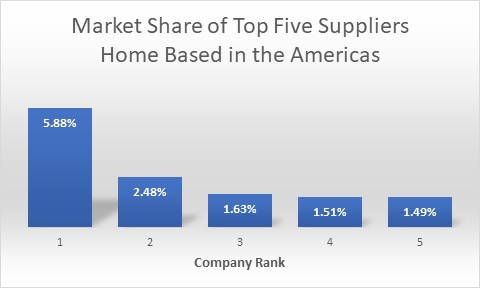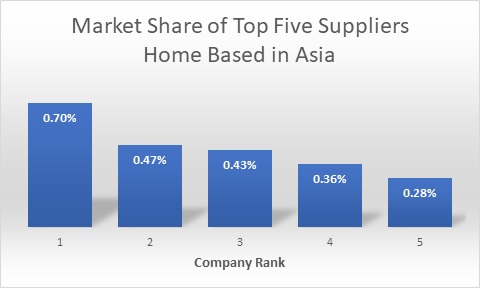 This low percentage reflects the smaller size of the Asian valve companies. However, their growth rate is higher and we can expect these percentages to increase.
Emerson is home based in the U.S. with 2019 valve sales of $3.79 billion its market share on a worldwide basis is over 5%. However, this is equal to18% of the market in the Americas. The fact that Emerson has penetrated the Asian and EMEA markets has allowed the company to grow even if it would be very difficult to achieve an 18% share on the continent in which it resides. On the other hand, Neway has a 0.7% of the total world market. All of its sales represent only 1.6% of the Asian market. It is growing internationally. But even if it were not it still las lots of opportunity in Asia.
Whether a valve company is selling, buying, or seeking organic growth and higher profits, the knowledge of valve company market shares is important.
Selling: In general, another valve company with synergisms will pay more for a valve supplier than will a private equity investor. This continuing analysis of market shares is a good way to select potential acquirers.
Buying: The analysis of market shares is very important to valve company acquirers. This analysis should really be just the starting point. Market shares by specific product, process, industry, and location are each significant. While market share for all valves in Asia is part of the report, it is possible to expand this to market share for turbine bypass valves for coal fired power plants in India.
Organic growth: Sales are not made in a vacuum. Expanding sales means taking share away from some of the existing suppliers. So, a market share analysis is the starting point and also a continuing effort. The competitor share knowledge is important for many throughout the organization including the local salesperson. As competitors merge and gain share it is important to track these changes.
Higher profits: The # 1 and # 2 suppliers in a given market have the potential for higher profits due to efficient use of resources. Analyzing the profitability of competitors provides insights on how to raise profits. The starting point is market shares.
The market share analysis reviews recent acquisition attempts as well as hedge fund led divestiture attempts to compare the goals of those seeking change to the performance of their targets.
For more information click on Industrial Valves: World Markets https://home.mcilvainecompany.com/index.php/markets/water-and-flow/n028-industrial-valves-world-market
Bob McIlvaine an answer your questions at This email address is being protected from spambots. You need JavaScript enabled to view it. 847 226 2391