59D Gas Turbine and Reciprocating Engine Decisions $1600.00 per year (Additional users $100.00/yr) Click Here to Order
(The service is free for any gas turbine operator, owners and operators of gas turbine generation facilities. The cost to others is $1600.00. A subscription to 59EI Gas Turbine and Reciprocating Engine Supplier Program includes the subscription to 59D.)
A complete decision making program is provided and continuously updated. It includes a decision orchard, decision guides and the 4A's Operating System.
GasTurbine and Reciprocating Engine Decision Program
Subject

Use

Decision Orchard

Website with articles, analysis, recorded webinars (InterWEBviews), and white papers. There are links to a number of decision guides which provide route maps and summaries of orchard information.




Decision Guides

Many decision guides including GTCC Air Treatment Decision Guide.

Route Maps and Summaries

Each decision guide has multiple route maps and summaries. For example the GTCC Air Treatment Decision Guide has the following route maps and summaries:
Overview, Intake System, Power Augmentation, Filters and Media

4As Operating System

The operating system for the decision orchard with Alerts, Answers, Analysis and Advancement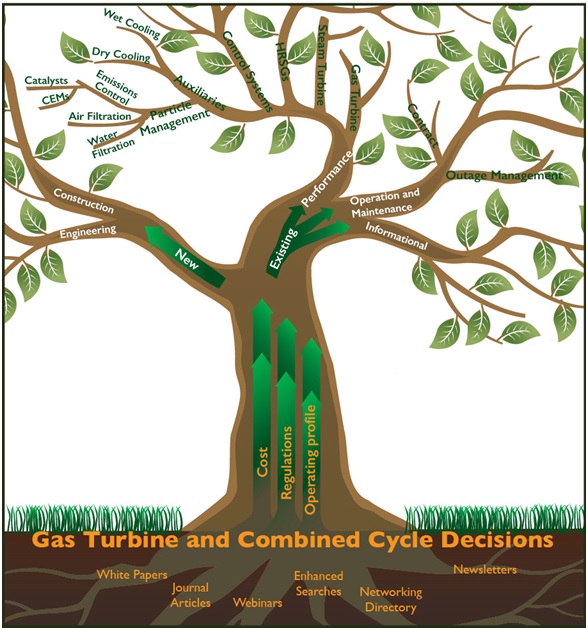 Alerts

Semi monthly Alerts cover new developments and summaries of the hot topic webinars. They also include updates to the intelligence system in the decision orchard. Changes to and new GdPS are continually added.
See Example
Answers

The articles, case histories, and white papers in the decision orchard provide answers. InterWEBviews™ provide in depth coverage of technology and products. The Decision Guides quickly reveal the relevant data. Here is one example:

Analysis

The live hot topic hour discussions provide multiple points of view which are invaluable in analyzing alternatives such as
High efficiency vs medium efficiency as turbine inlet filters

Wet cooling vs dry cooling

High temperature catalysts or medium temperature catalysts for NOx reduction

Zero liquid discharge vs minimial reuse
World niche experts are also available to provide assistance.
Advancement
The webinar recordings and easily accessed white papers and analyses provide a powerful resource for training of both new and experienced personnel Several webinars per month are included. They are high level discussions which are based on the information in the intelligence system. This fosters courteous debate and avoids sterile presentations. The goal is to present end users with the options available and provide the information to substantiate one direction or another. Example
Click here to view video coverage of this service