| | |
| --- | --- |
| | Utility E-Alert |
| | No. 1406 January 25, 2019 |
---
Table of Contents
COAL – U.S.
Wyoming Governor evaluating Sites for Experimental Coal-fired Station
COAL – WORLD
Pakistan cancels proposed China-backed Coal-fired Power Plant
Japanese Utility dumps plan for New Coal Plant
Cerkezkoy Coal-fired Power Plant cancelled in Tekirdag Province, Turkey
Canada finalizes end Dates for Saskatchewan Coal Units
India releases Clean Air Plan
Rio Tinto confirms new Mongolian Coal-fired Power Plant
China funds Multi-billion Dollar Coal Power Plant Projects in Vietnam
Kosovo to go ahead with 1.3 Billion-Euro Coal-fired Power Plant
NUCLEAR
Hitachi halts work on UK Nuclear Power Plant over financing
BIOMASS
EQTEC signs Contract with Phoenix Energy
BUSINESS
MHPS opens Remote Monitoring Center at Nagasaki Works
Fuel Tech to suspend Pollution Control Operation in China Subsidiary as Part of ongoing Operational Improvement Initiatives
CONFERENCES AND EXHIBITIONS
Connected Plant Conference February 19-21 – Charlotte, North Carolina
2019 Electric Power Conference & Exhibition, April 24-26 - Las Vegas
MCILVAINE HOT TOPIC HOURS AND RECORDINGS
---
COAL – U.S.
Wyoming Governor evaluating Sites for Experimental Coal-fired Station
Wyoming Governor, Mark Gordon, is looking at at least three potential sites for the experimental coal-generating plant he wants to build in the state.
The Gillette News Record reports that Gordon told the Wyoming Press Association Convention that the Integrated Test Center near Gillette is one possibility. The other potential sites include the Dave Johnson Power Plant in Converse County and the Jim Bridger Plant in Sweetwater County.
Gordon has asked state lawmakers for $10 million to build a 5-MW power plant that would be capable of capturing at least 75 percent of its carbon emissions.
The money would be used to leverage up to $40 million in federal grant funding to supplement the work of the test center, a research facility at the Dry Fork Station power plant.
COAL – WORLD
Pakistan cancels proposed China-backed Coal-fired Power Plant
The newly-elected Government of Pakistan has told Chinese Government officials that it wants to cancel the proposed 1320 megawatt (MW) Rahim Yar Khan power project and remove it from the list of projects included as part of the China-Pakistan Economic Corridor (CPEC). The project, which was proposed to rely on imported coal, was approved for consideration by the previous government despite having been rejected once before. Pakistan government officials insist the project is unnecessary and would create overcapacity, undermining the commercial viability of the power sector.
Japanese Utility dumps plan for New Coal Plant
JFE Steel Corporation and Chugoku Electric Power have cancelled the proposed 1070 MW Soga coal-fired power plant near Tokyo. A JSE spokesperson insisted that the project wasn't being cancelled because it would have burned coal but because "construction costs would increase more than originally anticipated." The proposed project has been opposed by local residents and environmentalists. In early 2017 Japan's then Minister of Environment, Koichi Yamamoto, expressed concern that greenhouse gas emissions from the project would undermine Japan's Paris Agreement obligations.
Cerkezkoy Coal-fired Power Plant cancelled in Tekirdag Province, Turkey
The proposed 990-megawatt (MW) Cerkezkoy coal-fired power plant in Tekirdag province has been cancelled. Turkey's Electricity Generation Corporation (EUAS) argued the construction of the plant would require expropriation of land but a successful legal challenge blocked the utility's plan. In late 2017, EUAS proposed an alternative location but also faced a legal challenge over that plan. Government officials acknowledged community opposition to the project but claimed that it had been cancelled "due to technical reasons."
Canada finalizes end Dates for Saskatchewan Coal Units
A draft agreement between the Canadian government and the Saskatchewan provincial government proposes the closure of the 582 MW Poplar River plant and the 276 MW Shand plant by 2030. Saskatchewan had previously argued the Shand plant should be allowed to operate until 2042 when it would have been 50 years old. The agreement also proposes allowing SaskPower's Boundary Dam 150 MW units 4 and 5, which were originally due to close by the end of 2019, to operate until the end of 2021 and 2024 respectively. The troubled Boundary Dam 3 unit, which has been fitted with a carbon capture and storage plant, is exempt from the 2030 closure deadline. The draft agreement was released on December 29 for 60 days public consultation and, unless changes are made, is likely to be ratified in March
India releases Clean Air Plan
The Indian Government's National Clean Air Program proposes a "tentative" target of reducing PM2.5 and PM10 fine particle pollution by between 20 and 30 percent by 2024 compared to 2017 levels. The plan proposes increased air quality monitoring and the development of city-specific action plans for 102 cities designated as in breach of air quality standards. However, even if the reduction targets are met, India's most polluted cities would still well exceed World Health Organization standards. The plan provides for no binding targets or enforcement mechanisms but notes there is a need to ensure "stringent compliance" of all coal-fired power plants with new emission standards by 2022. A study recently published in the medical journal The Lancet estimates that air pollution in India caused up to 1.24 million premature deaths in 2017.
Rio Tinto confirms new Mongolian Coal-fired Power Plant
On New Year's Eve the global mining company Rio Tinto announced that it had reached agreement with the Mongolian Government to build a 300 MW coal-fired power plant near the Tavan Tolgoi coalfield to supply its Oyu Tolgoi copper mine. Rio Tinto's original agreement with the Mongolian Government was to investigate domestic power supply. However, repeated attempts by the Mongolian Government to attract a commercial consortium to build a plant at the Tavan Tolgoi field failed, leading Rio Tinto's subsidiary, Oyu Tolgoi LLC, to source power from China. Mongolia is proposing to raise up to US$3 billion by selling a 30 percent stake of the publicly-owned coal mining company Erdenes Tavan Tolgoi (ETT) through the Hong Kong Stock Exchange. ETT's Chief Executive, Gankhuyag Battulga, said the proceeds from the partial sale would be used to fund the Tavan Tolgoi coal-fired power plant.
China funds Multi-billion Dollar Coal Power Plant Projects in Vietnam
Of China's US$36 billion in financing for coal-fired power plants in 23 countries, Vietnam has the second most proposed coal-fired capacity after Bangladesh, totaling 13,380 MW, with the fourth most funding, totaling US$3.6 billion, according to a new report by the US-based Institute for Energy Economics and Financial Analysis (IEEFA).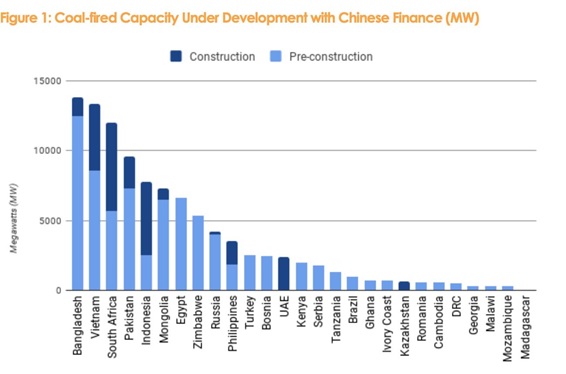 Source: IEEFA.
Most of the projects (58%) are fairly advanced, with 4,800 MW under construction and 3,000 MW permitted, stated IEEFA.
Forty-two percent of the capacity (5,580 MW) has committed funding. Chinese banks have already funded a number of completed coal-fired power plants in Vietnam. In total, Chinese EPC firms have built fifteen coal-fired power plants in Vietnam, with Chinese banks providing US$8.6 billion in funding for them. Many of the current proposed coal projects are an additional phase of already completed plants.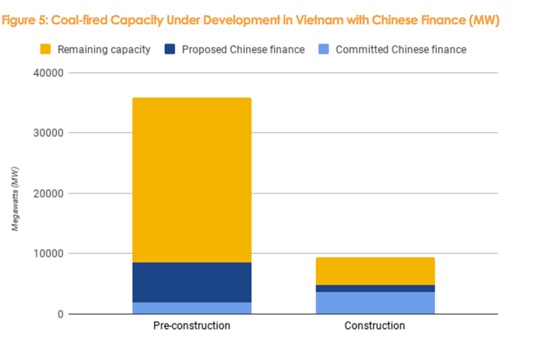 Source: IEEFA.
While financial institutions around the world are moving away from coal to limit exposure to increasing stranded asset risks, IEEFA found that China is simultaneously funding over one-quarter of coal-fired power plants under development outside the country.
IEEFA's report examined China's expensive subsidization of largely imported coal-fired power plant investments across 27 countries, all while overtaking the U.S. and Germany in becoming the number one exporter of cheaper greener environmental goods and services.
The IEEFA report found that Chinese financial institutions - both the development finance institutions and state-controlled banks - have committed or offered funding for over one-quarter (102 gigawatts GW) of the 399 GW of coal-fired power plants currently under development outside China, including investment in export coal mines, coal-fired power plants, and the associated rail and port infrastructure.
To date US$21.3 billion has been committed to over 30 GW of projects across 13 countries. An additional US$14.6 billion has been proposed in funding for over 71 GW of projects across 23 countries.
Report co-author Melissa Brown, IEEFA Energy Finance Consultant, says funding coal-fired power plant projects leaves China and the 27 countries reliant on Chinese coal financing increasingly exposed to bad economic outcomes as nations move away from coal.
Additionally, most coal funding outside China is being provided by public Chinese banks that back Chinese state-owned enterprises to build the plants with a largely Chinese workforce.
"With the majority of the planned Chinese coal projects yet to reach financial close in a number of countries, there is the possibility that the deals could fall through or be cancelled. Countries where Chinese finance is yet to be committed should re-focus their energy markets on investment in the grid improvements needed to support renewables," said co-author Christine Shearer.
"As the cost of renewable energy undercuts new baseload coal-fired power plants, IEEFA considers more private investment in cheaper zero-emissions energy to be a smarter path forward, rather than blindly agreeing to investment in outdated and expensive coal-fired power plants backed by governments intent on filling their own coffers while everyone else bears the financial burden of global warming," Shearer added.
Kosovo to go ahead with 1.3 Billion-Euro Coal-fired Power Plant
Kosovo will go ahead with the construction of a 500 MW coal-fired power plant, despite the

World Bank

, which favors renewable energy, withdrawing its support for the project last October.


Prime Minister Ramush Haradinaj announced that US

ContourGlobal

will contribute to finance the €1.3 billion project, which is considered the most important investment in the country over the last two decades.


"Financial and technical projects will be selected in February and construction of the New Kosova power plant will start within months," Mr. Haradinaj said. "This investment will bring a boom in economic growth, expected to reach seven percent annually."


ContourGlobal has already invested in Kosovo in 2017, financing the so called Kosova e Re power plant, which will greatly improve the reliability of electricity supply and deliver environmentally cleaner energy.


"With the greatest economic growth in the region, the reduction of tax tariffs, substantial reforms in the rule of law and fiscal policy, as well as a law on strategic investments, Kosovo put itself on the map of attractive and safe countries for foreign investors," the prime minister added.
NUCLEAR
Hitachi halts work on UK Nuclear Power Plant over financing
The Economic Times reported that work on a major new nuclear power station in Britain was suspended after the contracted developer, Japan's Hitachi, said that it has been unable to agree on financing with the UK government. Hitachi said that it was halting work already underway on the Horizon Project, which is located in Wylfa, Wales, on the island of Anglesey. It will also suspend work on another site located in England.

The company had been in talks with the British government for years about how it might support the project financially, including through stock and debt investments.

Mr. Duncan Hawthorne, chief executive of Hitachi's nuclear business said that "I am very sorry to say that, despite the best efforts of everyone involved, we've not been able to reach an agreement to the satisfaction of all concerned."

The suspension is a blow to the British government, which is in the midst of political chaos over Brexit and under pressure to show it is open to business deals with companies and countries beyond the European Union.

It also comes just two months after another Japanese company, Toshiba, decided to not go ahead with a power station it was looking to build in Britain.
BIOMASS
EQTEC signs Contract with Phoenix Energy
EQTEC plc, the technology solution company for biomass gasification-to-energy projects, is pleased to announce that it has signed its first equipment purchase contract with Phoenix Energy, in relation to the company's first power plant in California.
The company previously announced on September 24 that it had signed a memorandum of understanding with Phoenix, a California-based power company, to supply its proprietary EQTEC gasifier technology (EGT) for two power plants in California, expected to be valued in the region of €10 million.
Converting the MOU into a first formal contract with Phoenix represents a significant milestone for EQTEC and management expect this first contract to start generating revenue during the first half of 2019, continuing through the second half of 2019 and 2020.
Phoenix will be the first customer in the U.S. to utilize EQTEC's gasification-to-energy technology and the company expects that this will lead to further opportunities throughout the U.S. market.
Gregory Stangl, CEO of Phoenix Energy, stated, "We are delighted to be taking our relationship with EQTEC forward and believe this solution could have a wide application for U.S. Distributed Energy market."
Ian Price, CEO of EQTEC plc, commented, "This is a landmark deal for EQTEC which highlights the global reach of our technology.
"As part of EQTEC's previously announced strategic review and Growth Optimization Plan, our goal is to successfully execute contracts from our current pipeline of projects. This contract represents the first contract signed as part of this plan and the company will continue to focus on executing opportunities in its project pipeline, including the contract for Phoenix's second power plant, in the near term.
"As I have previously stated, EQTEC's expanding portfolio of projects continues to present significant near-term revenue generating opportunities for the company. Our aim is to grow EQTEC into a market leading FTSE-listed company. We look forward to providing shareholders with further updates in the near term on the company's pipeline of projects, which includes opportunities with values ranging from €10 million to €100 million."
Yoel Alemán, CTO of EQTEC plc, commented, "The signing of this contract with Phoenix proves that our patented technology is among the best in its class and we look forward to working alongside Phoenix and other partners in executing further contracts worldwide. The U.S. market is of particular interest to EQTEC given its size and potential."
Particulars of the contract:
- EQTEC will provide its biomass gasification-to-energy technology and equipment to Phoenix Energy;
- EQTEC will initially deliver the engineering design for Phoenix's first power plant within the next two months;
- Phoenix Energy and its client will then review the engineering design in order to determine the equipment order for the first power plant;
- Phoenix is making good progress with the permits, licenses and authorizations (PLA), power purchase agreements (PPA) and feedstock agreements for the project and they are anticipated to be in place before the completion of the engineering design work; and
- Work on the project is expected to commence immediately.


BUSINESS
MHPS opens Remote Monitoring Center at Nagasaki Works


Mitsubishi Hitachi Power Systems (MHPS) has opened a new remote monitoring system at its Nagasaki Works in southern Japan.


This is MHPS' fourth remote center, after facilities in Takasago, Japan; Orlando, Florida and Alabang in the Philippines. The new center will focus on the status of boilers and steam turbines in steam power plants and coal gasifiers at those types of facilities.


Nagasaki Works is one of the company's longest-lived plants. Its main products include steam turbines, boilers and plant control systems, among other production.


MHPS is expanding its applications for the MHPS-TOMONI digital solution. These services include remote monitoring, as well as closer customer engagement to focus on increased plant efficiencies and profitability.


The Takasago center was established in 1999, while Orlando was opened two years later. The Alabang RMC was opened in 2016.


Together these facilities conduct remote monitoring for more than 30,000 MW in thermal power generators including over 150 gas turbines, steam turbines and boilers.
Fuel Tech to suspend Pollution Control Operation in China Subsidiary as Part of ongoing Operational Improvement Initiatives


Fuel Tech, Inc. announced the planned suspension of its Air Pollution Control ("APC") business operation in China ("Beijing Fuel Tech"). This action is part of Fuel Tech's ongoing operational improvement initiatives designed to prioritize resource allocation, reduce costs, and drive profitability for the company on a global basis.


The transition associated with the suspension of the APC business is underway, and includes staff rationalization, supplier and partner engagement, and the monetization of certain assets. The company expects to complete the process by the end of the second quarter of 2019.


"The APC business of Beijing Fuel Tech has become increasingly challenged over the past few years, the result of increased local competition and the commoditization of these technologies in the Chinese market. These market forces have resulted in significant margin erosion on the sale of our APC technology product suite, which has driven unacceptable financial results," said Vincent J. Arnone, Fuel Tech's Chairman, President and Chief Executive Officer. "We are confident that this is the proper decision for our company, given the negative financial impact of Beijing Fuel Tech's performance on our overall financial results, and the existence of more promising growth opportunities in other markets.


"The expected cost savings and improved cash flow associated with the suspension of the APC operation at Beijing Fuel Tech, in combination with those generated by our previously implemented cost reduction initiatives and ongoing business development, will allow us to build scale in promising market geographies and sharpen our focus on opportunities that deliver better returns," continued Mr. Arnone.


For the full year ended December 31, 2017 and nine months ended September 30, 2018, revenues at Beijing Fuel Tech were $8.0 million and $2.4 million, respectively, and operating losses totaled $1.7 million and $1.6 million, respectively. The company expects to record charges associated with the suspension of the APC operation at Beijing Fuel Tech in 2019, however, these amounts have not yet been established.


Mr. Arnone concluded, "The operational improvement initiatives undertaken by Fuel Tech over the last few years have significantly lowered the company's expense profile, narrowed operating losses, and allowed the company to maintain a strong cash position. Fuel Tech returned to operating profitability in Q3 2018, driven by a 19% increase in total revenue and a 17% decline in SG&A compared to the prior year period. We reiterate our forecast for continuing operational improvement in 2018 when compared to 2017. This includes higher total revenues, profitability from continuing operations, and positive cash flow generation."
CONFERENCES AND EXHIBITIONS
Connected Plant Conference February 19-21 – Charlotte, North Carolina
This conference, hosted by Power and Chemical Engineering Magazines, will deliver a number of good papers relating to IIoT, including optimization of systems but also individual components such as pumps and valves. There is good coverage of process management software developments as well as new data analytics technologies. For suppliers of CFT equipment and services there is value in learning how to remotely monitor the equipment you are providing but also using IIoT to improve product development.
http://www.connectedplantconference.com/?utm_source=ep&utm_medium=bannerweb&utm_campaign=general
This presentation will be an example of the use of IIOT strategy to improve product development. Donaldson Filtration will present on how they gathered information from their customers and developed a solution that meets the customer needs.
Enabling Asset Management Through Strategic Use of Data
Operational Machine Learning for the Industrial Practitioner
2019 Electric Power Conference & Exhibition, April 24-26 - Las Vegas
http://2019.electricpowerexpo.com/why-attend/
The 2019 ELECTRIC POWER Conference & Exhibition says "it will provide an intimate environment that allows for in-depth learning and knowledge-transfer, giving you the tools needed to make your facility more reliable, more efficient, and safer as we transition toward the future."
Here are some selected papers of particular interest to suppliers of CFT products and services to the coal-fired power industry.
Coal Power in 2030: A Distant Mirror, or Beyond the Looking Glass?


Una Nowling, Black & Veatch
Re-Powering of a 55-MW Coal-fired Boiler Plagued with Inherent Coal Feed Design Deficiencies

, Bill Kirkenir, Golden Valley Electric


Co-Authors
o Cory Borgeson, President and Chief Executive Officer, Golden Valley Electric Association [GVEA]
o Mr. Richard P. Storm, President, Innovative Combustion Technologies, Inc.
o Ron Pircon, President/CEO, Benetech Inc.
Using Data and Digital Technology to Enhance Your Plant
o John Towslee, ABB
o Jimmy Daghlian, NV Energy
o
Panelists will discuss:
Experience with operating plants remotely.
How is the facility managed?
What is the workforce during unit operation and extended lay up?
What are the operation, maintenance, NERC CIP challenges?
Any lessons learned or best practices.
What works doesn't work, etc.
What controls and networking requirements?
Here are selected Exhibitors with CFT orientation
MCILVAINE HOT TOPIC HOURS AND RECORDINGS
Market Webinars
Between February 2017 and September 2018 McIlvaine conducted 30 webinars. Each covered a specific industry and the opportunity for Combust, Flow, and Treat (CFT) product and service providers to expand their revenue potential by adding edge computing packages. These can be viewed at Free Market Webinars.
The format of future webinars is being revised to ensure high level discussions. Available data is being gathered in the McIlvaine Global Decisions Orchard. This includes recorded interviews as well as magazine articles and conference presentations. Participants in future webinars will have access to this data in advance. This will make the discussions more productive. This data is being provided free of charge at:
Free News and Analyses in the Global Decisions Orchard
You can search by industry, product, company and other ways. Here are the postings in a recent two day period. One of the important aspects is numerical identifiers of each combust, flow, and treat product purchaser such as EDL, Tereos, KGHM and Samsung.
ACCESSING ALL THE PROJECTS AND INFORMATION ONLINE
This Utility E-Alert is part of the Utility Tracking System. The system allows you to instantly retrieve project details, profiles of each coal-fired power plant worldwide, the right contacts at the OEM and A/E firms and summaries of all the scheduled FGD and SCR projects. You need a user name and password to access this system. If you have forgotten your user name or password or are not sure whether you are eligible to access this system please send email to This email address is being protected from spambots. You need JavaScript enabled to view it. .
*** The Utility E-Alert is for the exclusive use of the registered subscriber to whom it is electronically delivered. Unauthorized distribution is prohibited. ***
Copyright © 2019 McIlvaine Company. All Rights Reserved