UTILITY E-ALERT
#1350 – December 1, 2017
Table of Contents
COAL – US
Coal's rebound is good for West Virginia

Should Duke Energy charge Customers for cleaning up Coal Ash?

Lease for Navajo Generating Station Gets Final Approval
COAL – WORLD
Australian Coal-fired Power Plant in Life-extension Controversy

PM Abbasi inaugurates Unit 1 of Port Qasim Coal-fired Power Plant

MHPS starts construction at Cirebon Coal

Engie, Mitsui sell Australian Coal-fired Power Plant to Alinta

China starts work on Serbia's New 350 MW Coal-fired Power Plant

Unlawful construction of Ash Pond for Power Plant in Raigarh, Chhattisgarh, India

GE Power Services modernizes Ukai Coal-fired Power Plant
CO2
NUCLEAR
BIOMASS
Andritz to supply Biomass-fired Circulating Fluidized Bed Boiler to Mitsui in Japan
BUSINESS
Thermax Profits and Sales were lower but Backlog and Orders are up in First Half ending in September

Proposed plan to bail out Coal Plants, Nuclear including Three Mile Island?

Ares Management's Energy Infrastructure Funds Divest Operating Coal Portfolio

Korea Cottrell is a full service APC supplier in Asia

B&W considering strategic alternatives for MEGTEC

Municipal Wastewater Treatment and Power Plant Environmental Technology Interconnection will expand Wisdom

Longking has Advanced Technology

Zhejiang Feida is a Major Participant in the Asian APC Market
HOT TOPIC HOURS
_________________________________________________________________________________________________________________________________
COAL – US
Coal's rebound is good for West Virginia
As the effects of the Obama administration's "War on Coal" have been pared back by President Trump, the coalfields of West Virginia are seeing a rebound in demand and production.
The numbers show that coal is rebounding in West Virginia, especially in the southern counties where the decline has been devastating to the region's and state's economy.
The northern counties' coal production did not suffer as great a hit due to two factors: The demand for metallurgical coal used to make steel that is being exported and steam coal used to power the Harrison and Longview power stations.
While FirstEnergy continues to use primarily West Virginia coal to generate power at its West Virginia facilities, American Electric Power, which serves much of Southern West Virginia, has transitioned to importing much of its steam coal from Illinois.
According to the federal Energy Information Administration, West Virginia mines produced about 23 percent more coal in the first half of this year when compared to last year. Production at mines in the northern part of the state was up 18.6 percent, while production in the southern counties increased by 29 percent.
In its third-quarter earnings report, Arch Coal, which operates the Leer mine near Grafton, said demand and pricing for seaborne coking coal remains healthy, even with the ongoing recovery of Australian exports following Cyclone Debbie and modest supply growth elsewhere. The cyclone in Australia knocked out some production there, allowing U.S. coal to move into markets that Australian producers had dominated.
Arch said it believes the outlook for global metallurgical markets is attractive, "given buoyant steel markets, strong Chinese manufacturing activity, an improving economic outlook in other key countries and the high cost structure of much of the recently added coking coal supply."
Bill Raney, president of the West Virginia Coal Association, said the production increase in West Virginia is spread throughout the state.
The use of coal in electricity generation is down nationwide as older coal-burning plants are retired and low-cost natural gas takes market share from coal. In West Virginia, coal still dominates electric power generation.
According to preliminary data compiled by the EIA, in the 12 months that ended in August, coal accounted for about 94 percent of electricity generated in West Virginia. Wind was 2.2 percent; hydropower was 2 percent; and natural gas was 1.8 percent.
The rebound in coal has also helped West Virginia's severance tax collections.
For the first four months of this fiscal year, the state collected $80.2 million in severance taxes, up 68 percent from $47.9 million in the same period last year, according to the state Budget Office.
October collections alone were up 153 percent over October 2016, from $9.6 million last year to $24.3 million this year.
In 2016, West Virginia was the largest coal producer east of the Mississippi River and the second largest in the nation after Wyoming; the state accounted for 11 percent of total U.S. coal production that year. Almost half of the 96 million short tons of coal mined in West Virginia was shipped to other states, and one-fourth was exported to foreign countries.
Should Duke Energy charge Customers for cleaning up Coal Ash?
Charging North Carolina consumers the full, multibillion-dollar cost of cleaning up coal ash dumps is comparable to tire stores charging customers an extra fee to dispose of an old set of wheels, a Duke Energy Corp. executive said Monday.
Duke Energy Progress, the corporation's eastern North Carolina operating subsidiary, is simply passing along clean-up costs that regulators have dictated, and shouldn't have to ding shareholders for a chunk of the $2.6 billion bill as consumer advocates want, executive David Fountain said.
It's the main issue as the subsidiary opened days of hearings into whether the North Carolina Utilities Commission will allow it to raise power rates by an average 9.5 percent, charging its North Carolina consumers an extra $305 million a year.
The state's official utilities consumer advocate, the Public Staff, thinks the company shouldn't pass along nearly $200 million a year to clean up decades worth of potentially toxic coal ash. The request has met stiff consumer opposition. Duke Energy argues both of its North Carolina subsidiaries should be allowed to pass along the full bill for coal ash cleanup to consumers as part of the routine cost tied to burning coal to deliver low-cost electricity. "We are, for the benefit of our customers, managing our coal ash basin closure in ways that are environmentally compliant," said Fountain, Duke Energy Progress's president. "Those are all environmental compliance costs that we're seeking cost recovery for because those costs were incurred in a reasonable and prudent manner." But a lawyer representing manufacturing companies that are heavy electricity users said Fountain's comparison breaks down because the company wants to charge customers now for a problem that's built up over generations. The hearing comes after the company and the Public Staff last week struck a partial deal reducing the company's requested rate increase from an average of almost 15 percent. Households would pay an extra 11.4 percent if the utilities commission approves the modified Duke Energy request, down from 16.7 percent proposed in June. The company also agreed to cut its requested potential profit margin to below 10 percent. The deal included Duke Energy Progress charging its 1.3 million customers less for corporate aviation, lobbying and board of directors' costs. Duke Energy also agreed to seek less compensation for its now-reversed plans to add to a nuclear plant near Raleigh, and to swallow more industrial revenues lost because of Hurricane Matthew last year. The company plans to excavate coal ash and move it away from waterways at eight of the 14 North Carolina sites. Ash would be dried out, covered and left in place at the other waste pits. Coal ash contains arsenic, lead, mercury and other elements that may be hazardous in sufficient concentrations. Environmentalists and state regulators say those heavy metals have been draining through the unlined bottoms of pits where liquefied coal ash has been stored for decades. Duke Energy Progress last sought a rate hike in 2012, the first time in two decades that the company or its predecessor sought an increase. The company wants an average 14 percent increase for households and 9 percent for commercial and industrial customers. The utilities commission approved and the state Supreme Court allowed an average 5 percent increase.
Lease for Navajo Generating Station Gets Final Approval
A lease allowing a coal-fired power plant on the Navajo Nation to operate through 2019 has received final approval. The tribe and most owners of the Navajo Generating Station near Page signed off on it earlier this year. But the document also needed the OK from the U.S. Bureau of Reclamation and a former owner in the power plant. Those approvals came ahead of Friday's deadline.
The Salt River Project and other owners decided in February to shut down the generating station in favor of power produced by natural gas.
Under the lease, the Navajo Nation will keep some buildings on site and the rail line that transports coal 80 miles. The tribe also could use existing transmission lines for other energy projects.
COAL – WORLD
Australian Coal-fired Power Plant in Life-extension Controversy
Replacing Australia's oldest operational coal-fired power plant with renewables would be AUD1.4 billion ($1 billion) cheaper than extending its life, a report by the University of Technology Sydney's Institute for Sustainable Futures has found.
The 2 GW Liddell plant in New South Wales, which produces 8 TWh per year and maintains 1 GW of standing capacity, came online in 1973 and is scheduled for shutdown in 2022. But in September, the government told the plant's operator, utility AGL, to extend its life by another five years after the country's energy market operator warned that shutting it down could result in a 1 GW capacity shortfall in summer 2023/2024. The utility was also given the option to sell the plant to an operator that would be willing to keep it open.
In a report released this week, the Institute for Sustainable Futures compared the cost of a five-year life extension for the plant with two alternative scenarios.
According to the report, a five-year life extension for the Liddell plant would cost AUD3.6 billion, while AGL's proposal to replace the plant with a combination of new gas-fired and wind power, energy storage and demand-side management would cost AUD3.3 billion.
AGL's plan includes a 100 MW capacity upgrade at its 2640 MW Bayswater coal-fired power plant, 750 MW of new gas-fired power, 50 MW of new wind power, 100 MW of demand response and 50 MW of battery energy storage.
The cheapest alternative, the report said, would be a clean energy package including renewables, energy efficiency, energy storage, demand response and flexible pricing, which is estimated to cost around AUD2.2 billion. The package would include 1 GW of energy efficiency, 600 MW of new wind power, 250 MW of demand response and 200 MW of flexible pricing.
In terms of emissions, the report found that a five-year life extension for the Liddell plant would produce 40 million tons of CO2, AGL's plan would produce 2.5 million tons, and a clean energy package would produce zero.
The Liddell plant has reportedly been plagued with ongoing operational issues. In a September news story, Australian paper the Newcastle Herald reported problems including leaking boiler tubes, deteriorating insulation on high voltage power circuits, an unreliable ash disposal system and corroded coal conveyors.
The paper quoted Kate Coates, Liddell's general manager, as saying that running the "old lady" plant involved "multiple fronts of challenge … on a daily basis" and that the plant was "on a sliding scale to oblivion."
Meanwhile, Australia's News.com said this week that Prime Minister Malcolm Turnbull had been "backed into an awkward corner" by the report's conclusions.
Debate in Germany about Coal Plant Retirements
RWE's continuing operation of coal-fired power plants has raised concerns as Chancellor Angela Merkel attempts to form a coalition government that would include the Green Party. As the deadline approaches, talks between the political parties have stalled over multiple issues including the amount of coal-fired power capacity to be decommissioned by 2020 in order to meet emissions targets.
While Merkel's conservative CDU/CSU alliance and the FDP have proposed a plan to shut down up to 5 GW in coal-fired power capacity by 2020, the Greens say 8-10 GW must be taken offline. The conservatives and FDP say shutting down more than 5 GW would threaten Germany's security of supply.
RWE's CFO Markus Krebber agreed with the conservatives, saying: "Exiting coal in the short term would make it impossible to continue ensuring security of supply. Replacing it in the short term with gas is unrealistic, if only for reasons related to planning, approval and construction periods."
"Focusing on climate protection goals alone is not enough and will lead to fatal misallocations," he added, noting that use of coal-fired power is predicted to decline anyway in the coming years. For itself, RWE plans to shut down over 3 GW of brown coal-based power capacity over the next 12 years. The firm has also de-mothballed three gas-fired power plants since September in advance of the coming winter.
"Coal, especially lignite, must contribute a significant part to achieving these goals," Merkel said. "But what exactly that will be is something we will discuss very precisely in the coming days."
PM Abbasi inaugurates Unit 1 of Port Qasim Coal-fired Power Plant
Prime Minister Shahid Khaqan Abbasi has inaugurated Unit-1 of the 1320 MW Port Qasim coal-fired power plant project in Karachi. Unit 1 will generate 660-MW electricity. The unit is jointly sponsored by Chinese and Qatari firms. The governor Sindh and other high-level officials were present on the occasion. Earlier, Prime Minister Shahid Khaqan Abbasi arrived in Karachi on a one-day visit to inaugurate a coal-fired power plant under the China-Pakistan Economic Corridor (CPEC) in Port Qasim.
MHPS starts construction at Cirebon Coal
Mitsubishi Hitachi Power Systems, Ltd. (MHPS) has started construction work for the Cirebon Coal-Fired Power Plant Expansion Project in Indonesia. Construction will be carried out, on a full-turnkey basis, on the 1-GW large-scale ultra-supercritical-pressure coal-fired power plant in West Java Province, in consortium with Toshiba Group and Hyundai Engineering & Construction Co., Ltd. Under the EPC (engineering, procurement, construction) contract, MHPS will supply the plant's ultra-supercritical-pressure boiler and flue gas desulfurization (FGD) system. The plant is scheduled to begin commercial operation in 2022.
The power plant is being built by PT Cirebon Energi Prasarana (CEPR), an entity collectively financed by Marubeni Corporation, JERA Co., Inc., PT Indika Energy Tbk, Samtan Co., Ltd., and Korea Midland Power Co. Ltd. CEPR concluded an EPC contract with MHPS and its consortium partners in 2015. The project will expand the 660-MW coal-fired IPP (independent power producer) business currently operated at the site by Marubeni. Once on-stream, the expanded plant will supply power to PT PLN (Persero), Indonesia's state-owned electricity utility, through a long-term power purchase agreement (PPA). Together with the existing plant, the new facility at Cirebon will help meet Indonesia' increasing energy demand.
In addition to manufacturing, supplying and procuring equipment, MHPS will also take charge of trial operations. MHPS currently has the largest share of the global market for wet-type FGD systems, thereby contributing to the reduction of environmental burdens.
MHPS has forged close ties with Indonesia over a period spanning nearly 50 years, starting with shipment of the first steam turbine to the Indonesian market in 1971. Today, the company continues to play a significant role in developing the country's power grid. The latest project will further contribute to the expansion of the Java-Bali power network, a key part of PLN's national power supply equipment plan.
Engie, Mitsui sell Australian Coal-fired Power Plant to Alinta
Engie and Mitsui have agreed to sell their Loy Yang B coal-fired power station in Australia to Alinta Energy, bolstering the Chinese-owned firm's foothold in the country's tight energy market. Alinta, owned by Hong Kong conglomerate Chow Tai Fook Enterprises, will pay more than A$1.1 billion ($835 million) for the plant, a person familiar with the deal said.
The 1,000 MW Loy Yang B plant is the newest and most efficient coal-fired generator in the state of Victoria, which is facing tight power supply and rising energy prices following Engie's closure of another plant nearby, Hazelwood.
Alinta is counting on the plant to beef up its ability to compete with Australia's top energy retailers, which are also the biggest generators - Origin Energy, AGL Energy, and Energy Australia, owned by Hong Kong's CLP Holdings.
"It's a ticket to the game for us," Alinta Energy Managing Director Jeff Dimery told Reuters.
"This is one of the lowest cost generation assets on the east coast of Australia. We felt that we needed access to these assets that would make us very competitive."
The groups declined to comment on the price tag but France's Engie, which holds a 70-percent stake in the power plant, said the sale would cut its net debt by 666 million euros ($790 million).
Dimery said he expects Alinta to make its money back in well under 10 years on an asset seen as critical to Australia's power supply and which could eventually be the last coal-fired plant standing in an ageing fleet.
China starts work on Serbia's New 350 MW Coal-fired Power Plant
The $613 million coal-fired power project is part of a package of deals between Serbia and China that includes expanding a nearby coal mine and boosting capacity at the Kostolac coal-fired power plant complex.
The Export-Import Bank of China will provide 80 percent of the funding for the entire project of $715 million through a 20-year loan while the Serbian government will secure the rest of the funds. China Machinery and Engineering Corp is building the unit, with completion expected in 2020.
Unlawful construction of Ash Pond for Power Plant in Raigarh, Chhattisgarh, India
The construction of an ash pond for a thermal power plant in Nawapara Tenda village, Raigarh, Chhattisgarh without informing or consulting local Adivasi villagers violates their right to free, prior and informed consent, said Amnesty International India.
TRN Energy, a subsidiary of ASCB (India) Power Limited, operates a 600 MW coal-fired thermal power plant in the region. Local residents told Amnesty International India that on October 15, 2017, about 15 people claiming to be acting on behalf of TRN Energy started the construction of an ash pond in Nawapara Tenda, using four excavators and five trucks. Several villagers said that they had not been informed or consulted about the construction of the ash pond, or been told about the effects it could have on their rights to clean air, water, health and livelihood.
"Indigenous Adivasi villagers have a right to be involved in matters that affect their lives and livelihoods, but this right is seldom protected by authorities," said Karthik Navayan, Business and Human Rights Manager at Amnesty International India. "The building of a reservoir for hazardous fly ash without even the pretense of prior information to local Adivasi villagers is appalling, but not surprising."
Sukhwaro Rathia, an Adivasi woman who used to own part of the land on which the ash pond is being constructed, said, "I have been trying to stop this work, but the company officials do not listen to me. They never consulted me before digging up my land."
The environmental clearance granted for the power plant in 2011 by the central Ministry of Environment and Forests provides for the construction of an ash pond across 150 acres (0.6 square kilometers), but requires several safety measures to be taken to prevent groundwater contamination.
Amnesty International India wrote to TRN Energy on November 3, 2017 seeking information including the steps the company had taken to assess the potential impact of the ash pond, to inform local Adivasi residents and seek their free, prior and informed consent, and to determine if the land was purchased lawfully. No response was received.
Raigarh is a protected Scheduled Area under the Constitution of India, where members of Adivasi communities have special customary rights over their lands. The Scheduled Castes and Scheduled Tribes (Prevention of Atrocities) Act, - a special law to protect Dalit and Adivasi rights – criminalizes any interference with the enjoyment of the rights of a member of a Scheduled Caste or a Scheduled Tribe over any land or water. It also criminalizes the act of polluting "the water of any spring, reservoir or any other source ordinarily used by members of Scheduled Castes or Scheduled Tribes so as to render it less fit for the purpose for which it is ordinarily used."
Construction of the ash pond continues.
GE Power Services modernizes Ukai Coal-fired Power Plant
GE Power Services has announced the results of a steam turbine modernization project at the Ukai coal-fired power station in the Indian state of Gujarat.
GE modernized the 200 MW Bharat Heavy Electricals-supplied LMZ steam turbine at the 1350 MW plant using its Advanced Steam Path technology. The modernization features high-pressure and intermediate-pressure full module upgrades and a low-pressure inner block upgrade.
The retrofit will extend the unit's life by 25 years, and it restored its output back to its original capacity of 200 MW.
GE said final tests at the plant displayed more efficient operations that will help the plant annually reduce its coal consumption by more than 140,000 tons and reduce carbon dioxide emissions by 180,000 tons.
The work was carried out in a consortium with NGSL, a 50-50 joint venture of NTPC and GE, and Gujarat State Electricity Corporation Limited (GSECL).
"Power generation efficiency and emissions are widely discussed topics around the world and will play a critical role, especially in existing coal fleets, in how we work to meet future energy demands and challenges on a global scale," said Pradip Dahake, managing director, GSECL.
"India is no exception. When it came time for us to modernize some of our generation equipment, it was GE's cross-fleet service capabilities that gave us the efficiency and emissions improvements we were looking for. GE's solutions enabled us to better position our operations to meet not only expected increases in demand, but also future, potential, emissions requirements."
Indian Coal Plants will not meet Emission Reduction Deadlines
Coal-fired power plants in India, are set to miss the deadline to curb toxic smoke. The Ministry of Environment and Forests' 2015 standards gave thermal power units— that meet nearly three-quarters of India's electricity demand—time until December this year to curb emissions. "We expect that deadline to be extended," Ajay Kumar Bhalla, secretary at the Ministry of Power, said on the sidelines of an event in New Delhi. "We want plants to adopt emission norms in phases."
That was expected. The regulator, Central Electricity Authority, said four months ago that power producers had too little time to make the switch and needed at least five more years to start complying. The problem, according to the Centre for Science and Environment (CSE), is that the companies haven't even started planning yet.
That underscores Asia's third-largest economy's approach to environment concerns. Toxic smog blanketed the national capital New Delhi earlier this month that doctors said was equivalent to smoking at least 45 cigarettes a day. While the immediate trigger was crop-stubble burning, coal-fired units are among the chief polluters. Of the overall emissions, coal plants account for 80 percent of the mercury, 60 percent of the particulate matter, 45 percent of the sulphur dioxide and 30 percent of the nitrogen oxide into the air, the CSE said.
"Another five years to meet these standards is unacceptable. Power plants have already wasted two years doing virtually nothing," Chandra Bhushan, deputy director general at CSE, said in the statement. Instead of forcing companies to install the pollution control equipment, the think-tank said, the power ministry and the regulator have consistently tried to push the deadline.
The biggest challenge is reducing sulphur dioxide emissions, said PK Mohapatra, executive director for technology at state-run National Thermal Power Corporation, the country's largest power producer. "In 30 years, there was no cap on SOx. Suddenly, a limit has been imposed. It requires a huge amount of capital and operational expenditure."
Larsen & Toubro Ltd., the country's largest infrastructure conglomerate, wants stricter implementation in phases. SN Roy, head of power development at the company, said a majority of plants should be made to gradually install boilers that produce superheated steam more efficiently and FGD units by 2020.
The CSE agrees. The environment ministry should tighten the deadlines for a staggered rollout by 2020, it said. "And the new schedule be backed by penalties."
CO2
KBR awarded Concept and FEED Contract for Statoil`s groundbreaking Northern Lights Project
KBR, Inc. announced it has been awarded the Concept and FEED (front-end engineering design) contract by Statoil for their groundbreaking Northern Lights Project, to develop an onshore carbon dioxide (CO2) a known greenhouse gas storage terminal in Norway.
The terminal is a key component of the Carbon Capture and Storage (CCS) demonstration project being undertaken by Gassnova, where Statoil, in partnership with Shell and Total are responsible for transport and storage. The work will be performed by KBR in conjunction with its Granherne subsidiary. In addition to the CO2 storage terminal, the engineering scope will address the import jetty topsides, the CO2 re-injection lines and associated utilities.
The first phase of this project will provide storage for up to 1.5 million tons of CO2 per year. CO2 captured from onshore industrial plants in Eastern Norway, will be transported by ship to the onshore terminal. The project will allow for further expansion to receive additional CO2 volumes, with the aim of stimulating new commercial carbon capture projects in Norway, Europe and other countries around the world.
"We are excited to be part of this significant and groundbreaking project and to continue our long-standing and valued relationship with Statoil," said Jay Ibrahim, President, EMEA. "KBR is very supportive of continuing the spirit of innovation in CCS."
Construction of the full-scale project including the onshore terminal is subject to the Norwegian parliament making a positive investment decision, scheduled for 2019. Revenue associated with this project will be booked into backlog of unfilled orders for KBR`s E&C Business Segment in Q4 of 2017.
NUCLEAR
Countdown begins for Korea's landing Moorside Power Plant Order from UK
A countdown began for KEPCO's landing Moorside Power Plant order from UK. The Korean and UK governments signed a memorandum on cooperation in order to remove obstacles that may arise in licensing and approval processes in the future if KEPCO acquires a 100 percent stake from NuGen to carry out the Moorside project. This means that it is up to KEPCO to decide whether or not to export nuclear power plants worth US$ 18 billion.On November 28, the Ministry of Trade, Industry and Energy (MOTIE) announced that Korean minister Baek met and signed the memorandum on cooperation in the nuclear energy sector with Greg Clark, head of Department for Business, Energy & Industrial Strategy (BEIS) of the UK on November 27. The gist of the memorandum is that the two governments will support KEPCO's and KHNP's participation in the UK's new nuclear power plant projects and cooperate in such projects. In order to win an order for the Moorside New Nuclear Power Plant project in the UK, KEPCO is currently seeking to acquire a stake from NuGen, the operator of the Moorside project. The Moorside project is to build three 1.1GW nuclear power plants in the Cumbria region of the United Kingdom and will cost US$ 18 billion. Currently, Toshiba owns 100 percent equities in NuGen.In reference to this, KEPCO drafted a financing plan to fund US$ 12.6 billion via a project financing (PF) method and US $5.4 billion by an equity participation method which will involve KEPCO, the UK government and financial investors among others and submitted it to the Korean government in a nuclear export strategy meeting in October. Korea Hydro & Nuclear Power (KHNP) is also considering exporting nuclear power plants to the UK. Hitachi of Japan building four nuclear power plants (5.4 GW) such as Wylfa Newydd and Oldbury B in the UK, requested KHNP to acquire a stake in Horizon New Clear Power, the operator of the project, from Hitachi in July.
Burns & McDonnell and Modus Strategic Solutions open Office in Tiverton, Ontario, to play Key Project Controls Role in Support of Bruce Power's Life Extension to 2064
Burns & McDonnell and Modus Strategic Solutions have opened a new office in Tiverton, Ontario, to support implementation of comprehensive project controls improvements across the Bruce Power enterprise. The Bruce Power Nuclear Station, located on the eastern shore of Lake Huron, is the largest nuclear operating site in the world with a gross output capacity of 6,300 MW, enough power to supply 30 percent of Ontario's needs. Burns & McDonnell and Modus are now located in an office at 52 Main Street, near the Bruce Power headquarters in Tiverton and just a short drive from the Bruce Power station.
Burns & McDonnell and Modus consultants have been engaged to design and support integration of Bruce Power's project controls platforms to strongly enhance Bruce Power's capability for managing its Major Component Replacement (MCR) program as well as all site Asset Management, Sustaining Capital and Life Extension projects. These projects will extend the life of the Bruce Power station to 2064 and bring billions of dollars of economic activity to Ontario.
"It is important for Bruce Power to implement an industry-leading Project Controls System that utilizes fully integrated and enterprise-wide project management tools, processes and trained personnel to safely deliver projects on schedule, on budget and with quality," says Ray Hruby, Vice President, Project Controls for Bruce Power. "The team is working on many necessary projects, including the major component replacements, which are vital to the continued safe and reliable operation of the Bruce Power Nuclear Units."
"Our team will help Bruce Power's project organizations effectively plan their work, identify and mitigate risks, monitor performance, support resolution of issues and predict project outcomes during execution of all its upcoming capital projects and programs," says Ryan Smith, Director of Canadian Operations for Modus. "We are grateful for the opportunity to become part of this community."
"This program is vitally important for the Province of Ontario and Bruce Power," says Rick Halil, Vice President, Burns & McDonnell-Canada and General Manager of the firm's Energy Division. "Burns & McDonnell has extensive experience in program management of critical infrastructure projects and we are pleased to combine our expertise with Modus to meet Bruce Power's objectives."
"Burns & McDonnell is committed to helping clients in Ontario and throughout Canada solve their most critical infrastructure challenges and we are excited about this opportunity to work with Bruce Power," adds Mike Brown, President of Burns & McDonnell-Canada.
BIOMASS
Andritz to supply Biomass-fired Circulating Fluidized Bed Boiler to Mitsui in Japan
Andritz has received an order from Mitsui Engineering & Shipbuilding Co., Ltd. (MES), Japan, to deliver a PowerFluid circulating fluidized bed boiler with flue gas cleaning system for a new biomass power plant to be built on the premises of the MES shipyard in Ichihara in the Chiba Prefecture, some 30 km to the east of Tokyo, Japan. Start-up is scheduled for the third quarter of 2020.
The Andritz scope of supply comprises the engineering work, delivery, erection work, and start-up of the fluidized bed boiler, including a flue gas cleaning system with high-dust SCR and auxiliary equipment.
The equipment and technologies supplied by Andritz are essential parts of a high-efficiency biomass power plant for supply of green energy to the national grid. The biomass power plant, fired with palm kernel shells and wood pellets, will generate around 50 MWel of power, thus approximately 100,000 households can be supplied with clean energy from renewable sources.
BUSINESS
Thermax Profits and Sales were lower but Backlog and Orders are up in First Half ending in September
For the second quarter of fiscal 2017-18, on a consolidated basis, Thermax posted an operating revenue of Rs. 1033 crore, compared to Rs.1096 crore for the previous year's corresponding quarter. Net profit at Rs. 57 crore was down 27% from last year's Rs. 78 crore. Total operating revenue for the first half (April- September) of the year stood at Rs 1926 crore, compared to Rs. 2098 crore in 2016-17. Net profit for the half year period was down 24% at Rs. 97 crore (Rs. 127 crore).
As on September 30, 2017, Thermax Limited has an order backlog of Rs. 4819 crore, against Rs. 3917 crore in September 2016. Compared to previous year's Rs. 4257 crore, the Group order backlog stands at Rs. 5261 crore.
The company and its partner, B&W, have begun scaling down operations at the JV's manufacturing facility in Shirwal. Only essential personnel are retained to complete pending jobs. There is no visibility of new business.
Thermax has already recognized impairment in the carrying value of its investment in the JV in Q4 of 2016-17 During the quarter, Thermax Group has won a USD 43 million contract from a leading cement company in the UAE for a turnkey captive power plant, the first EPC order the company will be executing for a GCC (Gulf Co-operation Council) country. The scope of supply includes design, engineering, manufacturing, construction and commissioning of the solid fuel based power plant with two CFBC boilers, emission control equipment and water treatment plant.
In the year (FY 2016-17), Thermax Group posted revenues of Rs. 4,704 crore, down 12.7% from the previous year's Rs. 5,388 crore. Profit after tax and minority interest for the year was Rs. 223 crore (Rs. 282 crore). The deceleration in global growth, China's slowdown due to over-capacity and an overall reduced investment in core sectors the world over, have taken a toll on the capital goods industry. The international business of Thermax, compared to the domestic situation, performed better. Even then, it was lower than the previous year by 15.4% at Rs. 1,573 crore (Rs. 1,859 crore). Consolidated order booking for FY 2016-17 was up marginally at Rs. 4,394 crore (Rs. 4,352 crore). Thermax Limited posted a total income of Rs. 3,973 crore and a profit after tax Rs. 145 crore.
The environment segment, accounting for 13.9% of the group's operating revenues, consists of air pollution control and water and waste solutions. The air pollution control business caters to a wide range of industries – cement, steel and ferrous metals, petrochemicals, fertilizers, etc. The business offers products and solutions for both particulate and gaseous emissions. The water and waste solutions business supports industry and commercial establishments to treat water for their process requirements, and clean sewage and effluent. This segment's performance remained flat during the year.
During the year Thermax commissioned the largest plant in India that generates power from cement waste heat. This 18 MW plant is for a Rajasthan based 2X8500 TPD state- of- the art cement plant.
Thermax successfully commissioned its 5th power plant project in the Philippines. The plant produces 15 MW of power using variety of biomass like rice husk, coco husk, bamboo chips, etc. as fuel.
Thermax teamed up with FlowVision A/S, Denmark, to provide to Indian markets technology that can reduce nitrogen oxide (NOx) emissions. It will help Indian industry reduce NOx emissions to permissible levels (100 mg/Nm3 for the power and 500 mg/Nm3 for the cement industry.
Thermax successfully commissioned 9 x 500 tons per hour Circulating Fluidized Bed Combustion (CFBC) boilers at a major refinery in India. This will be the largest industrial co-generation plant working on CFBC technology and will open avenues for growth.
Thermax extended its industrial desulfurization expertise to Maaden Phosphate Project in Saudi Arabia. It successfully commissioned a dry flue gas desulfurization (FGD) unit on an auxiliary boiler of sulfuric acid plants. The outlet emission is designed for 441 mg/Nm3 against guaranteed emission of 480 mg/Nm.
Proposed plan to bail out Coal Plants, Nuclear including Three Mile Island?
A fast-tracked Trump administration proposal and a separate plan by regional grid operator PJM Interconnection could boost the financial fortunes of struggling nuclear and coal-fired power plants, including Three Mile Island (TMI).
TMI owner Exelon has said it will close the nuclear plant in the fall of 2019 — 15 years before its license expires — unless it gets financial help, similar to the subsidies wind and solar power sources receive. Exelon says nuclear energy has similar environmental benefits, including no releases of carbon dioxide.
The U.S. Department of Energy has asked the Federal Energy Regulatory Commission to approve new rules that would subsidize nuclear and coal-fired power plants, as well as some hydroelectric plants. The rationale for subsidies under the plan is that such power plants are less likely to face a disruption in generating electricity and are needed for the nation's power supply to maintain "reliability and resiliency."
Meanwhile, PJM, which controls power distribution and pricing in 13 states and has opposed the federal tariffs plan, announced its own market reform plan on November 15. It would change its rules to allow so-called "inflexible" power plants like coal and nuclear — which can't quickly scale power up and down — to set energy prices, as gas-fired power plants and other sources have done under current rules.
An "optimal mix of resources" is needed to power production in the long term, PJM said. The costs of electricity would likely rise 2 to 5 percent under the plan, PJM said.
In recent years, wholesale prices have been largely dictated by gas-fired power plants, and nuclear and coal-fired power plants have had a hard time competing.
The PJM plan would have to be approved by FERC.
While FERC weighs the federal proposals, efforts at the state level have made little progress.Some Pennsylvania legislators, including state Senator Ryan Aument of Landisville, have formed a pro-nuclear energy caucus to try to keep TMI running.
But the Nuclear Energy Caucus has not met in months. No legislation has been forthcoming on a discussed proposal to give nuclear plants in Pennsylvania financial credits for zero-carbon emissions.
On October 25, however, the state House and Senate both voted overwhelmingly to approve an Aument resolution urging FERC to swiftly adopt the proposal by the federal Department of Energy.
Under the DOE's proposal, regional transmission organizations such as PJM would be required to establish tariffs on ratepayers to cover the costs of generating power at coal and nuclear plants, and allow them to make a "fair" profit.
The rule, if approved, would also reverse the competitive power market that was established in the late 1990s when the electricity industry was deregulated. Since then, electricity has been purchased on the basis of who could provide it the cheapest. Power plants that run on natural gas are the current benefactors.
Lancaster County's congressman, U.S. Rep. Lloyd Smucker, had no comment on the DOE proposal, spokesman Bill Jaffe said this week.
At the state level, a spokesman for Aument answered affirmatively when asked if the federal proposal could save TMI. "I would guess it would keep TMI open," said the spokesman, Jake Smeltz.
Illinois-based Exelon said it was "pleased" to see the federal initiative and is working with FERC on the proposal.
"Absent action at the federal level, other measures at the state level, such as zero-emissions credit programs that promote zero-carbon energy and create and preserve clean-energy jobs, will be necessary for Three Mile Island to remain operational," said Exelon spokeswoman Robin Levy.
But there is strong opposition to the federal DOE proposal.
Consumer and environmental groups, and the gas industry, for starters, have decried the plan, which they say would hike electric bills for everyone and prop up polluting fuel sources that are no longer competitive.
"Survey after survey shows that Americans want more clean and safe renewable energy and there is very little support for perpetuating the old, unsafe and dying coal and nuclear industries," said Tim Judson of the Nuclear Information and Resource Service, which recently filed 10,000 comments with FERC against the proposal.
The more recent PJM proposal, meanwhile, has already drawn the ire of the environmental group PennFuture.
Since PJM's own studies have shown coal and nuclear plants aren't needed to ensure adequate power supplies, they should be allowed to go out of business, the group said, rather than force ratepayers to subsidize them.
PJM Interconnection recently had filed comments on the DOE plan, saying that guaranteeing to cover the costs of running nuclear and coal plants is not the right approach.
But PJM did agree that reliability, resilience and fuel security concerns are valid in the face of rapidly changing power sources and need to be addressed.
Ares Management's Energy Infrastructure Funds Divest Operating Coal Portfolio
Ares Management L.P. announced that funds managed by its energy infrastructure team, Ares EIF, have reached an agreement to sell a 1.2 gigawatt portfolio consisting of four power projects to Starwood Energy Group. Two of the projects are located in New Jersey, one is located in West Virginia and the other is in Arkansas. Terms of the sale were not disclosed. The transaction is subject to customary closing conditions and regulatory approvals and is expected to close in late 2017 or early 2018.
"This sale is significant for Ares EIF as it fits with our overall strategy of acquiring, optimizing and then divesting projects for the benefit of our long-term investors," said Warren MacGillivray, Partner in Ares EIF. "The transaction also represents the disposition of nearly all remaining assets from a diversified portfolio consisting of 13 coal- and gas-fired assets acquired in 2007.
Over the last two years, Ares EIF has transacted on more than $7.5 billion in the acquisition, development, construction, and monetization of power generation plants across the U.S. Among these transactions are the acquisitions and/or developments of Linden Cogenerating Station, Oregon Clean Energy and Newark Energy Center as well as its monetization of such institutional assets as Pio Pico Energy Center and Indiantown Cogeneration. Since inception in 1987, Ares EIF has made close to 70 equity investments in nearly 130 distinct power and energy infrastructure assets, with a total enterprise value exceeding $20 billion.
Korea Cottrell is a full service APC supplier in Asia
The company was originally the partner of Research Cottrell, Later they bought Lodge Cottrell and for some period were active in the U.S. Today their principal market is Asia. They are a dominant player in Korea but are also active in Taiwan, India and more recently, Vietnam.
They supply precipitators, fabric filters, and scrubbers. They offer limestone wet FGD scrubbers as well as the GSA type fluid bed dry scrubber and the rotary atomizer semi dry design.
Cottrell supplies DeNOx systems and has successfully adopted advanced Ex-situ type SCR Catalyst Regeneration technology for the first time in Korea and achieved over 90 percent. With the technology of SCR Catalyst Regeneration, KC Cottrell is able to reduce the price of SCR operation cost and soil contamination by recycling the catalyst. The company supplies both SCR and SNCR systems.
HISTORY OF KC COTTRELL VIETNAM CO., LTD.
Jan. 2007 Established Korea Cottrell representative office in Hanoi
Nov. 2008 Established KC Cottrell Vietnam Co., Ltd. in Hanoi
Aug. 2009 Electrostatic precipitator (ESP) contract for Dong Nai VN2 thermal power plant of Formosa Chemicals and Fibre Corporation
Nov. 2010 Electrostatic Precipitator (ESP) contract with Marubeni Corporation for Nghi Son Thermal power plant in Vietnam
Sep. 2012-
Nov. 2012 Repair of structural steel for the Mong Duong 2 thermal power plant in Vietnam.
The e-BF is a filtering system using static electricity on the particulate matter for higher efficiency with less pressure drop. It also could solve the pressure loss increase problem due to bag cloth clogging by particles in case of conventional Bag Filter System.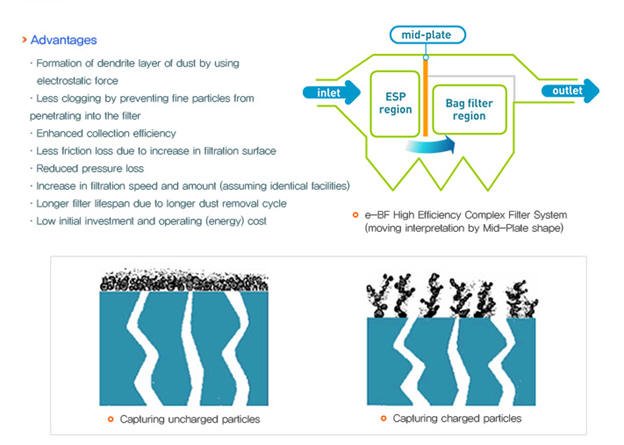 B&W considering strategic alternatives for MEGTEC
Babcock & Wilcox reported third quarter 2017 revenues of $408.7 million, a decrease of $2.3 million, or 0.5%, compared to the third quarter of 2016. GAAP earnings per share in third quarter 2017 were a loss of $2.48 compared to earnings per share of $0.18 in third quarter 2016.
"During the quarter, we made significant progress on our U.K. Renewable new-build projects, and we continue to expect these projects to be substantially construction complete by mid-2018," said E. James Ferland, Chairman and Chief Executive Officer. "Importantly, we were able to agree to design changes with multiple customers that enhance plant performance and largely offset the financial impact of the boiler structural steel design issues we identified in late-September."
"We are driving cost-savings actions within our business segments and in overhead-related functions, with a target of approximately $45 million in annual savings, as we work to improve our global cost structure," continued Mr. Ferland.
"We ended third quarter in compliance with our financial covenants and forecast that we will remain in compliance going forward. Even with that positive outlook, it is prudent that we maximize our financial optionality as move closer to the completion of construction on our legacy U.K. Renewable new-build projects. With a favorable outlook for our MEGTEC and Universal business lines, we are evaluating strategic alternatives for these businesses. Beginning the process now should put us in a strong decision-making position in early 2018 to decide the best path forward."
Consolidated revenues in third quarter 2017 were $408.7 million, a decrease of $2.3 million compared to $411.0 million in third quarter 2016, as higher revenue in the Industrial segment was offset by lower volumes in the Power segment and lower revenue on new-build projects in the Renewable segment. The GAAP operating loss in third quarter 2017 was $104.7 million compared to operating income of $11.1 million in third quarter 2016. Included in the third quarter 2017 GAAP operating loss are non-cash goodwill impairment charges of $86.9 million, recorded in the Renewable segment and SPIG business line. The adjusted operating loss in third quarter 2017 was $9.4 million, compared to adjusted operating income of $23.8 million in third quarter 2016, due mainly to lower recognized profits on new-build Renewable projects, lower profit in Industrial, and lower volumes in Power, which were partially offset by lower SG&A expense; Third quarter 2017 revenues for the Power segment decreased 4.5% to $202.2 million compared to $211.7 million in the prior year period. Revenues decreased as a result of lower construction activities associated with new build utility and environmental projects, which were mitigated by an increase in retrofit and service and industrial steam generation sales. Gross profit in the Power segment in third quarter 2017 was $40.6 million, compared to $48.9 million in the prior year period. Gross profit margin was 20.1% in third quarter 2017, compared to 23.1% in third quarter 2016. Benefits from the proactive restructuring plan introduced in mid-2016 and ongoing cost controls partially offset the impact of lower volumes on gross margin compared to the prior year period.
Industrial segment revenues increased 29.3% to $99.3 million in third quarter 2017 compared to $76.8 million in third quarter 2016, as organic growth was complemented by the addition of Universal. Gross profit in the Industrial segment was $9.5 million in third quarter 2017, compared to $14.6 million in the prior year period. Gross profit margin was 9.5%, compared to 19.0% last year, as higher volume was offset by overall business mix and lower profitability on certain cooling systems projects.
Revenues in the Renewable segment were $108.6 million for the third quarter of 2017, a 12.7% decrease compared to $124.3 million in third quarter 2016. Renewable segment gross profit was $0.2 million in third quarter 2017, compared to gross profit of $18.6 million reported in third quarter 2016.
In September 2017, the Company identified and announced the failure of a structural steel beam at a renewable new-build project in the U.K. Work was temporarily stopped at the project, pending corrective actions to stabilize the structure. A similar design was used on two other new-build projects in the U.K., and although no structural failure occurred on these projects, work was also stopped for a short period time, and reinforcement of the structure is underway. Total costs associated with the structural steel design issue at the three projects, mainly due to the resulting schedule impact, are in line with our previously stated estimate, and are estimated to be approximately $20 million. These costs were largely offset in the quarter by an increase in project revenue of approximately $15 million related to agreements with customers for design changes to increase the power output at the three new-build projects where the boiler structural steel design issue was identified.
Specific to B&W Vølund, the Company is implementing a workforce reduction of approximately 30%. These actions are expected to optimize its workforce to operate under a new execution model for the Company's new-build renewable business. The new model focuses on B&W's core boiler, grate and environmental equipment technologies, with the balance-of-plant and civil construction scope being executed by a partner. This model provides the Company with a lower-risk profile and aligns with B&W's strategy of being an equipment technology and solutions provider.
In total, these actions represent a workforce reduction of 9% and are expected to deliver annual savings of approximately $45 million in 2018. Roughly $20 million of these savings are anticipated to directly benefit profitability, with the remainder targeted at sustaining profitability as the Renewable segment shifts to its new execution model, and as the Company continues to optimize its Power business primarily as the result of lower revenue in the global new-build coal-fired power market. Total costs associated with these actions are anticipated to be approximately $20 million, most of which are expected to be recognized in fourth quarter 2017.
The Company initiated the process to evaluate strategic alternatives for its MEGTEC and Universal business lines. The Company has engaged William Blair & Company LLC as a financial advisor in connection with this process. In addition, the Company continues to evaluate potential options regarding non-core assets.
Unique Solutions for Monorail Raking Machines
There are numerous types of monorail raking machines used for raw water intakes of power plants, potable drinking water plants and headworks of wastewater treatment plants. These machines have environmental issues of using hydraulics submerged in the water and festoon systems that become entangled when the wind blows. Hydraulic hoses break and cylinders leak. Some manufacturers use biodegradable fluids, yet these still leave a sheen on the water confirm that hydraulic fluid has escaped causing public concern. The festoons used require long loops and during high winds or storm events, become entangled around the monorail or support columns, either breaking high voltage electrical connections, tearing apart support wagons or stopping the machine altogether.
WTR Engineering has overcome both of these issues by using a fully mechanical closing gripper rake, avoiding all hydraulics and by using a 'hot rail' or monorail electrification system, avoiding a festoon system to power the rake. Both of these advancements for the Talon Raking Machine have been utilized on other industries for many years and utilize all manner of human safety engineering in the design. Utilizing a mechanical gripper rake eliminates requirements to maintain, inventory and repair hydraulic hoses, cylinders, fluids, heaters, reservoirs, pressure / level switches, hose reels or winding components. The use of the hot rail saves costly labor intensive replacement of expensive electrical cables, cable support wagons / trollies and ties to electrical junctures. The WTR Talon Rake still offers the end user the benefit of a wireless remote control yet avoids the issues of fluids and overhanging cables.
Municipal Wastewater Treatment and Power Plant Environmental Technology Interconnection will expand Wisdom
Wisdom gained in reducing pollutants from power plants can be used to improve municipal wastewater plant performance and vice versa. IIoT promises to interconnect things. Suez, operating a number of treatment plants from a center in France, can be making adjustments to blowers in a plant in Chile to reduce energy consumption and improve nutrient removal. MHPS operating power plants from a center in the Philippines can make adjustments to blowers to improve FGD oxidation in a plant in India.
Data analytics with the help of subject matter experts (SME) can provide guidance to minimize down time and maintenance costs. However, if the voluminous analytics are made available and utilized in decision systems accessed by disparate plants and industries and if there is sufficient interconnection among SMEs then the decisions will be empowered by the Industrial Internet of Wisdom (IIoW). The SMEs who focus on a system can them become subject matter ultra-experts (SMUES).
The interconnection among industries is important. Take power plants and wastewater plants as an example.
· Municipal wastewater plants could provide the water for use as cooling and process water for power plants
· Municipal sewage sludge can replace some of the solid fuels used in power plants
· Co-location of power plants and municipal wastewater plants would allow for waste heat from the power plants to be used for accelerated nutrient removal and sludge drying in the wastewater plants
· New methods for mercury removal are equally applicable to municipal sludge incinerators and coal fired boilers
· Improvements in liquid, gas and free flowing solids analyzers have applicability to both industries
· Automation and control system improvements for combustion, scrubbing and liquid solid separation in one industry can be used in the other
McIlvaine has complied Decision Guides on coal fired power: 44I Coal Fired Power Plant Decisions
You can view a recorded presentation on IIoT and Remote O&M for municipal wastewater at
https://youtu.be/AWB-vZIj5gkWe
For more information on IIoT and Remote O&M click on N031 Industrial IOT and Remote O&M
We are presently analyzing aeration blower options for nutrient removal at municipal wastewater plants and seeking to identify subject matter experts. We welcome any suggestions. Please contact Bob McIlvaine at This email address is being protected from spambots. You need JavaScript enabled to view it. 847 784 0012 ext. 112
Longking has Advanced Technology
Longking has been investing heavily in R&D. It has its own hybrid fabric filter/precipitator design. It is the largest supplier of dry scrubber systems. It has a large research center including a system for testing NOx catalyst.
Zhejiang Feida is a Major Participant in the Asian APC Market
The company is a supplier of both wet and dry FGD systems but has more recent success with dry systems. It also supplies fabric filters and has installed one system for a 660 MW boiler
More than 1000 precipitators have been put into operation. Feida captured the market share for the following segments:
The market share of ESPs for 300 MW unit is national first.

The market share of ESPs for 600 MW unit is national first.

The market share of ESPs for 1000 MW unit is national first.
The products have also been exported to India, Indonesia, Viet Nam, Turkey, Japan, Malaysia, Australia and other countries. Feida is also a qualified supplier for Alstom Power Ltd. France, Lodge-Cottrell Inc., USA, Fisia Babcock, Germany, Black & Veatch Co., Ltd, USA, Marubeni Company, Japan and other countries
The ESP controller introduced by Feida Enviro is the latest type from GE-ALSTOM.
HOT TOPIC HOURS
Market Webinars
The following webinars are free to anyone. The power points are only available to subscriber of the relevant market reports. Each webinar discusses market size and identifies the largest companies who are responsible for more than 50 percent of the purchases.
The impact of IIoT & Remote O&M in creating a new route to market for combust, flow and treat products is analyzed. For details on the report click on: N031 Industrial IOT and Remote O&M.


DATE

HOT TOPIC HOUR SCHEDULE

December 6, 2017

Desalination

Previous webinars on filtration

https://youtu.be/-XqSwyQctos

pumps

https://youtu.be/PVmyVBBLNOg

and treatment chemicals

https://youtu.be/PVmyVBBLNOg

shed light on the potential of combust, flow and treat products and for remote monitoring and operation of desalination systems. Pump energy is a major cost. Chemical injection to keep membranes clean is critical. Remote O&M enhanced by process wisdom can make desalination more cost effective. A McIlvaine metric to compare the value of clean water in arid areas provides a useful addition to data analytics. A marketing program focused on the largest operators is included.

January 10,
2018

Shale Oil and Gas Unlike conventional extraction shale oil and gas involves large numbers of small wells with very complex extraction processes. This combination makes IIoT and Remote O&M very cost effective. There are also many more combust, flow and treat products and services required. McIlvaine tracks all the oil and gas activity on a daily basis. N049 Oil, Gas, Shale and Refining Markets and Projects Remote monitoring of pumps and valves is very important due to the high pressures and abrasive environment in which these components must operate. The cost of shale and gas extraction has been falling due to process and component innovation. Greater use of IIoT and Remote O&M will make this technology even more competitive. This webinar provides an extension of the March oil and gas webinar which can be viewed at https://youtu.be/o7kJSXixFHs

February 7,
2018

Offshore Oil and Gas Extraction

Offshore and particularly deep subsea extraction involves challenges not found elsewhere. The need for remote O&M is absolute in deep subsea applications. Evolving technology is critical to reducing costs. The McIlvaine

Choke Valve Decision Guide

and

Oil and Gas Gate Valves Greater than 5000 psi Decision Guide

are examples of the contribution of IIoW (wisdom) to IIoT. Subsea IIoT includes a network of smart, wireless sensors and devices configured to provide actionable operational intelligence such as performance, condition and diagnostic information. McIlvaine tracks offshore projects on a daily basis. This resource is used in a marketing plan focused on the large offshore operators.

February 28, 2018

Refining

A small number of companies make the decisions relative to combust, flow and treat purchases for refineries. The refinery IIoT and Remote O&M market will rise from $18 billion in 2018 to more than $36 billion by 2024. Companies building new refineries are well aware of the benefits of using IIoT through pervasive sensing applications. A typical modern facility will thus have about 50,000 inputs and outputs to and from control and monitoring systems, with all connections made through plant intranets, which replaces the Internet in these IIoT applications. But an older refinery will typically have closer to 20,000 inputs and outputs, with the 30,000 shortfall the root cause of much inefficiency, operational issues and safety incidents. So, the IIoT potential at existing plants is bigger than for new plants. McIlvaine tracks all refinery projects daily. There are relatively few refining companies. Many of them also own chemical plants and or extract gas and oil. A marketing program for refining combust, flow, and treat products and services will be discussed.
Click here to Register for the Webinars
ACCESSING ALL THE PROJECTS AND INFORMATION ONLINE
This Utility E-Alert is part of the Utility Tracking System. The system allows you to instantly retrieve project details, profiles of each coal-fired power plant worldwide, the right contacts at the OEM and A/E firms and summaries of all the scheduled FGD and SCR projects. You need a user name and password to access this system. If you have forgotten your user name or password or are not sure whether you are eligible to access this system please send email to This email address is being protected from spambots. You need JavaScript enabled to view it. .
*** The Utility E-Alert is for the exclusive use of the registered subscriber to whom it is electronically delivered. Unauthorized distribution is prohibited. ***
© 2017 McIlvaine Company