GAS TURBINE & RECIPROCATING ENGINE
DECISIONS UPDATE
April 18, 2017
McIlvaine Company
TABLE OF CONTENTS
McIlvaine Intensifying Coverage of Attemperators in Gas Turbine Decisions, IIoT and Remote O&M and Valve Decision Guides
Circor provides Valves and Desuperheater Systems
HRST has Steam Conditioning Solutions
Advanced Valve Solutions Cooled Desuperheater
AECC replaces CEMS with Predictive System for Seven Gas Turbines
NV Energy Partners with Wipro on EWAM Program
Laborelec (ENGIE) has Remote Monitoring and Niche Expertise Capability
Laborelec provides IIoW on Intake Filers and Water Quality for Power Plants
Ethos Energy Operates Monitoring and Diagnostic Center
Remote Monitoring of Compressor Station Engines with Rockwell PlantPAx
McIlvaine Intensifying Coverage of Attemperators in Gas Turbine Decisions, IIoT and Remote O&M and Valve Decision Guides
Gas turbine attemperator problems provide a good opportunity to demonstrate the value of IIoT empowered by IIoW (Wisdom). Continuous sensing and data analytics need to be empowered with wisdom generated by HRSG user group meetings, publications such as CCJ and the interconnection of knowledge systems demonstrated by multiple Mcilvaine services.
Attemperator problems are at the top of the list for gas turbine operators. Valves are playing an important role in the solutions. Equally important is the control logic and continuous evaluation of conditions, so we will be regularly covering developments in the Gas Turbine Decisions Updates and posting articles in the intelligence system. 59D Gas Turbine and Reciprocating Engine DecisionsWe will be conducting recorded interviews. Some will be for general access. Others will be just for BHE Energy as part of our 4S01 Berkshire Hathaway Energy Supplier and Utility Connect.
Coverage in the IIoT & Remote O&M newsletter, webinars and intelligence system will be expanded. N031 Industrial IOT and Remote O&M

In fact we would like to bring together some of GE IIoT experts such as Peter Spinney who gave a presentation on Sootblower optimization in one of our BHE webinars and explore a similar approach to valve controls for attemperators with people such as Michelle York.
The selection of valves for attemperator related service is in one of 5 high performance valve decision guides being continuously analyzed in High Performance Valves and IIoT.
On GE Day at the 25th annual 7EA Users Group meeting, Nov 1-3, 2016, Michelle York of GE lead discussions on HRSG issues of which attemperators were the component causing the most problems. CCJ editors covered the event with the following editorial:
ATTEMPERATORS: HRSG enemy No. 1
CCJ has published more editorial pages on attemperators over the last 13 years than any other periodical serving the generation sector of the electric power industry. These can be easily retrieved through the CCJ search engine. CCJ is unique in its provision of analyses which can affect decisions. McIlvaine believes the CCJ template can be beneficially expanded across the power industry.
Bob Anderson (who organizes the HRSG forum) says that most "internal-trim" attemperators in F-class combined cycles have been replaced with more reliable equipment and have not been installed in new HRSGs for several years but the newer designs have not solved all the problems.
If spray water leaks from the attemperator nozzle during periods when steam flow is low, or zero, it will fall onto the internal surface of the steam pipe and cause thermal-quench damage, and significantly increase the quantity of water that must be drained during the next startup.
Anderson says he often sees evidence of leaking during a review of operating data. "Sometimes the cause is insufficient inspection/repair of the block valve, but mostly it's due to the use of master control valve/martyr block valve control logic. In my view, it's not possible or necessary to maintain tight shutoff at the control-valve seat if the block valve maintains long-term tight shutoff.
"Master control valve/martyr block valve logic causes many unnecessary block-valve open/close cycles and virtually ensures both valves will leak after only a few runs. You can prevent leakage by arranging the logic to open the block valve only once during startup — when exhaust temperature increases to around 95°F—and to close only when the exhaust temperature decreases below 95°F during shutdown.
McIlvaine poses the question of whether better logic control is possible with the IIoT and better sensing of valve health, leakage, corrosion, temperature, etc. which is monitored and analyzed remotely.
"Overspray occurs when more water is injected into the steam than can be evaporated before reaching the thermocouple located downstream of the attemperator. If the steam temperature downstream of the attemperator decreases to within 30°F of saturation, damage to pipes, headers, and tubes may result. Control logic should be arranged to prevent the control valve from opening any further when this overspray limit is reached."
"Most attemperators in use today use spring-loaded variable-area spray nozzles which provide good atomization over a wide range of flows; however, they depend on free movement of a poppet to work properly. Oxidation of the poppet stem or guide and fouling by debris in the spray water can cause nozzles to stick open or closed."
"Attemperator manufacturers have worked to eliminate oxidation issues by changing materials. Most now recommend installation of a strainer upstream of the block valve to prevent valve and nozzle fouling. Routine inspection of nozzles is important. When in doubt about a nozzle's condition, replace it with a new one and send the suspect nozzle to the manufacturer for refurbishment."
Circor provides Valves and Desuperheater Systems
Circor says that they can deliver cost effective, reliable performing steam conditioning solutions. The Aeroflow SCV is a Severe Service Control Valve System that minimizes end user ownership. The Aeroflow SCV product offers zero leakage, steam assisted desuperheating and multiple actuation options in a competitive package.
Aeroflow SCV offers six models; two for Steam Control, two with its Laval Nozzle using steam assisted desuperheating, and two utilizing a spray ring header for desuperheating. All models offer ZERO leakage.
The Aeroflow Steam Assist Desuperheating models (SCV-LC/LD) utilize the features of the Aeroflow Steam Control valve with the addition of a Laval Nozzle. The Laval Nozzle atomizes attemperating spray water by using steam assist technology. The performance benefit is excellent controllability and rangeability with final temperature met immediately downstream of the desuperheater (within 3 pipe diameters). The installed cost is lower due to requiring very short run of special desuperheater piping.
The Aeroflow Steam Conditioning Spray Ring Header models (SCV-RC/RD) utilize the features of the Aeroflow Steam Control Valve with a traditional attemperator solution, which is customized for application requirements. The performance benefit is good controllability and rangeability with final temperature met within 10 pipe diameters. The spray ring portion can also be used as a stand-alone unit for attemperation when pressure reduction is not needed. The Aeroflow SCV is well suited for a variety of severe service applications including:
Steam Conditioning

- Precisely and continuously controls steam pressure and temperature.

Turbine Bypass

- Diverts steam from the turbine to the next level steam header, or condenser. This application sees high pressure drop and thermal shocks, requiring tight shutoff with fast response. Startup conditions require special trim for cold start requirements.
Desuperheaters from CIRCOR Energy come in a variety of configurations including probe style with fixed or variable nozzle, venturi and double venturi. With a design that ensures finely controlled water spray, the desuperheaters from CIRCOR Energy are highly effective in controlling steam temperature close to saturation point over a broad set of steam conditions.
Circor has several divisions involved with desuperheaters. They include: Leslie Controls, Spence, and Schroedahl. Pibiviesse serves the oil & gas, petrochemical, water transportation and power industries, providing ball valves available in side entry, top entry and all welded construction in sizes up to 60 inch and in pressure class up to ANSI 2500 and API 10000.
HRST has Steam Conditioning Solutions
HRST helps turbine owners solve problems with engineering support and training. Lester Stanley has many years of experience solving attemperator problems. In one user group meeting he explained the sequence of events at startup that often causes avoidable damage. When feed pumps are turned on, he said, there's a high differential pressure across closed attemperator valves which often leak because of cycling wear and tear.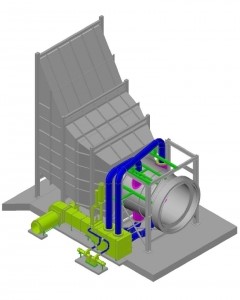 Water leaking by the valves enters the steam piping when there is no, or low steam flow and minimal vaporization. Absent positive drainage, water runs down the pipe to the superheater tube panels. The rapid cooling caused by spray water entering the harps can warp and crack tubes and damage headers. The same scenario may be repeated in the reheat circuit.
The leakage problem typically is easy to correct. Add a tight-shutoff, fast-opening isolation valve upstream of the attemperator control valve if one is not installed. If a block valve is installed and it is leaking, upgrade to a quarter-turn ball valve with a metal seat at a minimum. Use smart control logic and keep the isolation valve closed when desuperheating is not necessary. Also look into the possible use of condensate pots if they are not installed and consider a double-block-and-bleed arrangement in the spray-water line. Check for leak-by during rounds and plan for valve service when required.
HRST also has a hardware solution. Combustion turbine start-up and low load can damage HRSGs by high exhaust temperature and high attemperator spray water flow. High spray water flows can damage steam piping, superheaters, and reheaters. High turbine exhaust temperatures, especially those at or above 1200°F, can cause oxidation and creep damage to the HRSG inlet duct non-pressure part materials. These materials include liner plates, tube ties, flow distribution plates and gas baffles. This leads to costly repairs and unscheduled maintenance.
With the patent pending HRST QuenchMaster® Air Attemperator, these problems can be avoided. This system enables safe low load HRSG operation by reducing or eliminating attemperator spray water flow. Based on HRST experience, this technology enables plants to run in emission compliance with an additional 10-20% reduction in CT load. The HRST QuenchMaster Air Attemperation System also avoids low load superheater and reheater steam temperature control challenges.
Advanced Valve Solutions Cooled Desuperheater
There are applications for steam coolers in very complex situations. One common example is if a cooler is not working continuously and only has to function occasionally. This can occur, for example, during startup and shutdown or in case of an emergency to protect the main steam lines. In this instance the nozzle section will become very hot. The moment the cooler is required to start, thermal shock will occur and the cooler will be permanently damaged. In practice a very limited number of cycles can be expected before the cooler is damaged.
Advanced Valve Solutions and HORA have developed a solution for this particular problem, the "cooled desuperheater". To avoid thermal stress in the cooler valve body, the temperature differential between the cooling water and the superheated steam temperature should be significantly reduced. A temperature reduction of the valve body to the saturated steam temperature, instead of superheated, will bring the temperature differential down to figures which will not lead to thermal shock. The cooler is now suitable for numerous starts and stops.
A limited amount of saturated steam is bypassing the superheater and is brought into a "cooling jacket". This saturated steam is cooling the valve body, keeping it on saturated temperature. The saturated steam leaves the jacket and will mix up with the super heated steam. The saturated steam flow to the cooler is controlled by a small control valve and a manual stop check valve. The use of cooled desuperheaters in Marchwood CCGT Power Station is saving £200,000 per year.
AECC replaces CEMS with Predictive System for Seven Gas Turbines
At AECC in Little Rock analyzers that monitor emissions on seven multi-stage gas turbines needed replacement. The company considered options to either replace their analyzers with new, costly analyzers or replace their hardware-based continuous emissions monitoring system with an alternate solution. AECC recognized that replacing their current system with another hardware-based CEMS would require a significant capital investment. In addition, the ongoing maintenance needs of a hardware CEMS would produce considerable expenses over its lifetime.
AECC thoroughly evaluated the option to implement a software-based system and chose Software CEM from Rockwell Automation to help achieve its emissions compliance requirements. The model-based, Predictive Emissions Monitoring System (PEMS) utilizes powerful hybrid models of the process with real-time sensor validation to provide predictive emissions values with unparalleled accuracy. The use of hybrid modeling, through empirical models and first principles knowledge, gives AECC the best representation of its process behavior.
The project has been successful and the system was certified through a Relative Accuracy Test Audit (RATA) as per 40CFR Part75. Software CEM certified its initial RATA at better than 7.5% relative accuracy and surpassed the U.S. EPA, CAMD requirements of +/- 10%.
NV Energy Partners with Wipro on EWAM Program
A partnership between Wipro and NV Energy, an electricity and gas utility based in Nevada, resulted in a successful Enterprise Work and Asset Management (EWAM) program., NV Energy had to contend with dozens of legacy systems to support its work and asset management functions. Actions taken were:
NV Energy consolidated its multiple legacy work and asset management systems onto IBM Maximo and Ventyx Service Suite.
The project started seven years ago and is currently in its third phase.
The project necessitated significant business change; Wipro helped win over reluctant stakeholders with time, persistence, and the overall quality of its work.
In addition to helping NV Energy meet business requirements, Wipro has helped the client keep up with Federal regulations, particularly its gas distribution integrity management program (DIMP).
The global delivery model used to execute the EWAM project is also the model chosen to support a reorganization of NV Energy's IT department under a new CIO.
The first phase of NV Energy's EWAM program, which focused on capital construction for distribution assets, began in mid-2007. Before it selected Wipro as its systems integrator, NV Energy had already chosen IBM's Maximo (for core asset and work management) and Ventyx Service Suite (for mobile workforce automation). A critical aspect of Wipro's bid was its knowledge of Maximo, which NV Energy told us was better than IBM's." NV Energy had some very specific requirements that were not available in the core Maximo product, and so needed an integrator partner with a deep understanding of the software to make some significant customizations and enhancements.
Phase one went live in late 2010. Phase two, which focused on NV Energy's compliance with DIMP and other gas regulatory requirements, went live in 2012. This project was NV Energy's first major IT initiative to use a global delivery model, where a significant amount of work was done offshore. A strong IT partner was vital, as NV Energy's internal IT department lacked the resources to deliver such a large-scale project. In fact, EWAM was run by staff from the operations side rather than IT. As with many multi-year projects, there were unforeseen barriers. During the project, some internal political challenges arose, and one of the biggest hurdles to overcome convincing employees of the long-term benefits of the EWAM program. Ultimately, it was time, persistence, and patience that helped Wipro and NV Energy overcome these obstacles. The EWAM implementation has helped NV Energy gain a lot of experience in large-scale IT transformational projects.
Laborelec (ENGIE) has Remote Monitoring and Niche Expertise Capability
Laborelec offers the full range of power plant monitoring services, including remote monitoring. Experts follow up on alarms, anticipate problems, immediately inform plant operators of potential issues, and advise them on the necessary maintenance interventions.
Early fault detection.Monitoring enables Laborelec to identify problems at an early stage so that they can be addressed before costly damage occurs.
Predictive maintenance and condition-based maintenance. The condition monitoring of in-service equipment helps predict when and which type of maintenance should be performed.
Laborelec provides IIoW on Intake Filers and Water Quality for Power Plants
Laborelec is a research and competence center in electrical power technology. It was established in 1962 in order to support Belgian electricity companies with research, development, and specialized services. Today, it is part of ENGIE, a leader in energy. Its research and support extend to water quality investigations and analysis of air intake filters for 40 gas turbines and analyses to help improve selection and operation for a U.S. power plant operator.
This operation would have the niche expertise and remote monitoring center staffing to support for example gas turbine inlet filter decisions at gas turbines worldwide.
Ethos Energy Operates Monitoring and Diagnostic Center
The EthosEnergy Monitoring & Diagnostics (M&D) center monitors the performance of all turbine technologies, including:
Equipment thermal performance
Combustion dynamics
Advanced vibration
Predictive maintenance
Dispatch optimization objectives
M&D is offered at three levels:
Combustion system monitoring (ECOMAX®)
Full turbine monitoring (turbine, generator & compressor)
Full plant monitoring
Operating parameters are assessed in real-time for any anomalies using scanning and comparison algorithms as well as equipment performance equations. Whenever an operating parameter is outside of specifications, a real-time alarm is generated and automatically notifies all relevant parties of the anomaly. Additionally, the M&D Center personnel compile operating data and send quarterly reports that document tuning and performance information, data on each tuning event and, if applicable, ECOMAX performance result.
EthosEnergy has been awarded a seven- year contract for full operations and maintenance (O&M) services, plus installation of EthosEnergy's proprietary ECOMAX® technology, by Rockland Capital in support of Michigan Power, a 1x1 GE 7EA natural gas-fired combined cycle cogeneration plant in Ludington, MI. The contract is for full care, custody and control operations, and maintenance including transition services, plus the installation of EthosEnergy's advanced ECOMAX® auto combustion tuning technology. This is the second facility of Rockland Capital's to have ECOMAX® installed in the last twelve months, and third in total.
Remote Monitoring of Compressor Station Engines with Rockwell PlantPAx
CenterPoint Energy-Mississippi River Transmission (CNP-MRT) owns and operates 8200 miles of transmission pipeline that carried 1.6 trillion cubic feet of gas throughout a nine-state region in one year. Delivering such large volumes of natural gas through pipelines requires adequate pressure, which is accomplished by reciprocating engine compressors typically every 40-100 miles. For CNP-MRT, each compressor station includes an average of four compressor engines, and at least one of the four engines will run at 80 percent 365 days of the year. These engines maintain a pressurized flow—up to 2500 psi—to reduce gas volume up to 600 times and propel it through a pipeline.
This process entails heavy reliance on data from resistance temperature detectors (RTDs) and thermocouple sensors to control the engine compressors. Unfortunately, CNP-MRT's legacy automation system provided little visibility for remote management of the equipment, so the company embarked on a pilot project to update its control architecture at one station that moves natural gas across a three-state region — Missouri, Arkansas and Illinois.
For this pilot project at Horseshoe Lake station, CNP-MRT tapped Rockwell Automation's PlantPAx distributed control system (DCS) and its open-architecture platform to constantly monitor engine operational data, such as speed and load control visibility.