INDUSTRIAL IoT & REMOTE O+M NEWSLETTER
February 2017
No. 448
Table of Contents
IIoT TECHNOLOGIES
Emerson Process Management Pervasive Sensing Facilitates the Industrial Internet of Things
Yokogawa Invests in Bayshore Networks to Obtain Cybersecurity Software
Yokogawa Sets up Architecture Development Division California for IIoT
Yokogawa Expanding with Acquisition of Industrial Evolution and New Industrial Knowledge Business Unit
Honeywell and Flowserve Collaborate on Marrying Domain Expertise and Software Knowledge
Honeywell Collaborating with Aereon
GE Power and Tepco Will Jointly Develop Solutions for Japanese Fleet Using Predix
Aggreko Has Launched Temporary Power Remote Monitoring for Clients in the U.K. and Ireland Markets
WATER

Tsakos Tankers Using SKF Marine Condition Monitoring
GE Collaborating with United Water to Use Predix to Manage Water Infrastructure
Vantage Point Technologies Cites Advantages of Remote Monitoring in the Water Industry
Eurowater Supplied Water Treatment for 640-MW Polish CCGT System
Chilean Water Utility Essbio Has Awarded TaKaDu a Contract to Improve Its Water Network Management
Degrémont Has Contract with Delta Electricity to Operate and Maintain the Water Reclamation Plant at Vales Point Power Station
Fisher 4320 Wireless Position Monitor Eliminates Valve Misalignment
Suez Water Purification System Remotely Monitored in Medical Center
Smart Water Is a Strategic Area for Suez and Ondeo
Degremont Division of Suez Has Aeraton Control System Which Links Air Flow to Load
Real Tech Supplies Remote Monitoring of Water Quality
GAS TURBINES
Siemens Monitors More Than 9,000 Turbines at its European Data Center
Parker Has Condition Monitoring for Gas Turbines
GE Monitors 1500 Gas Turbines at Its M&D Center
IHI Remote Monitoring System for More Than 77 Gas Turbines
Pasadena Has a Contract with Real Tech for Gas Turbine Water Conditioning Services
GE Provides Remote Gas Turbine Monitoring and Support
Turbine Services Supports Sites with Different Make Turbines
Site Data Server Acquires and Archives Data from the Turbine Controllers
Yara NOx Control Inventory Management and Telemetry Services to Optimize Reagent Usage
Ansaldo Operates Remote Monitoring and Diagnostic Center
CLEANROOMS
Vaisala Continuous Monitors Keep Pharma Cleanrooms Audit Ready
Terra has Wireless Control System to Minimize Cleanroom Fan Energy Consumption
Lighthouse Software Provides Tracking of Air Cleanliness and Conditions
Mahindra Remotely Monitors Indian Cleanrooms
ENVIRCO Controls Air Flow in Cleanroom Filtration Systems
ABB Robotics Has Introduced Its Smallest Ever Cleanroom Robot
Elmos Whistle Servo Drives Are Used in Advanced Cleanroom Robot
MARKETS
ABB Creates Four Market Leading Divisions of Which One is Industrial Automation
Danaher Optimistic About IIoT Potential
Honeywell Anticipates Big IIoT Market in Aerospace and Buildings
Platforms Market Pegged at $350 Billion
$35-Billion Industrial Wireless Sensing IoT Market by 2021
IIOT TECHNOLOGIES
Emerson Process Management Pervasive Sensing Facilitates the Industrial Internet of Things
The company has introduced several new sensors that are low cost, wireless, or both. Rosemount recently released the Rosemount 975 line of optical flame detectors designed to perform in harsh environmental conditions and connect directly to alarm or automatic fire extinguishing systems. Emerson also recently released introduced wirelessly-monitored Enardo 2000 emergency pressure relief vents (EPRVs). Emerson is combining its ability to monitor thousands of sensors in a process plant and turn the data from those sensors into useful information. Steam trap monitoring and pressure relief vents are good examples of devices that are important to the process, there are hundreds of them in many process plants, and outfitting them with relatively cheap sensing capabilities can provide great value in terms of avoiding unplanned downtime and adopting a more proactive maintenance philosophy.
Yokogawa Invests in Bayshore Networks to Obtain Cybersecurity Software
Yokogawa Electric Corp. announced that it has invested US$900,000 in Bayshore Networks Inc., a U.S. technology innovator that is developing cybersecurity software for the Industrial IoT (IIoT). With this investment, Yokogawa will help Bayshore Networks continue development of its IIoT security technology, and will benefit from Bayshore's communications control and other technologies. The partnership is expected to help speed Yokogawa's development of the IIoT architecture needed to expand its solutions lineup.
Founded in 2012 and headquartered in the Washington D.C. metropolitan area, Bayshore Networks offers cybersecurity system solutions for industrial applications. The firm has a number of strategic partners in the IT sector and has gained recognition for its expertise in IIoT cybersecurity. Bayshore Networks has created communications control technology for Layer 7 of the open systems interconnection (OSI) reference model. More than just cybersecurity technology, this can also be employed in safety solutions for operational technology used to monitor and control production facilities. This technology has the potential to become a crucial component in Yokogawa's IIoT architecture research and development efforts.
Recent advances in the IIoT field are making it easier to obtain information through networks and apply it in various solutions. With this investment, Yokogawa and Bayshore Networks will share knowledge and expertise in plant process control and operation, and the latest IIoT security and communications innovations, in support of Yokogawa's IIoT architecture development. Based on these technologies, Yokogawa aims to expand the lineup of operational technology safety solutions that it will offer to its industrial customers to help optimize their plant operations.
Yokogawa Sets up Architecture Development Division California for IIoT
Yokogawa Electric Corp. has established the Architecture Development Division California, an organization that is dedicated to the development of architecture for the Industrial IoT (IIoT). This division commenced operations on November 1.
The new division is staffed by engineers from Yokogawa who have an extensive knowledge of Yokogawa systems and services, and locally recruited engineers who are conversant in a range of IT fields. To start, the division is located at the engineering offices of partner companies, FogHorn Systems and Bayshore Networks, and it is scheduled to open its own office in April 2017.The division will later add functions for planning services that use the IIoT and cloud computing, and it is expected that the number of staff will be increased to around 50 over the next five years. With this new division, Yokogawa will accelerate its development of cutting-edge IIoT architecture with the aim of offering its customers safer and more user-friendly solutions.
Yokogawa Expanding with Acquisition of Industrial Evolution and New Industrial Knowledge Business Unit
Last year Yokogawa acquired Industrial Evolution, which offers real-time Data-as-a-Service (DaaS) technology that can conduct analytics, simulation and workflow in a private cloud. Yokogawa Venture Group unveiled a new business unit called Industrial Knowledge, which will leverage the Industrial Evolution technology to provide remote monitoring and support services, including startup assistance, warranty obligation fulfillment, and plant performance guidance for process industries.
The data sharing services that Industrial Knowledge have are based on a secure cloud that takes raw data from a system or a device and stores it in OSIsoft's PI, an industrial-strength enterprise infrastructure that manages real-time data and events from the control system network.
"The idea is to collect raw data and send it out as actionable data to users, who can be inside of a company, [or it can be] used for collaborative purposes with a user who is external to the plant [and] providing data," said Simon Wright, CEO of Industrial Knowledge, during a press conference at the ARC Industry Forum in Orlando this month. "Also, a user can be a machine or another system."
Honeywell and Flowserve Collaborate on Marrying Domain Expertise and Software Knowledge
Honeywell and Flowserve are collaborating to provide IIoT solutions to help industrial customers make their operations, safer, more efficient and more reliable. The collaboration will be part of the Honeywell INspire™ program, Honeywell's joint customer development program for its IIoT ecosystem.
"The key to an effective IIoT ecosystem is to have three things," said Andrew Hird, Vice President and General Manager of Honeywell Process Solutions' Digital Transformation business. "First, you need to have secure access to the data being collected; secondly the capability to analyze that data; and finally, you need domain knowledge to understand how to deploy information to benefit the operation. Flowserve's domain expertise in flow control solutions that include pumps, valves, seals and services are unmatched globally, which makes the Honeywell-Flowserve IIoT ecosystem unique for our customers."
Honeywell and Flowserve have a long history of collaboration. HPS' automation and controls technologies help automate and harness data at more than 10,000 manufacturing sites around the world. Flowserve instrumentation and services are co-located at many of those sites.
"We see this collaboration between Honeywell and Flowserve as beneficial to continuously improving how we serve our customers with the latest technology advanced software and analytics, and reliable services capabilities. Honeywell provides key infrastructure to collect and securely move data, while we embed decades of domain knowledge into predictive analytics for more business value, faster," said Eric van Gemeren, Vice President, Research & Development, Flowserve. "This collaboration will help us provide our customers with new insight through transformative service capabilities that lead to more powerful decision-making and process optimization."
Flowserve is a recognized global leader in supplying pumps, valves, seals, automation and services to the world's most critical industrial applications, including power, oil and gas, and chemicals. Operating in more than 55 countries, the company produces engineered and industrial pumps, seals and valves, as well as a range of related flow management services.
Honeywell's capabilities in data consolidation, cyber and software development combine well with Flowserve's deep domain knowledge to allow the expansion of a robust IIoT ecosystem that is designed to help customers solve previously unsolvable problems.
The goal, Hird said, is a simple-to-use infrastructure that gives customers secure methods to capture and aggregate data, so that it can be leveraged by using analytics and applying a range of domain knowledge from a vast ecosystem of equipment vendors and process licensors.
With a larger, consolidated data set, manufacturers can apply higher analytics for more detailed insights, scale the data as needed to meet the varied needs of single-site or enterprise-wide operations, and leverage a wider pool of data experts for monitoring and analysis.
Ultimately, Honeywell and its collaborators, including Flowserve, will leverage the IIoT to help customers minimize unplanned shutdowns, maximize output, minimize safety risk and optimize supply chain strategies. The Honeywell INspire™ program brings together a community of participants, including customers, equipment vendors, process licensors and Honeywell experts that will jointly develop solutions for a myriad of operational challenges.
Honeywell Collaborating with Aereon
Honeywell and Aereon will collaborate on solutions to help industrial customers boost the safety, efficiency and reliability of their operations by leveraging Honeywell's Industrial Internet of Things (IIOT) ecosystem.
Aereon is widely recognized for its innovative air emissions solutions for the complete oil and gas sector, from the wellhead to the gas station. It offers products for flare systems, enclosed combustion systems, high efficiency thermal oxidizers and vapor/gas recovery units. "Aereon's fundamental strength is its wide array of fit-for-purpose combustion and vapor recovery products supported by in-house expertise to design, manufacture and support its field-installed base," said Mark Zyskowski, Senior Global Vice President, Aereon. "We are pleased to be able to bring our expertise to the IIoT ecosystem that Honeywell is developing to help customers around the globe maximize value from their operations by tapping into the power of the IIoT."
GE Power and Tepco Will Jointly Develop Solutions for Japanese Fleet Using Predix
GE Power and Tepco Fuel & Power Inc. have signed a memorandum of understanding (MOU) to jointly develop and introduce industrial solutions throughout the utility's thermal power plant fleet, harnessing GE's secure, cloud-based Predix platform.
As the first step in this agreement, Tepco FP will install GE's Asset Performance Management (APM) software in the LNG-fueled Futtsu Power Station Unit 4 in Japan.
"As we look at the future energy needs of our customers, we must invest in the latest digital solutions that can help us increase the productivity, efficiency and reliability of our existing power plants," said Toshihiro Sano, President of Tepco Fuel & Power Inc. "We look forward to developing a new business strategy with GE by harnessing Industrial "Internet of Things (IIoT) technologies that will create new customer value at our domestic and overseas thermal power plants and deliver improved reliability for our customers through improved plant economics."
APM and other Predix-based applications connect industrial assets, collecting and analyzing data to deliver real-time insights to help improve plant performance and operations for both GE and non-GE assets, the companies said.
The Futtsu APM installation marks the launch of a digital transformation of the utility's existing fleet of thermal power plants to increase their long-term reliability, flexibility and to help reduce life cycle costs for Tepco FP. Tepco FP and GE are pursuing the digital APM software solution at Tepco's 1520-MW Futtsu site to improve the operator's equipment condition monitoring and diagnostics capabilities to increase plant reliability and also to use big data and analytics to promote Tepco FP's business and operational optimization, the companies said.
"Futtsu Power Station, Tepco's third largest natural gas-fueled power plant and one of Japan's most efficient power stations, is located in Chiba prefecture, 30 km east of Tokyo. GE is scheduled to begin installing the APM solution at the station in 2017.
Aggreko Has Launched Temporary Power Remote Monitoring for Clients in the U.K. and Ireland Markets
Aggreko Remote Monitoring (ARM) represents the next step in the evolution of Aggreko's equipment diagnostics technology and offers comprehensive, real-time remote equipment monitoring services 24 hours a day, 365 days a year. ARM uses GPRS technology to transmit real-time data from its smart generators to diagnostics software, providing information to maximize the equipment's efficiency and runtime whilst at customer sites.
At the heart of the new service is Aggreko's Remote Operations Centre (ROC), where a 15-strong team of highly experienced service engineers proactively monitor equipment, round the clock, and activate an immediate, coordinated service response as and when required. By evaluating equipment data in real time, Aggreko engineers can either immediately correct an issue remotely, or if required, dispatch a local service engineer to site with a full understanding of the issue. By proactively identifying and correcting issues before they develop, and informing proactive service and maintenance schedules, ARM helps prevent potential power interruptions, often without any disruption to the customer.
"Our specialist engineers continuously monitor our generator fleet, keeping watch for issues regarding maintenance, fuel levels, loads, run hours or any other warning signs," said Chris Rason, Aggreko Sales and Marketing Director for Northern Europe. "This allows for a personalized response and a rapid resolution to any potential issue".
The merit of the technology was illustrated during a recent test phase where a utility provider experienced a drop in battery voltage on a 1250 kVA generator, one of 10 the company hired for back-up during essential emergency works at a substation. ARM picked up the drop and transmitted the data to Aggreko's Remote Monitoring Centre, where engineers alerted a local engineer to perform a proactive site visit to fully recharge the battery. As a result the customer's generator remained operational and so prevented a potential loss of power and the associated costs.
ARM also has a number of further advantages. Using statistical data captured by ARM, the Aggreko team is able to fine-tune equipment specifications, using load profiling to ensure the optimum-sized equipment for the job and provide customers with maximum value for money. In addition, customers are able to request reports on their equipment's run-time, performance and fuel usage, improving transparency of information and KPI reporting.
WATER
Tsakos Tankers Using SKF Marine Condition Monitoring
Greek shipping company Tsakos Columbia Shipmanagement S.A. (TCM) is equipping its entire fleet with SKF Marine Condition Monitoring Kits, an advanced condition-based maintenance solution. The detailed maintenance program enables a range of benefits, from preventing unexpected failures in critical machinery to providing early indications of possible problems in auxiliary machinery. TCM provides management, operation and crewing services for a diversified fleet of some 70 ships, consisting of tanker, container and dry cargo ships, with a total capacity of about 8 million deadweight tons.
GE Collaborating with United Water to Use Predix to Manage Water Infrastructure
GE has a digital collaboration with American Water, the country's largest publicly traded water and wastewater utility company. The initiative will include the use of their Predix platform, Heiner Markhoff, President and CEO of water and distributed power at GE said: "We are excited to launch our new digital collaboration with American Water by combining our collective expertise in software, water technologies and utility management to help the United States build a more sustainable and secure water future. We are developing software, advanced predictive analytics and diagnostic tools that will give operators the real-time data they need to better manage their critical water infrastructure assets 24 hours a day."
Vantage Point Technologies Cites Advantages of Remote Monitoring in the Water Industry
Charles Sellers, Managing Director of Remote Vantage Point Technologies, said that "changes in the 'deregulation' of the water industry dictate that commercial margins will become critical, thus the need to control costs and add value to the consumer. IoT and the exponential use of sensors from infrastructure to supply to consumption allow real time remote monitoring. This is the foundation for new services such as Smart Data, Real Time Analytics and Planned Maintenance. In the water industry, IIoT technology can enable decision making in real time for both the industry and the consumer, helping us make the most of our most precious resource.
Eurowater Supplied Water Treatment for 640-MW Polish CCGT System
Eurowater has supplied a water treatment plant for one of Poland's largest Combined Cycle Gas Turbines with a generation capacity of 400 MVe and 240 MWt, located in the town of Stalowa Wola.
This project is one of the first state-of-the art large CCGT gas fired power projects in Poland and part of Poland's drive to reduce reliance on use of coal for power generation.
The water treatment plant is designed and built to supply make-up water for high-pressure boilers as well as feed water for the district heating network.
The water source is a river. First step of treatment is coagulation and flocculation followed by sand filtration. EDR unit (electrodialysis reversal) as partial desalination plant is used afterwards.
Hereafter the water undergoes membrane filtration on double pass RO unit. Pretreatment to DPRO is antiscalant dosing and NaOH is dosed between the RO stages to bind free CO2. Finally, the water is polished on EDI in order to reach ultra-pure water.
Additionally fully automatic CIP system is available to make easy cleaning of RO membranes when needed. The plant can operate with flexible output due to VFD controlled
This project is one of the first state-of-the art large Eurowater supplied water treatment for 640-MW Polish CCGT system.
CCGT gas-fired power projects in Poland and part of Poland's drive to reduce reliance on use of coal for power generation. The water treatment plant is designed and built to supply make-up water for high-pressure boilers as well as feed water for the district heating network.
The water source is a river. First step of treatment is coagulation and flocculation followed by sand filtration. EDR unit (electrodialysis reversal) as partial desalination plant is used afterwards.
Hereafter the water undergoes membrane filtration on double pass RO unit. Pretreatment to DPRO is antiscalant dosing and NaOH is dosed between the RO stages to bind free CO2. Finally, the water is polished on EDI in order to reach ultra-pure water.
Additionally, fully-automatic CIP system is available to make easy cleaning of RO membranes when needed. The plant can operate with flexible output due to VFD controlled RO pumps.
Technical data:
Silica: < 3 ppb (limit 20 ppb)

TOC: < 10 ppb (limit 100 ppb)

Flow: 3 x 25 m³/h
Units in plant:
Antiscalant dosing

Double Pass Reverse Osmosis, 3 x DPRO C4-28/20

Electrodeionization unit, 3 x EDI 4 x 5000e

Automatic CIP unit
Chilean Water Utility Essbio Has Awarded TaKaDu a Contract to Improve Its Water Network Management
Essbio will use the TaKaDu system in selected regions, covering a 2400-km net pipeline and then explore extending it gradually across its whole concession of over 10,000 km.
The deal is in cooperation with G&A Consultores S. A., the local partner of TaKaDu in Chile.
Providing water services to 2.5 million people, Essbio hopes to improve water efficiency in Chile, which has become an important priority in Chile due to significant reductions in rainfall and mountain winter snow accumulation.
Based on big data analytics, TaKaDu's cloud-based solution enables water utilities to manage the full life-cycle of all their network events (incidents), such as faulty assets, leaks, bursts, water pressure issues, water quality, operational faults and more.
Using raw data from multiple sources, the company provides information about each event, helping utilities detect events early, reduce water loss, shorten repair cycles and improve customer service.
At the end of September TaKaDu announced it had signed up a Romanian water utility to use its system.
Gonzalo Reyes, Essbio's Planning & Engineering Director, said, "With this TaKaDu program, we are hoping to have online information about the behavior of our drinking water network, which will allow us to reduce reaction time to solve leakage problems, improve service and reduce water loss."
Amir Peleg, TaKaDu's founder & CEO, said, "We've seen growing demand in Latin America for innovative water solutions. Like many countries around the world, water is a precious commodity in Chile and solutions, such as ours, have an important role to play in improving water management. We're proud to add a leading utility like Essbio to our global customer base."
Degrémont Has Contract with Delta Electricity to Operate and Maintain the Water Reclamation Plant at Vales Point Power Station
Degrémont has signed a contract with Delta Electricity to operate and maintain the water reclamation plant at Vales Point Power Station in New South Wales. With a start date of May 2014, the project will run for an initial term of two years and encompass the delivery of new membranes, supply of chemicals, and overall operation, remote monitoring and management of the facility. The works will support the continued positive sustainable impact of the water reclamation plant, which has significantly reduced the volume of fresh water required to run the power station since its introduction in 2009, by purifying effluent from the Mannering Park sewage treatment works. Commenting on the signed contract, Degrémont Australia's CEO, Roch Cheroux, said this agreement demonstrated the company's expanding expertise as an industrial water service provider and commitment to meeting the water needs of industries throughout Australia.
Fisher 4320 Wireless Position Monitor Eliminates Valve Misalignment
According to a survey of Emerson Process Management customers, 90 percent have had valve alignment issues in the past 12 months, meaning what the position they thought the valve was in, was incorrect. This resulted in spills, lost batches and safety incidents.
These customers are automating such discrete valves each year; however, the wiring costs of traditional automation prevent many from being converted from manual to automated control. Emerson Process Management has expanded its Smart Wireless solutions family with the release of the Fisher 4320 Wireless Position Monitor with On/Off Control Output Option, reportedly the first and only WirelessHART valve automation solution that includes linkage-less position feedback and discrete valve control. For simplicity, traditional quarter-turn valves and pneumatic actuators are used — which means only air is needed to automate a valve. The Fisher 4320 provides users "with a cost-effective way to achieve wireless valve control with position feedback for quarter-turn valves," according to Peter Zornio, Chief Technology Officer.
The 4320 "changes the economics of automating discrete valves as an alternative to solenoids and limit switches," said Zornio. "By eliminating the need for wires, the project cost and project time are reduced by minimizing engineering time, materials, control system I/O, and installation labor."
Suez Water Purification System Remotely Monitored in Medical Center
Suez Water Purification Systems Ltd. has supplied and commissioned an innovative, high quality water purification system featuring remote monitoring functionality at the Rondebosch Medical Centre in Cape Town, South Africa.
The Suez Elite MediQA 1000 is a double-pass reverse osmosis water purification system, capable of providing up to 1000 liters of purified water per hour to a quality that meets the ISO 13959:2014 standard. The system is extremely easy to use and features advanced data logging, as well as semi-automated chemical cleaning and disinfection of the reverse osmosis membranes, to minimize the potential for bacterial growth on membrane surfaces.
At Rondebosch Medical Centre, the MediQA system feeds a new dialysis clinic currently housing 11 beds with ultrapure water. It features advanced technology for the remote monitoring of live data, which will enable healthcare professionals responsible for managing the system to ensure water quality is always of the highest standard, and provide full traceability, to protect the health of patients. The unit also has the capability of continuing to deliver pure water for dialysis even if one of the dual stream fails, by activation of a bypass facility, thus ensuring continued supply and patient safety.
Smart Water Is a Strategic Area for Suez and Ondeo
Since its introduction, Smart Water has developed and today there is now a large range of practical solutions: remote and real-time network surveillance without the need for human presence in the field, adaptation of treatment and storage according to weather conditions, prevention of pollution and leaks and remote meter reading.
Pioneers in this area since 2004, Ondeo Systems have spearheaded progress in the field of Smart Water, i.e., Smart Metering.
AQUADVANCED™ is an innovative tool that provides operators of drinking water networks with a "real time" intuitive and modular dashboard, enabling monitoring of the network, detection of events (hydraulics, quality or energy) and simulation capacities. The concept behind AQUADVANCED™ is to perform data analysis and give the user access to a library of models designed to enrich the basic data and the anomaly detection process. AQUADVANCED™ is the first tool to optimize all key performance indicators of a water network.
To date, Ondeo Systems' smart metering solution has been contracted out on 1.8 million meters.
Degremont Division of Suez Has Aeraton Control System Which Links Air Flow to Load
Representing 40–70 percent of energy needs, aeration is the most energy demanding item in a wastewater treatment plant. Important energy savings are possible through optimization and controlled adjustments of aeration according to the needs of the treatment process.
Greenbass continuously adjusts the air flow supplied to the biological treatment process depending on the pollution load.
For each biological tank, Greenbass continuously measures ammonium and nitrate concentrations using a set of measuring probes that operate in conjunction with our proprietary, patented algorithm integrated into a standard software program which controls the aeration start-up or shutdown thereby regulating the air flow input for the entire facility.
So, when the pollution load fluctuates during the course of the day, the system adjusts the air flow supplied as accurately as possible to the process requirements, thus avoiding energy waste. The blower diffuses fine air bubbles which aerates the activated sludge and nourish the bacteria responsible for the nitrification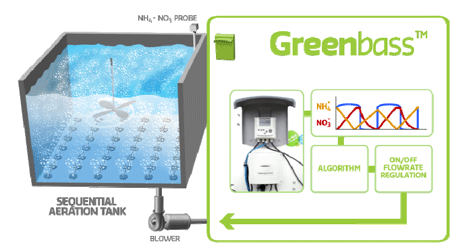 Greenbass is adjustable to any type of existing or new wastewater plant and is applicable to any air systems and any type of PLC control.
The system offers simplicity of installation, maintenance and upkeep. Furthermore, it offers wastewater treatment with a 10-15 percent decrease in energy consumption compared to traditional regulation systems.
Real Tech Supplies Remote Monitoring of Water Quality
With Real Tech's new Smart Sense Remote Monitoring platform, Puretec clients can access real-time water quality data in minutes from anywhere in the world at any time. Using a secure login in on the Real Tech website, a single sensor or multiple sensor.
GAS TURBINES
Siemens Monitors More Than 9,000 Turbines at its European Data Center
All technologies for Siemens Digital Services are pooled under the new Sinalytics platform, explained Thilo Libuda, Head of Marketing for Instrumentation, Controls, and Electrical within the Siemens Power & Gas Division: "It combines proven capabilities for remote maintenance and optimization with the latest developments in data analysis, connectivity, and cybersecurity." It can also integrate engineering data or data generated by people, Libuda said.in an interview with Power Magazine.
Sinalytics works both in the cloud and locally — for example, at a Siemens data center in Europe or the U.S. — or by intelligent networked devices in the field, where data are generated.
Siemens monitors more than 9000 turbines (wind and fossil-fueled) online. Every day, the gas turbines generate some 26 GB of data while wind turbines generate 200 GB. Remotely monitoring turbines can provide multiple benefits, including longer service intervals and predictive maintenance and maintenance planning, which can lead to increased profitability for customers. For wind turbines, Siemens says it can provide remote remedies for 85 percent of all alarm situations.
Libuda emphasized the company's comprehensive cybersecurity program that allows confidential data to be transmitted and analyzed securely plus technologies to "detect and investigate attacks from the Internet and defend against cyber-attacks on critical infrastructure components."
Parker Has Condition Monitoring for Gas Turbines
Condition monitoring plays a significant role with that. By employing an effective solution that monitors the temperature, pressure and humidity levels of a plant's assets, operators can diagnose problems or damage to turbines and inconsistencies among processes. Addressing and repairing these issues before they become problems saves downtime and replacement costs.
Humidity and moisture in the gearbox can cause less than optimal operation of rotary components, leading to corrosion, reduced product quality, and ultimately breakdown. Monitoring a system's performance can be a good indicator of any potential problems with a turbine. By keeping tabs on a system's humidity, as well as the ambient humidity of the plant, operators can gauge any potential effects to a turbine's performance.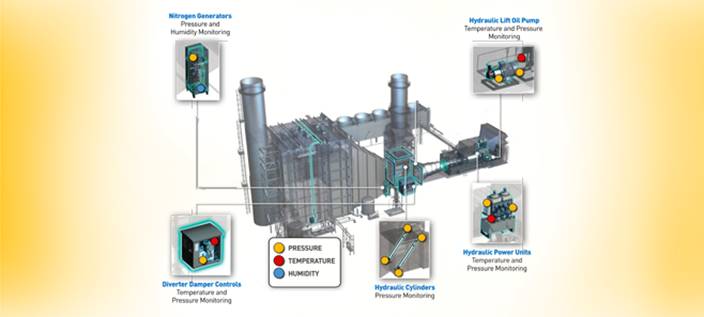 To keep a turbine operating consistently and with minimal chance of overheating, it is necessary to keep components within the gearbox well lubricated and cooled with clean oil. A good filtration package is also important. Monitoring changes of a system's temperature and pressure levels can help operators identify when filters and/or oil in the turbine may need replaced.
Also, monitoring for increased fuel consumption and/or reduced output could indicate a more serious problem, such as compromised integrity of rotary components within the turbine. Such issues can lead to displacement or damage to toothed gears, blade damage or fatigue failures and other structural damage that will ultimately impact a system's performance.
Parker's SensoNODE™ Blue sensors and SCOUT™ Mobile software allow users to monitor conditions using multiple sensors simultaneously, each measuring the temperature, pressure, or humidity of specific points within a system. Using Bluetooth technology, the sensors transmit large volumes of data to mobile devices wirelessly, keeping operators out of dangerous situations.
GE Monitors 1500 Gas Turbines at Its M&D Center
Every day, at its Monitoring & Diagnostics (M&D) Center, GE collects more than 30,000 operating hours of data from a fleet of more than 1500 gas turbine and generator assets, supplementing a 40-terabyte database representing more than 100 million fleet operating hours. GE announced that the data-driven insights drawn from this volume of power generation "big data" have translated to customer savings estimated at $70 million in 2014, up from $53.9 million in 2013.
The Atlanta-based facility features a team of more than 50 engineers that analyze more than 35,000 operational alarms per year. Among the activities monitored at the center are the inlet temperature of a compressor, thermal performance of a gas turbine, temperature of combustion exhaust, dynamic tones of the combustion system, vibration levels of a rotor and the temperature of bearings. On a GE gas turbine unit there are more than 100 physical sensors/300 virtual sensors.
"Our monitoring and diagnostics team and capabilities, play a key role in helping GE customers operate their power plants at high levels of performance and reliability," said Justin Eggart, General Manager, Fleet Management for GE's Power Generation Services business. "Our team takes a holistic approach to what we call 'predictive maintenance,' which focuses on helping customers sidestep operational barriers before they occur, no matter what type of equipment they are managing."
The ability to foresee and forestall issues is at the very heart of predictive maintenance. Predictivity solutions for GE's power generation customers harness massive volumes of data analyzed from one of the world's largest monitored gas turbine fleet to develop solutions that allow them to make more informed operational and business decisions.
Drawing on the experience of hundreds of thousands of resolved cases, GE's M&D team has developed dozens of physics-based, proprietary algorithms that provide early warning of more than 150 potential failure mechanisms. This wealth of physical understanding, blended with application of statistical methods, has enabled the team to continually improve the algorithms, thereby increasing the probability of detection while reducing false alarms.
In addition to GE units, this remote monitoring can be applied across a customer's entire fleet. Through device-agnostic predictive solutions, the M&D Center monitors technology and equipment not only from GE, but also Nooter/Eriksen, Flowserve, Emerson, Delaval, Byron Jackson and others.
GE also has made substantial improvements in reducing trip rates since the M&D Center opened in 1996. For example, trips per thousand hours for the combined 7F and 9F monitored fleet of gas turbines are down approximately 25 percent since 2009.
Additional regional support with these services is provided to GE customers around the globe from other M&D locations in Scotland, France, India and its newest centers in Dubai, Saudi and China. Using a broad range of analytic tools, these teams diagnose problems ranging from possible failed sensors to gas turbine compressor damage.
IHI Remote Monitoring System for More Than 77 Gas Turbines
Remo-moni™ is IHI's Remote Monitoring System (RMS) of Gas Turbine Driven Generator Power Plants. Remo-moni™is an advanced monitoring system for gas turbine power plants. IHI has the ability to observe the customer's plant from the IHI monitoring center and advise on operations and maintenance. Its benefits include:
Safe Operations,

Improving High Availability and

Save Maintenance Costs of Gas Turbines Power Plant Operation.
Remo-moni™ is installed easily by connecting to the internet. Since 1995 the number of Installations has grown to 77 units and 47 sites. In the event of an emergency, an IHI engineer will utilize the Remo-moni™ to find a solution for the customer. IHI Service Engineers can also be dispatched.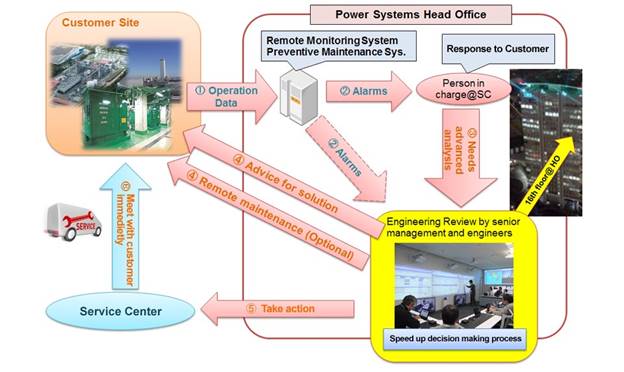 The site is connected to the center through a computer, route and ASDL modem furnished by IHI.

Pasadena Has a Contract with Real Tech for Gas Turbine Water Conditioning Services
This 2015 contract is for providing regularly scheduled documented service, inspection, monitoring, and maintenance for the Water Conditioning System for Glenarm and Broadway Power Plants. The Water Conditioning System is a system that processes city water to high purity water. The purified water is used for boiler make-up water for steam units; and cooling system make-up water, air pollution reduction and efficiency enhancement for the gas turbine units. This contract will ensure the efficient and reliable operation Real Tech met all the requirements of the RFP, received the higher evaluated score, and is therefore recommended for award of the proposed contract. Real Tech has been successfully providing water conditioning system services for Broadway and Glenarm Plants under a contract which expired on June 4, 2015.
This time Real Tech submitted a price that was $21,000 lower than Evoqua Water Technologies. The requested amount of $138,000 includes the consultant bid of $125,638.04 for a three-year contract, plus approximately 1 0/o contingency for unforeseen services and parts replacements, as well as for the increased conditioned water demand during Unit GT5 commissioning in CY 2016. PWP has an option to extend the contract for one additional two-year extension
With Real Tech's new Smart Sense Remote Monitoring platform, Real Tech clients can access real-time water quality data in minutes from anywhere in the world at any time. Using a secure login in on the Real Tech website, a single sensor or multiple sensor nodes can be monitored using a computer or smart phone. Features include:
Access water quality data from anywhere, at any time with Real Tech's web-based remote monitoring platform

Monitor a single sensor or multiple sensor nodes from one location

View historical trends and changes in water quality

Easily download historic data sets

Private and secure access through the Real Tech website
GE Provides Remote Gas Turbine Monitoring and Support
Developed to assist Customers in maximizing machinery asset value and based on connectivity systems, the iCenter solutions are configured to gather data from the site and transfer it to the Florence Headquarters Team.
The various services are designed to evaluate, maintain and estimate operational data using different analysis models, adding value through the direct link with the Oil & Gas technical team.
In iCenter are services developed to use proprietary software to provide:
Remote assessment of machinery conditions and troubleshooting help

Performance evaluation and comparison

Tuning of combustion systems

Gas turbine emissions prediction
GE Remote Monitoring & Diagnostics is a service based on data acquisition and connectivity systems to gather data from plants. It is focused on:
Highlighting potential or incipient failures using customized diagnostic rules

Tracking machine performance during plant operation

Sustaining overall efficiencies and maximizing machinery productivity

Assisting in machinery troubleshooting; linking the plant machinery with the original equipment manufacturer
Remote Dry Low NOx Tuning Remote tuning technology enables rapid response to tuning needs, significantly improving the reliability and availability of gas turbine applications. Real-time diagnostics and tuning services are provided through GE's Remote Services Center by certified GE engineers — eliminating the need for time spent on traveling to the site. Remote tuning meets Customers' business needs, offering the flexibility to schedule tuning during planned or unplanned outages and to tune during operation to optimize performance and emissions Structured as a Technology Sharing Agreement, the service also allows the Customer to invest in the technology and benefit from its enhanced value over time.
OPFLEX Is a service based on the use of data acquisition systems and connectivity to gather data from plants focusing on:
Maximizing efficiency over the operating range by tuning control curves based on the actual operating point

Quantifying the stress of hot gas path components in order to manage maintenance and performance trade-offs
Predictive Emissions Monitoring System (PEMS) Worldwide, government restrictions on gas turbine emissions are becoming increasingly stringent. Gas turbine users are required not only to minimize emissions, but also to evaluate them continuously. PEMS helps customers as an effective alternative to Continuous Emissions Monitoring Systems
Turbine Services Supports Sites with Different Make Turbines
Monitoring and diagnostic systems supplied by independent service providers rather than turbine manufacturers can be deployed to suit the operators' requirements, rather than what might suit the manufacturer. And they can be used with different turbine makes and models, and for other types of plants. This is the argument made by Jonathan Aylett, of Turbine Services, a Chromalloy company
For example, a power utility has a fleet of peaking turbines from different manufacturers and of different types, such as heavy industrial and aeroderivative. The utility company uses the same system via the internet to monitor all turbines remotely, and the system can send diagnostic messages to cell phones and email reports to company staff. It has a flexible client-server architecture which can be used in a centralized monitoring center, or decentralized to any location able to connect a client remotely to a server. It can also support remote clients running in web browsers.
Site Data Server Acquires and Archives Data from the Turbine Controllers
Any number of remote clients can connect to it using the company internal network, or remotely via internet or modem connection.
Data update rates for the remote clients can be configured for the bandwidth of the network connection. This can be at once per second over fast LAN or internet connections, or once per hour for slow modem connections. For slow connections, remote clients can be configured to only download trend data and diagnostic messages each day, reducing data transfers.
A typical data set of 400 analogue and 1500 digital tags is acquired each second and analyzed 24/7. It is impractical to analyze this manually, so the system analyzes the data in real time using diagnostic rules and pre-alarm checkers, generating diagnostic messages which are archived on site.
Standard sets of diagnostics have been developed through the analysis of turbine data for many turbines over many years. They range from simple pre-alarm analogue checkers to complex diagnostic rules using Boolean logic combined with time based functions. Diagnostics are defined in parameter files and addition and adjustment of these parameter files is all that is required to adjust or add new diagnostics.
Diagnostic warning messages are generated at three fault severity levels and are generated if the turbine starts to migrate out of a tuned footprint, or if a fault occurs. Diagnostics parameters are tuned to each turbine footprint and the parameters are periodically reviewed and retuned as a turbine changes over time.
Digital controller data is acquired which enables the system to report controller alarms, and enables diagnostics in the context of the turbine run state (startup, base load, etc.) and the detailed controller operation of the turbine.
For long-term trending, the system creates trend files of all data for each day. These trend files contain minimum, maximum and average values of the data within five-minute time windows. These trend files can also be used to efficiently create trends for days, months or years.
The average trends show long-term changes such as a slow increase in vibration, whereas the minimum and maximum values can reveal changes that occur within the trend data sample window that would otherwise be lost by averaging, such as vibration spikes.
The system can also check the turbine using event graphs for start-ups, shutdowns and trips. This enables data for different time periods to be plotted and compared on the same multi-time event graph.
To analyze turbine incidents such as trips, data can be replayed. Historical data can be replayed by the system and viewed and analyzed, just as it occurred at the time of the actual events. This is possible as data is stored in a compressed format with no loss of resolution in time or value, so any past data can be replayed at the original resolution of one sample per second.
Remote monitoring and diagnostic systems can support an effective preventive maintenance program, enabling proactive identification of turbine problems that can be fixed in a timely manner. Turbine performance can also be monitored and maintained. Without such systems, maintenance may be reactive, and problems are more likely to occur with potentially serious consequences.
Yara NOx Control Inventory Management and Telemetry Services to Optimize Reagent Usage
The Yara telemetry solution can help manage, and in some cases, optimize SNCR and SCR reagent logistics. The telemetry solution is a web-based remote monitoring system which:
Increases security of supply of NOx reduction reagent

Simplifies reagent ordering and stock management

Increases data management control

Increases security of supply
The telemetry system handles reagent stock levels, triggering a delivery when a predefined level is met. All telemetry orders are automatically delivered, securing supply to where it is needed. This flexibility allows for operator resources to fully focus on other business needs.
Yara can provide installation of everything from tank level monitoring, to data collection and transfer, to a user friendly web-based monitoring system, which can be accessed from the owner's process computers, office computers or smart-phones and tablets. The system is flexible, and can also be used to collect and monitor other measurement data, such as temperature, pressure or chemical sensors.
Ansaldo Operates Remote Monitoring and Diagnostic Center
ADA™ Advanced Diagnostic Analysis is the Ansaldo Energia suite for condition-based maintenance. Based on its modular design, ADA™ allows for advanced monitoring of main equipment parameters like steam and gas turbine performances, gas turbine combustion, machinery vibrations, generator diagnostic, electrical transients and others. Computing modules, automatic report generation, alarms notification, large data storage capabilities are some of the key features of this state of the art product in the field of remote monitoring and diagnostic.
Through Remote Monitoring, all the relevant data are readily available to experts who, in many cases, can understand quickly the situation and give helpful indications to solve the matter. If additional on-site support is needed Ansaldo can provide at short notice skilled engineers who can assist directly and act as a link with the Operation Support Team.
Main advantages of Remote Diagnostic and Operation Support are:
Constant monitoring of equipment

Reduction of unscheduled outages

On condition maintenance, tailored on specific requirements

Spare parts management support

Decision support for unexpected trips or events

Quick response time for site engineering support
CLEANROOMS
Vaisala Continuous Monitors Keep Pharma Cleanrooms Audit Ready
Vaisala's instruments and solutions reduce the risk of out-of-specification conditions and help keep pharmaceutical and biotechnical cleanrooms audit-ready and compliant.
The Vaisala continuous monitoring system offers:
Low cost of ownership due to easy connectivity to your existing network, remote access, and scalability up to thousands of monitored locations

Customizable reporting for easy cleanroom certification and classifications

Gap-free and protected data records required in GxP environments

Audible and visual alerts, as well as alarming via sms, e-mail, pager and many more

Custom reports that are automatically generated and delivered by email on demand

Measurement of humidity, temperature, differential pressure, flow, particulate and more

Both wired and wireless sensor option available

Fast and easy IQOQ validation and on-site installation services for smooth start-up and higher productivity
Terra has Wireless Control System to minimize Cleanroom Fan Energy Consumption
Terra's latest-generation Wireless Cleanroom Control System offers convenient power management to optimize efficiency and cut operating costs. The system can accomplish the following tasks.
Turn off lights and air conditioning and put fan filter unit in energy-saving mode at the press of a control switch or remotely via iPhone app

Set up automatic scheduling to control cleanroom operation (FFUs, lights, temperature) based on your operating hours

A/C and other energy cost savings on weekends and off-hours provide fast ROI (typically within a year)

Remote Internet monitoring and control—check operation and make changes from home

Simple operation via itPhone/iPad — as easy as setting your home thermostat

Priced so reasonably that you can't afford not to include it, even with simple cleanrooms
Lighthouse Software Provides Tracking of Air Cleanliness and Conditions
Lighthouse LMS Express Software monitors multiple environmental parameters. All of this data can be integrated into LMS Express Software and can be centrally located. The environmental parameters which can be monitored include the following:
Particle Counts

Temp/RH

Differential Pressure

Air Velocity

Door Status

CO2 Levels

Viable Particles

O2 Levels
Mahindra Remotely Monitors Indian Cleanrooms
A USD17.8-billion multinational group based in Mumbai, India, Mahindra is involved in a number of industries. One is cleanrooms. Remote Monitoring of Clean Room solution is designed to monitor and control cleanrooms in pharmaceutical manufacturing companies. It leverages expertise in Big Data and the Cloud. Clean room monitoring ensures minimum human intervention thereby preventing contamination in aseptic condition. The solution increases the compliance to standard procedures and monitors equipment remotely from a central location. The system achieves the following:
Helps avoid contamination through minimal human intervention

Compliance to equipment maintenance schedule and log management

Prevent human errors through automation and capture of machine data

Wireless communication to comply with clean room standards

21 CFR Part 11 and other global regulatory standards compliance

Sensors enabled continuous monitoring and control of equipment and process

Remote monitoring and control from anywhere any time

Multi-location monitoring and control

Alerts for deviations and corrections before they become a major problem
ENVIRCO Controls Air Flow in Cleanroom Filtration Systems
ENVIRCO® offers a complete family of control solutions providing machine intelligence to monitor and control clean room environments of all sizes — from small to very large. Both fan filter units and ballroom filter systems can be monitored. Other features such as Door interlocking and Event logging and reporting can be incorporated.
ABB Robotics Has Introduced Its Smallest Ever Cleanroom Robot
ABB Robotics has introduced an ISO 5 (Class 100) Cleanroom version of the IRB 120, its smallest ever multipurpose 6-axis robot. The component materials of the IRB 120 prone to particle generation have been modified to eliminate the potential for contamination of the manufacturing area and the parts being processed.
Cleanrooms are classified according to the number and size of particles permitted per volume of air, with Class 100 denoting the number of particles of size 0.5 µm or larger permitted per cubic foot of air. Cleanroom robots of this rating are suited for material handling and assembly applications in a range of industries requiring low levels of environmental pollutants, including medical device, pharmaceutical, electronics, semiconductor and solar panel manufacturing.
The Cleanroom IRB 120 features a special 4-layer paint with varnish clear coat for easy, cloth cleaning; unpainted mounting holes; unpainted stainless steel mechanical stops; and special glue-seals to avoid particle generation. In certain conditions, it can meet more stringent, ISO 4 (Class 10) requirements. The new model has all the functionality of the standard IRB 120, with superior motion control and outstanding path accuracy, providing agility, precision and speed to applications where a smaller footprint and profile are required. Weighing just 25kg (55 lbs), the IRB 120 has a standard payload of 3k g (6.6 lbs), a vertical wrist payload of 4 kg (8.8 lbs), a reach of 580mm, a best-in-class stroke of 411mm and the ability to reach 112 mm below its base.
The Cleanroom IRB 120 is available with the compact version of the IRC5 controller, making it easy to program and control for a variety of tasks. The Compact IRC5 is fully compatible with the standard and panel mount IRC5 controllers, with user friendly FlexPendant programming, RobotStudio offline programming, flexible RAPID language and powerful communication capabilities.
Elmos Whistle Servo Drives Are Used in Advanced Cleanroom Robot
The product in which Elmo's Whistle Servo Drives have been integrated is an advanced robot that moves items very rapidly and places them with great precision. The robot is integrated into the workflow of automated machinery where LCD (Liquid Crystal Display) flat panels are manufactured in a clean room environment. The small LCD screens are used in a wide variety of products, such as smart mobile phones, personal digital assistant (PDAs) and Game Boys, etc.
The advanced robot is produced by a large semiconductor company that specializes in automatic production machinery for clean rooms.
During production, the LCD flat panels go through several processes that are carried out by different parts of the automatic clean room machinery. The robot transfers the LCD screens and "feeds" them into the machine.
The robot has four degrees of freedom (DOF) with a multi-jointed arm; three of the joints enable the robot to move to the desired position in the plane and the fourth - a central shaft — extends its movements to three dimensions. Precision, accuracy and speed are essential features that are required in this application.
MARKETS
ABB Creates Four Market Leading Divisions of Which One is Industrial Automation
ABB is shaping and focusing its divisional structure into four market-leading divisions: Electrification Products, Robotics and Motion, Industrial Automation and Power Grids, effective January 1, 2017. The divisions will be empowered as entrepreneurial units within ABB, reflected in an enhancement of its performance and compensation model focusing on individual accountability and responsibility. They benefit from sales collaboration orchestrated by regions and countries as well as from the group-wide digital offering; ABB's leading G&A structure and costs; common supply chain management; and corporate research centers. ABB will continue to strengthen its divisions through active portfolio management. This includes pursuing strategic additions, transforming business models and pruning non-core businesses.
ABB CEO Ulrich Spiesshofer said, "Over the last two years, ABB has become faster, leaner and more efficient. We have continuously improved margins and further strengthened our cash generation. In Stage 3 of our Next Level strategy, we are building on our successful transformation momentum and strengthening our position as a pioneering technology leader and global digital champion. With our four simplified, market-leading, entrepreneurial businesses, combined with "ABB Ability", we address customers' needs in the Energy and Fourth Industrial Revolutions in a more focused and agile way."
"Entrepreneurial spirit is the base for our future operating model," said Spiesshofer. "Our four market-leading businesses, led by empowered entrepreneurs, will drive sustainable value creation, supported by regions and Group oxygen such as ABB Ability and our leading G&A cost level."
The Industrial Automation division succeeds the former Process Automation division. ABB will drive digitalization across industry sectors, building on its #1 position in process control through software and services. ABB has a unique combination of domain expertise that allows it to master the control room in a wide range of industries such as pharmaceuticals, mining, shipping and oil and gas. By focusing on growing segments and bringing together maintenance, operation and control, ABB will drive penetration of strongholds and create differentiation for customers.
Danaher Optimistic About IIoT Potential
Danher is bullish on IIoT. It sees multiple opportunities in the recurring revenue sector. Examples of recurring revenue include consumables and services in diagnostics and life sciences, and across Pall Corp.'s operations.
The opportunity facing Danaher comes from embedding more software in its equipment, thereby spurring increased consumables sales and keeping customers engaged with Danaher's services. Moreover, analyzing data from customer usage of equipment can create valuable opportunities for the company to modify its customer offerings.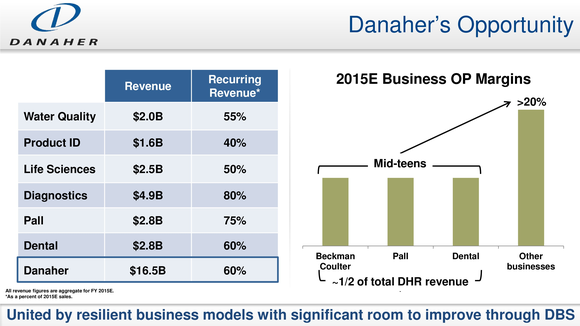 Honeywell Anticipates Big IIoT Market in Aerospace and Buildings
Honeywell's aerospace and building solutions (automation and control solutions, or ACS segment) are a natural fit for IIoT, because airplanes and buildings are in constant need of monitoring and servicing — generating long-term revenue growth for Honeywell.
In fact, Honeywell expects that by 2020, around 60 percent of its aerospace sales will be from products with software embedded, and a further 6 percent from stand-alone software. The ratios for ACS are expected to be 74 percent and 7 percent, respectively.
Moreover, the performance, materials, and technologies (PMT) segment — not activities easily associated with IIOT — is also expected to derive 22 percent of its sales from software-embedded products, and a further 9 percent from stand-alone software. Opportunities in PMT include using IIOT to optimize sales of catalysts and absorbents to the refining and processing industries, and sales of refrigerants to supermarkets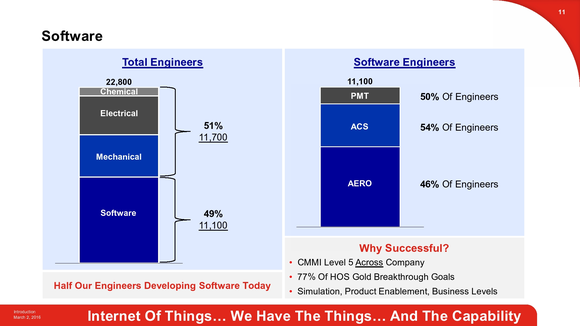 Platforms Market Pegged at $350 Billion
Platforms are the glue that holds the IoT together, allowing users to take full advantage of the disruptive potential of connected devices. These platforms allow the IoT to achieve its transformational potential, letting businesses manage devices, analyze data, and automate the workflow. BI intelligence has a new report forecasting a growth in this market to $350 billion by 2021.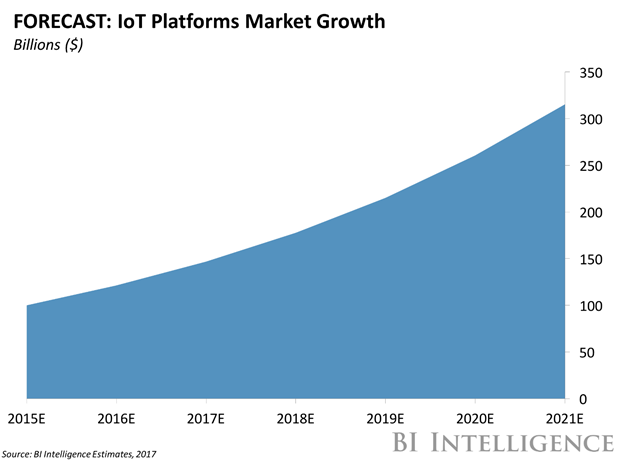 $35-Billion Industrial Wireless Sensing IoT Market by 2021
Adoption of wireless sensor network (WSN) technologies is driving growth for the Industrial Internet of Things, according to a recently published report by global IoT market research firm ON World.
"Today's WSN and associated cloud technologies provide the key elements for the industrial IoT: multi-year battery-powered wireless nodes, IP addressability, fieldbus tunneling and cloud-based provisioning and management systems," says Mareca Hatler, ON World's Research Director.
Short range wireless mesh technologies such as WirelessHART and ISA100.11a as well as WiFi, Bluetooth and proprietary solutions will make up the majority of the market over the next five years but adoption of Low Power Wide Area Network (LPWAN) technologies such as LoRa, Sigfox, LTE-M1 and NB1 will increase even faster.
ON World's latest survey on WSN and IoT with 180+ industrial-automation professionals was completed in collaboration with the International Society of Automation (ISA). The survey found steady growth for the wireless mesh standards, but there is also a strong awareness and early adoption of LPWAN solutions. Satisfaction with WSN solutions has increased overall but improvements are needed for battery life, costs, system integration and network range.
LPWAN technologies are disrupting industrial IoT markets with cloud connected, 10-year battery-powered wireless sensors and asset trackers that can communicate up to 20 miles. Two in five survey respondents are researching or developing LPWAN solutions.
For process automation, WirelessHART has the largest market share but ISA100.11a adoption is growing faster largely due to its more flexible time scheduling, software tunneling and support for star and mesh topologies. These features are especially important for growing wireless applications such as gas detection and steam-trap monitoring, as well as oil and gas wellsite remote monitoring.
Wireless sensing, tracking and control equipment, and associated services will reach $35 billion over the next five years for industrial automation, agriculture, construction and related markets.