NEWS RELEASE September 2020
Dynamic Filter and Media Market Could Reach $80 billion in 2022
The segments of the filtration industry which use non-woven and membrane filter media are poised to grow to $80 billion in 2022. This represents an increase of 33% over the 2019 revenues. Most of the growth is attributable to coronavirus related mitigation efforts. The assumption is that the filtration industry will be able to deliver the needed masks and filters. Air pollution and drought caused by climate change create the balance of the growth. The air pollution prevention benefits of masks, HVAC filters, and dust collectors are greater due to the steady increase in wildfires. Increasing use of desalination and water reuse will be another consequence of climate change. Battery separator markets will also increase as electric vehicles are viewed as a climate change solution.
If the filtration industry can not meet the demand or if it fails to convince purchasers of the real benefits of better filtration, revenues could plateau at 2019 levels or even fall depending on the havoc wrought by COVID.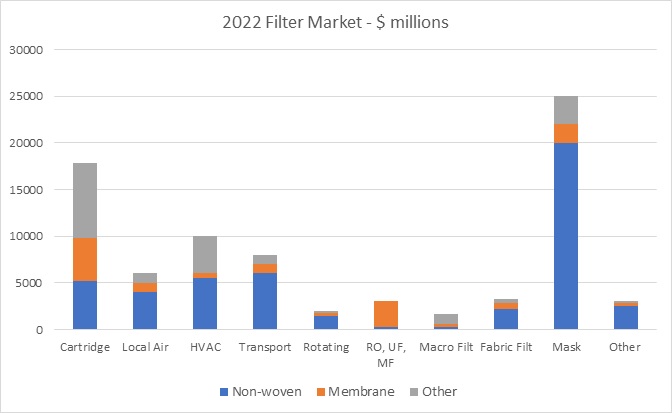 These are filter revenues FOB manufacturer.
Media revenues range from 20 % for masks to 60% for fabric filters.
There is now strong evidence the Coronavirus is spread by small aerosols. Cloth masks and inefficient filters act as aerosol generators. The medical community is finally realizing that the solution lies in high efficiency masks and filters. In the past the assumption was that these products could not be made available to the general public. The filtration industry is capable of meeting the very large demand with a mix of meltblown, nanofiber, membrane and other media.
The same media which can be used in masks and HVAC filters has applicability in gas turbine intake filters, dust collectors, and liquid cartridges. The non-woven media market will be over $25 billion of which only 40% will be mask media. Concerns that media manufacturers have about building capacity which will go unused after a vaccine is perfected are unwarranted. Not only are there non mask uses but air pollution, indoor pollution, wildfires, and new viruses will boost mask demand.
The "other segment" includes vacuum cleaner bags and battery separators. It does not include medical and cleanroom garments. However, these can use the same media and are analyzed in McIlvaine Cleanroom and other publications.
This is a very dynamic market. The U.S. election in November will determine the extent of future trade barriers and the amount of international trade. Technical developments in media and products will continue to shape the market.
It is therefore essential that filter and media companies prepare comprehensive strategies which are flexible enough to adjust as conditions change. The Mcilvaine Company has a Filter and Media Strategic Management Program which includes continually updated and detailed forecasts plus tools to pursue the market opportunities.
Bob McIlvaine can provide more information on the program. He can be reached at This email address is being protected from spambots. You need JavaScript enabled to view it. or 847 226 2391.
NEWS RELEASE September 2020
Value Rating for Masks and Filters Using LEE
Use of H 13 filters and N95 masks are justified based on preliminary use of a value rating system being compiled by the McIlvaine company. It is based on the net value which is the value reduced by the percent effectiveness and applicability and then further reduced by the economic and life quality cost.
Factor

Description

Value

Lives saved, sickness averted, life quality costs avoided

Effectiveness

Efficiency of the device in removing the virus

Applicability

(virus load)

The percentage of the virus load which will enter device

Economic Cost

Capital and operating cost of the device as a % of value

Life Quality Cost

Life Quality Costs as measured by QELD

Net Value

Percentage of total value remaining after reductions
The following example was presented in a McIlvaine webinar conducted on September 10. It can be viewed at
To view this YouTube recording click here: https://youtu.be/kmtLmYYLuqw
To view PowerPoint Slides Click here: http://home.mcilvainecompany.com/images/Air_Filter_Webinar_2020-09-10.pdf
The webinar provides considerable analysis of effectiveness and applicability. It did not focus on the total value.
Product

Effect-
iveness

High
Load

50%
Load

25%
Load

Econ
Cost

Life
Qual
Cost

Net
High

Net
50%

Net
25%

H13

99

80

40

20

16

0

63

23

4

MERV 16 +

90

80

40

20

15

0

57

17

3

MERV 13 +

60

80

40

20

12

0

36

12

0

MERV 8+

40

80

40

20

8

0

24

8

0

Net H 13-MERV 8 Differential

39

15

4
The total value is a function of lives saved, sickness averted as well as life quality costs avoided. Each of these factors is analyzed in depth. In regard to lives saved an additional factor should be considered. Face masks and HVAC filters protect against air pollutants as well as viruses. It is estimated by some researchers that air pollutants reduces life expectancy by two years.
There are a number of studies comparing loss of life expectancy (LEE) due to various causes. It is therefore desirable to include both air pollution and virus protection in evaluation of filter and mask choices.
The most recent research shows an LEE for the average person of 700 days (Air 1). This compares to historical values of only 80 days (Air 2). In the U.S. given the present death rate from COVID the LEE is over 1800. The likelihood is that vaccines and therapies will greatly reduce this rate. On a worldwide basis it is logical to assume that the LEE caused by a combination of viruses including influenza and COVID will be much lower and will be three times the present pneumonia, influenza rate of 130.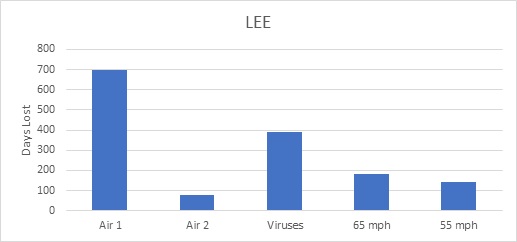 Therefore we are looking at a virus LEE of 390 which is considerably lower than that from air pollution.

McIlvaine had previously determined there was a net value for H13 filters even at low virus loads. If the air pollution benefits are added to this the investment is very worthwhile.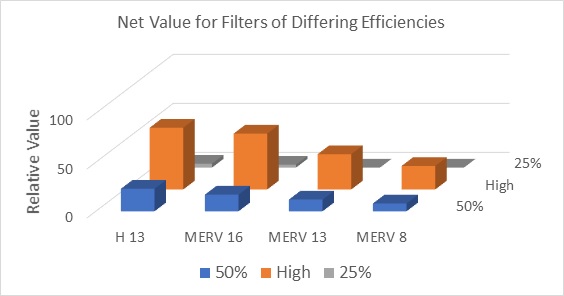 The conclusion is that there is a very big market for higher efficiency filters.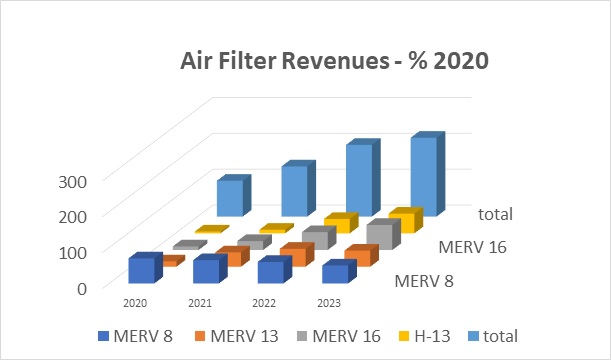 Determining the value is only part of the challenge for suppliers. It is also necessary to convey the benefits to the purchasers. The value rating system is a valuable tool to convey this message. Continuing effort will be needed to make it reliable in each situation.
Suppliers will benefit from the Coronavirus Technology Solutions, Air Filter Market and Supplier Program as well as the Mask Market and Supplier Program described at www.mcilvainecompany.com.
NEWS RELEASE August 2020
Filters and HVAC Selection to Fight COVID will be Analyzed in a September 10 Webinar
Join us on September 10 at 10:AM Central Time to discuss and debate the best filter and room air purifier choices to conquer COVID.
New facts and theories are appearing every day. There is increasing evidence that most of the transmission is airborne. McIlvaine has formed a working group to determine how much additional virus is emitted from filters and masks which initially capture larger droplets and convert them to aerosols. The bottom line is that the more efficient the HVAC filter the better.
Here are specific issues we plan on discussing.
| | |
| --- | --- |
| Issue | Aspects |
| Virus Parameters | Size, quantity, minimum infectious load, life, destruction methods, deposition on duct internal surface, distance traveled and the percentage in small aerosols |
| Treatment Types | Filtration, ionization, UV disinfection, precipitators, carbon beds. What is the performance and how widely is each used? Are combinations used and is this a benefit? |
| Filter Media | Membranes micro fiberglass, electrostatically charged meltblowns for high efficiency, shapes, pleats, and other parameters |
| Particulate Efficiency | Viral removal performance of the range of MERV and HEPA filters. We will discuss how one can test not only initial efficiency but include aerosols formed on the filter media |
| Pressure Loss | Filter depth vs filter efficiency and pressure drop |
| Filter Inventory | How efficient are filters now installed in schools, nursing homes, meat processors, etc. |
| Upgrade Expense | How costly will it be to install more efficient filters? |
| HVAC Air Quantity | How many air changes per hour are needed? How much outside air should be introduced? How is this limited cost wise by outdoor temperature and humidity? |
| Air Direction | How is air directed so that the maximum amount flows from transmitter to the HVAC system and then is diluted prior to reaching the recipient? Where are partitions and diffusers beneficial? |
| Room Air Purifiers | When and where should they be used and what volume and efficiency is needed? |
| Fan Filter Units | Where should they be used rather than partitions or in conjunction with partitions? |
| Isolators, Modules | Where are isolators and modular cleanrooms the best choice? |
| Pollution Combination | Use of filters to eliminate air pollutants and viruses in outdoor spaces such as traffic intersections? |
| Indoor Air Purification | Benefits of purifying indoor air to remove pollutants as well as viruses; a common metric to measure all harm and good |
| Processes | Rooms, elevators, reception, cashier counters, industrial processing |
| Facilities | Residential, commercial, hotel, nursing homes, hospitals, dental, meat processing, schools, gyms, transportation |
Due to the evidence of substantial transmission through small aerosols much of the discussion will be about more efficient media options. We start with the fact in the U.S. (and elsewhere) the present sales of MERV 15 and 16 filters are negligible.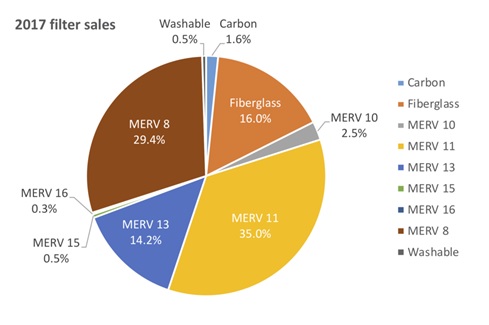 Source Brent Stephens IIT
More efficient filters can be installed at the same pressure drop by increasing filter depth.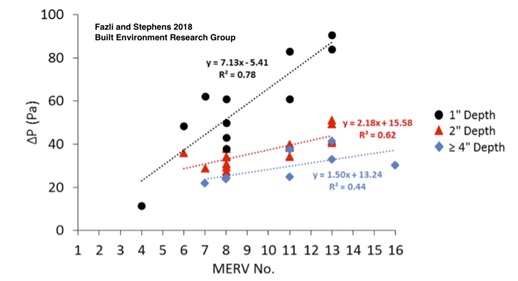 Source Brent Stephens IIT
Michael Bruce of Filtration Group provided this comparison of an upgrade from MERV 11 rigid filter to a M 15 V bank design with little increase in pressure drop.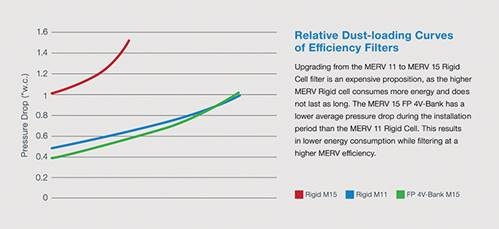 AAF shows that an M16 filter will emit 9 x less particles than an M 14 in the 0.3 micron range where much of the virus may reside.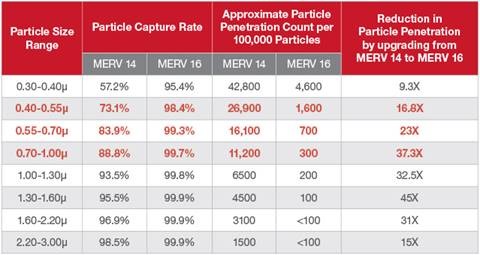 The KCC line of high efficiency, electret-charged, bicomponent spunbond air media offers filtration efficiencies from MERV 7 to MERV 15 for pleat, pocket, and mini-pleat filters.
As depicted in this line graph from AAF, filters that achieve the same efficiency rating, in this case ULPA filters rated at 99.999%, are not necessarily equal in their MPPS performance.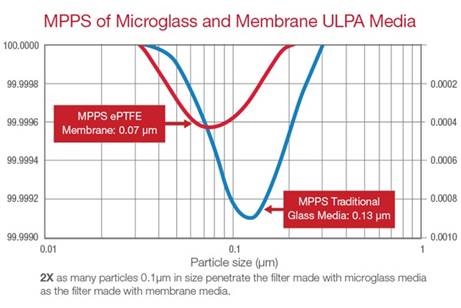 Room air purifiers and Fan/Filter Units will be needed in many locations due the widespread clouds of virus particles. Partitions by themselves may cause turbulence and more spread. This fan/filter unit at a checkout counter in Austria is an example of what can be done.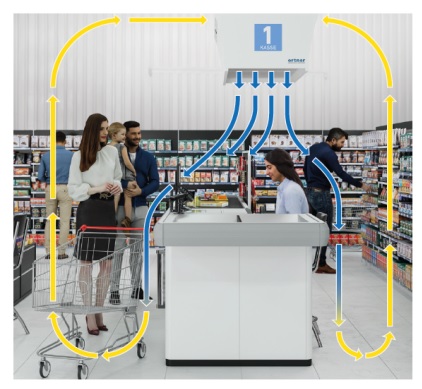 Source: Ortner Cleanroom

For more information on the webinar and to register click here http://home.mcilvainecompany.com/index.php/2-uncategorised/1574-coronavirus-webinars#Filters
For more information on Coronavirus Technology Solutions and other services click on www.mcilvainecompany.com
Bob Mcilvaine can answer your questions at 847 226 2391 or This email address is being protected from spambots. You need JavaScript enabled to view it.
NEWS RELEASE September 2020
Value Rating System Needed for COVID Mitigation Options
Highly efficient masks and air filters should be the primary weapons in fighting COVID. The initial assumption was that these products would not be available and so decisions were made to select lower value options.
Suppliers can now supply the needed products. We need a holistic approach which rates each option and results in the higher value solutions being selected first and lower value options selected only when circumstances prevent a higher value option from being employed. Social distancing is not practiced in a pharmaceutical cleanroom because higher value options are employed.

The selection of filtration methods is site specific. A MERV 8 filter in an HVAC system has wide applicability even if the effectiveness is relatively low. A HEPA room air purifier is more effective but with much less applicability. The benefits have to be weighed against both the economic and life quality costs.

The following generalized rating table is useful in determining the relative importance of various products. It is just the starting point. The selection method in a specific situation depends on the virus load, the air currents, and the activity of individuals.

The table assumes that the highest value options are chosen first. Since social distancing is a low value option it is rated based on the assumption that everyone is wearing an N95 mask or is in an environment with efficient air filtration.

The value formula is value x % effectiveness x % applicability - economic and life quality costs = net value
Value is number of lives saved and sickness reduced x value factors. It is 100 in the formula
Effectiveness is the percentage of virus removed, resultant lives saved and sickness averted. It represents the percentage of the value which can be obtained
Applicability is the percentage of situations where it can be used
Economic Cost is relative and is compared to the value. It is the cost of the product and associated operating costs as well as costs to economic productivity such as in lockdowns
The life quality cost is based on a concept called Quality Enhanced life Days (QELD) which has been used by Cardinal Health in the hospital industry. A lockdown has substantial QELD reduction
In general, an N95 mask is the greatest value. It will remove 95% of the virus and can be used in 95% of the applications. It has a modest economic cost and a modest life quality cost due to discomfort.
| | | | | | | |
| --- | --- | --- | --- | --- | --- | --- |
| Product | Effect-iveness | Applicability | Net\effect | Econ Cost | Life Quality Cost | Net Value |
| N95 Mask No Valve | 95 | 95 | 90 | -10 | -15 | 65 |
| N95 Mask Valve | 85 | 98 | 83 | -10 | -10 | 63 |
| Cloth Mask | 20 | 100 | 20 | -5 | -5 | 10 |
| MERV 16 + | 90 | 80 | 72 | 15 | 0 | 57 |
| MERV 13 + | 60 | 80 | 48 | 12 | 0 | 36 |
| MERV 8+ | 40 | 80 | 32 | 8 | 0 | 24 |
| Lockdown | 95 | 70 | 66 | -30 | -30 | 6 |
| Room Air Purifiers | 80 | 40 | 32 | -15 | -3 | 14 |
| Social Distancing | 50 | 60 | 30 | -5 | -15 | 10 |
The N95 Mask with a valve is slightly more applicable and can be worn by those unable to use a non valved mask. It is somewhat less effective, but it has a lower life quality comfort penalty. The wearer of an N95 mask is much less likely to become infected and to become a transmitter. So, there is a small chance that his exhalation through a valve will transmit virus.
Cloth masks act as aerosol generators for large droplets initially retained. So, the effectiveness is 20% or lower and the net value is only 10. Because cloth masks give a false sense of security, their net value is probably negative. The only question is by making the stop on the way to its final destination does the virus lose viability?
MERV 16 filters have a higher initial cost and can have higher energy consumption with the same filter depth, but with deeper filters the energy cost is similar to MERV 13 filters. By switching from a MERV 8 to MERV 16 the net value increases 33 points.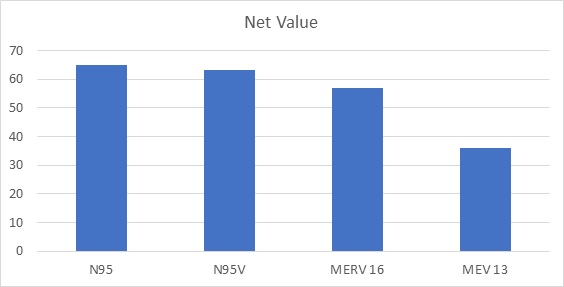 A lockdown can be very effective but is not universally applicable. The life quality and economic costs are substantial. However, this chart does not take into account the economic and life quality costs of doing nothing. Wearing N95 masks would be the answer rather than a lockdown. But when there is a high positivity ratio the lockdown is better than nothing.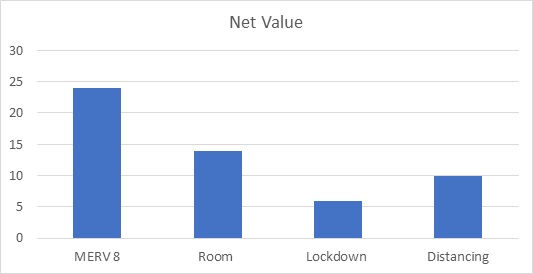 Room air purifiers are very effective and provide the best net value for elevators, hospital reception areas and many other applications. However, the applicability is much less than larger HVAC systems. This lowers the general net value or importance.
There is little value in social distancing if the higher value options are chosen. Social distancing provides little safety from small aerosols which can travel long distances. It has limited applicability and has both economic and life quality costs. The net value is low. Social distancing is justified compared to doing nothing. In fact it has been extremely important in the early attempts to fight COVID.
In specific situations such as eating masks may not be applicable and social distancing may be an option in conjunction with air filtration. One of the advantages of valved masks is that it extends the applicability vs social distancing.
This net value ranking is completely at odds with what has been advised by CDC and WHO. However, it is consistent with the ranking to fight air pollution or measles. In both cases the assumption is that if there is a source it will be airborne for long distances. Some countries such as China with high levels of ambient air pollution had already partially adopted this value system and have had relatively low infection rates.

There are some who argue that there is not sufficient proof that the virus will remain viable after being airborne. There has been lots of indirect evidence where other causes were eliminated. Now we are seeing direct evidence where with new sampling methods which do not damage the virus there are viable specimens being captured.

There are some who argue that the small amount of virus conveyed by small droplets is not going to be infectious. New evidence shows that the quantity of virus in small droplets emanating directly from lungs is much higher than that in cough droplets which are composed of mucus with diluted virus quantities.
The fact that surfactants make up about 4% of large droplets means that as they evaporate on the mask surface the surfactant concentration will increase and the surface tension be reduced to make the formation of smaller droplets easier.
This value rating system can be applied as a general but also specific guide by country and application. It is of great value to the purchasers of masks and filters. The value to suppliers is in developing the best products and pursuing the market.
More information on this system is provided in Coronavirus Technology Solutions. The service is described at www.mcilvainecompany.com. Bob Mcilvaine can answer your questions at 847 226 2391 or This email address is being protected from spambots. You need JavaScript enabled to view it.
NEWS RELEASE August 2020
Instant Market Insights Through Video Conferences
McIlvaine is conducting video conferences to answer urgent questions facing suppliers and investors. Bob McIlvaine acts as host and can bring over 50 years of experience in the air, water, energy and contamination control industries to bear. Since McIlvaine has very comprehensive services on Coronavirus Pharmaceutical and Technology Solutions Bob can offer unique insights on the impact of the virus on markets.
Discussions are enhanced with the instant display of markets, market shares and technology analysis for dozens of products. The McIlvaine scope has been international since its first exhibition in London Olympia at Filtration and Separation 1975 where it displayed knowledge systems.
These systems have been expanded and placed on line with both universal and structured searches. This is a silo busting tool. The fate of viruses in cough droplets initially caught in inefficient masks could be of highest importance. The knowledge about capturing and re-emitting small non spherical particles with water droplets is the basis for industrial scrubbing and a McIlvaine knowledge system.
McIlvaine has a number of cleanroom publications tracking PPE, HVAC, and other products which are directly relevant to the COVID problem. Continuing analysis of each industry in each country is provided and is a basis for many forecasts.
More information on this video conference opportunity is shown through the following links
More Information Video Demonstration Robert McIlvaine Biography
Bob McIlvaine can answer your questions at 847 226 2391 or This email address is being protected from spambots. You need JavaScript enabled to view it.
Subcategories
The latest news from the Joomla! Team