NEWS RELEASE March 2021
Major Changes in the Mask Market
The new consensus that efficient masks are much more protective than the typical cloth mask will reshape the market. Standards to guide consumers will make it very difficult for thousands of suppliers of inefficient masks to generate revenues. All these suppliers offer is "Appeal" which is comfort plus attractiveness.
In the short term the big growth market will be masks designed with only protection in mind. However, long term much of the market will be captured by suppliers of masks with both "Protection" and "Appeal" (PA).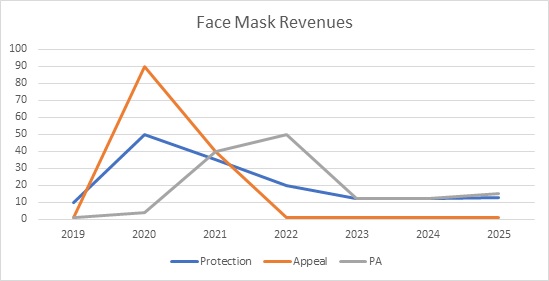 The wealthy countries will purchase a disproportionate percentage of the PA masks. Due to the slower rollout of vaccines, the need for protection will be extended for a number of years in the poorer countries.
A robust long term market will be driven by virus variants, pollution protection, wildfires, and courtesy protocols.
Daily analysis is provided in Coronavirus Technology Solutions Click here for more information
Market forecasts and strategic guidance is provided in Mask Market Program Click here for more information.
Bob McIlvaine can answer your questions at This email address is being protected from spambots. You need JavaScript enabled to view it. 847 226 2391.
NEWS RELEASE March 2021
$400 Billion Holistic Clean Air Market
Companies such as Mann + Hummel, Daikin, and Mitsubishi are pursuing clean air markets on a holistic basis.
It starts with Concentrated Contaminant Capture (CCC). Companies such as Nederman have innovative mobile suction devices to capture dust and noxious gases before they can disperse. The whole air pollution control industry is built around source capture and treatment.
The cleanroom and HVAC suppliers are focused on maintaining cleanliness within a building.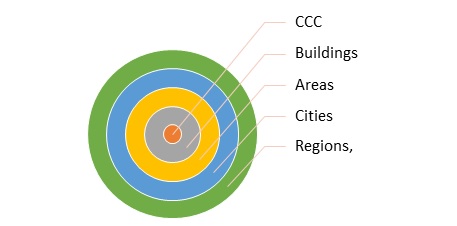 The area cleaning concept is exemplified by filter cubes located at traffic intersections. The clean air maintenance of cities has been improved by low cost electronic monitors for specific toxic metals.
The science of regional transport of air pollutants has greatly improved over the decades. We can now trace mercury emissions from a gold mine in Brazil to deposition in the artic snow.
Over eight million people according to WHO are still dying each year due to air pollution. So despite steady progress there is still a need to further clean the air inhaled by eight billion people.
McIlvaine provides a number of market reports in this area which are found under "markets" and then "air" at www.mcilvainecompany.com
Bob McIlvaine can answer your questions at This email address is being protected from spambots. You need JavaScript enabled to view it. 847 226 2391
NEWS RELEASE February 2021
Markets for Air Filters, Controls and Masks Changing Rapidly
New ASTM mask standards published this week will very likely result in the demise of a $15 billion U.S. market for cloth masks and help create an even larger market for masks with efficient filter media.
The pandemic is changing the entire market for air filters, monitoring /controls as well as masks. To date the impact has been a nationalistic trend but long term the result will be the opposite.
For example, the U.S. will be best served by ramping up efficient masks capacity now and then subsidizing exports in future years when the domestic needs subside.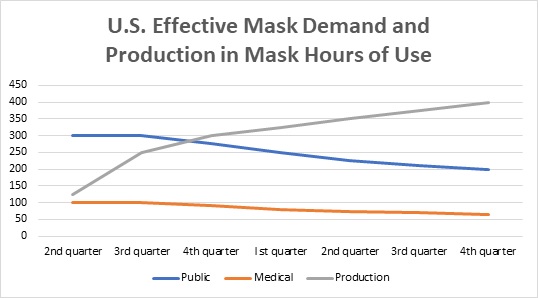 The Chinese economy is booming due to success in minimizing the pandemic impact. Some of the other countries of the world will not achieve herd immunity for years and will be subjected to more deadly variants of the virus. Therefore, the markets for filters, monitoring/controls, and masks will continue to be significantly impacted.
The pandemic has both direct and indirect impacts on filtration revenues. The direct impact is largest in the mask segment. There is some indirect impact some of which is negative as the sales of equipment using filtration is negatively impacted
In the following graph the present mask market represents 100%. All other filtration markets are small in comparison. However, when the pandemic is no longer a factor the mask market will be significant but no longer the largest for filtration.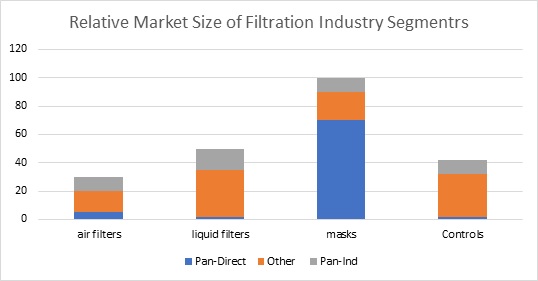 The near term opportunity for efficient masks will greatly exceed any other filter market. Suppliers need to carefully assess all the impacts and to be proactive.
Many of the suppliers are international. They have a unique opportunity to help shape the world markets. The McIlvaine Company with its extensive international research and analysis provides strategic support for suppliers in this fast moving market.
For more information on the strategic support services contact Bob McIlvaine at 847 226 2391 or This email address is being protected from spambots. You need JavaScript enabled to view it.
NEWS RELEASE March 2021
$800 Billion Water Purification and Use Market
Nearly 1% of world GDP will be directed at purifying and using water for drinking, cooling, heating, and industrial processing.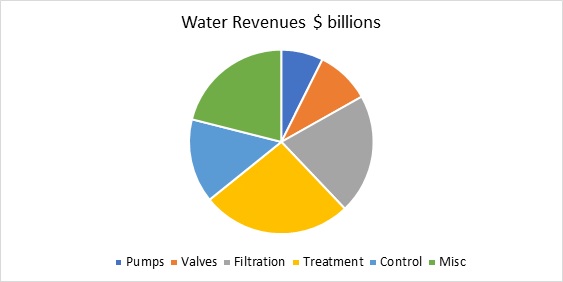 Israel, thanks to a huge investment in desalination is an example of the benefits of the investment in clean water. The use of water for industrial cooling is ten times greater than the use for drinking and other personal uses.
Ultrapure water is used in vaccines and to wash semiconductor chips. Treated municipal wastewater is used as a water source for power plants around the world.
The world's population keeps growing while water resources are shrinking. This results in markets growing faster than GDP.
McIlvaine provides a number of reports on these markets. Click on water under "Markets" and then "water and flow" at www.mcilvainecompany.com
Bob McIlvaine can answer your questions at This email address is being protected from spambots. You need JavaScript enabled to view it. 847 226 2391
NEWS RELEASE February 2021
Mask and Media Suppliers Need an Assured Third World Market
Large increases in the U.S. production of tight fitting-efficient masks are needed. The problem for suppliers is an uncertain long term market. The Biden Administration can provide a solution by funding exports to poor countries.
Over the next six months the wealthy countries need to supply citizens with three times as many tight fitting efficient face masks as they are presently using. Suppliers need to be convinced of a long term market to justify the needed investment.
If governments provide sufficient incentive, then the suppliers can quickly scale up to meet demands. The recent McIlvaine Alerts show how a combination of media and mask designs can be utilized.
If each wealthy country is considering a unilateral program then the solution involves a relatively high cost per mask. There is an alternative which results in a low cost per mask and more importantly an improved world economy. That solution is supply of masks to poorer countries funded by the wealthy countries.
Why is it in the self-interest of wealthy countries to pay for masks in poor countries for the next 5 years?
A long term market is created for the mask and media suppliers. They can switch from domestic sales to exports as the domestic market subsides.
The supply and purchase of goods by poorer countries will more than offset any mask subsidies.
New variants and even strains of the virus will be prevented from being transmitted from poor to wealthy countries.
Wealthy countries need to be prepared for the next pandemic with sufficient supply capacity.
Enhance U.S. image.
It now appears that herd immunity worldwide will not be achieved for seven years. Vaccination progress even with funding will be slow. Infrastructure for cold storage and vaccine injection is lacking.
In countries where the pandemic continues new variants will continue to develop. These variants will be transmitted back to countries which are protected only from previous forms. The greater the number of new variants the greater the likelihood of a new strain which is completely resistant to the existing vaccines.
Poorer countries are both suppliers and purchasers of more than one third of the world's products and services. The pandemic has greatly reduced this contribution. Economists have provided more than ample evidence that the cost of masks for poorer countries will be more than offset by economic benefits to the world economy.
The Biden Administration is considering various funding alternatives to see that Americans wear tight fitting efficient masks. One option McIlvaine has reported is for coupons which would allow lower income citizens to purchase masks. But no matter how attractive this makes the short term market it does not justify large investments.
The Biden Administration could implement a two stage plan.
Stage 1 would encourage the expansion of the domestic production to meet short term domestic needs with the promise of future support.
Stage 2 would be initiated after the U.S. market subsides and would offer citizens of poorer countries coupons for mask purchase.
This offer would extend for several years. These coupons would be used to purchase masks exported from the U.S. or made by U.S. based manufacturers. U.S. suppliers would be guaranteed a long term market.
It would be preferable to create a coordinated effort through WHO. However, there is an urgent need now for the Biden Administration to act. So the initiative can be unilateral with the intent of coordinating with WHO in the future.
There is consternation about the vulnerability of the U.S. to future pandemics. At the onset of COVID-19 the U.S. was relying on China for its meltblown media and masks. One solution is to have excess capacity in reserve. Another is to impose disincentives such as tariffs to limit imports. The subsidizing of exports to poor countries is much better from an economic and humanitarian perspective.
Background information on this initiative is shown at http://www.mcilvainecompany.com/CATER/subscriber/default.htm
McIlvaine company also provides consulting and market research on this subject. More information can be supplied by Bob McIlvaine at 847 226 2391 or This email address is being protected from spambots. You need JavaScript enabled to view it.
Subcategories
The latest news from the Joomla! Team