NEWS RELEASE September 2018
Mcilvaine Market Forecasting and Analysis for IIoT and Remote O&M Products and Services demonstrated with WEFTEC Analysis
WEFTEC, being held in New Orleans, September 29-Oct 3 is one of the largest municipal wastewater conferences and exhibitions in the world. There will be 70 companies among the exhibitors displaying IIoT and Remote O&M products and services. There will also be a number of good papers which will address IIoT issues ranging from instrument selection to process management.
NAFTA is the second largest municipal wastewater IIoT and Remote O&M market behind Asia.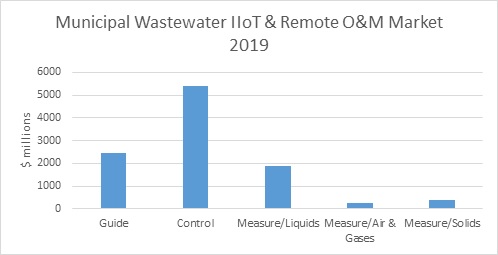 A pre-show analysis of WEFTEC helps provide more insights on the Serviceable Obtainable Market (SOM) and Wisdom based Obtainable Market (WOM). The SOM would be a segment of the $10 billion Total Available Market (TAM) market. On the other hand, the WOM market can be even bigger than the TAM. The WEFTEC pre-show analysis covers many of the parameters which will impact total cost of ownership (TCO). The SOM is the market where the supplier can validate lowest total cost of ownership (LTCOV). Therefore, analysis of the information made available at WEFTEC is important.
Struvite is causing problems with liquid measuring instruments. Solutions include unique analyzer designs and chemical treatment such as acid wash of exposed analyzer surfaces. The SOM for a specific supplier depends on his competitive advantage to provide a better way of dealing with the problem.
Many of the WEFEC papers deal with purchase of process management systems and reduction in total cost of ownership. The WOM market is growing robustly. Remote monitoring is even justified for small treatment plants with a skeleton crew on the night shift. The watchman is replaced by a remote monitoring system which informs management when there is a problem.
Suppliers such as Emerson, ABB, and Rockwell have instrumentation and process management systems. The nonintegrated instrument suppliers can supply edge computer software along with their instruments. Suez with the acquisition of the GE Chemicals and Sievers instruments can supply all the equipment, the process management systems and can then contract to operate the plants. Danaher with its Chemtreat, Hach, and Pall acquisitions is also in a good position to offer solutions. This solutions approach generates not only additional revenues at the time of original sale but a recurring service income including remote continuous monitoring.
For more information on the IIoT & Remote O&M N031 Industrial IOT and Remote O&M market click on N031 Industrial IOT and Remote O&M
To view the 60-page WEFTEC pre show analysis click here