NEWS RELEASE                                   JUNE 2011
$59 Billion Valve Market in 2015 with 7 Percent Annual Growth in Asia
The market for industrial valves will rise from $49 billion last year to just under $60 billion in 2015.  This represents a 20 percent growth or 4 percent/yr over the period.  However, the market in Asia will be up 33 percent or nearly 7 percent/year.  These are the findings in the latest updates of Industrial Valves: World Markets published by the McIlvaine Company.
World Industrial Valve Sales, 2010 and 2015 ($ Millions)
| | | |
| --- | --- | --- |
|   | 2010 | 2015 |
| Africa | $2,464.9 | $3,184.7 |
| America | $14,756.7 | $17,201.9 |
| Asia | $18,511.6 | $24,100.2 |
| Europe | $13,328.7 | $15,071.6 |
| Total | $49,061.9 | $59,556.4 |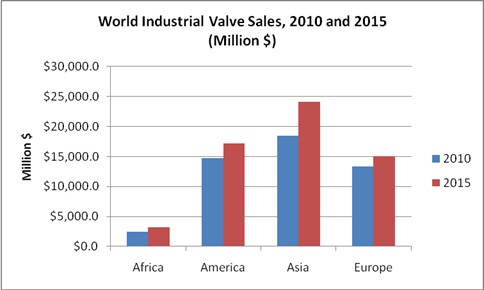 Industrial Valve Sales (Growth Percentage Over 5-Year Period)
 

5-Year Growth

Africa

29%

America

17%

Asia

33%

Europe

12%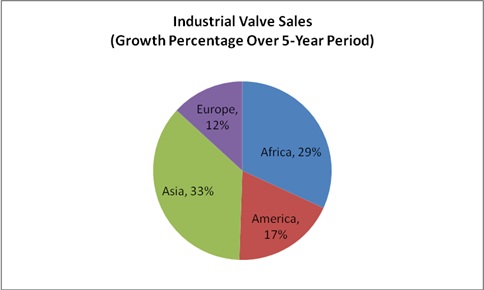 Valves are used for flow control in liquids and gases. Oil and gas producers will continue to be the largest purchasers. The market in this sector will exceed $10 billion in 2015. The growth is driven by the substitution of unconventional sources for the traditional ones. For example, the valves required in the extraction of gas from the Marcellus shale involve those associated with large quantities of water used for fracturing.  Additional valves are need in the systems treating the flow back wastewater.
Power is the next largest sector. This industry will spend $8 billion for valves in 2015. The construction of new coal-fired power plants in Asia will be the biggest growth factor. The recent nuclear disaster will have long-term effects but will have a small impact on the 2015 market. The market for combined cycle gas turbine plant valves will be strong in the U.S. during the next few years.
Municipal wastewater plants will spend $4.4 billion for valves in 2015. Asia will lead the way due to its large infrastructure program. Factors include the expansion of treatment facilities to people who presently have no sewer connections, upgrading of primary plants to add secondary treatment and the addition of technology to reduce nitrogen and phosphorous.
The only markets where the Americas and Europe will maintain an edge over Asia are pharmaceuticals and biotechnology. Other high technology applications such as semiconductors and flat panel displays will continue to be concentrated in Asia.
The top five valve companies account for 13 percent of the world market with average sales over $1 billion each.  Sales for the next five companies range from $500 to $800 million each.  The sales drop rapidly as one moves down the rankings.  Weir valve at #20 has sales of $270 million. At #30, ITT valve has sales of $130 million. At the bottom of the top 100 list is a company with just $17 million in valve revenues.  Number 160 has sales of just $4 million.
The market remains relatively fractured with thousands of companies focusing on geographical, product, or application niches.  Growth opportunities include the value added from making valves "smarter."  This translates into reducing process and maintenance costs.
For more information on Industrial Valves: World Markets, click on:  http://www.mcilvainecompany.com/brochures/water.html#n028