Coronavirus Market Alert
March 23, 2020
OVERVIEW
MASKS
AIR FILTRATION
Overview
Masks and Filters would allow Businesses to Reopen and Create a Huge Market
The economic consequences of the business shutdowns are staggering. There is going to be great pressure to reopen businesses while reducing coronavirus risk.
China was producing 10 million masks per day on January 1. On March 1 the number was 200 million (N95 mask production increased from 200,000 to 1.6 million). With this rate of increase could they reach 800 million in June. The U.S. is talking a million masks here and a million masks there but what if a World War II type expansion took place?
Businesses would be relatively safe if workers wore masks and traveled to work on public transportation which was frequently sanitized and equipped with HEPA filtered air systems. If when they arrived at work there were upgraded central air systems and room purifiers in strategic locations wouldn't the risk of infection be greatly reduced?
One big concern has been the temporary nature of the emergency. But there is likely to be a new attitude toward pandemics in the future. The Three Mile Island nuclear incident resulted in significant safety related expenditures in every nuclear plant built subsequently. Virus protection could be viewed in a similar manner.
Proactive Suppliers will find the Most Profitable Market
Deaths and sickness combined with social distancing and economic disruption caused by the coronavirus create costs to society which can be weighed against the benefits.
A cost-benefit analysis has been prepared and can be viewed at http://home.mcilvainecompany.com/images/Coronavirus_Mitigation_Cost.pdf
Here is one example where a room purifier cost per year versus the number of lives that would need to be saved to justify the investment are calculated. The following slides in the series show that widespread use is justified to prevent a pandemic the scale of the Spanish flu but not the swine flu. On the other hand for an apartment dweller in a building where another tenant is self-isolated the use of the room purifier is justified many times over even if the risk level is that of the swine flu.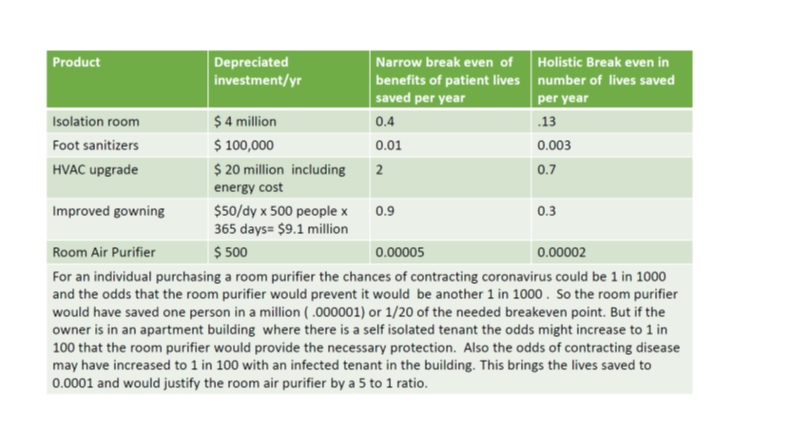 Industry has the potential to innovate and make a big contribution to coronavirus mitigation. Countless hours have been spent to perfect monitoring and particulate removal techniques to keep our air clean. Equal amounts have been spent to protect our pharmaceutical products through sophisticated cleanroom technology. We are now facing an even bigger threat and our primary solution is social distancing and shutting down the economy. There is a better solution.
There is a shocking lack of hard information about the fundamental science. The filtration and monitoring industry needs to take a proactive rather than reactive approach. Some of the advice we have been receiving is questionable at least.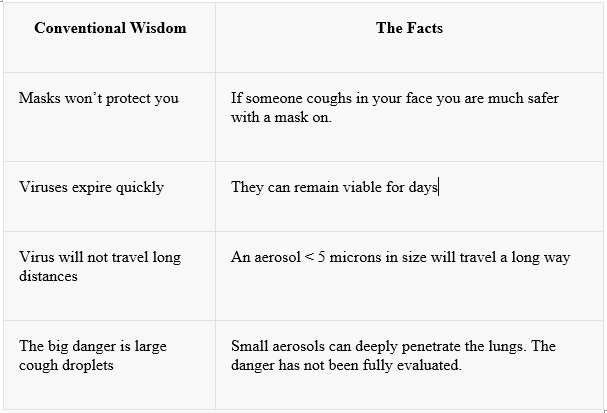 Some Asian countries have used technology to be proactive. They have tested extensively and tracked movements and contacts of those infected. As early as January 1 the Taiwan Railway Administration said that if the virus continues to spread it would refuse to carry passengers not wearing masks.
Many Asian countries have very efficient air filtration systems in buildings and residences. Monitoring has progressed to where electronic screens provide the current PM 2.5 concentrations. Is it possible that one reason there are more deaths in Italy than China is the better indoor air filtration?
The irony is that the countries with the worst outdoor pollution may be better off. The more efficient indoor air filtration systems are reducing transmission through HVAC systems.
The facts versus conventional wisdom make it clear that filtration and monitoring technology can make a big difference. Here are a few of the potential innovations.
Use PM2.5 as a surrogate for the virus and expand the monitoring to individual indoor spaces. PM2.5 is already used as a surrogate for heavy metals by U.S EPA. The assumption is that if the filter captures all the particles it will capture the lead and cadmium.

Require all those in quarantine to rent room air purifiers and reduce PM 2.5 to the equivalent of 10 air changes per hour or some other suitable number.

Use small air purifiers throughout sensitive areas. (the Chinese have $50 fans with a HEPA filter for small areas)

Require air purifiers in public transportation including ride sharing and taxis. (A fundamental cleanroom technology principle is to capture particles while airborne so that they do not deposit on surfaces.)

Utilize various destruction methods including ozone and UV light. (A Florida hospital has reduced HAI by 34% since implementing the use of a footwear sanitizing station)

Improve mask technology to increase comfort, lower pressure drop and increase capture efficiency.

Develop improved microbial sampling techniques.

Utilize advanced cleanroom technology in critical hospital areas

HEPA filtered entry zones such as gowning areas for hospital personnel

Require operating theaters to use 100% HEPA filtered air and 100 fpm ceiling to perforated floor flow

Radically revise gowning protocols including quality of gowns, face masks, gloves etc.

Use cleanroom protocols for gown donning and disposal

Reduce investments in hospital decoration and eliminate pockets of virus growth

Turn isolation rooms into Class 100 cleanrooms.

Provide hospital wide contamination monitoring systems

Utilize portable cleanrooms for emergency overflows of patients requiring isolation (Australian hospitals have them)
Life Quality Costs need to be considered by a Proactive Supplier
Epidemiologists believe that COVID-19 will re-occur periodically over the next several years until a vaccine is in widespread use. Various degrees of social distancing may therefore be warranted. Alternatively initiatives such as the wearing of masks in public places and upgrading HVAC systems will offset some of the social distancing. It is therefore necessary to determine the negative impact on life quality of protocols such as social distancing. There is a negative life quality impact of wearing a mask in public. This can also be quantified.
McIlvaine has developed a metric to measure all life quality impacts. It is discussed in the Coronavirus Cost Benefit Analysis. In the example below the social cost of distancing a whole population for one year would be justified to prevent a pandemic the size of the Spanish flu but not the Swine flu.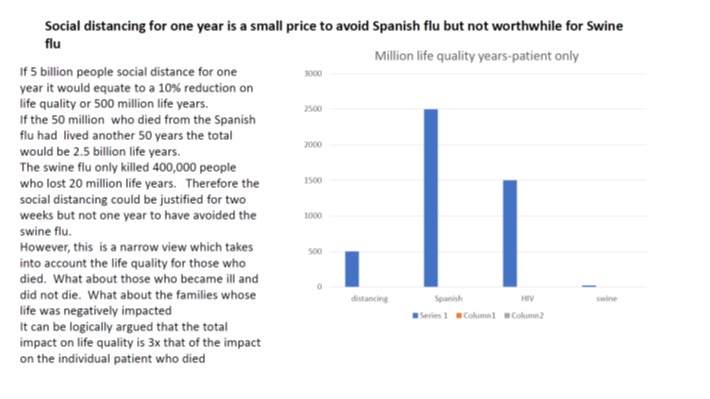 Visitors to a hospital as well as patients and staff enjoy the art on the walls and other niches for germ growth. Visitors do not like a requirement to wear masks. One consideration is that all vsitors to hospitals wear masks. This can be justifed economically if one life is saved every 100 years.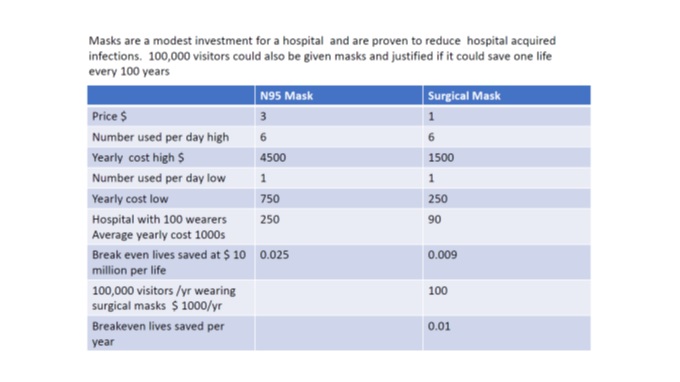 There is a social cost. Each visitor may equate wearing a mask on a visit as equivalent to one minute of life quality lost. In the aggregate this equates to 0.2 life years. The life of one patient who could have lived 50 additional years can be compared 50/0.2 and the conclusion reached that the life quality cost can be justified if one patient is saved every 250 years. Assuming the life quality cost for family and others is equal to that of the patient, the wearing of masks can be justified on saving one life every 500 years.
Justifying Social Distancing Reduction Now by discounting the Future Harm Value of Virus Prevention Products
Sanitizers, ozone treatment, and certain other technology can reduce the incidence of coronavirus in the short term but can have long term effects on health life quality. In weighing the costs and benefits it is necessary to evaluate the discount of any harm based on when it will occur. For example FAR UV could be saving lives now but might cause cancer 30 or 40 years from now. The present harm has to include a discount based on the number of years in the future the harm will occur. This is considered in the cost benefit analysis.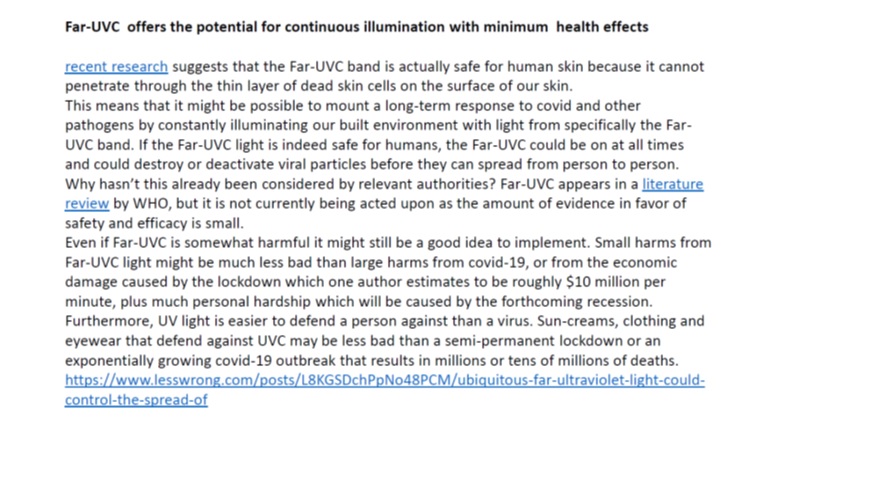 MASKS

Overview
Demand is Greater than Supply

WHO Analyzes Mask Shortage

Shortage of Masks Sparks Controversies Among Countries
Chinese Mask Supply
Sinopec Moving from Resin to Mask Supplier

Chinese Car Companies become Mask Suppliers

Chinese Supply vs Demand

Chinese Melt Blown Media Supply and Suppliers
Suppliers and Associations
ASHRAE Guidance on Coronavirus

Johnson Controls and Chinese Hospital

Medline encounters Supply Problems

Monadnock has Range of Medical Face Mask Media

Secure Mask Supply Association battles for U.S. Based Supply Capability

Superior Filter has Both Melt Blown and Needle Punched Media for Masks

SWM supplies Melt Blown Media and Film for Surface Layer
______________________________________________________________________________
Overview
Demand is Greater than Supply
The problem with demand is that individuals are buying the masks and causing a shortage for health care workers who need them. If world demand per capita reaches that in China, 5 billion masks would be used each day. This is far above world capacity. Governments will have to regulate mask sales so that those at most risk receive them. Here is the type of analysis which is the basis for our projections.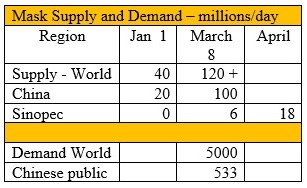 The mask production depends on meltblown media. A ton of media will make 1 million disposable masks or 200,000 N95 masks. We will be probing the demand and capacity on a continuing basis for each country.
Sinopec is a major Chinese petrochemical producer. They have teamed with mask makers and are building assembly lines at an astounding rate. The first project completed a few days ago took less than three months and has two non-woven production lines and three spunbond production lines and can produce up to 4 tons of melt-blown fabric for 1.2 million N95 disposable masks or 6 tons for 6 million disposable masks per day.
Sinopec plans to start production at eight more meltblown nonwoven fabric production lines in Jiangsu province by the middle of next month. Upon completion, the ten production lines will be able to produce fabric for 3.6 million N95 respirators or 18 million surgical masks every day.
WHO Analyzes Mask Shortage
The World Health Organization is sounding the alarm about a growing shortage of personal protective equipment (PPE), and the issue extends well beyond the much-publicized medical mask shortage.

Last week the organization's director-general, Tedros Adhanom Ghebreyesus, MSc, PhD, said the lack of supplies undermines the entire global effort to stop the spread of COVID-19. "We can't stop COVID-19 without protecting health workers first," Ghebreyesus said.

From the earliest days of the current coronavirus threat, news organizations featured videos of Chinese residents wearing facial masks on the street in hopes of protecting themselves from transmission of the virus. As the virus has spread, so too has demand for masks.

However, epidemiologists and other public health officials in the United States and elsewhere have repeatedly urged the public to avoid purchasing masks, noting that the masks don't offer the general public meaningful protection from the virus. In a series of tweets and public appearances, United States Surgeon General Jerome Adams, MD, MPH, has repeatedly asked the public to stop buying masks.

"They are NOT effective in preventing general public from catching #Coronavirus, but if healthcare providers can't get them to care for sick patients, it puts them and our communities at risk!" he wrote, in a February 29th tweet.

However, the WHO's update this week makes clear that the dangerous lack of medical supplies is not limited to masks. Global supplies of gloves, respirators, goggles, face shields, medical gowns, and aprons are also increasingly under stress.

The WHO late last month put out guidelines for what it says are "rational and appropriate" use of PPE in health care organizations. They include eliminating the need for PPE in some instances by using telemedicine and restricting the number of workers who enter the rooms of patients with COVID-19.

The organization said its models suggest some 89 million medical masks will be needed each month to deal with the spread of COVID-19, along with 76 million examination gloves, and 1.6 million sets of goggles.

Ghebreyesus said meeting that demand will not only take restraint on the part of the general public, but also action on the part of governments and the medical supply industry.

"Without secure supply chains, the risk to healthcare workers around the world is real," Ghebreyesus said. "Industry and governments must act quickly to boost supply, ease export restrictions and put measures in place to stop speculation and hoarding."

With the shortages have come spikes in prices, the WHO said. Mask prices have grown six-fold, N95 respirators have tripled in costs, and the cost of gowns has doubled.

Ghebreyesus said medical supply companies will need to ramp up production by about 40% in order to meet demand. Governments could aid in this effort by creating incentives for companies to manufacture the equipment, he said.

For its part, US Department of Health and Human Services this week announced it will purchase 500 million N95 respirators over the coming 18 months to add to the nation's Strategic National Stockpile.

Meanwhile, the WHO said it has sent PPE supplies to 47 countries so far, mostly to smaller countries in Africa and Asia.
Shortage of Masks Sparks Controversies among Countries
South Korea, Germany and Russia announced export bans of masks and other protective gear. They join others nation or territories including India, Taiwan, Thailand, and Kazakhstan that earlier put export bans in place.
Before the epidemic, China produced about half of the world's output of masks with daily production of about 20 million units, according to state media Xinhua. Factories have since boosted production more than five-fold and are enlisting carmakers to manufacture them. That's still not enough.
In the U.S., increased efforts by mask makers 3M Co. and DuPont De Nemours Inc. are also falling short of demand. DuPont, which makes masks and protective body suits worn by first responders, said it's increased production by more than three times its usual global capacity. 3M, the biggest American manufacturer of N95 respirators, has increased production since the outbreak in China.
"We've added staff, we've added overtime, we've added technology, we've been increasing manufacturing lines," said 3M spokeswoman Jennifer Ehrlich. "We expect this demand for respirators and other supplies to continue to outpace supply for the foreseeable future."
The dependence on China and a few other countries for masks has some calling for a rethink of supply chains. The World Medical Association, which represents physicians, wants governments to establish factories in major markets like the European Union and the U.S. to ensure adequate supply of critical drugs, vaccines and other medical necessities.
The U.S only has about 1% of the 3.5 billion masks it needs to combat a serious outbreak, Health and Human Services Secretary Alex Azar has said. The country plans to buy 500 million surgical masks and N95 respirators for the national stockpile.
South Korea said on March 5 that it will bolster its control over the production of key materials used for protective masks, as the country is struggling to expand the supply of sanitary products amid the spread of the novel coronavirus here.
The country will ban all exports of melt-blown nonwoven fabric filter, the key material essential for the production of protective masks, although exceptions can be granted. The country will help companies expand their production capabilities as well, while reaching out to other countries to import the fabric.
Chinese Mask Supply
Sinopec Moving from Resin to Mask Supplier
China Petrochemical Corp known as Sinopec Corp, put its first melt-blown non-woven fabric assembly line into operation at its Yanshan factory in Beijing on March 6. The Yanshan factory is a converted 3600 square meter old warehouse that has found new life as a global production base following the challenges brought by the coronavirus outbreak.
The 14,400-ton capacity Yanshan facility is one of Sinopec's two melt-blown non-woven fabric assembly bases and is co-managed with China National Machinery Industry Corporation. The base has two non-woven production lines and three spunbond production lines and can produce up to 4 tons of melt-blown fabric for 1.2 million N95 disposable masks or 6 tons for 6 million disposable masks per day.
The new facility also takes advantage of Sinopec's integrated upstream supply-chain by sourcing local materials from Yanshan and support from the on-site synthetic resin production line.
"It normally takes about half a year to complete the construction of a 10,000-ton melt-blown fabric factory - We have done it in 12 days, 48 hours ahead of schedule. In a challenging time like this, saving 48 hours means that we can produce an extra 12 million disposable masks," said Lv Dapeng, Spokesperson of Sinopec Corp.
The largest medical material supplier in China, Sinopec is a significant supplier of polypropylene, a key component in the production of disposable masks for medical use. The new assembly line will ensure a stable supply of medical supplies, such as masks and clothing, can be distributed across the nation and worldwide.
"We are privileged to support those who are protecting us from the virus. Sinopec will utilize all of our resources to ensure supplies to the frontline are guaranteed," said Lv.
Sinopec plans to start production at eight more meltblown nonwoven fabric production lines in Jiangsu province by the middle of next month after commissioning two new units in Beijing on Saturday. Upon completion, the 10 production lines will be able to produce fabric for 3.6 million N95 respirators or 18 million surgical masks every day, it said.
The price of meltblown nonwoven fabric has been surging since the outbreak started, from around 12,000 yuan ($1,726) per ton to 400,000 yuan per ton. The price surged to 700,000 yuan per ton on Feb 24, The market price of the product is expected to gradually come down from its current peak, said Li Li, research director at energy consulting company ICIS China.
China's centrally administered State-owned enterprises have been accelerating work in the production of meltblown nonwoven fabric to help the anti-epidemic fight, with daily production capacity of meltblown nonwoven fabric reaching 26 tons as of March 6 and the same is expected to grow significantly in the coming weeks, said the State-owned Assets Supervision and Administration Commission.
Chinese Car Companies become Mask Suppliers
Chinese automakers BYD Co. and GAC Motor Co. are preparing to produce face masks and disinfectants to help motorists and the public ward off the ongoing coronavirus outbreak in China.
Two BYD plants in the south China province of Guangdong were expected to be churning out 5 million face masks and 50,000 bottles of disinfectants a day by the end of the March. The first batch of face masks and disinfectants was donated to drivers of public buses, taxis and ride-hailing fleets as well as volunteers fighting the viral outbreak.
Masks and disinfectant will also be sold to the public at factory prices. The two plants will keep producing masks and disinfectant until the end of the epidemic. The company is currently mobilizing employees to find sources of meltblown cloth. It is not only BYD that lacks melt-blown cloth. Many companies preparing to produce masks across borders also face this problem.
GAC, a state-owned automaker based in the south China city of Guangzhou, has dispatched a team of employees to an equipment manufacturer in nearby Dongguan to learn how to produce face masks.
Hainan Ganlin Technology Group is a company engaged in agricultural business. The general manager of the company said that because farmers could not find sufficient and reliable masks, which affected agricultural production, he purchased mask machines to build production lines, hoping to connect with sufficient meltblown cloth resources. At present, the company has contacted Sinopec but found that meltblown cloth is still scarce.
Chinese Supply vs Demand
Medical surgical masks and N95 masks generally use a multilayer structure, referred to as the SMS structure: a single layer of spunbond on the inside and outside; the middle is the meltblown layer, generally divided into single layers or multiple layers.
Among them, the outer layer is a non-woven fabric with a waterproof treatment, which is mainly used to isolate the droplets sprayed by patients; the middle melt-blown layer is a specially-treated melt-blown non-woven fabric with good filterability. Shielding, thermal insulation and oil absorption, is an important raw material for the production of masks; the inner layer is ordinary non-woven fabric.
Although the spunbond layer of the mask and the meltblown layer are non-woven fabrics, and the raw materials are polypropylene, the manufacturing process is not the same.
Among them, the diameter of the spunbond layer fibers on the inner and outer sides is relatively thick, about 20 microns; the fiber diameter of the meltblown layer in the middle is only 2 microns, and it is made of a polypropylene material called high-melt-finger fiber.
China is the world's largest non-woven fabric producer. The production volume of non-woven fabrics in 2018 was about 5.94 million tons, but the output of meltblown non-woven fabrics was very low.
According to the statistics of China Industrial Textile Industry Association, the production technology of China's nonwovens industry is mainly spunbond. In 2018, the output of spunbond non-woven fabrics was 2.971 million tons, accounting for 50% of the total output of non-woven fabrics, mainly used in sanitary materials and other fields; meltblown processes accounted for only 0.9%.
From this calculation, in 2018, the output of domestic meltblown nonwovens was 53,500 tons / year. These meltblown cloths are used not only for masks, but also for environmental protection materials, clothing materials, battery separator materials, wiping materials, and the like.
During the epidemic, the demand for masks has increased significantly. According to the data of the Fourth National Economic Census, the total employment of domestic legal entities and self-employed households is as high as 533 million people. Based on one mask per person per day, at least 533 million masks are required per day.
Chinese Melt Blown Media Supply and Suppliers
Data from the Ministry of Industry and Information Technology shows that currently the maximum daily production capacity of domestic masks is 20 million as of January 2020.
The gap in masks is huge, and many companies are beginning to produce masks across borders. According to the data of Tian's Eye Examination, based on the changes in industrial and commercial registration information, from January 1 to February 7, 2020, more than 3,000 companies across the country have added "masks, protective clothing, disinfectants, thermometers, medical equipment, etc."
Compared to mask manufacturers, there are not many manufacturers of meltblown nonwovens.
The current companies producing meltblown nonwovens are Hengtian Jiahua Nonwoven Co., Ltd. (hereinafter referred to as Hengtian Jiahua), Xinlong Holdings, Sinopec, Shandong Dongying Junfu Non-woven Co., Ltd., and Quantum Golden Boat (Tianjin) Nonwoven Co., Ltd.
Hengtian Jiahua is a non-woven fabric manufacturing enterprise jointly invested in by China Hengtian Group and Xiantao Jiahua Plastic Products Co., Ltd. China Hengtian Group is the world's largest textile machinery manufacturing company.
On January 27, Hengtian Jiahua announced that the company's entire plant was put into production and the output reached 120 tons/day. The products include non-woven fabrics for face masks, non-woven fabrics for meltblown filtration, and non-woven fabrics for bottom surfaces.
Xinlong Holdings was established in Hainan Province in July 1993 and listed on the Shenzhen Stock Exchange in 1999. It claims to be the first listed company in China's non-woven industry, and it is also the construction and operation unit of the "National Nonwoven Materials Engineering Technology Research Center".
Xinlong Holding's meltblown non-woven workshop for mask bacteria filtering runs 24 hours to ensure the supply of raw materials to downstream mask manufacturers. Xinlong Holdings owns production bases in Hainan, Hubei and Hunan.
Shandong Dongying Junfu Nonwovens Co., Ltd. is a non-woven fabrics manufacturing enterprise jointly established by Hong Kong Tianyi Industrial Co., Ltd. and Guangdong Junfu Group. The company's total investment exceeds 100 million yuan, and the goal is to build a large non-woven fabric production base in northern China.
The company is a meltblown non-woven fabric manufacturer, which mainly supplies raw materials for the production of daily protective masks, medical masks and industrial dust masks. Recently, in order to ensure the production for the epidemic, the company received advance funds from Shandong provincial finance and can use it for half a year without compensation.
Quantum Jinzhou (Tianjin) Non-Woven Co., Ltd. is also a manufacturer of meltblown fabrics, PP / PET two-component nonwovens and other products. At present, the company has two meltblown cloth production lines with a daily output of 4 tons.
In addition to large-capacity enterprises, there are also small-scale meltblown non-woven enterprises with a daily output of about 1 ton, such as Dalian Hualun Nonwoven Equipment Engineering Co., Ltd. and Zhejiang Jiarui Filtration Technology Co., Ltd.
Dalian Hualun Nonwoven Equipment Engineering Co., Ltd. is a company specializing in engineering general contracting, chemical fiber and non-woven engineering design, and equipment manufacturing. At present, the company has invested funds to transform the original two meltblown equipment production lines (production of air filter materials) into mask filter material production lines. Since its upgrade it has supplied 3.07 million BFE99 medical mask filters per day.
Mr. Huang from Dalian Hualun Nonwoven Equipment Engineering Co., Ltd. told Interface News that the company's meltblown cloth production is currently 1 ton/day and the ex-factory price is 70,000 yuan per ton.
On February 12, the price quoted by a small meltblown cloth manufacturer to the Interface journalist reached 80,000 yuan per ton.
On January 28, the client of the People 's Daily quoted that according to local companies, the market price of melt-blown cloth for filter materials for masks rose from the original 18,000 yuan/ton to 29,000 yuan/ton. From this calculation, the market price of meltblown cloth has increased more than threefold recently.
Dailian Jualiun says that in the next seven days, it will be able to expand production to 1.5 tons-2 tons/day; in the next two months, the output of meltblown cloth will be expanded to 3 tons/ day.
Zhejiang Jiarui Filtration Technology Co., Ltd. also told Interface News that the company's current meltblown cloth output is 1 ton/day, which can only supply small customers and cannot meet the supply needs of large companies such as BYD.
Suppliers and Associations
ASHRAE Guidance on Coronavirus
In response to ongoing developments, ASHRAE has released proactive guidance to help address coronavirus disease 2019 (COVID-19) concerns with respect to the operation and maintenance of heating, ventilating, and air-conditioning systems. The ASHRAE COVID-19 Preparedness Resources webpage provides easily accessible resources from ASHRAE to building industry professionals.
"The recent escalation in the spread of coronavirus disease 2019 is alarming on a global scale," said 2019-20 ASHRAE President Darryl K. Boyce, P.Eng. "While ASHRAE supports expanded research to fully understand how coronavirus is transmitted, we know that healthy buildings are a part of the solution. ASHRAE's COVID-19 Preparedness Resources are available as guidance to building owners, operators and engineers on how to best protect occupants from exposure to the virus, in particular in relation to airborne particles that might be circulated by HVAC systems."
Available on the webpage is ASHRAE's recently approved position document on Airborne Infectious Diseases. The Society's position is that facilities of all types should follow, as a minimum, the latest practical standards and guidelines.
Superior Felt and Filtration has Both Meltblown and Needle Punched Media for Masks
Superior Felt & Filtration manufactures and supplies a wide array of nonwoven synthetic fabrics for the manufacturing of safety & personal protection filters. It is among the top nonwoven synthetic filter media suppliers for medical and emergency response textiles, such as respirators and masks. It is one of the largest manufacturers of micron and sub-micron filter media for respirator and medical applications in the U.S.
The company offers non wovens that can be utilized in masks, air purifiers, medical equipment, personal safety apparel and cleanrooms that are highly efficient against 0.1 micron particles. The electrostatically charged high alpha perm melt blown and needle punched products can be easily molded into masks, pleated and die cut to offer protection over 99.9% against 0.1 micron particles which are considered to be the most penetrating particle sizes (MPPS). The electrostatic media offers low air flow resistance for more breathable masks or devices that help reduce fatigue & improve comfort levels.
Technostat® can also be utilized with breathable laminates, activated carbon and other materials for combined dust and gas filtration. For these reasons, Technostat® is ideal for nonwoven synthetic filter media for respiratory applications. In addition to Technostat® filter media, the company also offers Technostat® Plus – a triboelectric media of needle-punched felt that offers 20% improvement in filtration efficiency over standard electrostatic filter media. This nonwoven synthetic fabric produces its triboelectric properties when 2 dissimilar fibers used during the manufacturing process create a charge that enhances filtration capabilities.
Superior Felt & Filtration also provides electrostatic filter media rolls (electrostatically-charged synthetic needle punch fibers) and melt blown fibers. These nonwoven synthetic fabrics aid in producing some of the highest levels of filtration for health care providers and emergency responders.

SWM supplies Melt Blown Media and Film for Surface Layer
SWM International says it stands ready to supply converters and manufacturers of face masks with advanced nonwoven materials necessary to meet the global challenge presented by the coronavirus outbreak.
"SWM has a long history of supplying high-quality media integral to the construction and performance of face masks used in the dental and surgical sectors as well as the industrial sector," said Bart Sistrunk, SWM's Commercial Director – Filtration. "Our DelporeTM meltblown media is widely used in face masks because it provides excellent breathability without sacrificing Bacterial Filtration Efficiency (BFE) and its lightweight nature allows for comfortable wear."
A leading producer of meltblown media, SWM also offers DelnetTM apertured film, a lightweight nonwoven that is extruded, oriented, and uniquely embossed for use as a flexible surface layer for medical facemasks or as a comfort barrier in finger bandages.
"SWM is prepared to prioritize production of Delpore meltblown media and Delnet apertured film for customers who need materials for face mask production," said Sistrunk. "We are committed to continued support during the current world health emergency."
AIR FILTRATION
Can Coronavirus Spread through HVAC System?
The CDC does not believe that COVID-19 is likely to be transmitted through duct work. However, several university studies show the opposite. Coronavirus could spread around buildings via air conditioning systems or even on a draft, new analysis has suggested after scientists found traces of the virus in a hospital air duct. The results from swab analysis of the rooms used by three coronavirus patients indicate that the disease may be more contagious than previously thought.
Even though the patient thought to be responsible was suffering only "mild" symptoms, scientists from the National Centre for Infectious Diseases in Singapore found evidence of the virus in the hospital's air exhaust. This "suggests that small, virus-laden droplets may be displaced by airflows and deposited on equipment such as vents", they said.
Applications
New Air Filtration Needs for Autopsies
In Iran bodies are piling up at morgues. This presents several challenges. Autopsies on decedents with known or suspected COVID-19 should be conducted in Airborne Infection Isolation Rooms (AIIRs). These rooms are at negative pressure to surrounding areas, have a minimum of six air changes per hour (ACH) for existing structures and twelve ACH for renovated or new structures, and have air exhausted directly outside or through a HEPA filter. Doors to the room should be kept closed except during entry and egress. If an AIIR is not available, ensure the room is at negative pressure with no air recirculation to adjacent spaces. A portable HEPA recirculation unit could be placed in the room to provide further reduction in aerosols. Local airflow control (i.e., laminar flow systems) can be used to direct aerosols away from personnel. If use of an AIIR or HEPA unit is not possible, the procedure should be performed in the most protective environment possible. Air should never be returned to the building interior, but should be exhausted outdoors, away from areas of human traffic or gathering spaces and away from other air intake systems.
Transmission through Cruise Ship Ductwork Diamond - Princess Ductwork Debated
Anne Schuchat, principal deputy director at the U.S. CDC, says there is no current evidence to suggest that the coronavirus spreads through air-handling systems. Eric van Dijk, employed at Dutch HVAC specialist Heinen & Hopman, agrees it is unlikely for viruses to spread through a ship's HVAC system due to the way air travels through the system.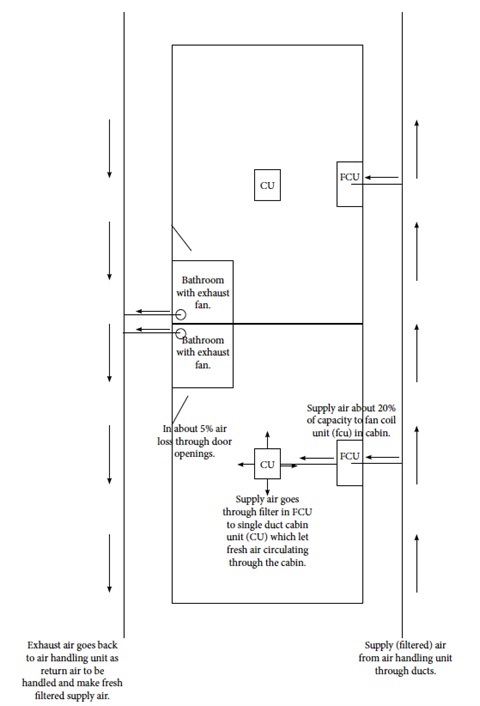 The cruise ship Diamond Princess was quarantined in Japan. The ship had 3700 people on board, of which 620 people were eventually infected by the coronavirus. Some of the passengers expressed worries about the virus spreading through the ship's HVAC (heating ventilation air-conditioning) system to which the CDC responded.
According to Van Dijk, whose company did not supply the HVAC system for this ship , 'fresh air is supplied on a cruise ship by several air handling units. The ducts connected to the air handling units provide the public areas and cabins with fresh air. Within these units, air passes through multiple filters, at least EU4 pleated filters.' EU4 filters belong to the category of coarse dust filters with an over ninety per cent arrestance.
'Optionally, these units are equipped with a HEPA filter and/or UV light units to treat polluted air further,' adds Van Dijk. These filters do not stop viruses from spreading, however.
Van Dijk explains: 'The filtered air that enters a cabin is filtered again in a fan coil unit, but these filters are made to fight bacteria, not viruses. Viruses are so small, that you would need a very strong filter. When you need such a strong filter, the air handling units are possibly four times as big. This means that the energy consumption and emissions will be many times higher.' Not something that is desirable for a cruise ship, as these ships already have a name for being polluters and are working hard to lower their environmental footprint.
The system on board the Diamond Princess was supplied by MCI Namirei. In a statement, Diamond Princess' owner Princess Cruises said, 'the HVAC filtration system on our ships is comparable to those used by land-based hotels, resorts and casinos.' This probably means this system will also not be able to filter out viruses.
However, Van Dijk points out the chance of a virus spreading through the HVAC system is still very small. This has to do with the way the air travels. He has drawn the overview which shows that, although not impossible, it is unlikely for a virus to travel from cabin A to cabin B.
The opposite conclusion was reached by Qingyan Chen, Purdue's James G. Dwyer Professor of Mechanical Engineering. He has researched the spread of air particles in passenger vehicles and how to track them. His team developed models in the past for showing how the H1N1-A flu and other pathogens travel through aircraft cabins.
When Chen co-led the Air Transportation Center of Excellence for Airline Cabin Environment Research, his lab made discoveries about the airborne nature of SARS that could inform understanding of the coronavirus.

Chen's lab is currently developing a ventilation system that would prevent the spread of pathogens by allowing each person to breathe in only his or her own air.
He told the media "It's standard practice for the air conditioning systems of cruise ships to mix outside air with inside air to save energy. The problem is that these systems can't filter out particles smaller than 5,000 nanometers. If the coronavirus is about the same size as SARS, which is 120 nanometers in diameter, then the air conditioning system would be carrying the virus to every cabin.
Cruise ships could minimize this problem by just using outside air and not recirculating it."
Suppliers
Biosafe Air
The effectiveness of HEPA and Filtrete filters was addressed by Biosafe Air. How effective can HEPA actually be? The chart below, adapted from an EPA report lists the MERV rating of filtration material corresponding to the typical contaminant that they address, along with the typical filter type found in the MERV rating group (from HEPA to "HEPA-like" filters).
Even though the MERV value is strictly performance based, you can still derive some value from the chart below, as it gives you an indicator of the limits of certain types (e.g. higher efficiency pleated filters vs. true HEPA filters). Generally, HEPA is considered the equivalent of a MERV 17.
Reputable air purifier companies that have filtration-based units should clearly state their MERV rating, or state plainly what the particle size and type of contaminant their product can actually address.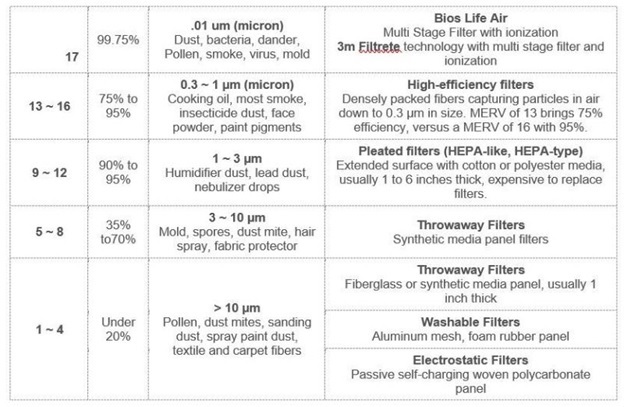 Biosafe Air uses the 3M products.
Camfil
Camfil supplies air filters and systems for many applications including the most severe. "There are more than 60 biosafety laboratories classified as Level 4 (highest risk) by an international commission. Camfil has already delivered containment solutions for many of them in China, France, Switzerland, Germany and the U.S.A.
Camfil has issued some guidance relative to coronavirus at https://www.globenewswire.com/news-release/2020/03/03/1993917/0/en/Camfil-USA-Update-Reduce-Risk-of-Infectious-Virus.html This website also has links to CDC and ASHRAE guidance documents.
Livsdal
Livsdal has intensified the development of a more affordable and smaller version of its premium air purifier. The new air purifier under the name Essential will have the same capacity of capturing molecular gases like formaldehyde, nitrogen dioxide and ozone in the size of 0.5 nanometer particles, viruses like SARS-CoV-2 that is 10 nanometer. Viruses are in general in the size range from 10-400 nanometer that is equivalent to 0.01-0.4 micrometer. It will also capture allergens, smoke, dust, pollen, bacteria, odor, dander, mold to mites in the size all the way up to more than 10,000 nanometer. The Essential is critical equipment suitable for hospitals, health clinics, nursing homes and dental offices, as well as in homes of all people vulnerable to air pollution. It is designed to effectively capture pollutants in rooms up to 75 square meter. The height is 100 cm times 40 x 40 cm. Livsdal will start to accept pre-orders with delivery in autumn 2020.
The purifiers incorporate seven long lasting, high capacity and high quality filters.
Pre-filter-Catches regular dust and larger particles

HEPA 13 Particle filter-Captures dust, bacteria and viruses among many other particles. 99.996 % efficiency for particles of 0.3 μm and will capture particles down to 0.005 μm.

Carbon Molecule filters-Different activated Carbon Molecule filters capture toxic gas molecules as small as c. 0.0005 μm. They are designed to absorb odors, gases and car emissions including nitrogen dioxide, sulphur dioxide, ozone, formaldehyde plus a list of other compounds – all tested to ISO 10121.

Post filter-The final safeguard comes in the form of a metal granular-filter, located on the fan outlet to capture any carbon particles that are released.
Johnson Controls
A team from Johnson Controls went to Wuhan to meet the emergency needs of a people hard hit by the novel coronavirus outbreak. The Johnson Controls team was working hard to help Taikang Tongji (Wuhan) Hospital construct a makeshift hospital.
It took just 45 minutes for the Johnson Controls team to make the key arrangements and plan for this mission, which was to provide full support for building the infrastructure of the makeshift hospital, including the communications system, the safety system and the elevator alarm system.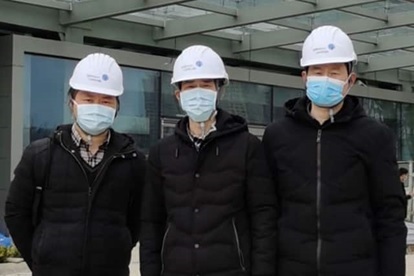 Johnson Controls engineers testing the IT equipment and installing wireless access points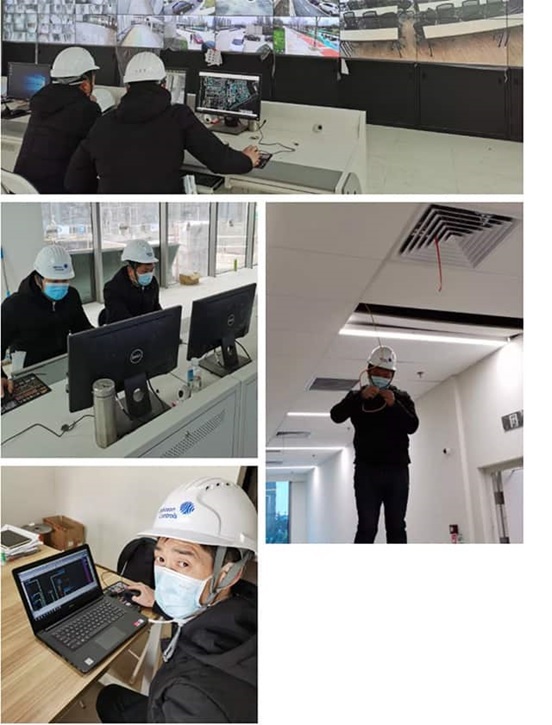 Within twelve hours, the company's first batch of medical protective supplies such as protective clothing, goggles, and masks had arrived. At the same time, colleagues from all over China sent forth material goods and well wishes to support the team.
On February 9 the Trion air filters were delivered.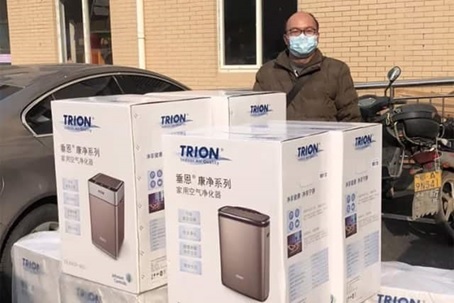 Pall
Viruses can typically range from 0.01 to 0.2 micron in size, although they may cluster or attach to larger particles. How effective are Pall HEPA filters at removing bacteria and viruses? An independent test laboratory has tested three Pall cabin air filter elements using two different bacteria; Brevundimonas diminuta and Bacillus subtilis and results show that the bacterial removal efficiency of the Pall cabin air filters is greater than 99.999%. Similarly, when challenged with the MS2 Coliphage virus, the virus removal efficiency of the Pall cabin air filters is also greater than 99.999%

Pall Aerospace engineers teamed up with scientists from Pall Medical group to develop and validate the microbial removal efficiency of aircraft cabin air filters, following standard practices used in the healthcare and pharmaceutical industries.
Why cabin air filters do not need an anti-microbial treatment? In free air, most microbes die within a few minutes. Once captured by the filter media, the survival rate of microorganisms in the aircraft environment is very low. Most bacteria require high humidity and a source of nutrition to survive. The conditions typically found in the aircraft recirculation system are 10-15% relative humidity and lack of a source of nutrition. Is there a danger to maintenance personnel by removing used cabin air filters?
There is no more risk involved in replacing a cabin air filter than carrying out general maintenance on any aircraft part that has been in service for a number of years. Maintenance staff should wear the same personal protective equipment as for other aircraft maintenance tasks which require protection against dust, and per the local regulations. The used HEPA filter should be placed and sealed in a plastic bag. A specific biohazard bag is not required for disposal of the HEPA filter in most jurisdictions.
Peco Filter
PECO filter effectiveness was evaluated by Consumer Reports. Their analysis follows:
"Like so many brands that trend on social media, the Molekule Air is available only through the manufacturer's website—for a whopping $800. It's the sort of niche product that Consumers Reports wouldn't necessarily test, but given the buzz it's generated, "we felt a responsibility to weigh in with test data".
"And because the Molekule manufacturer claims to have revolutionized air cleaning with its proprietary PECO technology, we dug a little deeper. Here's the story of our reporting and our lab tests.
This acronym is short for photoelectrochemical oxidation. It isn't new technology, per se, but rather a boosted version of PCO (photocatalytic oxidation), which has been used for decades to clean contaminated air and water.
A typical mesh filter—HEPA, for instance—captures only airborne particles. PECO and PCO, however, take it one step further and also target gases. It does this by coating filters in a catalyst (PCO usually uses titanium dioxide) that reacts with UV light to oxidize gaseous pollutants and breaks them down into harmless molecules.
According to the Environmental Protection Agency, PCO air cleaners can break down many types of gaseous pollutants, but not many typically found in indoor air. The process can also react with some pollutants to generate other dangerous byproducts, such as ozone, formaldehyde, nitrogen dioxide, and carbon monoxide.
Because of these factors, the EPA reports that to effectively and efficiently eliminate common gases and microbes found in homes in a safe manner, PCO technology needs to improve. Molekule says it has done just that.
"PECO was inefficient in destroying pollutants, so we fine-tuned all the parameters," says Jaya Rao, Molekule's COO and co-founder. "PECO innovations happened on many levels: the chemical coating, the filter, as well as the UV lighting." Working together, she says, these innovations make PECO work faster and more efficiently than PCO, allowing it to destroy gases, bacteria, viruses, and mold spores—without producing any harmful byproducts. Rao declined to go into detail about what the company uses for the catalyst.
CR tests for particle reduction and not for gas or microbe removal. James Dickerson, CR's chief scientific officer, was asked whether Molekule's claims have any merit.
"Theoretically, PECO could work to eliminate microscopic airborne molecules," Dickerson says. "But our tests show that the Molekule Air is not proficient at catching larger airborne particles, which ultimately means it's not getting enough air passing through the system."
We put the Molekule Air through our standard battery of air purifier tests, and it almost flunked: We put it into a sealed chamber and injected particles as small as 0.1 micron and up to 1 micron into the room—a range that includes dust mite allergens, cat allergens, smog, smoke, and atmospheric dust. (For reference, human hair has a diameter of 100 microns). A particle counter measured the change in air-particle concentration as the machine ran for 15 minutes. As usual, we tested at the highest speed and again at a lower speed.
The Molekule Air gets a Fair rating for smoke and dust removal at high speed and a Poor—the lowest score possible—at low speed. It is the third-lowest-scoring air purifier of the 48 we tested. The manufacturer says the Molekule Air is sized for rooms up to 600 square feet, but its performance in our tests ranks it among compact models that are designed for small rooms. Based on our lab's calculated rate at which it can process the air, the Molekule Air wouldn't be able to handle any room larger than 100 square feet.
We shared our methodology and findings with Rao, and she took issue with our testing.
"It's a very limited assessment of Molekule because instantaneous removal of particles is not the full picture of what air purification looks like," Rao says. "And while we may be destroying at a slower rate, we're still doing something much more complicated, which is truly purifying the air at the nanoscale level and making it safer."
But if the Molekule Air isn't pulling enough air into the machine in the first place, it may struggle to clean the air at any scale. "Even if the PECO filter works and it purifies the air of microscopic particles, it's still not effectively catching the large particles, which are also irritants," Dickerson says.
In addition to the Molekule Air's poor performance in our testing for particle reduction, there's the price to consider. The Molekule Air costs $800, with an annual cost of $130 for filter replacements, plus an additional $50 a year for energy use, based on our calculations. (The model is not Energy Star certified; unlike the majority of air purifiers we test.)
It's also not very quiet, garnering a Fair score for noise on the high-speed setting and a Good score on the low-speed setting. Our verdict? Pass on the Molekule Air and opt for one of CR's recommended air purifiers. Consumers Report say there are three models, that perform well in particle removal tests and cost hundreds less. air purifier buying guide.
Terra Universal

Terra Universal has a range of portable cleanrooms, air showers and U.V. Sanitizing modules as shown below.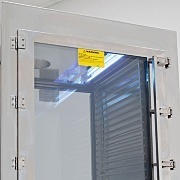 Vanguard Healthcare Solutions
A portable operating theatre has been set up in the car park of one of Australia's biggest hospitals.
Surgeons at Melbourne's The Alfred Hospital have been performing life-saving procedures in the 'Laminar Flow Operating Theatre' after a storm wreaked havoc on one of their primary theatres.
Vanguard mobile operating theatres can offer a significant increase in capacity during times of refurbishment or increased clinical need. A Vanguard theatre gives hospitals a reliable, safe answer to capacity pressures across a range of specialties and procedure types. Mobile laminar flow operating theatres have been widely used across the NHS for procedures including hip replacements, knee replacements and joint revisions. Vanguard laminar flow theatre facilities offer HEPA-filtered environmental air that conforms to Grade A EUGMP, with up to 600 air changes per hour passing over the patient, and 25 fresh air changes.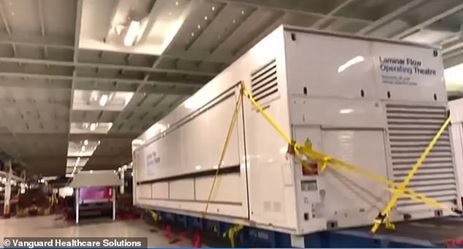 The World Health Organization says that managing an epidemic calls for partnerships with service providers who can help healthcare providers such as hospitals add capacity – preferably partnerships that have been established in advance. This means they can call on them more speedily should disaster strike, and everyone knows what's expected of them.

In the disaster movies, Vanguard sees public spaces being used as temporary healthcare settings when epidemics hit – sports halls, community centres and the like – but this is not ideal for patients, their families, or the staff treating them.
So, what else would work? Clearly, building extra hospital or additional clinical spaces from bricks and mortar isn't an option – so what can be done? Organizations such as Vanguard Healthcare Solutions work alongside healthcare organizations to create extra capacity which is temporary but much more robust and absolutely clinically sound. The environments are not temporary, but they can be temporarily used.
In an epidemic, units can be quickly deployed to support areas which are struggling to meet the increased demand, or where, if space has been commandeered in one hospital to create a 'hub' for the treatment and containment of an epidemic, they can be used to create a more long-term 'back-up' in other locations to make up the shortfall – for example for dialysis patients.
Patients in either instance can be decanted to the mobile solution – whether that is a clinic, a ward or an operating theatre. Or if additional or faster turnaround of sterile equipment is required to meet the increased demand, a mobile central sterilization unit can help to bridge the gap.
The mobile units create spaces which can be, if necessary, completely separate from the hospital creating an infection control 'oasis', or can be used for testing, triage or supporting the 'walking wounded' in clinics and wards. They can be used as additional ward space or even, if needed, a welfare area for staff who may have to stay on site for an extended period without going home. They can also be used for additional and self-contained morgue space, minimizing the cross-contamination risk.
Resources
ASHRAE Provides Guidance
In response to ongoing developments, ASHRAE has released proactive guidance to help address coronavirus disease 2019 (COVID-19) concerns with respect to the operation and maintenance of heating, ventilating, and air-conditioning systems.
The ASHRAE COVID-19 Preparedness Resources webpageprovides easily accessible resources from ASHRAE to building industry professionals.
"The recent escalation in the spread of coronavirus disease 2019 is alarming on a global scale," said 2019-20 ASHRAE President Darryl K. Boyce, P.Eng. "While ASHRAE supports expanded research to fully understand how coronavirus is transmitted, we know that healthy buildings are a part of the solution. ASHRAE's COVID-19 Preparedness Resources are available as guidance to building owners, operators and engineers on how to best protect occupants from exposure to the virus, in particular in relation to airborne particles that might be circulated by HVAC systems."
Available on the webpage is ASHRAE's recently approved position document on Airborne Infectious Diseases. The Society's position is that facilities of all types should follow, as a minimum, the latest practical standards and guidelines.