Coronavirus Market Alert
April 7, 2020
How Effective is the Automobile Cabin Air Filter?
The author asks us to, consider that the coronavirus particulate measures between .06 and .14 microns in diameter. Most HEPA filters in today's modern vehicles can trap germs down to 0.3 microns, which a coronavirus particulate will be able to float right through. In this case, the filter will do little to keep the coronavirus from entering the cabin of your vehicle.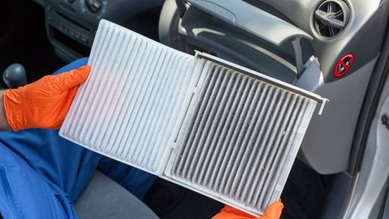 Note that this is counter to other articles such as by Pall which talk about the Brownian movement and capture of small particles in HEPA filters.
The article also observes the limited number of air changes per hour. It suggests that an auxiliary air filtration system may be helpful.
JVC is a company known more for its audio systems and Bluetooth speakers. They introduced an air filtration system at the 2020 Consumer Electronics Show (CES) in Las Vegas. Small enough to fit in a typical car cupholder and looking similar to a tall version of Amazon's Echo device, according to JVC, it can turn your vehicle's cabin air twice every hour. Whether it is effective with germs from the COVID-19 outbreak remains to be seen.
Future tech is alive and under development at Yanfeng Global Automotive Interiors. A supplier to automakers around the world, they have developed a "wellness pod" that cleans the air within a vehicle while the car, truck or SUV is not occupied. The device uses UV-C technology, which is effective but has been found to possibly cause cancer, which is why the vehicle must not be occupied while the cleaning process is occurring.
https://www.kbb.com/articles/car-news/will-my-cars-filter-system-help-reduce-the-spread-of-coronavirus/

Large-Volume Mobile HEPA Air Filtration System
Deploying a (temporary) HEPA air filtration system in large public places to help reduce the spread of the coronavirus makes sense. For government facilities, supermarkets, drug stores, airport check-in areas and other places that need to stay open, BlueSky offers temporary HEPA air filtration systems designed to handle up to 25,000 SCFM of contaminated air per machine.
BlueSky Global is currently the only company in the world that manufactures large mobile HEPA air filtration systems that are ideal for temporary use in enclosed settings such as emergency isolation, temporary hospitals and quarantine facilities.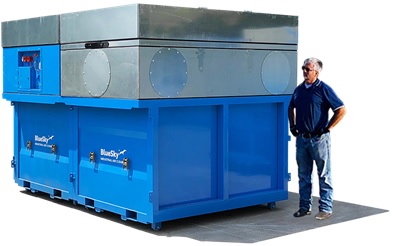 The system can be installed in grocery stores and fast food restaurants.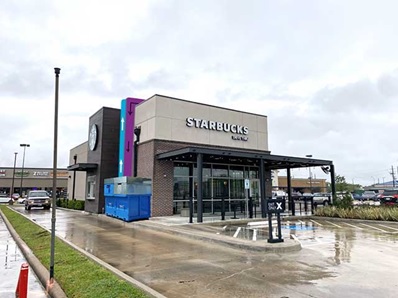 HEPA filtered air enters near the top of the space and exits through the bottom.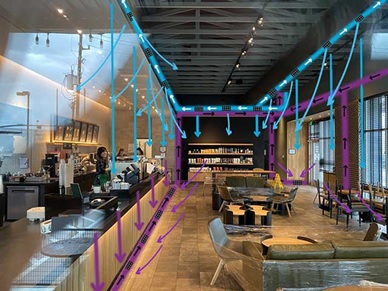 https://www.bluesky-global.com/hepa-air-filtration-system/

Air Filtration near a Coronavirus Patient can Prevent Infection and Even Reinfection
Blake Elias and Yaneer Bar-Yam speculate that using air filtering near a coronavirus patient may reduce the viral load in the environment sufficiently to decrease the probability of health care worker infection through flaws in Personal Protective Equipment (PPE). Further, they speculate that a significant mode of disease progression occurs through lung tissue re-infection through air circulation in the environment of the patient. The natural load of disease transmission from one individual to another through the air could serve as a mechanism of self-reinfection, expanding the infection across multiple regions of lung tissue. Motivated by this speculation, it may be possible that reduction of the viral load in the environment would lead to substantial decrease of the severity of individual disease. Moreover, it may be possible to enhance this effect through breathing exercises that exhale contaminated air in the lung, decreasing further the viral load inside the lung and its ability to cross contaminate other parts of lung tissue. Finally, it may also be possible to use tubes inserted in the mouth or lung to suction contaminated air, to decrease the severity of disease. These speculations deserve attention because of the dramatic risks that we face. Rapid action on evaluating the validity of these ideas seems vital.
Every patient with a known or suspected infection, whether in a hospital room or in self-quarantine, could have a portable air filter which they keep near or on their person at all times. They may leave it by their bedside while resting and may carry it with them as they move around their room. The Center for Disease Control is recommending that all persons under investigation for COVID-19 be placed in an Airborne Infection Isolation Room (AIIR) — designated rooms in a hospital, connected to an HVAC system in such a way as to have negative air pressure. A critical question (which we seek the community's help answering): How many AIIRs are there in the United States? In the world? Should there become a shortage of AIIRs relative to the number of patients who need them, a cleanroom-grade air filtration system can be used to turn any room into a negative pressure isolation room.
While hospital HVAC systems contain HEPA filtration, we propose that localized filtering in high-traffic spaces may further decrease the number of viral particles present. A low-cost air purifier containing a HEPA filter can cost on the order of $100 and circulate the air in a 155 square foot room five times per hour (i.e. once every 12 minutes, or 120 times per day), and could be deployed widely in hospital environments. Hospitals may look into adding HEPA filters to more places in their HVAC systems, and for any existing HEPA filters, test their current efficiency and replace if needed. It may be worth taking any measures possible to increase airflow speed in existing HVAC systems, and to avoid recirculating air between rooms.
https://necsi.edu/could-air-filtration-reduce-covid19-severity-and-spread

Filtration Group providing Many Products to Mitigate Coronavirus
In the McIlvaine webinar last week a slide presentation by Jeff Mathers of Purafil covering a unique filter media was displayed.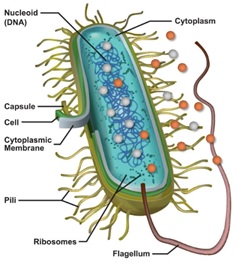 More details were covered in our April 4 Daily Coronavirus Alert.
We have been in discussions with Michael Bruce of the Filtration Group relative to his analysis of the total cost of ownership of HVAC filters and how that can be expanded to take into account coronavirus removal.

Porvair Filtration Group Supplying Multiple Products to Mitigate Virus
In response to Government calls for businesses to support in the production and supply of ventilators and ventilator components, Porvair has rapidly adapted some of its manufacturing processes in order to join forces in the fight against Covid-19.
Ventilator and Breathing Apparatus
The Segensworth Division has been selected to support Project Oyster (the British Consortium of carmakers, Formula One teams, and airplane manufacturers) who has been urged to build 10,000 ventilators. Porvair will be supplying flat discs to be used as air filters, to protect against dust ingestion.
The Wrexham Division is manufacturing filter components for several of the organizations who are now building breathing apparatus for hospitals.

The Caribou Division is manufacturing and supplying critical porous metal parts for use within ventilators, clinical analysers and respirators.
Medical Testing
The Sciences Division has increased production of millions of pipette tips to be used in the United States for their Covid-19 testing kits, as well as supplying consumables for dozens of US testing laboratories.

Porvair have supplied bulk filtration media to one of their German distributors to be manufactured into filters for the German Covid-19 testing programme.

The Wrexham Division is undertaking a rapid development project to use existing DNA extraction products and use the technology to design and manufacture RNA extraction kits.
Pharmaceutical Production
Porvair is supplying chromatography bed supports and pharmaceutical grade water to pharmaceutical customers whose production is increasing.

Sister company Seal Analytical is supplying water quality testing kits and general industrial filters to pharmaceutical and chemical reagent customers for their requirements.

3M Working on Decontamination Methods

3M is working to quickly evaluate decontamination methods on 3M respirator fit and filtration performance, such as Vaporized Hydrogen Peroxide, UV, Low Temperature Moist Heat, amongst others, as reflected in the CDC guidance on Crisis Standards of Care Decontamination Recommendations. Other methods of decontamination are being discussed in public forums, including liquid chemical decontamination, ozone, and time-based methods but 3M is not prioritizing investigation of these methods at this time. 3M remains committed to providing data to the health care community as soon as possible.
Considering the many variables involved in the process, decontamination of FFRs in the US should follow all requirements of the current EUA issued for each specific decontamination method.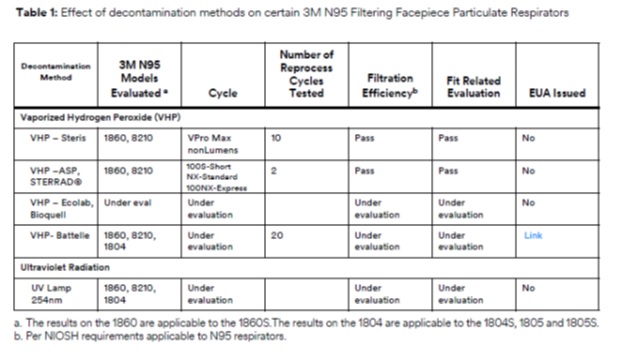 https://multimedia.3m.com/mws/media/1824869O/decontamination-methods-for-3m-n95-respirators-technical-bulletin.pdf