NEWS RELEASE September 2022
Semiconductor Ultrapure Water is a $3 billion Air, Water, Energy, (AWE) Market
Semiconductor investment in ultrapure water is increasing at a rate of 9% due to the
Increasing quantities
Increasing quality
ESG considerations
The market is split between discrete and process applications. Process includes water pretreatment, reverse osmosis, ion exchange and the related valves, pumps, and chemicals. The discrete applications include ultrapure water as the carrier of chemicals used at the tools. Small valves vacuum pumps and cartridges are used.
Four million gallons of water can be used per day in a 200 mm wafer plant. This increases to up to 10 million gpd in a fab using 300 mm wafers. As the linewidths are reduced there is more on a chip which needs to be treated and therefore more water needs to be used.
It is also important to take into account the need for greater and greater water purity as the linewidth shrinks.
In terms of flow quantity and product investment what is important is the quantity of water being circulated and not the quantity entering or leaving the plant.
Fab Projects and Water Requirements
In the U.S. there are a number of new fab projects which will require increases in recirculation of more than 100 mgd. Intel alone will be adding 40 mgd.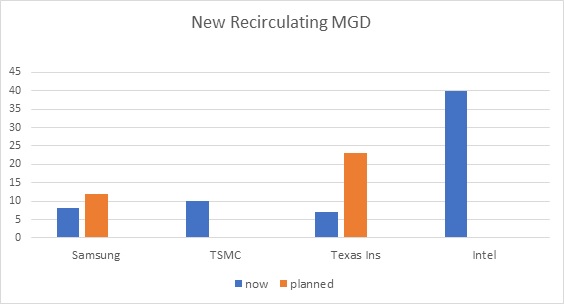 This chart covers projects underway and those for which sites have been chosen but no final commitment made. This table only includes major projects.
The U.S. is presently behind three other countries in terms of recirculated fab mgd. The recently enacted CHIPS act will narrow the lead of others such as Taiwan but there is a long way to go.
The U.S. presently has 500 mgd of water recirculated at fab plants compared to 950 in Taiwan.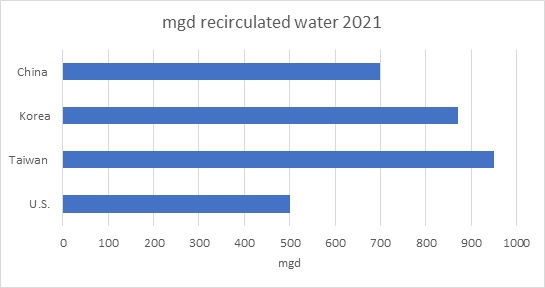 The McIlvaine Pump, Valve, Ultrapure Water, RO, UF, MF, Sedimentation, Cartridge, Air Filter, Cleanroom Hardware, Cleanroom Consumables, IIoT and Treatment Chemicals reports provide detailed forecasts of AWE products used in semiconductor manufacture. There is also Cleanroom Projects with information on few plants as well as those in operation.
These services are described at www.mcilvainecompany.com
Bob McIlvaine can answer your questions at
847 226 2391
This email address is being protected from spambots. You need JavaScript enabled to view it.
NEWS RELEASE August 2022
Holistic Approach to Acquisitions and Organic Growth
Many companies take a piecemeal approach to market research and acquisitions. They buy a market report occasionally. Periodically when contemplating an acquisition or strategy change they invest quite a bit.
McIlvaine believes that a continuous holistic and focused approach can generate the highest ROI. This approach is based on

Detailed forecasts sufficient to set targets for divisions and even individual salesmen
Identification of higher profit future niches
Continuous evaluation of competitor shares and strengths
Analysis of top customers
Identifying the best opportunities through acquisitions or organic growth
The McIlvaine approach is focused but holistic. It covers the entire $750 billion air, water, energy market. But it is focused by using the structure to drill down to the relevant niches.
The structure is clearly defined by an umbrella report which provides an overview and size for each of 27 segments.

http://home.mcilvainecompany.com/index.php/other-services/free-news/news-releases/47-uncategorised/news/1727-nr2712
There are individual continuously updated reports with analysis by industry and country for each product. Each has market share and acquisition updates.

Private consulting is available as a supplement or alternative option.

How to use the service: The holistic approach starts with five year forecasts which identify likely high growth niches.
The Holistic/Focused Approach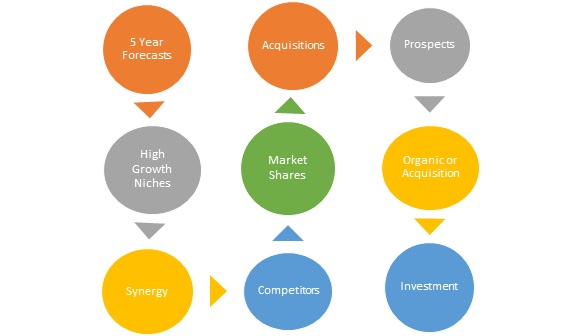 Details on the products used and the processes allow the user to determine the potential synergy for his company. The analysis of competitor market shares and total cost of ownership is then needed.

Recent acquisitions provide unique insights into the competitor positioning. Then a list of potential acquisition candidates can be prepared. The attractiveness of an acquisition can be compared to an organic route to pursue the market.
With this information the company can proceed toward investment.
For more information visit our website at www.mcilvainecompany.com or contact Bob McIlvaine at 847 226 2391 or This email address is being protected from spambots. You need JavaScript enabled to view it.
NEWS RELEASE August 2022
Niche Market Share Analyses Provide Unique Insights
Market share analyses can be provided for a single company or many in any segment of air, water, and energy. For sales managers the purpose can be to assess one or more competitors.
For senior management it can be to analyze a market or an acquisition. Relevant current acquisitions can also be included.
McIlvaine generates many millions of forecasts tor 80 countries, 17 major industry segments, 100 sub segments and hundreds of products. So the market share denominator is already established. All that is needed is to determine the numerator.
This Emerson example shows what is immediately available.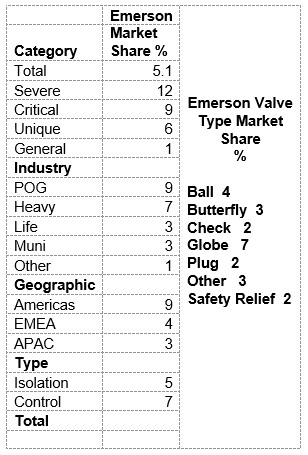 The industry groupings are based on the following segments.


In the Global Knowledge Orchard there are process trees such as gas turbine design and operation. One leaf may be turbine bypass valves.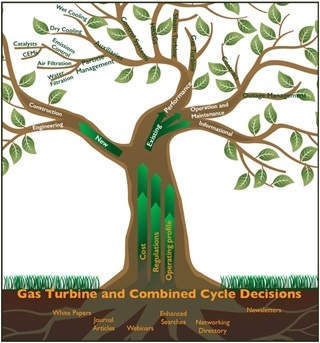 There are product trees in the orchard with market share information. They can be progressively analyzed from trunk to branch to leaf.
McIlvaine is analyzing the market shares in the process trees such as gas turbines. This makes the task of analyzing specific products much easier.
The Emerson example is included in " trunk Market Shares". The next level is branch shares and the most detailed level is leaf
Trunk Market Share analyses are available in 15-25 categories.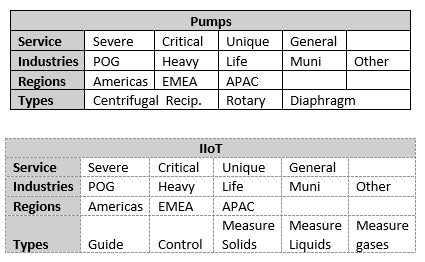 Other trunk areas are shown below.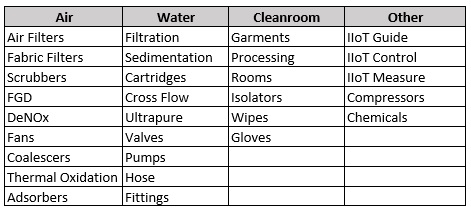 It is important to identify niche market share leadership at the leaf level. For example knife gate slurry valves for power plant FGD is an $80 million/yr market. When Tyco (acquired by Emerson) bought Clarkson Valve it became the leader in knife gate valves for mining and FGD. Acquisitions by others have also shaped the knife gate market. Relevant acquisition information in this market niche can be supplied.
Examples of the leaf level focus are
Aeration blowers: http://home.mcilvainecompany.com/index.php/silobusters/municipal-wastewater-services
High Performance Valves: http://home.mcilvainecompany.com/index.php/silobusters/high-performance-valves-and-iiot
Market shares at the trunk level are relatively inexpensive and very useful. They can precede evaluations at the branch and leaf level.
Bob McIlvaine can provide more information on this program. He can be reached at 847 226 2391 or This email address is being protected from spambots. You need JavaScript enabled to view it.
NEWS RELEASE August 2022
IIoT Market Niches, Shares and Acquisitions Constantly Change
New guide control, and measure technology is continually shaping the IIoT markets. The magnitude of change is greater in some of the niches than in the total market. This dictates a growth strategy targeting high growth niches. McIlvaine analyses these high growth niches and the market shares of participants. The impact of acquisitions is also assessed. A monthly newsletter provides acquisition and market share updates. Here are the contents of the July issue.
INDUSTRIAL IoT & REMOTE O+M NEWSLETTER
July 2022 No. 512
MARKETS
Acquisition and Expansion Guide in Air, Water, and Energy
Thousands of AWE Market Niches Will Shape a $300 Billion IIoT Market
Millions of Cleanroom Market Forecasts, Projects, Market Shares and Acquisitions Continually Updated
The Role of Private Equity for Small and Mid-Sized Companies
INDUSTRY NEWS
An Inside View to Your Pump's Health
Machine Learning For RO Shows Up To 18% Energy Savings
Machine Learning For RO Increases Permeate Production by 6.2%,
Regal Rexnord Monitoring System Prevents Quarry Flooding
Baker Hughes Says Vortex Ultrasonic Flow Meter Is The LTCO
Ultrasonic Measurement For The Downstream Market
Pyro Process Optimization using Modern Gas Analyzer Systems
Green, Blue, and What to do With the CO2
Cement Kiln Monitoring
ICK takes over MOBILISIS
Emerson 2021 AUTOMATION SOLUTION Sales Were 11.6 Billion and
BH Expanding Digital Solutions Business
Generational Equity Advises CK Environmental in its Sale to Alliance
For more information on IIoT and Remote O&M click on
http://home.mcilvainecompany.com/index.php/markets/air/n031-industrial-iot-and-remote-o-m
NEWS RELEASE August 2022
Life Quality and ESG
Environmental, social, and corporate governance (ESG) is a theoretical approach to evaluating the extent to which a corporation works on behalf of social goals that will supposedly go beyond the role of a corporation to maximize profits on behalf of the corporation's shareholders. The initiative launched by the United Nations now represents more than US$30 trillion in assets under management. Capital totaling more than US$18 billion has flowed into ESG-linked products.
One of the goals is to increase corporate values among average stock holders and not just an elite group. In this regard personal life quality metrics is paramount.
Many companies make products which improve life quality but not longevity. They may rate their ESG status based on what they believe is best for individuals rather than what the individuals necessarily want.
Decisions are made in democratic countries based on what voters and consumers want rather than what is best for them.
A new metric is needed to help voters and consumers predict the government or corporate actions which will best achieve their desires.
If people are going to be persuaded to alter their desires, it is necessary to help them predict the long term consequences.
A novel metric entitled Quality Enhanced Life Days (QELD) along with tribal values and discounted future values can greatly assist individuals and corporations to chart the best
Many countries are concerned with both drought and climate change. They can install desalination systems which provide them with high quality water but increase CO2 emissions substantially. A beautiful lawn improves life quality for the owner and neighbors but may be detrimental 50 years from now for coastal citizens in distant countries.
McIlvaine has been contracted by Fortune 500 companies to utilize the life quality metric to help them with decision making or promotion. One study dealt with single use versus reusable cleanroom and hospital garments. Comfort, safety, water pollution and greenhouse gases vary between the two options. The life quality/tribal value/discounted future approach provided guidance.
Several companies contracted with McIlvaine to analyze the value of multi metals analyzers. Today regulators have to be content with one weight measurement for all the metals. However some metals are thousands of times more harmful than others. Some such as mercury can be avoided by not eating large fish. Others cannot be avoided. Each can be rated based on life quality impacts. Life quality is the major issue in regional haze or the deterioration of the view for residents who can see wind turbines on the horizon..
Religions, cults, abortion rights, and eating habits are all driven by personal life quality metrics. Solutions to climate change improve life quality in the future but are discounted in the present for poor families hoping for electricity.
McIlvaine can assist companies who are assessing their ESG progress. The benefits for different groups dependent on their life quality metrics can be determined.
Background information is available at
http://www.mcilvainecompany.com/SURS/subscriber/Default.htm
For more information on ESG analyses contact Bob Mcilvaine at This email address is being protected from spambots. You need JavaScript enabled to view it.
Cell: 847 226 2391
Subcategories
The latest news from the Joomla! Team