NEWS RELEASE January 2023
Aggregating Market niches for the Most Profitable Market
There is a $10 trillion Air, Water, Energy market with 1 million niches of $ 10 million each.
Which niches will combine for the Most Profitable Market (MPM)? Each supplier will be best served by a unique combination of niches to pursue.
Facts x Factors = SOM forecasts x Validated value proposition % = MPM niche
Each niche has its own combination of facts which need to be multiplied by the most relevant factors to provide the Serviceable Obtainable Market (SOM).
The achievable market share is shaped by the value proposition which in turn needs to be validated.
The foundation of business strategy can be the MPM niche forecasts. They set sales strategy down to the local sales level. The longer-range forecasts should be the basis for R&D, manufacturing investment, and acquisitions.
Most would agree that this is the ideal business strategy. But they would also question the practicality of pulling together the millions of necessary facts and factors.
What makes it possible is that most of the facts and factors can be utilized in many different MPM niches. Furthermore, the gathering and fine tuning of all this data has been going on for 48 years at the Mcilvaine Company.
Moving forward a few niches at a time
Each $ 10 million MPM niche has a unique combination of facts and factors which should be separately and continually analyzed. MPM is based on a minimum of 20% market share. So, a 10-niche target would create a market of $ 100 million and $ 20 million in annual revenue.
A product manager for isolation ball valves could organize his activities around a $ 100 million MPM in energy in the U.S and Canada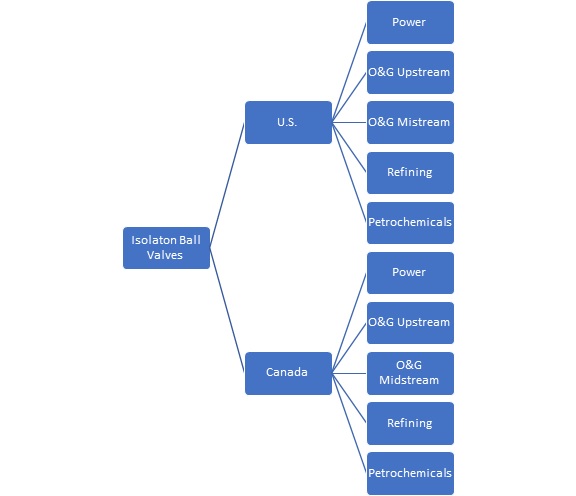 The Canadian salesman could be selling all the valve types in Canada. He would be working with several product managers.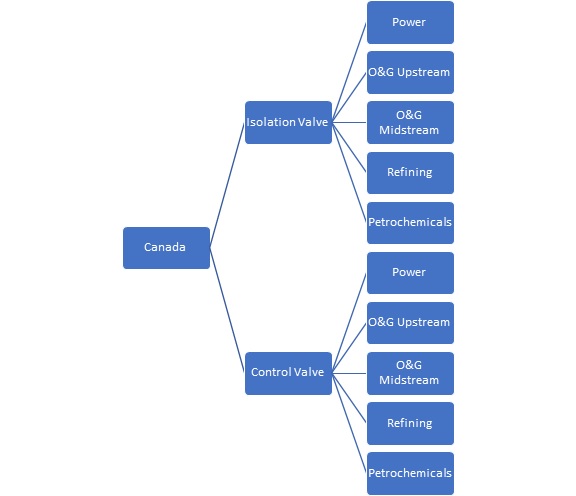 Many companies in the air, water, energy space have sales of $50 million or less. So, they need to target only 25 or less MPM niches in order to achieve the present revenues. If they can target an extra three niches per year, they will achieve double digit growth.
Both the local salesman and the product manager should use the forecasts as the foundation of their activities but also be empowered to help shape the niche forecasts with facts and factors which they can contribute.
This strategy can be implemented niche by niche. Mcilvaine can help you select the low hanging fruit and demonstrate the value on a small scale before you adopt it universally.

To find out more about this important business strategy click on www.mcilvainecompany.com
Bob Mcilvaine can answer your questions at 847 226 2391 or This email address is being protected from spambots. You need JavaScript enabled to view it.
NEWS RELEASE November 2022
Growth Strategy in the $10 Trillion AWE & Adjacencies Market
Over the last 50 years the Mcilvaine Company has built a growth strategy for companies in the Air, Water, and Energy (AWE) Markets. The guide is built on the Strategic Internet of Wisdom (SIOW). It is bottoms up which entails organizing hundreds of millions of data points relative to markets, competitors, acquisitions, processes and trends. The details on this program are provided at: http://home.mcilvainecompany.com/index.php/48-uncategorised/1732-comprehensive-growth-strategy
Many of the major AWE suppliers are in adjacent areas. This larger AWE and Adjacencies market is $ 10 trillion. When these companies make a growth choice it needs to be based on the SIOW for the larger market Much of the AWE SIOW is equally valuable for the adjacencies.
The following table includes companies with annual AWE revenue of more than $500 million. The % of the income from the Adjacencies is also shown.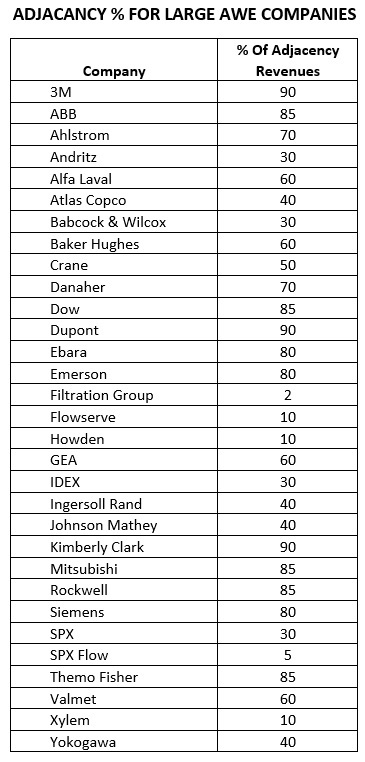 These companies have used Mcilvaine reports or consulting in the past. But they need an expansion of the SIOW to make decisions in the adjacencies.
Mcilvaine is looking for partners to expand into the adjacencies and to bring SIOW to the entire business market.
Bob Mcilvaine can discuss the potential with you.
Bob Mcilvaine
President
Mcilvaine Company
847 226 2391
This email address is being protected from spambots. You need JavaScript enabled to view it.
NEWS RELEASE September 2022
Semiconductor Ultrapure Water is a $3 billion Air, Water, Energy, (AWE) Market
Semiconductor investment in ultrapure water is increasing at a rate of 9% due to the
Increasing quantities
Increasing quality
ESG considerations
The market is split between discrete and process applications. Process includes water pretreatment, reverse osmosis, ion exchange and the related valves, pumps, and chemicals. The discrete applications include ultrapure water as the carrier of chemicals used at the tools. Small valves vacuum pumps and cartridges are used.
Four million gallons of water can be used per day in a 200 mm wafer plant. This increases to up to 10 million gpd in a fab using 300 mm wafers. As the linewidths are reduced there is more on a chip which needs to be treated and therefore more water needs to be used.
It is also important to take into account the need for greater and greater water purity as the linewidth shrinks.
In terms of flow quantity and product investment what is important is the quantity of water being circulated and not the quantity entering or leaving the plant.
Fab Projects and Water Requirements
In the U.S. there are a number of new fab projects which will require increases in recirculation of more than 100 mgd. Intel alone will be adding 40 mgd.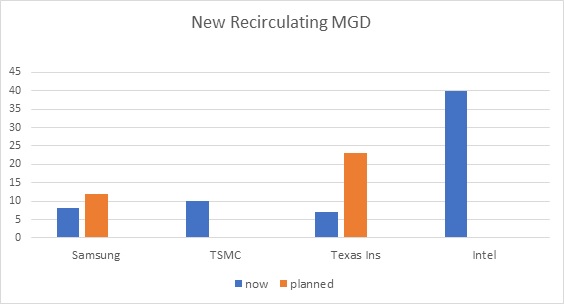 This chart covers projects underway and those for which sites have been chosen but no final commitment made. This table only includes major projects.
The U.S. is presently behind three other countries in terms of recirculated fab mgd. The recently enacted CHIPS act will narrow the lead of others such as Taiwan but there is a long way to go.
The U.S. presently has 500 mgd of water recirculated at fab plants compared to 950 in Taiwan.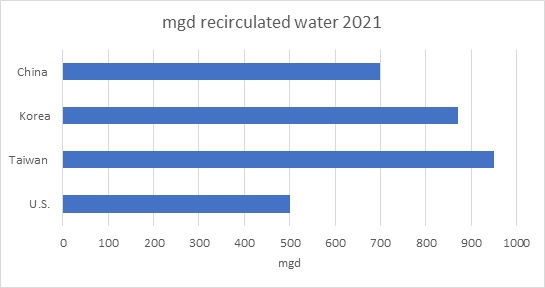 The McIlvaine Pump, Valve, Ultrapure Water, RO, UF, MF, Sedimentation, Cartridge, Air Filter, Cleanroom Hardware, Cleanroom Consumables, IIoT and Treatment Chemicals reports provide detailed forecasts of AWE products used in semiconductor manufacture. There is also Cleanroom Projects with information on few plants as well as those in operation.
These services are described at www.mcilvainecompany.com
Bob McIlvaine can answer your questions at
847 226 2391
This email address is being protected from spambots. You need JavaScript enabled to view it.
NEWS RELEASE November 2022
Increasing Pump Profits is a Chess Game Where the Opponents and Rules Keep Changing
Pumps are pawns on the Air, Water, Energy chessboard. Even grand masters benefit from intelligence systems. But what if the opponents and rules keep changing. The need for a comprehensive support program is much greater.
With the Russian aggression and a Chinese change, of course the rules are radically different than they were at the beginning of the year.
The opponents keep changing. One minute the opponent was another pump company and suddenly it is Ingersoll Rand or Valmet selling packages with pumps as just one of the deliverables
Keeping up with all this activity is a continuing and major challenge.
The acquisition strategy is ascendant as the path to higher EBITDA. The best moves of the pump pawn are determined by the more powerful pieces which are the combustors, mixers, Separators, and dryers. Other pawns such as the compressors, valves, and instrumentation have to be analyzed when they are in the competitor arsenal.
The queen is represented by solutions which can be complete systems or just IIOT packages.
Analyzing all the potential moves on the chessboard is important. You may just be moving the pump pawn, but the move needs to be coordinated with the scrubber knight.
Flue gas scrubber options include dry vs wet and sodium, limestone, or MgO. For a 1000 MW power plant the limestone option results in millions of dollars for pumps. It is twice as much for spray tower designs than for intensive scrubbing. But system cost, efficiency and other factors are involved.
The pumps may be the pawn, but their moves can be decisive. If a 70,000 gpm pump with high abrasion and corrosion resistance is available, the purchase of the limestone stray tower is more likely.
Scrubber system suppliers such as Mitsubishi, B&W, Andritz, BHEL, and Longking always include the scrubbers in their quotes.
Weir and KSB at one time were the only companies able to supply the very large limestone pumps. Weir is now Trillium. The company was acquired by First Reserve and earlier this year acquired Termomeccanica. So, Trillium can offer a new power plant the water and desalination pumps along with the slurry pumps.
In our October 2022 Pump Acquisitions and Market Shares we cover a number of major acquisitions. We are seeing changes in pump company ownership as high as 5% per year.
As startling as this may be the change in ownership in pump packages annually approaches $20 billion. This is 25% of the $ 80 billion/year of pump revenue.
Another way of explaining this is that pump companies are quickly becoming part of solutions companies with a $400 billion annual market.
It can be argued that this is an exaggerated view. Just because Ingersoll Rand is now in the top 100 pump companies, it does not necessarily follow that the combination of compressor and pump revenues will grow. The F.L Smidth/ABB consortium is pursuing the multi-billion dollar mining market. But it may have a modest impact on the slurry pump market share.
The takeaway is the total EBITDA can increase well above that attributable to the pumps
Here is the acquisition finder listing for Ingersoll Rand

These are just pump acquisitions and not all the IR acquisitions in the $950 billion air, water, energy space.
Dosatron is a leader in niche markets in agriculture and horticulture. Compressor/blower applications include on site power plants which generate CO2 needed for plant growth.
Everest gives IR geographic expansion in India for vacuum pumps and blowers.
The SPX Flow air treatment acquisition makes IR a market leader in treating compressed air. There are lots of filter replacements. So, the combined compressor/air treatment service opportunity is enhanced. The Seepex pump purchase expands the opportunity to sell progressive cavity pumps for food applications along with compressors for gases used in temperature control.
Tuthill makes pumps used in lubrication of compressors. Albin makes peristaltic pumps for agriculture and other applications to complement the other pump acquisitions.
Details on the pump report are found at: http://home.mcilvainecompany.com/index.php/markets/water-and-flow/n019-pumps-world-market
The Growth Strategy Program discussion is featured at www.mcilvainecompany.com
NEWS RELEASE August 2022
Holistic Approach to Acquisitions and Organic Growth
Many companies take a piecemeal approach to market research and acquisitions. They buy a market report occasionally. Periodically when contemplating an acquisition or strategy change they invest quite a bit.
McIlvaine believes that a continuous holistic and focused approach can generate the highest ROI. This approach is based on

Detailed forecasts sufficient to set targets for divisions and even individual salesmen
Identification of higher profit future niches
Continuous evaluation of competitor shares and strengths
Analysis of top customers
Identifying the best opportunities through acquisitions or organic growth
The McIlvaine approach is focused but holistic. It covers the entire $750 billion air, water, energy market. But it is focused by using the structure to drill down to the relevant niches.
The structure is clearly defined by an umbrella report which provides an overview and size for each of 27 segments.

http://home.mcilvainecompany.com/index.php/other-services/free-news/news-releases/47-uncategorised/news/1727-nr2712
There are individual continuously updated reports with analysis by industry and country for each product. Each has market share and acquisition updates.

Private consulting is available as a supplement or alternative option.

How to use the service: The holistic approach starts with five year forecasts which identify likely high growth niches.
The Holistic/Focused Approach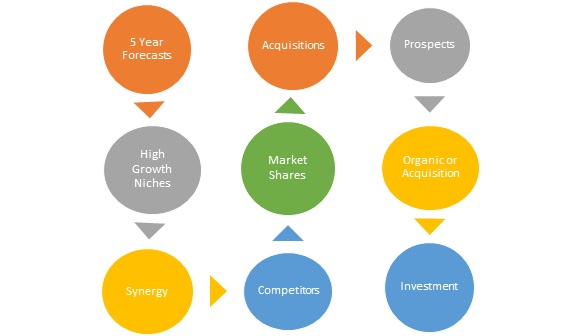 Details on the products used and the processes allow the user to determine the potential synergy for his company. The analysis of competitor market shares and total cost of ownership is then needed.

Recent acquisitions provide unique insights into the competitor positioning. Then a list of potential acquisition candidates can be prepared. The attractiveness of an acquisition can be compared to an organic route to pursue the market.
With this information the company can proceed toward investment.
For more information visit our website at www.mcilvainecompany.com or contact Bob McIlvaine at 847 226 2391 or This email address is being protected from spambots. You need JavaScript enabled to view it.
Subcategories
The latest news from the Joomla! Team