NEWS RELEASE May 2022
Sea Change in the Pump and Valve Markets
Digital technology is creating a sea change in the markets and profit potential for pump and valve suppliers. It will create the fairest of winds for those who adapt. For those who do not it will be a Tsunami.
The total combined pump and valve market is over $200 billion per year. The performance needs include severe, critical, unique and general service. All except general can be considered high performance. The revenues in high performance applications are over $80 billion per year.
The sea change is taking place in all segments but is critical to the high performance products.
Here is the evolution which makes this sea change so important
High performance products are sold by demonstrating lowest total cost of ownership (LTCO).
The supplier must understand the customer's needs in order to develop an LTCO product.
Digital technology such as condition and performance monitoring provides evidence of LTCO.
Purchasers have avoided new and better products previously due to challenges in determining LTCO.
The supplier who can validate LTCO can now easily reach new markets and customers.
Digital technology pinpoints product weaknesses and provides a guide for product improvement.
With the expanded market the supplier can afford the R&D for product improvement.
The supplier develops unique knowledge about the role his product can play in lowering customer TCO.
This knowledge allows the supplier to become a solutions provider who with 24-7 access can help minimize TCO over the life of the plant.
The tsunami for those suppliers who don't adapt includes usurpation of the LTCO role by the digital systems integrators. They can reduce the pump or valve supplier role to just delivery of specified hardware.
There is one major hurdle to catching the fair winds. While vast amounts of digital evidence is now available, the organization and access to it is at best 50% vast.
McIlvaine is working with the media as well as suppliers serving the pump and valve industry to assist them in organizing predicate and disputed evidence relative to valve and pump choices. .
This organization of knowledge can be considered an Industrial Internet of Wisdom (IIoW) which is integral to IIoT. More detailed information is found at
Industrial Valves: World Market Report
Industrial IoT and Remote O&M Report
Bob McIlvaine can answer your questions at 847-226-2391 This email address is being protected from spambots. You need JavaScript enabled to view it.
NEWS RELEASE April 2022
Fabric Filter Market Changing Faster Than Any Time Since 1960
In the 1960s pulse cleaned bags rapidly obsolesced shaker bags. New high temperature fabrics were introduced which allowed greater penetration into the power and other markets dominated by precipitators.
The 2020s is going to be equally dynamic in terms of the products, applications, and geographies.
Products: Previously the element designs were primarily bags and cartridges. The cartridges were pleated and mostly cellulose. They were applicable only to light and dry applications. Now new pleated designs with higher temperature fabrics have created a major new category. Because the pleated synthetic media filters are typically less than 8 inches in diameter (the typical paper cartridge is more than 8 inches in diameter), the new segmentation for the pleated filters is labeled "cartridges <8 inches diameter".
Another development is the ceramic filter. It can operate at very high temperatures. If the gas has to be cooled to 500F in order to be filtered a large amount of energy is wasted. These filters can not only remove the fine particulate but with direct sorbent injection can also remove acid gases. The ceramic filter can also include an embedded catalyst. So one vessel can replace three: the particulate filter, acid gas scrubber and selective catalytic NOx control unit.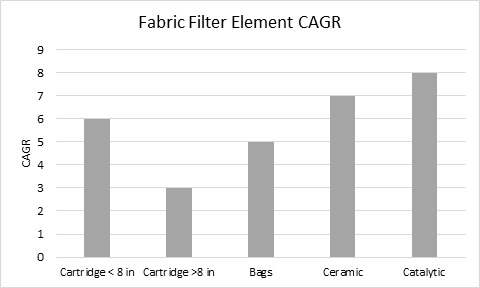 Applications: Biomass combustion followed by carbon sequestration is the most promising carbon negative technology. A coal plant like Drax which switches to this technology takes out as much CO2 from the atmosphere as it was previously adding. So this is a double digit growth potential for fabric filters.
Geographies: The Russian invasion is creating expanded markets for fabric filters in Europe. The growth of biomass combustion will offset use of natural gas. The agricultural disruption will create a spurt in fertilizer manufacturing plants in ROW. Russa and Belarus combined are the largest potash producer. Russia has large reserves of metals.
Chinese filter bag suppliers have a significant share of the international markets. The COVID shutdown creates a short term crisis. Longer term the autocratic Chinese-Russian coalition could permanently change the market.
The McIlvaine Company is making continuous changes to the Fabric Filter: World Market forecasts. More than 50,000 new forecasts by product type have been added. All the forecasts are being updated every few months in order to reflect the changes.
Information on the report is found at http://home.mcilvainecompany.com/index.php/markets/air/n021-world-fabric-filter-and-element-market
The report provides the foundation for an Evidence Based Sales Strategy. More information on this strategy is available from Bob McIlvaine. He can be reached at 847 226 2391 or This email address is being protected from spambots. You need JavaScript enabled to view it.
NEWS RELEASE April 2022
Simulated Trials as a Winning Sales Strategy
McIlvaine Company can help Air, Water, Energy (AWE) product suppliers with a simulated trial strategy.
Detailed market forecasts plus competitor analyses can be leveraged for increased profits.
New and better products can be more profitable if purchasers understand the advantages. Even with standard products, if the customer has only used the competitor product, then the challenge is the same as selling a new product.
Simulated Trial Sales Campaign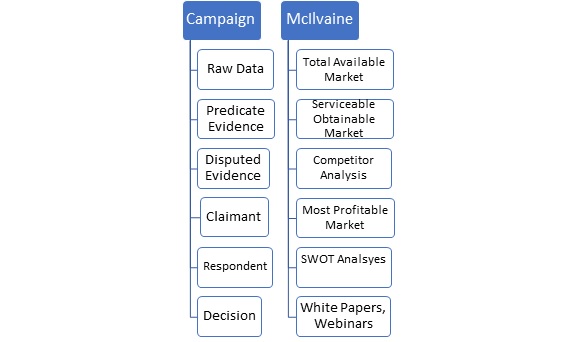 The sales campaign can be viewed as a series of trials. Each is expensive. The claimant can better focus where he can most profitably win the business. This is based on detailed forecasts and analysis. The market is divided into two segments. One is where price and delivery are dominant. The other is where performance shapes total cost of ownership. The simulated trial approach is uniquely suited to opportunities where performance counts.
Raw Data - Total Available Market (TAM) The effort starts with evaluating raw data relative to customers, industries, and processes. McIlvaine also evaluates this data to determine the total available market. The effort needs to be ongoing. This is particularly true in 2022 when the future of democracy may in part be shaped by AWE suppliers understanding new dynamics.
Predicate Evidence - Serviceable Obtainable Market (SOM) Only a portion of TAM can be serviced profitably. This is determined by predicate evidence which is needed in claims over disputed evidence.
Disputed Evidence - Competitor Analyses The product advantages are not absolute but relative compared to competitors. The competitor analysis needs to be specific to the project (trial).
Claimant - Most Profitable Market Claims should be most aggressively pursued where the maximum EBITA is available.
Respondent - SWOT Analyses The arguments of the competition can be countered with thorough analysis of the specific application. This in turn depends on leveraging the predicate and disputed evidence.
Decision - White Papers, Webinars Preparing a good case is only the beginning. Convincing the purchaser requires the use of the media and events. McIlvaine can assist with whitepapers and webinars.
The simulated trial approach can increase EBITA through increasing sales of new and better products as well as existing products where competitors are entrenched. Each opportunity can be viewed as a separate trial. The preparation of evidence needs to be continuous. The market forecasting can lead the way but only if it is extensive and ongoing.
The relevant McIlvaine services are explained at www.mcilvainecompany.com

Bob McIlvaine can answer your questions at 847 226 2391 or This email address is being protected from spambots. You need JavaScript enabled to view it.
NEWS RELEASE April 2022
Evidence Based Sales Strategy Needed for CO2 Pumps and Compressors
Decisions about pumps and compressors for CO2 will be important in the campaign to quickly find alternatives to Russian oil and gas. Drax in the UK combusts biomass and will now sequester the CO2 in the North Sea. This will make Drax a carbon negative contributor. It will allow 4000 MW of coal fired plants to remain operating in Poland and East Europe and still obtain the carbon neutral goals which are sought.
For suppliers selling pumps and compressors where performance is important; the most profitable market is directly proportional to the ability to convince purchasers of product superiority. If you are selling well established products to new customers or new products to existing customers success will depend on gathering the evidence, analyzing total cost of ownership and then presenting that evidence in a way which validates claims.
Evidence Based Sales Campaign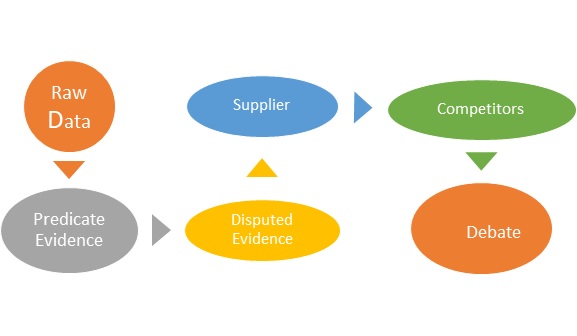 The Mcilvaine Company provides a guide to the Evidence Based Sales Strategy with forecasts of the Total Available Market (TAM) based on the raw data, the Serviceable Obtainable Market (SOM) based on the predicate evidence and the Most Profitable Market (MPM) based on analysis of competitors and purchasers.
http://home.mcilvainecompany.com/index.php/other-services/free-news/news-releases/47-uncategorised/news/1713-nr2699
The raw data on pumps and compressors for CO2 is available on line. Here are examples.
There are many specific applications involved in the purification, compression and movement of the CO2. It is up to the supplier to organize the predicate evidence, address the disputed evidence and make a case. Here is an example.
For an EOR project in Qatar, Sulzer supplied an API 610 type BB5, multi-stage, opposed impeller pump with a design pressure around 240 barg, Along with the relatively high suction pressures, the lightness and effusiveness of the supercritical CO2 needed to be managed well. Sulzer says that high suction pressures and lightness of CO2 have a significant effect on the design of the pump. Sulzer says they have addressed both the design and materials issues and offer a lower total cost of ownership product for the application
The unique aspects of the pump design are important and will be part of the disputed evidence. Some of the materials selection choices are just predicate evidence which competitors can also address.
Knowledge of the competitors designs is essential in providing proper evidence. There are some unique ways to accomplish this. A large compressor/blower manufacturer contracted with McIlvaine for extensive competitor analysis of blowers and compressors for aeration in municipal wastewater treatment plants. They wanted a fair assessment of cost of ownership. To do this McIlvaine created a decision guide for attendees at WEFTEC in two different years as shown at http://home.mcilvainecompany.com/index.php/silobusters/municipal-wastewater-services
Since quite a bit of total cost of ownership evaluation is created by the consultants and made publicly available the predicate evidence was exceptional. Contribution by the competitors addressed the disputed evidence.
It could be argued that the supplier was giving too much publicity to competitors. But this concession was minor compared to the evidence based most profitable market strategy benefits.
Projects and technology relative to CO2 sequestration are found in the weekly Utility E Alert and Tracking System http://home.mcilvainecompany.com/index.php/databases/42ei-utility-tracking-system
The Total Available and Serviceable Obtainable Markets are included in Pumps: World Markets.
http://home.mcilvainecompany.com/index.php/markets/water-and-flow/n019-pumps-world-market
Most Profitable Market programs for both pumps and compressors are available. For more information contact Bob McIlvaine at This email address is being protected from spambots. You need JavaScript enabled to view it. or cell phone 847 226 2391.
NEWS RELEASE April 2022
Most Profitable Market for Cleanroom Product and Service Suppliers
Driven by semiconductors and biopharmaceuticals the demand for cleanroom, hardware, consumables and services will grow at a high single digit rate over the next five years. Some components will grow faster and at the expense of others. The more isolators used, the less class 100 space, garments, mops, wipes, and ceiling filters.
Applications are rapidly evolving. The semiconductor needs today with wafer pods and 5 nm line sizes are greatly different than they were a decade ago.
Cell and gene therapy with limited product runs prior to cleaning provides unique challenges. The product is often worth its weight or more in gold. The potential costs of contamination are therefore very high.
Nanotechnology has found its way into medical devices and to other products which now need to be better protected.
Growing cannabis is an exact science. Achieving optimal potency and consistency, researching differing strains, navigating different vegetative cycles, and producing cannabis in general all require unique and precise controls. Many growers successfully resolve these challenges by basing operations in cleanrooms.
Cleanroom science is changing. To some extent the regulations drive the science and vice vera. Cleanroom classes are defined in regulations but do not necessarily reflect the latest science. A class 100 cleanroom is rated based on filtered air flow. However, movement of objects or people in a room will change the particulate levels in the room.
Garments are typically rated upon their filter efficiency when not in motion. Two garments which prove equally efficient at rest can behave differently when the wearer is in motion.
Filter efficiency is generally rated on 0.3 micron efficiency with the assumption that smaller particles are captured at higher efficiency due to Brownian motion. This assumption is being challenged by suppliers of membrane media which have higher efficiencies on particles less than 0.3 microns than do microglass fiber media. Other examples relative to filters and media are shown at http://home.mcilvainecompany.com/images/Products_and_Services/IFN_HVAC_TCO_Factors_06-25-21.pdf
Measurement criteria are changing with the science. The continuous measurement of viable particles as opposed to the delayed results from periodic sampling could change regulatory policy. The usefulness will rest on the ability to distinguish between live and microorganisms.
Product evolution. Microfibers are changing the performance of wipes, mops, filters, garments and other media based products. Anti-microbial coatings are another ongoing development.
Variable speed fan drives offer the potential for lower energy consumption. Male and female valve connections which avoid product exposure to the room environment during transfer have many advantages.
Geographic Distribution. Forecasts for new semiconductor investment changed instantaneously with the Russian invasion of Ukraine and announcements of the closer ties between Russia and China.
The huge expansion of vaccine manufacture in the last two years was unexpected. The need for additional facilities in Asia and Africa is greater due to efficacy as low as 50% for the Chinese COVID vaccines. When this is combined with the high rate of transmission for the latest COVID variant the market dynamics are changed.
The dynamic aspects of the cleanroom market make it challenging to find the most profitable niches.
McIlvaine company can support the efforts in three areas
market forecasts
predicate evidence
disputed evidence

Market Forecasts. Suppliers want to pursue the most profitable markets (MPM). McIlvaine can identify the specific opportunities for a particular design of filter, garment, or isolator.
Predicate Evidence. Market forecasts need to focus on opportunities where a product with the lowest total cost of ownership (LTCOV) can be supplied. This is determined in part by predicate evidence such as regulations, processes, product sensitivity to contaminants, value per unit of product, operating hours, and energy costs. No credible claim for lowest total cost of ownership can be made without all the predicate evidence
Disputed Evidence. The supplier needs to convince purchasers that his product will have the lowest total cost of ownership. This entails analysis of competitors. McIlvaine identifies competitors and the claims they are making relative to the cost of ownership for their products.
McIlvaine has market reports which can be used as the basis for the forecasts. However, it is important to identify the most profitable market opportunity. This requires analysis of the predicate and disputed evidence. This is best accomplished in a consulting contract.
For more information contact Bob McIlvaine at 847 226 2391 or This email address is being protected from spambots. You need JavaScript enabled to view it.
Subcategories
The latest news from the Joomla! Team