NEWS RELEASE August 2021
Many Large Growing Market Niches for Hydrogen Flow and Treat Products

There is evolving a significant hydrogen market for flow and treat products. A number of technologies and applications are being applied. There is considerable funding from governments who believe that hydrogen is an important option to archive zero net carbon emissions by 2050.
There is an opportunity for flow and treat system and product suppliers to develop unique products which can boost EBITA as well as revenues. But in addition to the uncertainty about applications and technologies there is no clear ranking of potential users or suppliers of the hydrogen.
Another challenge is the likely fragmentation into many sub segments which have different total cost of ownership factors and therefore unique product requirements.
McIlvaine is continually compiling information on these unique requirements and the products which are best suited to meet the needs. This data is being used to provide extensive forecasts by product, purchaser, application, industry, and geography.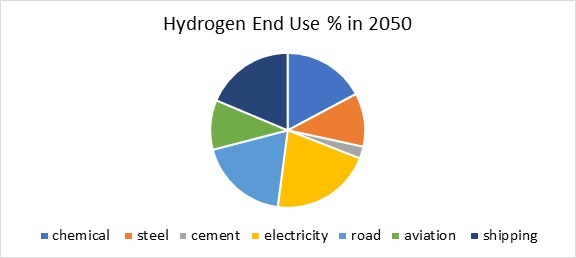 The sales of flow and treat products to produce hydrogen in 2050 could range from $15 billion to $50 billion. This market will to some extent be shaped by the suppliers. Other methods of energy storage will compete. To the extent that the flow and treat industry can improve the economics of hydrogen the larger the market share for this fuel option.
Individual flow and treat suppliers will need to determine their specific potential revenues and EBITA depending on a number of variables including
Total amount of hydrogen consumed
Percent used in different industrial sectors
Sources of power
Geographical distribution
Technologies utilized to make the hydrogen
The energy source to produce hydrogen has significant impact on the size of the flow and treat market and the competitive position of specific flow and treat companies.
Suppliers such as Andritz with strengths in hydropower will benefit to the extent that hydropower is the energy source.
Wind and solar plants do not use many flow and treat products. Coal and biomass with carbon sequestration would use the most.
In the case of bioenergy hydrogen can be just one of the products produced.
The energy source can also shape the geographical markets. Hydropower opportunities occur in areas of the world which can differ greatly from that of other energy sources.
McIlvaine provides detailed weekly tracking of hydrogen activity and customized forecasts including market share projections.
Details on the approach to continually analyze and forecast the market niches and the unique products which best serve that niche are described at Hydrogen Flow and Treat Market Niches.
For more information contact Bob McIlvaine at 847 226 2391 or This email address is being protected from spambots. You need JavaScript enabled to view it.