NEWS RELEASE March 2023
3-Year Target for Every Salesman
The Air, Water, Energy (AWE) industry should emulate Major League Baseball where the winning strategy is mastering the minutiae such as how to pitch to every opposing batter in the league. This is done by gathering all the facts and then applying the right factors.
The equivalent in the AWE industry is to set a sales target for every salesman based on reliable facts and factors.
The 10 trillion AWE Market is an aggregation of a million $10 million niches where market share of more than 20% can be achieved. Each niche consists of sub niches. Each sub niche is shaped by a number of facts and factors. The result is that a large number of facts and factors need to be assessed for each salesman.
Most companies would want to set a three-year target and plan in each territory to reflect the ROI associated with the sales cost.
Few would argue with the benefits of this approach. The question would be whether the needed data can be obtained and does the cost outweigh the value.
MLB teams can now turn to cost effective services which record and characterize every pitch. Mcilvaine has been characterizing and recording facts and factors in the AWE market for nearly 50 years. The oil embargo in 1970 caused over reactions. History rhymed with the doom and gloom forecasts after the Russian invasion. However, Europe did not suffer the dark and cold. Instead, gas prices in the region are lower than at the time of the invasion.
There are 1 million AWE products, but they share common facts and factors.
258 significant geographic entities with some countries as part of entities and others such as the U. S and China comprising multiple entities.
50 major industrial, commercial and adjacent residential markets. There are thousands of important sub-segments.
15 major processes can be sub divided into hundreds of unique segments.
Predictable ratio among certain products. The number of valves is proportional to the number of pumps which is proportional to the quantity filtered, cooled, dried, or separated.
Cost of ownership factors are shared. Mcilvaine divides products by service: severe, critical, unique, and general. In mining abrasion and corrosion shape the product value proposition and cost of ownership.
Growth markets are shared: the trend to single use products extends to the whole range of flow control and treatment in pharmaceuticals. Hydrogen is a big filtration media opportunity for suppliers who are making HVAC filter media and cleanroom gowns.
Environmental and safety regulations have commensurate impact on various AWE products.
Economic and social issues also have commensurate impact. The AWE industry can actually be pro- active by championing life quality as the true goal rather than some arbitrary view of sustainability.
In depth historical market share analyses. There are no government or association statistics on which to determine the market size. The one source with actual numbers is the suppliers. The problem is that none of them segment the market by product, industry, and geography to the degree needed.
o At some point in time more detailed information may be revealed that has lasting value.
o If it is a multiple AWE company the market shares for the individual products can be deduced.
o Historical, present, and future market shares are an important element in evaluating the potential in each niche.
HISTORICAL MARKET SHARES AS THE ROUTE TO ACCURATE FORECASTING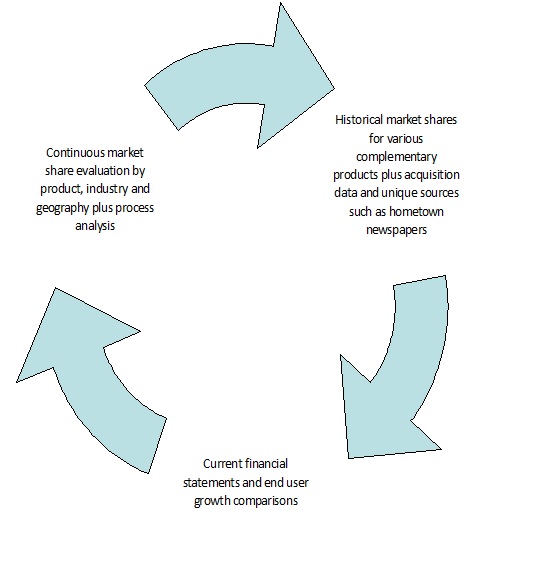 The program can be embraced in totality or just for the low hanging fruit. It can be applied if there is a decision on where to locate a sales office or which industry to target for growth. It can also be first utilized for acquisition decisions.
For more information on the individual sales targets contact Bob Mcilvaine at 847 226 2391 or This email address is being protected from spambots. You need JavaScript enabled to view it.
NEWS RELEASE March 2023
Detailed Gas Turbine Intake Filter Forecasts Available
A forecast of gas turbine intake filter expenditures which is current and detailed enough to set sales quotas is now available from the Mcilvaine Company. It can be purchased independently or as an addition to the air filter or fabric filter market reports.
These forecasts are based on thousands of facts and factors which are constantly reviewed in a decision system which is publicly available.
The future markets are dependent on gas availability, greenhouse gas regulations, Russian aggression, Chinese policy and other factors which are continuing to change.
Filter media efficiency requirements are a function of the application, turbine type, and ambient contaminants. The requirements for FPSOs are different from other environments. They are also a function of media life, turbine life, maintenance, water costs and other factors.
The report provides market share analyses for the major filter and media suppliers by product and geography.
Excel spread sheets provide tens of thousands of forecasts for:
5 years in the future and past 5 years
Each of 80 countries and sub regions
Filters and media
media type and efficiency
Static and pulsed
Land based utility power, offshore oil and gas, refining, industrial
Shares for major media and filter companies
Analyses of split by media efficiency address the following: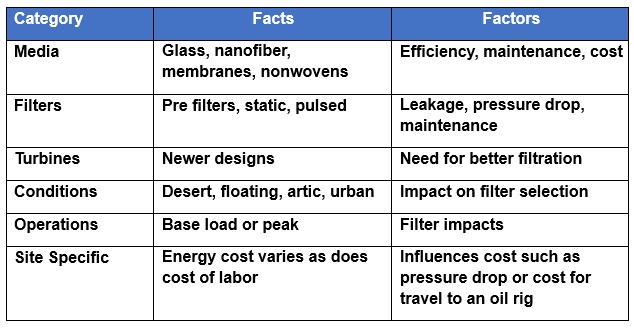 The forecasts are based on the facts and factors displayed on the Gas Turbine website and then on the Gas Turbine Air Treatment child web.
The system on gas turbine decisions is displayed at:
http://www.mcilvainecompany.com/GTairTech/Subscriber/Default.htm
The child web on air treatment is found at:
http://www.mcilvainecompany.com/gtairanalysis/Subscriber/default.htm
The Gas turbine intake filter report is $2800 or $ 1400 as an addition to either the fabric filter or air filter report
Details on the air filter report are found at:
http://home.mcilvainecompany.com/index.php/markets/air/n022-air-filtration-and-purification-world-market
Details on the Fabric Filter Report are found at
http://home.mcilvainecompany.com/index.php/markets/air/n021-world-fabric-filter-and-element-market
For more information on these reports contact Bob Mcilvaine at 847 226 2391 or This email address is being protected from spambots. You need JavaScript enabled to view it.
NEWS RELEASE February 2023
Celeros is Pursuing a $4 billion Filter Market
Celeros is a $ 400 million spin off from SPX Flow. Pumps, valves and filters were included. The spinoff was for power and energy products.
Mcilvaine has custom analyses for each segment.
Mcilvaine has determined that the Serviceable Available Market for the filtration segment is $ 4 billion/yr.
There is a unique focus on niches in between the least and most. Celeros is pursuing the Goldilocks portion of the market.
The applications covered are upstream, mid-stream, refining, power, general industry and naval. There are separate forecasts through 2028 by country for ten products including air coalescers, liquid coalescers. cartridge filters, automatic filters, spin filters, intake filters, compressor filters, activated carbon, particulate filters, and mist eliminators.
Each of the products is unique. In general, they follow the Goldilocks principle of serving a relatively small market in between least and most. For example, strainers are the least efficient and filter presses the most efficient. The Celeros Automatic filter is designed to fill that 25 - 150 micron void.
Celeros Targeted Market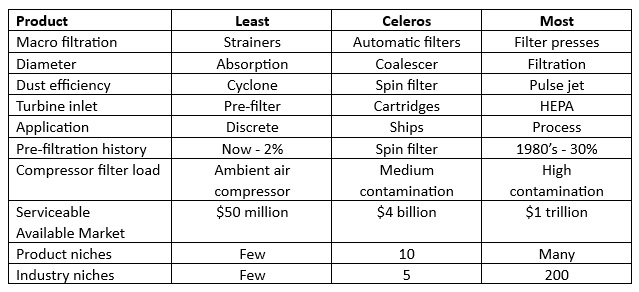 The Mcilvaine Company has standard market reports covering each of the products, but they cover the Total Available Market (TAM). In order to obtain the Serviceable Obtainable Market (SOM) and the Most Profitable Market (MPM) it is necessary to analyze each niche.
Bob Mcilvaine can provide details and pricing on this report. You can reach him at This email address is being protected from spambots. You need JavaScript enabled to view it. mobile 847-226-2391.
NEWS RELEASE February 2023
The Most Profitable AWE Market is an Aggregation of the Top Niches
Air, Water, Energy (AWE) companies such as IDEX and Filtration Group have combined high EBITDA and market share by focusing on small niches. They have generated billions in revenues by aggregating a number of niches.
Ingersoll Rand and Atlas Copco are leveraging niche competence by adding complementary products.
The most profitable market can be an aggregation of $10 million niches with a 20% market share. Annual revenues of $50 million are achievable by pursuing 25 niches. It will take 500 niches to achieve revenues of $1 billion/yr.
There are 1 million niches in the $10 trillion Air, Water, and Energy Market.
Mcilvaine is analyzing various niche strategies to help companies choose the right combination.
Celeros is a spin-off from SPX Flow which is a spin-off from SPX. Celeros niches are in energy and power. In the filtration applications there is a Goldilocks strategy of pursuing requirements between the least and most.
Celeros is Pursuing a $4 billion Filter Market
For certain large volume products there are regional and State niches. For example, California is a larger biotechnology market than all but a few countries in the world.
Sales Targets for U.S. AWE Sales Territories
There is a core Air, Water, Energy market of $1 trillion plus $ 9 trillion in adjacencies. Xylem and Flowserve derive 90% of their business in the core market. Emerson derives only 40% in the core market. Splits for 20 companies are discussed.
Growth Strategy in the $10 Trillion AWE & Adjacencies Market
Pumps are an attractive complementary product for system providers but also for rotating equipment suppliers. Ingersoll Rand has purchased a number of pump companies.
Increasing Pump Profits is a Chess Game Where the Opponents and Rules Keep Changing
Ultrapure water for chips, and cleanroom HVAC are two b big air, water, energy applications in semiconductor manufacturing. One aspect is the potential niche relocation as the U.S. is subsidizing new chip plants.
Semiconductor Ultrapure Water is a $3 billion Air, Water, Energy, (AWE) Market
The options to strengthen the niches are either organic or through acquisition. The applicable facts and factors are important in determining which path to take.
Holistic Approach to Acquisitions and Organic Growth
IIOT provides the way to evaluate and improve product success as well as give the AWE supplier the opportunity to generate aftermarket revenues
IIoT Market Niches, Shares and Acquisitions Constantly Change
The Mcilvaine Company can help you evaluate a single niche or with a complete MPM program.
For more information contact Bob Mcilvaine at 847 226 2391 or This email address is being protected from spambots. You need JavaScript enabled to view it.
NEWS RELEASE February 2023
Sales Targets for U.S. AWE Sales Territories
The Air, Water, Energy (AWE) Most Profitable Market program (MPM) is based on validation of forecasts at the local sales level. Mcilvaine standard reports provide forecasts for each country. However, for the U.S and China segmentation by State and province is necessary.
The Most Profitable Market (MPM) niches are determined by compiling the relevant facts and then multiplying them by the relevant factors which includes the ability to sell in the region covered in the niche. Individual States in the U.S. are large enough markets to create profitable niches.
When the U.S. is segmented into 9 regions, each is larger than most countries. China is the only other country for which this is true.
State by State segmentation in the U.S can now be provided. You can use a template to instantly determine the MPM in any State or region.
With this additional segmentation for the U.S. and China creates 160 geographical market niches which can be the basis for sales targets and totals.
As shown below the local salesman in California is responsible for 3 product sub niches in 2 industries or 6 sub niches. The regional product manager is responsible for 1 product in 3 States in two industries or 6 sub niches. Since regional managers spend less time per sub niche it is likely that they are involved in more sub niches than the local salesman.
Sub-niches for local salesman and regional manager.

U.S. Regions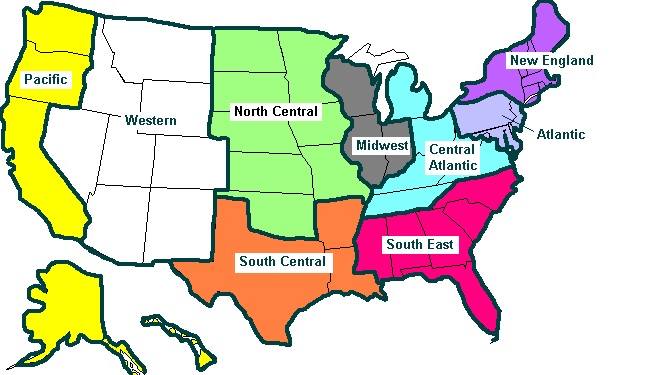 Here is an example using Pharmaceutical AWE and the Pacific States.

The pacific region has X % of the U.S. pharmaceutical market and X % of the world market. California is a major market by itself. It has X % of the U.S. pharmaceutical market and X % of the world market.
The pharmaceutical market in California is growing at 6% and will be the equivalent of 8% of the 2022 U.S. market in 2027. Note that by basing all future numbers as a percent of the 2022 market, the 2022 revenue number is all that needs to be inserted.
The segmentation of the U.S. and Chinese markets by State/province plus further segmentation by industry (food has up to 33 subcategories) allows a company to create a forecast target for each salesman.
These percentage analyses are available as a supplement to the standard market reports or individually. They generally apply to any AWE product.
The Most Profitable AWE Market is an aggregation of selected niches.
The $10 trillion Air, Water, Energy (AWE) Market is an aggregation of 1 million niche markets.
The Most Profitable Market (MPM) is achieved by selecting those niches which are most appropriate.
The size and requirements for success in each niche are determined by the relevant facts multiplied by the appropriate factors.
The more shared facts and factors across products the higher the potential EBITDA.
A niche network of facts and factors can be continually updated to provide revenues and other estimates used for the forecasts, and value propositions.
Reliable forecasts can become the foundation of management strategy as well as use throughout the organization down to quotas in sales territories.
Mcilvaine has been supplying forecasts and niche knowledge since 1974 and can support any or all niche programs.
The video description of MPM is shown at https://youtu.be/zPkphlA0KiM
Here is a link to the Power Point presentation: http://home.mcilvainecompany.com/images/mpm.pdf
Bob Mcilvaine can answer your questions at 847 226 2391 or This email address is being protected from spambots. You need JavaScript enabled to view it.
Subcategories
The latest news from the Joomla! Team