NEWS RELEASE June 2021
A New Business Strategy for Air, Water, Flow and Treat Suppliers
Companies with products to move, treat, or control air, gases, water, liquids, and free flowing solids are challenged by the large number of applications in which their products can be used.
Each application involves many total cost of ownership (TCO) factors. The information required to evaluate each factor in each application until recently has been overwhelming.
However, with the Industrial Internet of Things there is a parallel Industrial Internet of Wisdom (IIoW). This resource gives suppliers the opportunity to analyze the TCO factors and provide products with the lowest total cost of ownership (LTCO).
This opportunity makes the suppliers pro-active rather than reactive. It changes the management and R&D approach. It also changes marketing from focusing on product awareness to providing LTCO validation (LTCOV).
Here is information on this approach in comparison to those commonly used.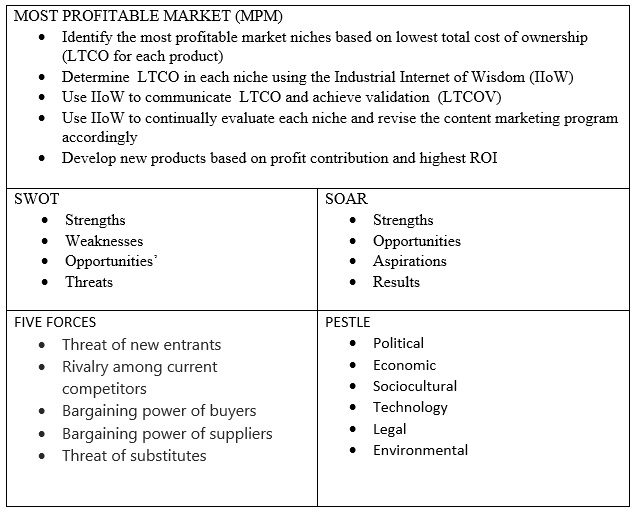 MPM becomes the foundation of the business. The other business intelligence tools are guides used by some within the organization. With MPM everyone is involved. The local salesman for the semiconductor industry in Taiwan not only knows the LTCOV for semiconductors but has a quota for his territory which he helps set and is based in part on his LTCO input.
The role of the McIlvaine company includes
Advise
Provide detailed market forecasts for each niche
Analyze competition
Analyze TCO factors
Examples are provided at www.mcilvainecompany.com
Bob McIlvaine can answer your questions at 847 226-2391 or email: This email address is being protected from spambots. You need JavaScript enabled to view it.