NEWS RELEASE December 2019
World Centrifuge Market Controlled by Fewer than Fifty Companies
Thousands of new forecasts relative to the market for centrifuges have just been posted to http://home.mcilvainecompany.com/index.php/markets/water-and-flow/n005-sedimentation-and-centrifugation-world-markets. Centrifuges are highly engineered devices which require substantial capital investment to design and manufacture. It is not surprising that fewer than fifty companies have captured seventy percent of the market.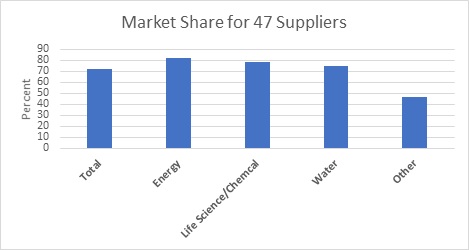 The energy segment includes stationary power, shipboard fuel oil treatment, oil, gas, and refining. The top supplier has nearly 30 percent of the market.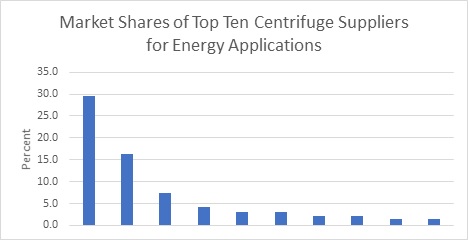 The life science and chemical segment includes food, pharmaceuticals, and chemical processes.
The two top producers share sixty percent of the market.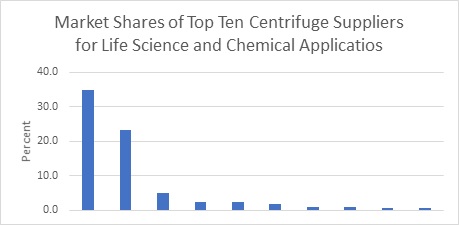 The water segment includes municipal water and wastewater as well as desalination. There is no clear leader. The top three suppliers have less than a third of the market.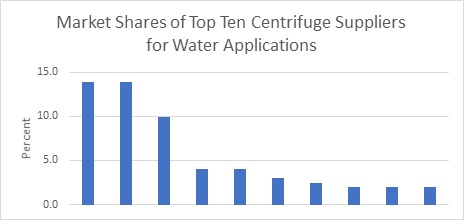 The other segment includes mining, iron and steel and many other industries. Many smaller companies pursue niches which are overlooked by larger competitors. The top four suppliers account for only twenty-five percent of the market.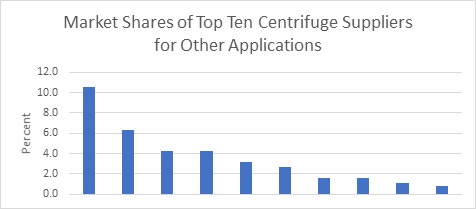 There are relatively few exhibitions around the world with extensive displays of centrifuges. ACHEMA stands out with 25 exhibitors. However, this event is tri annual. When annualized it is only 8/yr. WEFTEC is a U.S. municipal wastewater conference and exhibition which is held yearly. So even though it has only has eight centrifuge exhibitors it is comparable to ACHEMA.
By contrast IFAT in Germany competes with WEFTEC but is triannual. When annualized this is a smaller event for centrifuge suppliers than Offshore Technology Conference held annually in Houston. The U.S. SME Mining show next year will have four centrifuge exhibitors as well.
It is surprising that Interphex in the U.S. and PowerGen in New Orleans had no centrifuge exhibitors. There are hundreds of small exhibitions attached to specialized conferences. Andritz participated in 50 such exhibitions in 2019. The focus on many of these were Andritz products other than centrifuges.
Company

Number of Centrifuge Exhibitors

Achema 2018

25

WEFTEC 2019 Chicago

8

IFAT, Munich, 2018

7

OTC 2019

4

SME Mining 2020

4

FI-Foodtec 2019

3

Interphex Japan 2020

2

Beer X 2020

1

China Coal and Mining

1

Dairytec UK 2020

1

Frac Sand 2019

1

Interphex NYC 2019

0

PowerGen 2019 New O.

0
This market report http://home.mcilvainecompany.com/index.php/markets/water-and-flow/n005-sedimentation-and-centrifugation-world-markets. is continually updated and includes decanter, disc, and other centrifuge forecasts for each industry in each country.
Bob McIlvaine can answer your questions at Direct: 847 784 0013, Cell: 847 226 2391 or you can email him at This email address is being protected from spambots. You need JavaScript enabled to view it.