NEWS RELEASE December 2019
Relevant Pump Market Shares
Management consultants recommend that companies consider market share as a fundamental element of business strategy. The problem is that most market data is unreliable or irrelevant. Knowledge of industries and processes is necessary in order to determine market size. It is desirable to determine market share by pump type but also in each industry and each important market location. Market shares for each major competitor in each niche also should be determined
Pumps: World Markets has market share forecasts for 400 pump companies. It also has purchase forecasts for the largest 100 pump purchasers and 50,000 forecasts of pump markets by industry, country and pump type http://home.mcilvainecompany.com/index.php/markets/water-and-flow/n019-pumps-world-market
This basic report can be expanded to obtain market shares in hundreds of industry sub segments as shown at
http://home.mcilvainecompany.com/index.php/other-services/free-news/news-releases/47-news/1536-nr2542
A much more reliable determination of the market is possible with a market share hierarchy analysis. FGD pumps is an example. Increased GDP is providing the funds to build coal fired power plants in Asia. Many countries in this region are selecting coal as opposed to gas or renewables because of cost and timing

All these countries are installing flue gas desulfurization systems. Dry systems require only a small investment in pumps. Wet systems require a big investment. Other process decisions also impact the market. It is necessary to understand the processes and predict which will be used. The market for FGD pumps was determined by this method.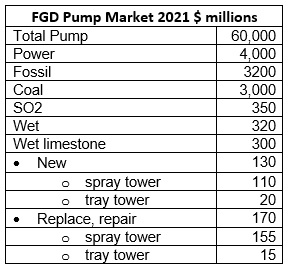 There are differences in the pump requirement depending on the reagent and the design of the absorber. A tray tower relies on fan energy for mass transfer. A spray tower relies on twice as much slurry for the same result but with lower fan energy. The preference is for spray towers. However, McIlvaine predicts that tray towers will gain market share over the next five years.
Both types require the same amount of limestone slurry feed. However, Chinese plants opt for regional dry grinding rather than purchase of ball mills for wet grinding at the plant.
Most plants use forced oxidation and make wall board quality gypsum. Natural oxidation results in a very difficult sludge which may require reciprocating pumps as the slurry is mixed with lime to make a landfill product.
Market Shares of pump companies for this application are impacted by the choice of absorber, method of grinding, and other process choices.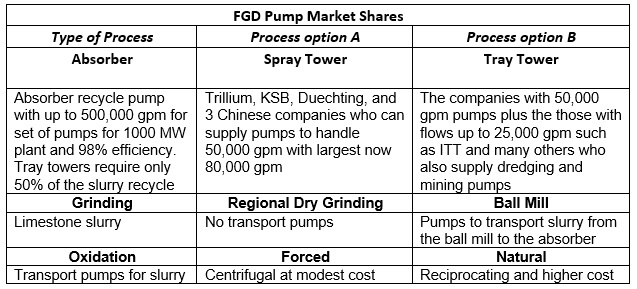 The market shares of the pump companies provided in Pumps: World Markets can be expanded to include each relevant niche and to include hundreds of additional competitors beyond the 400 listed.
It is important to determine market shares in niches such as plastic lined pumps for chemical and fertilizer applications, pumps for fruit juices, biopharmaceuticals, lithium mining, and sewage sludge transfer in municipal wastewater plants.
It is also desirable to analyze market share from the process perspective. Some pump companies are involved in the steam cycle with boiler feed water and condensate pumps. Others are involved just with the water intakes and wastewater for those plants. Others are involved in processes involving fluids and slurry e.g. fracking, crude oil.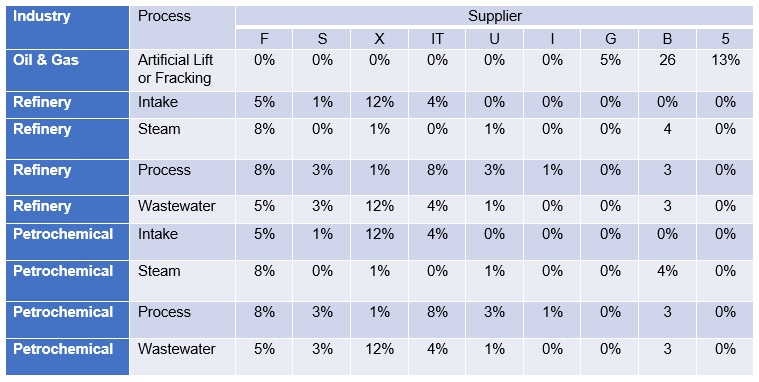 Analysis by pump type can include designs where there are only 10-20 suppliers such as hydraulically balanced diaphragm pumps, designs such as external gear pumps with hundreds of suppliers or centrifugal pumps with thousands of suppliers.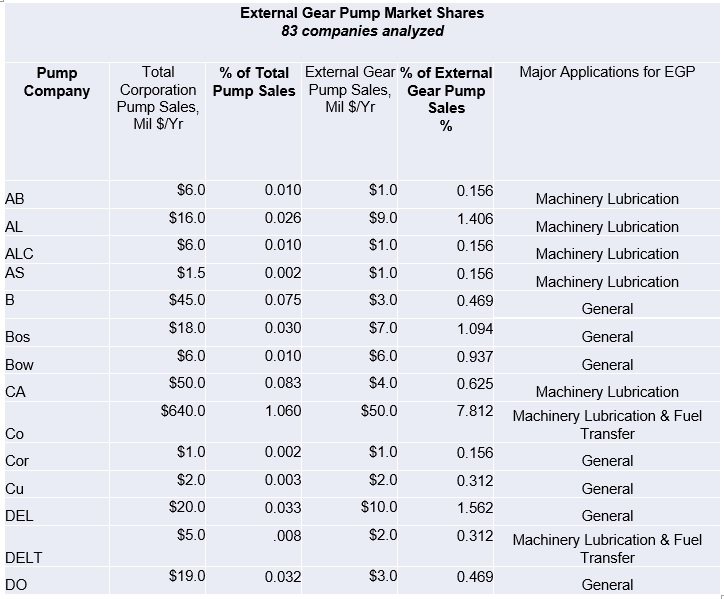 Pumps: World Markets has the 50,000 basic forecasts to which customized analyzes can be easily added http://home.mcilvainecompany.com/index.php/markets/water-and-flow/n019-pumps-world-market . Bob Mcilvaine can answer your questions at This email address is being protected from spambots. You need JavaScript enabled to view it. Direct 847 784 0012 cell 847 226 2391