NEWS RELEASE January 2020
U.S. Coal Fired Flow and Treat Market will be Diminished but Significant
Flow and treat product suppliers should not overlook the U.S coal fired generator market. It will be significant through 2040. The U.S. coal fired capacity will shrink to less than 50 percent of the 2010 peak. Operating hours will shrink even further as coal plants are used in conjunction with solar and wind. However, coal can maintain a contribution equivalent of 40 percent of that in 2010 if wise upgrade investments are made.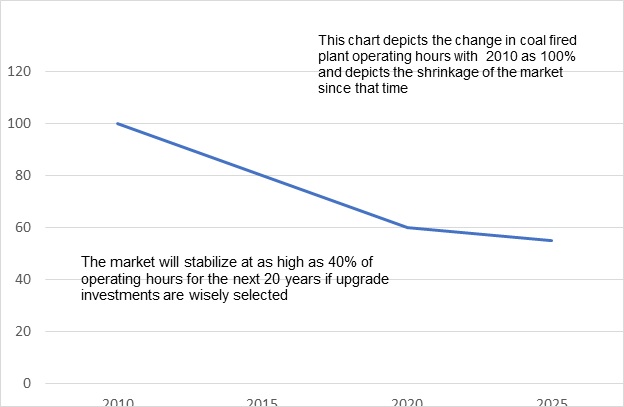 U.S. Coal Fired Power Operating Hours as a % of 2010
There are many uncertainties but the variables which are under control of the industry are more important than the political variables. The biggest factor affecting coal use in the U.S will be the price of natural gas which in turn will be closely tied to world oil prices as LNG plants are built in the U.S. and create a big gas export market.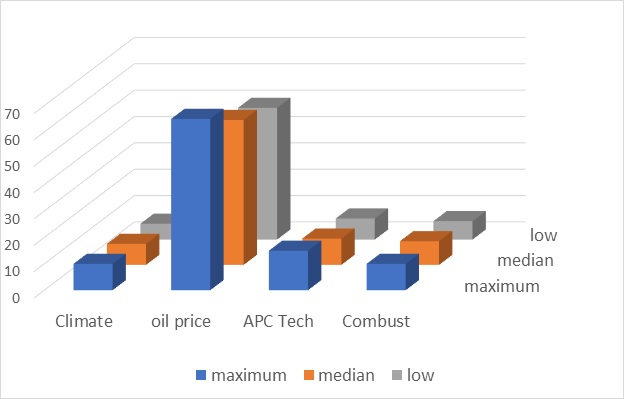 Impact of Factors on U.S. Coal Megawatt Hours
Assuming that any movement to prohibit hydraulic fracturing would be rebuffed the continued low price of oil and gas is highly predictable. As a result the gas price will be a large but predictable factor reducing coal use. Climate policy over the period through 2040 is likely to be a minor factor regardless of whether there is a Democratic or Republican Congress and Administration. There are not going to be any new coal fired plants. There will be continuing pressure to operate existing plants more efficiently to reduce CO2 and with reduced air pollution.
Investments in combustion and air pollution control technology will have more impact on operating hours than will climate change. These investments can make coal plants more flexible and able to operate more efficiently at reduced loads and in a cycling mode.
China is taking the approach of upgrading coal fired plants to make them equal to gas fired plants in terms of emissions. This includes upgrades to ultrasupercritical operation. Given an assumption of retirement in 2040 only a minority of U.S. plants will be able to justify this investment. However there are many investments with a high return over just a few years.
Injecting hydrated lime ahead of the SCR and the air heater can lower the SO3 concentrations enough to avoid maintenance and turn down issues. Injecting enough sorbent further upstream in the flue gas means utilities can lower load and capture waste heat that would typically escape from the stack. This also gives utilities flexibility to run the coal-fired units at a lower load, typically at night, and be more efficient. Buckeye Cardinal Unit 2 in Brilliant Ohio initiated this change in 2017 and is experiencing a high ROI.
There are many other initiatives which can be pursued. Here are some.
Catalytic filters with DSI ahead of the air heater and capture of heat and water which otherwise is lost through the stack (ideal where hot precipitators are still being used)
Byproducts such as rare earth feedstocks, hydrochloric acid, pure white gypsum to compete with precipitated calcium carbonate, ammonium sulfate, and sulfuric acid all have potential for certain site specific situations
CO2 as a product: SaskPower supplies CO2 for enhanced oil recovery from its Boundary Dam plant. BHE in Utah directs CO2 from its gas turbine stack to a commercial tomato greenhouse on site. Most commercial greenhouses purchase CO2. Hydraulic fracturing with CO2 is promising as a way to reduce water consumption and sequester greenhouse gases.
All of these initiatives and the fate of each coal fired plant is being analyzed and tracked in the McIlvaine Utility Tracking System: http://home.mcilvainecompany.com/index.php/databases/42ei-utility-tracking-system
Bob McIlvaine can answer your questions at 847 784 0013 or This email address is being protected from spambots. You need JavaScript enabled to view it.