NEWS RELEASE February 2020
Crane Valve Market Share Slightly Changed by CIRCOR Acquisition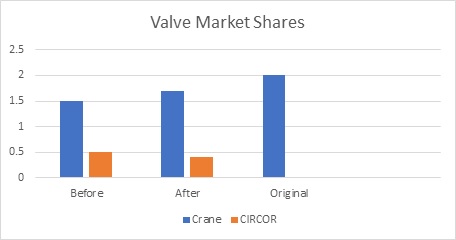 CIRCOR is selling its instrumentation and related valve divisions which had $80 million in sales last year to Crane. This will raise the Crane market share in the valve industry from 1.5% to just under 1.7%. Originally Crane bid for all of CIRCOR. This would have raised Crane valve market share to 2.0%.
In both cases there is more impact on the Crane market share in oil, gas, refining, and petrochemicals than there is on the total for all industries. The original offer included the CIRCOR process valves used in oil and gas. This purchase is focused on instrumentation valves. It is generally useful to analyze the markets for small valves used with analyzers and instrumentation separately from process valves. The technology and marketing knowledge is different. The instrument valve decisions will be made by those involved with automation and controls. The process valve decisions are made by people involved in operations and system design.
The large process valve decisions are more likely to be made by the owner where instrumentation valve decisions are often made by the supplier of the instrumentation.
Market share analysis is an important activity for valve companies. McIlvaine provides extensive market share information in Industrial Valves: World Markets
http://home.mcilvainecompany.com/index.php/markets/water-and-flow/n028-industrial-valves-world-market