NEWS RELEASE March 2020
Coronavirus and the Impact on Air Filtration and Cleanroom Market
The McIlvaine Company forecasts the markets for air filters and media as well as for face masks. It also forecasts the markets for laminar air flow rooms, air showers and portable cleanrooms. McIlvaine also provides technical analysis. Since many of the markets are technology forcing it is necessary to be on the cutting edge of technology
Within a week of the BP oil spill McIlvaine organized webinars on measuring the extent of the spill with DO analyzers attached to under water drones. NASA, BP and many suppliers were among the participants in the webinars.
Webinar Recording: Gulf Oil Spill D.O. Monitoring Webinar, June 4, 2010
McIlvaine will continue to analyze the coronavirus outbreak and provide information and webinars as appropriate.
Virus containment at health care facilities and biosafety labs is very much about control measures and precautions for airborne exposure. Measures include ventilation, pressure differentials, exhaust ventilation, air filtration and cleaning, ultraviolet and germicidal irradiation (UVGI) and even temperature and humidity control.
HEPA (high-efficiency particulate air) filters can be effective and are recommended for hospitals, infection control clinics and other healthcare facilities to eliminate microbes and other dangerous particles.
The efficiency of HEPA filters is measured at MPPS (most penetrating particle size) that means this is the lowest efficiency of the filter. For smaller or larger particles that filter will perform even better. MPPS is typically between 0.1-0.25 micrometer in size. Bacteria and viruses are often smaller than that but typically attach themselves to larger particles. It's also important to understand HEPA filters do not actively kill living organisms. They capture and hold them within the matrix of the filter.
High efficiency air filters can be installed in HVAC systems, filtering out biological pollutants and particulate matter carried by the airstream, preventing them from entering or recirculating back into the room.
Autopsies
In Iran bodies are piling up at morgues. This presents several challenges. Autopsies on decedents with known or suspected COVID-19 should be conducted in Airborne Infection Isolation Rooms (AIIRs). These rooms are at negative pressure to surrounding areas, have a minimum of six air changes per hour (ACH) for existing structures and twelve ACH for renovated or new structures, and have air exhausted directly outside or through a HEPA filter. Doors to the room should be kept closed except during entry and egress. If an AIIR is not available, ensure the room is negative pressure with no air recirculation to adjacent spaces. A portable HEPA recirculation unit could be placed in the room to provide further reduction in aerosols. Local airflow control (i.e., laminar flow systems) can be used to direct aerosols away from personnel. If use of an AIIR or HEPA unit is not possible, the procedure should be performed in the most protective environment possible. Air should never be returned to the building interior, but should be exhausted outdoors, away from areas of human traffic or gathering spaces and away from other air intake systems.
Suppliers:
Camfil
Camfil supplies air filters and systems for many applications including the most severe. "There are more than 60 biosafety laboratories classified as Level 4 (highest risk) by an international commission in the world. Camfil has already delivered containment solutions for many of them in China, France, Switzerland, Germany and the U.S.A.
Camfil has issued some guidance relative to coronavirus at https://www.globenewswire.com/news-release/2020/03/03/1993917/0/en/Camfil-USA-Update-Reduce-Risk-of-Infectious-Virus.html This website also has links to CDC and ASHRAE guidance documents.
Due to the new coronavirus Covid-19 outbreak Camfil - Livsdal has intensified the development of a more affordable and smaller version of its premium air purifier. The new air purifier under the name Essential will have the same capacity of capturing molecular gases like formaldehyde, nitrogen dioxide and ozone in the size of 0.5 nanometer particles, viruses like SARS-CoV-2 that is 10 nanometer. Viruses are in general in the size range from 10-400 nanometer that is equivalent to 0.01-0.4 micrometer. It will also capture allergens, smoke, dust, pollen, bacteria, odor, dander, mold to mites in the size all the way up to more than 10,000 nanometer. The Essential is critical equipment suitable for hospitals, health clinics, nursing homes and dental offices, as well as in homes of all people vulnerable to air pollution. It is designed to effectively capture pollutants in rooms up to 75 square meter. The height is 100 cm times 40 x 40 cm. Livsdal will start to accept pre-orders with delivery in autumn 2020.
The purifiers incorporate seven long lasting, high capacity and high quality filters.
Pre-filter-Catches regular dust and larger particles
HEPA 13 Particle filter-Captures dust, bacteria and viruses among many other particles. 99.996 % efficiency for particles of 0.3 μm and will capture particles down to 0.005 μm.
Carbon Molecule filters-Different activated Carbon Molecule filters capture toxic gas molecules as small as c. 0.0005 μm. They are designed to absorb odors, gases and car emissions including nitrogen dioxide, sulphur dioxide, ozone, formaldehyde plus a list of other compounds – all tested to ISO 10121.
Post filter-The final safeguard comes in the form of a metal granular-filter, located on the fan outlet to capture any carbon particles that are released.
Terra Universal

Terra Universal has a range of portable cleanrooms, air showers and U.V. Sanitizing modules as shown below.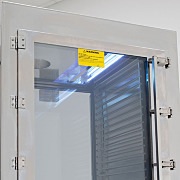 Vanguard Healthcare Solutions
A portable operating theatre has been set up in the car park of one of Australia's biggest hospitals.
Surgeons at Melbourne's The Alfred Hospital have been performing life-saving procedures in the 'Laminar Flow Operating Theatre' after a storm wreaked havoc on one of their primary theatres.
Vanguard mobile operating theatres can offer a significant increase in capacity during times of refurbishment or increased clinical need. A Vanguard theatre gives hospitals a reliable, safe answer to capacity pressures across a range of specialties and procedure types. Mobile laminar flow operating theatres have been widely used across the NHS for procedures including hip replacements, knee replacements and joint revisions. Vanguard laminar flow theatre facilities offer HEPA-filtered environmental air that conforms to Grade A EUGMP, with up to 600 air changes per hour passing over the patient, and 25 fresh air changes.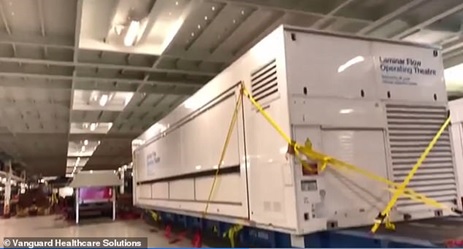 The World Health Organization says that managing an epidemic calls for partnerships with service providers who can help healthcare providers such as hospitals add capacity – preferably partnerships that have been established in advance. This means they can call on them more speedily should disaster strike, and everyone knows what's expected of them.

In the disaster movies, Vanguard sees public spaces being used as temporary healthcare settings when epidemics hit – sports halls, community centres and the like – but this is not ideal for patients, their families, or the staff treating them.
So, what else would work? Clearly, building extra hospital or additional clinical spaces from bricks and mortar isn't an option – so what can be done? Organizations such as Vanguard Healthcare Solutions work alongside healthcare organizations to create extra capacity which is temporary but much more robust and absolutely clinically sound. The environments are not temporary, but they can be temporarily used.
In an epidemic, units can be quickly deployed to support areas which are struggling to meet the increased demand, or where, if space has been commandeered in one hospital to create a 'hub' for the treatment and containment of an epidemic, they can be used to create a more long-term 'back-up' in other locations to make up the shortfall – for example for dialysis patients.
Patients in either instance can be decanted to the mobile solution – whether that is a clinic, a ward or an operating theatre. Or if additional or faster turnaround of sterile equipment is required to meet the increased demand, a mobile central sterilization unit can help to bridge the gap.
The mobile units create spaces which can be, if necessary, completely separate from the hospital creating an infection control 'oasis', or can be used for testing, triage or supporting the 'walking wounded' in clinics and wards. They can be used as additional ward space or even, if needed, a welfare area for staff who may have to stay on site for an extended period without going home. They can also be used for additional and self-contained morgue space, minimizing the cross-contamination risk.