NEWS RELEASE April 2020
Innovative Coronavirus Mitigation Technology Can Improve Conditions Immediately
A McIlvaine webinar tomorrow will cover Coronavirus Mitigation Technology which can immediately have a major impact.
While the rest of the world is struggling with melt blown media shortages to make disposable masks with N95 efficiency, China is moving forward to supply not only healthcare workers but all citizens with washable N95 filters using nanofiber membranes.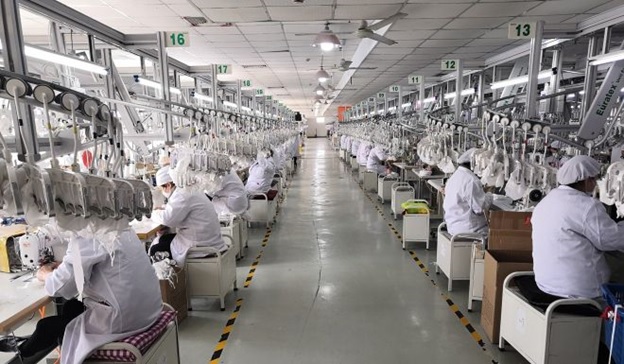 Reusable mask production at Chinese factory
The filter's cost is quoted at anywhere from $3-5 and the number of wearings at 10-20. So the cost per wearing is from 50 cents to just 15 cents. The masks can be cleaned with alcohol or by heating in the oven. So users can clean their masks without any equipment purchases.
Filtration experts tomorrow will discuss virus capture in media with various efficiencies. The N95 capability would be highly efficient in virus capture vs the typical mask worn routinely in China and other countries where masks are a part of daily life. Also N100 efficiency could be provided with the nanofibers.
The immediate mask needs can be met with decontamination procedures. H2O2 cleaning will soon be cleaning hundreds of thousands of masks per day in the U.S. There are gamma irradiation facilities which can be utilized to decontaminate millions of masks per day. ClO2 is another technology already being used at a Nebraska hospital.
It is likely that workers can be protected by wearing masks while taking public transportation and in the workplace when not in safe zones. There would be creation of safe zones where everyone in the area has been tested but practices distancing where possible. HEPA filtered recirculating air would be provided. Room air purifiers would be another alternative. Good monitoring would measure the small particles in the air. They can compare the efficiency of the recirculating filters to outside air and thus be a surrogate for virus reduction.
Masks and filters not only reduce airborne transmission but reduce the settling of viruses on surfaces. If gloves are also worn in non-safe places there is further reduction in risk through contact. The latest data shows that airborne transmission of virus aerosol droplets in sizes less than 5 microns are an important transmission mechanism. So masks and safe zone practices can greatly reduce risk to workers.
For more information on the webinar tomorrow Click here for more information
Bob McIlvaine can answer your questions at 847 226 2391 or This email address is being protected from spambots. You need JavaScript enabled to view it.