NEWS RELEASE April 2020
Technology Can Provide an Accelerated Recovery from the Coronavirus Pandemic
The road to recovery is paved with Coronavirus Technology Solutions for healthcare, industrial and commercial facilities. New or newly applied products and processes will make us much safer than social distancing.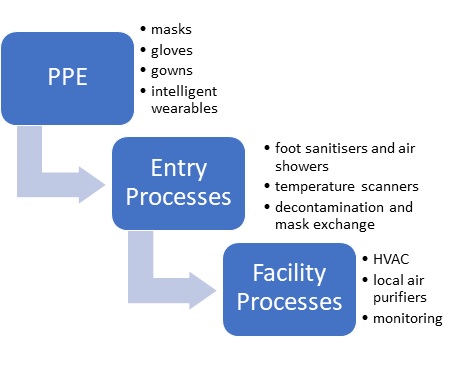 In terms of air cleanliness the health care industry is where the semiconductor industry was decades ago. It took a lot more than social distancing to improve air cleanliness from the ambient air levels of 500,000 particles per cubic ft down to just 1. By contrast the best hospital operating rooms in the world are achieving 10 particles per cubic ft and most areas of hospitals are closer to the 500,000.
There is lots of technology developed for air filtration, air pollution control, occupational health and cleanrooms which can be used immediately.

There is new and convincing evidence that a major transmission route is through the air. Aerosols smaller than 5 microns are traveling long distances. This finding obsolesces much of the advice previously given on how to prevent further spread. However, with silobusting by industry, technology, and country there is a safe recovery alternative.
There is an avalanche of information becoming available on the use of new or newly applied technologies. McIlvaine Company makes information and analysis of these technologies available in a 10-20 page daily Alert. Subscribers receive the latest Alert each day and can then search back through previous issues on the Coronavirus Technology Solutions Website
The website also has links to webinars which McIlvaine is conducting to analyze various products and processes.
The Alerts provide an invaluable resource for those responsible for the safety of people (product purchasers), for governments consultants, and suppliers.
Product Purchasers: Whether it is a hospital waiting room or a meat processing plant there are unique requirements for each application. The Daily Alerts have the latest information on technology which will allow them to make the best choices.
Governments and Consultants: This is a technology forcing situation where rules and regulations need to be revised due to technology developments. The Daily Alerts unveil major new options.
Suppliers: The daily alerts have information on customer requirements, opportunities, and analysis of competitor products. Suppliers also receive lists of prospects and one free recorded interview. Broad forecasts are also supplied with the option for further consulting or packaging this service with others supplied by McIlvaine.