NEWS RELEASE September 2020
Value Rating System Needed for COVID Mitigation Options
Highly efficient masks and air filters should be the primary weapons in fighting COVID. The initial assumption was that these products would not be available and so decisions were made to select lower value options.
Suppliers can now supply the needed products. We need a holistic approach which rates each option and results in the higher value solutions being selected first and lower value options selected only when circumstances prevent a higher value option from being employed. Social distancing is not practiced in a pharmaceutical cleanroom because higher value options are employed.

The selection of filtration methods is site specific. A MERV 8 filter in an HVAC system has wide applicability even if the effectiveness is relatively low. A HEPA room air purifier is more effective but with much less applicability. The benefits have to be weighed against both the economic and life quality costs.

The following generalized rating table is useful in determining the relative importance of various products. It is just the starting point. The selection method in a specific situation depends on the virus load, the air currents, and the activity of individuals.

The table assumes that the highest value options are chosen first. Since social distancing is a low value option it is rated based on the assumption that everyone is wearing an N95 mask or is in an environment with efficient air filtration.

The value formula is value x % effectiveness x % applicability - economic and life quality costs = net value
Value is number of lives saved and sickness reduced x value factors. It is 100 in the formula
Effectiveness is the percentage of virus removed, resultant lives saved and sickness averted. It represents the percentage of the value which can be obtained
Applicability is the percentage of situations where it can be used
Economic Cost is relative and is compared to the value. It is the cost of the product and associated operating costs as well as costs to economic productivity such as in lockdowns
The life quality cost is based on a concept called Quality Enhanced life Days (QELD) which has been used by Cardinal Health in the hospital industry. A lockdown has substantial QELD reduction
In general, an N95 mask is the greatest value. It will remove 95% of the virus and can be used in 95% of the applications. It has a modest economic cost and a modest life quality cost due to discomfort.
| | | | | | | |
| --- | --- | --- | --- | --- | --- | --- |
| Product | Effect-iveness | Applicability | Net\effect | Econ Cost | Life Quality Cost | Net Value |
| N95 Mask No Valve | 95 | 95 | 90 | -10 | -15 | 65 |
| N95 Mask Valve | 85 | 98 | 83 | -10 | -10 | 63 |
| Cloth Mask | 20 | 100 | 20 | -5 | -5 | 10 |
| MERV 16 + | 90 | 80 | 72 | 15 | 0 | 57 |
| MERV 13 + | 60 | 80 | 48 | 12 | 0 | 36 |
| MERV 8+ | 40 | 80 | 32 | 8 | 0 | 24 |
| Lockdown | 95 | 70 | 66 | -30 | -30 | 6 |
| Room Air Purifiers | 80 | 40 | 32 | -15 | -3 | 14 |
| Social Distancing | 50 | 60 | 30 | -5 | -15 | 10 |
The N95 Mask with a valve is slightly more applicable and can be worn by those unable to use a non valved mask. It is somewhat less effective, but it has a lower life quality comfort penalty. The wearer of an N95 mask is much less likely to become infected and to become a transmitter. So, there is a small chance that his exhalation through a valve will transmit virus.
Cloth masks act as aerosol generators for large droplets initially retained. So, the effectiveness is 20% or lower and the net value is only 10. Because cloth masks give a false sense of security, their net value is probably negative. The only question is by making the stop on the way to its final destination does the virus lose viability?
MERV 16 filters have a higher initial cost and can have higher energy consumption with the same filter depth, but with deeper filters the energy cost is similar to MERV 13 filters. By switching from a MERV 8 to MERV 16 the net value increases 33 points.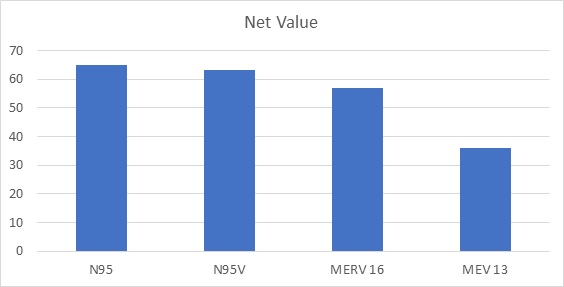 A lockdown can be very effective but is not universally applicable. The life quality and economic costs are substantial. However, this chart does not take into account the economic and life quality costs of doing nothing. Wearing N95 masks would be the answer rather than a lockdown. But when there is a high positivity ratio the lockdown is better than nothing.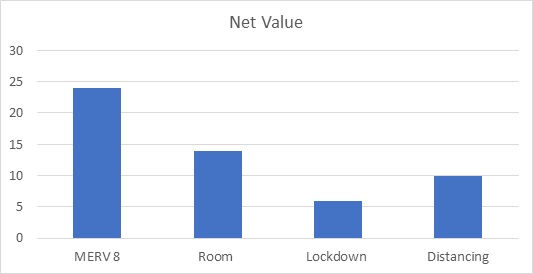 Room air purifiers are very effective and provide the best net value for elevators, hospital reception areas and many other applications. However, the applicability is much less than larger HVAC systems. This lowers the general net value or importance.
There is little value in social distancing if the higher value options are chosen. Social distancing provides little safety from small aerosols which can travel long distances. It has limited applicability and has both economic and life quality costs. The net value is low. Social distancing is justified compared to doing nothing. In fact it has been extremely important in the early attempts to fight COVID.
In specific situations such as eating masks may not be applicable and social distancing may be an option in conjunction with air filtration. One of the advantages of valved masks is that it extends the applicability vs social distancing.
This net value ranking is completely at odds with what has been advised by CDC and WHO. However, it is consistent with the ranking to fight air pollution or measles. In both cases the assumption is that if there is a source it will be airborne for long distances. Some countries such as China with high levels of ambient air pollution had already partially adopted this value system and have had relatively low infection rates.

There are some who argue that there is not sufficient proof that the virus will remain viable after being airborne. There has been lots of indirect evidence where other causes were eliminated. Now we are seeing direct evidence where with new sampling methods which do not damage the virus there are viable specimens being captured.

There are some who argue that the small amount of virus conveyed by small droplets is not going to be infectious. New evidence shows that the quantity of virus in small droplets emanating directly from lungs is much higher than that in cough droplets which are composed of mucus with diluted virus quantities.
The fact that surfactants make up about 4% of large droplets means that as they evaporate on the mask surface the surfactant concentration will increase and the surface tension be reduced to make the formation of smaller droplets easier.
This value rating system can be applied as a general but also specific guide by country and application. It is of great value to the purchasers of masks and filters. The value to suppliers is in developing the best products and pursuing the market.
More information on this system is provided in Coronavirus Technology Solutions. The service is described at www.mcilvainecompany.com. Bob Mcilvaine can answer your questions at 847 226 2391 or This email address is being protected from spambots. You need JavaScript enabled to view it.