NEWS RELEASE September 2020
Value Rating for Masks and Filters Using LEE
Use of H 13 filters and N95 masks are justified based on preliminary use of a value rating system being compiled by the McIlvaine company. It is based on the net value which is the value reduced by the percent effectiveness and applicability and then further reduced by the economic and life quality cost.
Factor

Description

Value

Lives saved, sickness averted, life quality costs avoided

Effectiveness

Efficiency of the device in removing the virus

Applicability

(virus load)

The percentage of the virus load which will enter device

Economic Cost

Capital and operating cost of the device as a % of value

Life Quality Cost

Life Quality Costs as measured by QELD

Net Value

Percentage of total value remaining after reductions
The following example was presented in a McIlvaine webinar conducted on September 10. It can be viewed at
To view this YouTube recording click here: https://youtu.be/kmtLmYYLuqw
To view PowerPoint Slides Click here: http://home.mcilvainecompany.com/images/Air_Filter_Webinar_2020-09-10.pdf
The webinar provides considerable analysis of effectiveness and applicability. It did not focus on the total value.
Product

Effect-
iveness

High
Load

50%
Load

25%
Load

Econ
Cost

Life
Qual
Cost

Net
High

Net
50%

Net
25%

H13

99

80

40

20

16

0

63

23

4

MERV 16 +

90

80

40

20

15

0

57

17

3

MERV 13 +

60

80

40

20

12

0

36

12

0

MERV 8+

40

80

40

20

8

0

24

8

0

Net H 13-MERV 8 Differential

39

15

4
The total value is a function of lives saved, sickness averted as well as life quality costs avoided. Each of these factors is analyzed in depth. In regard to lives saved an additional factor should be considered. Face masks and HVAC filters protect against air pollutants as well as viruses. It is estimated by some researchers that air pollutants reduces life expectancy by two years.
There are a number of studies comparing loss of life expectancy (LEE) due to various causes. It is therefore desirable to include both air pollution and virus protection in evaluation of filter and mask choices.
The most recent research shows an LEE for the average person of 700 days (Air 1). This compares to historical values of only 80 days (Air 2). In the U.S. given the present death rate from COVID the LEE is over 1800. The likelihood is that vaccines and therapies will greatly reduce this rate. On a worldwide basis it is logical to assume that the LEE caused by a combination of viruses including influenza and COVID will be much lower and will be three times the present pneumonia, influenza rate of 130.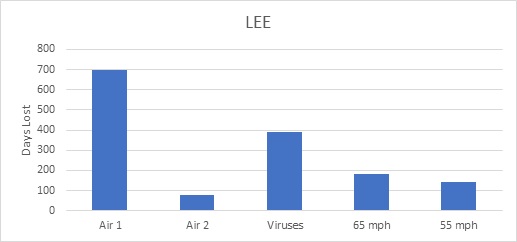 Therefore we are looking at a virus LEE of 390 which is considerably lower than that from air pollution.

McIlvaine had previously determined there was a net value for H13 filters even at low virus loads. If the air pollution benefits are added to this the investment is very worthwhile.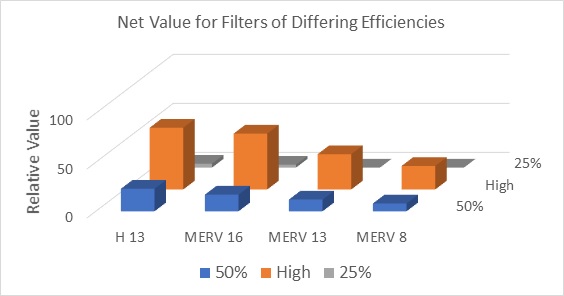 The conclusion is that there is a very big market for higher efficiency filters.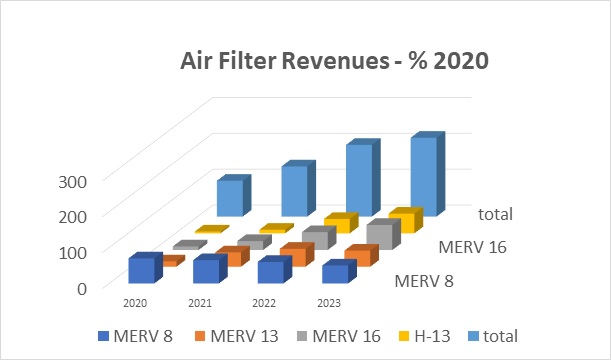 Determining the value is only part of the challenge for suppliers. It is also necessary to convey the benefits to the purchasers. The value rating system is a valuable tool to convey this message. Continuing effort will be needed to make it reliable in each situation.
Suppliers will benefit from the Coronavirus Technology Solutions, Air Filter Market and Supplier Program as well as the Mask Market and Supplier Program described at www.mcilvainecompany.com.