NEWS RELEASE September 2020
Asia will Account for More Than Fifty Percent of Fabric Filter Purchases This Year
The market for fabric filters for air pollution and in-plant control is down this year. The shrinkage is coming primarily in Europe and the U.S. with Asia showing modest gains. The coronavirus pandemic is largely to blame.
The closure of coal fired power plants will continue in Europe and the U.S. but the market will continue to grow in Asia due to tighter particulate emission regulations. Fabric filters will be selected over electrostatic precipitators for many Asian coal fired plants. The use of dry scrubbing and fabric filters instead of wet scrubbers is a factor in some countries.
Tighter regulations are also helping suppliers of dust collectors for mechanically generated dust (as opposed to products of combustion). Donaldson received a Blue Sky award in China which has some of the world's toughest emission standards.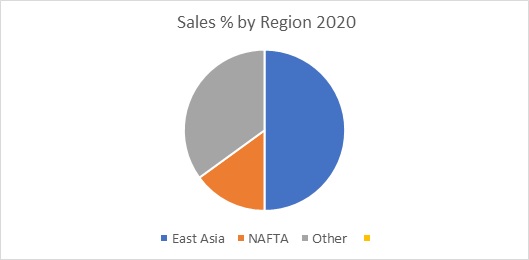 East Asia accounts for 50 percent of the market. NAFTA has shrunk to just 15 percent of the total.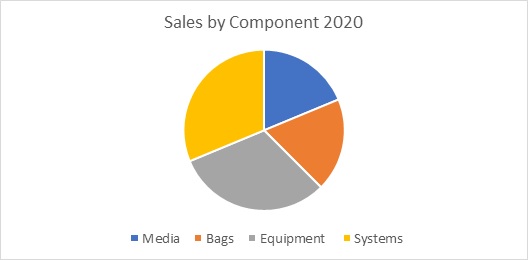 The value added starts with resins, cellulose fibers or glass fibers which are processed into filter media. This media is then converted into bags or cartridges. These cartridges are placed in dust collectors. These collectors are part of systems with fans, motors, controls and connecting ductwork. Since bags are replaced every two years or so, the aftermarket is very substantial.
The system companies are becoming more involved in aftermarket sales. In fact in China air pollution system suppliers are encouraged by the government to build and operate facilities for the plant owners. The motivation is to assure compliance with emission standards.
There are three types of companies participating in this market
Media and bag companies
Equipment and system companies
Integrated companies
A further segmentation is between those making standard collectors and those making engineered and generally larger collectors. A large power plant dust collector could exhaust 4 million cfm. In contrast a small welding fume collector could exhaust a few hundred cfm.
GE at one time was an integrated company. It owned a large bag manufacturer (BHA) and with Alstom was a leading supplier of large dust collectors. Today GE has lost most of its market value and is exiting the coal business. It sold BHA to Clarcor which in turn was acquired by Parker Hannifin.
In contrast Fujian Longking is the largest supplier of dry scrubbing systems in the world. Its revenues have grown by 30 percent in the last four years and were 10.8 billion CNY in in 2019. Net income before taxes showed a similar growth to 1 billion CNY. Net income rose to 850 million CNY
Parker Hannifin is now an integrated company making media as well as equipment and systems. Clarcor industrial filtration revenues at the time of acquisition by Parker were over $800 million.
Donaldson has annual dust collector sales of $400 million. It has an installed base of 160,000 units and 32,000 aftermarket customers. It is the world leader in the production of standard dust collectors.
In 2000 it introduced a nanofiber media for engine filters as well as dust collectors and has sold 1 billion ft2 of this media.
It makes its own membrane media, Tetratex®. This PTFE membrane is laminated to needled polyester to create a high efficiency media used in pulse jet filters. It also buys filter media from just two media companies.
Lydall has been focusing on the dust collector media market. First it acquired Southern Felt from Andrews. Lydall then acquired Gutsche in 2016. Gutsche supplies non-woven media with much of its sales in EMEA but also has a factory in China. 2016 sales were $50 million of which dust collection was $40 million. In the latest quarter Lydall dust collector media sales including Texcel, Southern Felt and Gutsche were $30 million. So annual dust collector media sales are about $120 million.
BWF remains a larger supplier than Lydall with both media and bag making operations. The privately held company has 1800 employees and 15 production sites around the world. Revenues are $300 million.
There are a number of variables which will impact the markets by region, industry, and media type. the McIlvaine company is continually analyzing the market in Fabric Filter and Element World Market http://home.mcilvainecompany.com/index.php/markets/air/n021-world-fabric-filter-and-element-market
Bob McIlvaine can answer any questions about the report. His email is This email address is being protected from spambots. You need JavaScript enabled to view it. and his cell is 847 226 2391