NEWS RELEASE October 2020
Efficient, Tight Fitting Masks are Affordable
Efficient tight fitting(ETF) masks are capable of removing 95% of the virus whereas loose fitting cloth masks will remove only 20%. It is therefore important that three billion people wear these higher performing masks. The problem is that their initial cost could be 50 or 100 times that of a surgical mask. However, since many ETF masks do not rely on electrostatic charging the efficiency is not negatively impacted by washing. This means that ETF masks can be cost effective.
Many ETF masks can be worn for months or even a year depending on
number of hours per day of use
environmental conditions including air pollutants
viral load
economic status
unusual damage
appearance
The general public will wear masks only a few hours per day. The masks will be subjected to air pollutants. The average viral load when even in a crowded subway would be 0.01% of that of a surgical nurse in a COVID ward. In the grocery store with social distancing the potential viral load could be 0.001%. This is important in determining how often some sort of cleaning might be necessary. A surgical nurse in a COVID ward needs a mask discarded or cleaned for every hour of use. A person just traveling to the grocery store could use the mask for 100,000 hours before the same viral load will be collected. If the person uses a mask only 500 hours per year they only need to clean it once every 200 years.
Another aspect is that viruses do not survive for 200 years. They may only survive for 200 hours. The takeaway is that discarding or excessively cleaning EFF masks is not very beneficial as a COVID protection.
The newest breed of ETF masks do not rely on electrostatic charging and can be cleaned repeatedly. If a $30 mask is used 100 times it is less expensive than most single use masks and much more effective (93% vs 20%).
ETF masks will eventually capture sufficient air pollutants that the resistance will increase and make breathing more uncomfortable. Over time they will not have a clean appearance despite hand washing or alcoholic sprays. This means that anyone above the poverty line could dispose of a mask while it is still efficient at removing virus.
At one extreme you will have decisions by the wealthy which do not consider the cost of a $30 mask to be significant. The average individual can easily afford to replace masks every few months. For those below the poverty line an expenditure will need to be limited to a few dollars per year or governments will want to provide a subsidy.
The cost for a specific individual is a function of each of the factors. The following graph shows three scenarios where all the variables are low, medium or high.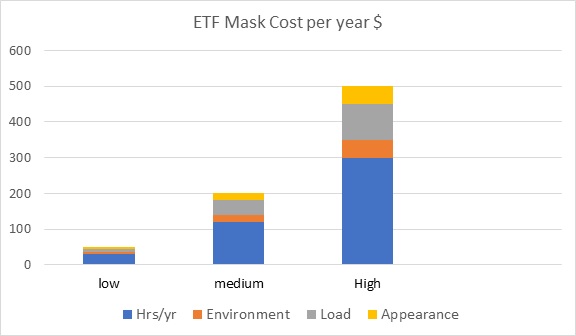 The result is a yearly cost of $50 to $500 per person. If 3 billion people wear masks with half spending only $50/year each the cost would be $675 billion.

Considering that the Cost of COVID is 50 times higher this is a very worthwhile investment. The mask designs and performance along with production analysis is included in Coronavirus Technology Solutions Click here for more information
Bob McIlvaine can answer your questions at 847 226 2391 or This email address is being protected from spambots. You need JavaScript enabled to view it.