NEWS RELEASE December 2020
Mask Supplier Guidance Program Focuses on $60 billion Opportunity
If six billion people began wearing tight fitting and efficient masks as many as one million lives could be saved in the next eight months. If after the pandemic subsides people wear these same types of masks to protect against air pollution, wildfires, and other air contaminants a very large numbers of deaths and illness can be prevented. The average person has two colds per year. If they just wore a courtesy mask while infectious more than 20 billion sick days could be avoided.
To accomplish this goal there needs to be an adequate supply of affordable masks. Therefore reusable masks have to be the main type of masks utilized. The initiative will only be successful to the extent that people are willing to wear the masks for long periods. Comfort and attractiveness are also important to insure wear. Comfortable, Attractive, Tight Fitting, Efficient and Reusable are the benefits of CATER masks.
Suppliers of masks, media, and other components need to work toward a common goal of meeting as much of the market needs as possible. It will be difficult but not impossible to provide three billion masks at $30/mask in 2021. On the other hand providing two billion masks in 2023 will not be a problem when you consider that reusable masks require only 3% of the media required for disposable masks and that membranes and nanofibers as well as meltblowns can be utilized.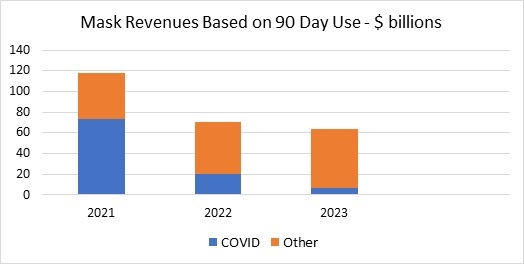 McIlvaine is helping suppliers meet this common goal with a three step approach.
Provide CATER Mask Decisions with comprehensive news coverage and analysis
Help suppliers communicate the advantages of their products and services
Assist with strategic and market analysis and forecasts
CATER Mask Decisions is a free service. To register and receive multiple alerts per week Click here. To start using CATER Mask Decisions: Click here
For more information on a supplier guidance program contact Bob McIlvaine at 847 226 2391 or This email address is being protected from spambots. You need JavaScript enabled to view it.