NEWS RELEASE December 2020
Immediate Opening of the Economy with CATER 95 Masks
If everyone (transmitters and recipients) were wearing CATER 95 masks the net viral reduction would be 99%. Because the virus can no longer move from the transmitter to a surface the overall risk is decreased by 98%. The most efficient vaccine is only 95%. CATER masks can quickly be made available. Facilities adopting the CATER 95 Protocol could immediately open.
CATER (Comfortable, Attractive, Tight Fitting, Efficient, Reusable) masks are available from multiple vendors who can supply all the needs quickly.
Industrial companies, corporate offices, retailers, gyms and any facility where the access is limited to CATER mask wearers should be able to operate normally. Each employee or visitor would have to wear an approved mask.
The CATER 95 is more than 90 times more effective than the typical mask now being worn. It is more than 70 times more effective than the proposed ASTM 20 mask. A facility which is 100% open with everyone wearing a CATER 95 mask will be 25 times safer than a facility which is only 25% open but allows any type of mask to be worn.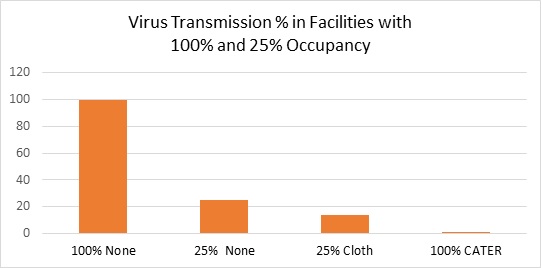 The ASTM 50 standard could be the baseline for what could be termed the ASTM 50 Plus Standards. These new qualitative ratings would involve both filter media efficiency and leak assessments.
The filter media efficiency is easier to quantify and can be supplied by Nelson Labs and the others in the business. Air leakage and the need for a tight fit is much more difficult to address.
The problem with public masks is the manner in which they are worn. A basic variable is mask size. Some suppliers offer five different sizes. If the right size is being worn what is the air in leakage (around not through the mask).
It is going to be impossible to set rigid standards. However multiple levels of accreditation can be incorporated. The fit testing companies who would be capable of any degree of assessment can provide both qualitative and quantitative fit testing. Due to cost this testing would be mostly on typical individuals rather than each individual. It could also be once per year in some settings where there is high concern.

A new class of providers could provide testing for individuals. The fitness centers would be a good example. They could offer services to nonmembers as well as members.
There would be people at the entrances of facilities. Their role could even be expanded to provide advice and do a visual inspection as to whether the person appears to be wearing the right size.
Fitness centers can expand the meaning of their name to actually do fit testing. We show an example below where a fitness center can expand from 25% capacity with non specified masks to 100% capacity and generate additional revenue by providing COVID advice and fit testing.
Many of these fitness centers have physical therapists. they could take some educational course similar to the one on filtration expertise offered by Waterloo filtration Institute
Schools would be a priority for CATER 95 mask bubbles.
With the 98% overall virus reduction every school could reopen. Lunchrooms could be fitted with HEPA filtered laminar air systems. Many of the HVAC upgrades would be less urgent and could be postponed to post COVID or at least initiated in a cost effective manner.
No visitors would be allowed inside the buildings unless they were wearing a CATER 95 efficiency mask or at least one with more than 90% efficiency. At the school entrance the guard could be knowledgeable about mask sizing and provide advice. He could question individuals who might have an accredited mask but look to be wearing the wrong size mask.
Sports Teams could have their own masks with a logo for their fans.
The admission cost to a sports stadium could include the requirement of a CATER 95. Masks with the team logo could be offered for sale. There could be cursory scrutiny at the gate where the accreditation is checked along with visual inspection to determine if the right size of mask is apparently being worn.
All eating and drinking would be in designated areas adjacent to the food stands and would include HEPA filtered downward laminar flow air. Social distancing would not be required in this area if the laminar flow is at 50-100 fpm.
High end restaurants could attract large numbers of diners
A $30 CATER mask which would be usable for 30 or even 90 days is a small cost for someone paying $30 for a single meal. Restaurants could sell masks to customers and also provide advice so that the right size mask is worn.
In the actual dining area fan filter units (FFU) could be supplied to provide ceiling to floor HEPA filtered air. A table of four could be supplied by one ceiling unit costing less than $1000. So a seating area for 100 people would only require a $25,000 investment in FFUs
The service staff will not be removing their masks. This gives diners confidence that they will not become infected from these individuals.
Retail stores can profit from the clean air image.
Large retailers can have a kiosk at the store entrance. They can sell masks but also offer advice to customers on mask sizing and fit. We are forecasting a worldwide mask market in the next 12 months of $100 billion. So these masks will outsell gym shoes and all other items of clothing.
COVID can be a reason to draw people to the stores. The advice they will receive at the kiosk will give them comfort. The larger stores could even offer qualitative fit testing.
Gyms and fitness centers can instruct members and nonmembers on mask use and increase profits to more than pre COVID levels.
The Minnesota governor confirmed, beginning Saturday, Dec. 19, gyms can open at 25% capacity or have up to 100 people inside at a time. People also have to now wear masks at all times and keep 12 feet of distance between everyone.
"It's not lost on me we're fighting a health care pandemic," said Gov. Walz. "Why would we not want people to be as healthy as they could?" He added that gyms have "figured out smart ways and thought about things, so we hear you on that."
The Minnesota Department of Health has always maintained gyms are just naturally risky environments and precautions will lower the risk, not eliminate it. While larger gyms have long argued the spaces are not the source of community spread.
The fact that no minimum mask efficiency is stipulated makes this regulation almost meaningless. People would be much safer with CATER 95 masks and 100% occupancy. Health is a skill set provided by gym owners. They can offer their members advice on mask selection. Larger fitness centers may even want to offer at least qualitative testing and expand the meaning of "Fitness" for the centers.
The fit testing could be offered to nonmembers as well as members and generate significant revenues. Fit testing requires various movements during the tests. So the fitness center is uniquely qualified.
Gym-based physical therapy is a popular new trend, and for good reason. Personal trainers, gym owners, physical therapists, and clients are seeing the multiple benefits of a close connection and good communication between physical therapists and fitness professionals. A physical therapist can be vital to a fitness program and achieving fitness goals.
There could be some mask education course including fit testing which could be provided by universities, associations, or even governments. So the therapists could be accredited to verify that a person is wearing a mask which meets the minimum standards. The accreditation could be similar to a drivers license. The testers who ride with new drivers may need courage but do not have to have PHD level knowledge.
Some organizations could take a proactive role. IHRSA is one. The mission of the International Health, Racquet & Sportsclub Association (IHRSA) is to grow, protect, and promote the health and fitness industry, and to provide its members with the benefits that will help them be more successful. IHRSA and its members (health clubs and fitness facilities, gyms, spas, sports clubs, and industry suppliers) are dedicated to make the world healthier through regular exercise. This mission can be expanded to also making the world healthier through fit testing and mask advice. IHRSA could offer training courses so that each club could have people who can authoritatively attest to mask fitness.
With 100% occupancy and an additional revenue source gyms could immediately become more profitable than ever. The use of Fan Filter Units in the locker rooms would be a modest additional cost. To reduce the cost further there could be a protocol where masks are worn in the locker room and taken off only in the shower and toweling area. This would result in a very small area needed to be covered by fan filter units.
CATER Mask Decisions is free and has the relevant information. To register and receive multiple alerts per week Click here. To start using CATER Mask Decisions: Click here
For more information on how the McIlvaine Company can help your organization take advantage of this very large opportunity contact Bob McIlvaine at 847 226 2391 or This email address is being protected from spambots. You need JavaScript enabled to view it.