NEWS RELEASE March 2021
Major Changes in the Mask Market
The new consensus that efficient masks are much more protective than the typical cloth mask will reshape the market. Standards to guide consumers will make it very difficult for thousands of suppliers of inefficient masks to generate revenues. All these suppliers offer is "Appeal" which is comfort plus attractiveness.
In the short term the big growth market will be masks designed with only protection in mind. However, long term much of the market will be captured by suppliers of masks with both "Protection" and "Appeal" (PA).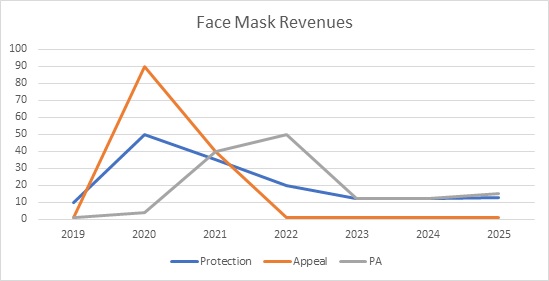 The wealthy countries will purchase a disproportionate percentage of the PA masks. Due to the slower rollout of vaccines, the need for protection will be extended for a number of years in the poorer countries.
A robust long term market will be driven by virus variants, pollution protection, wildfires, and courtesy protocols.
Daily analysis is provided in Coronavirus Technology Solutions Click here for more information
Market forecasts and strategic guidance is provided in Mask Market Program Click here for more information.
Bob McIlvaine can answer your questions at This email address is being protected from spambots. You need JavaScript enabled to view it. 847 226 2391.