NEWS RELEASE December 2021
IIoW Collaboration will Result in Huge Benefits for Suppliers and Purchasers of AWE Products
Suppliers of high-performance air, water, and energy (AWE) products could raise revenues by $50 billion and purchasers could reduce total cost of ownership by $100 billion if there was coordination to create an Industrial Internet of Wisdom (IIoW).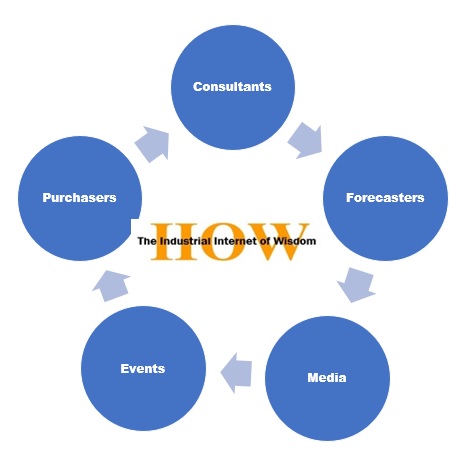 Management consulants can expand to provide continuous support for their clients to achieve this goal.
Market analysts will need to make accurate forecasts in each niche based on reiiable cost of ownership factors.
Media and event organizers will need to expand their scope to provide the basis for decision making and purchase and not just education and problem solving.
For example a plasma fractionation manufacturer is facing the confusing choice between depth filtration and centrifugation. An IIoW proram is making this choice easier.
The Non-wovens Industry Association (INDA), International Filtration News (IFN), FiltXPO and McIlvaine are creating an Industrial Internet of Wisdom on Plasma Fractionaton Filtration.
The next issue of IFN will include an article on the cost of ownership factors for fractionation processes requiring filtration and purification. There is a link to a backgrouund document with extensive analysis by consulants and others.
An effort is underway to create a route map on plasma fractionation at FiltXPO in Miami at the end of March. It will connect speakers, exhibitors and attendees. McIlvaine has created route maps at previous FiltXPO, PowerGen, and WEFTEC exhibitions.
McIlvaine and IFN have teamed to provide a True Cost analysis in each issue of the magazine. In the case of HVAC filters IFN has been providing extensive coverage in articles which are easily retrieved.
With IIoW there is the connection to these past articles. The links along with a summary of the important cost of ownership insights have been prepared and are explained at http://home.mcilvainecompany.com/index.php/other-services/free-news/news-releases/47-uncategorised/news/1693-nr2679
Management consultants have the opportunity to provide continuous rather than periodic support for their clients (suppliers or purchasers). The technology, politics, and competition can quickly obsolese the best of studies. Continuing guidance on IIoW is needed.
Forecasters such as McIlvaine need to provide analysis of the cost of ownership factors of each product in each niche and even to the level of individual larger purchasers and groups of small purchasers.
Purchasers need to be active participants. General purpose product purchase decisions can be made at the plant level. But buying a higher priced product with the lowest total cost of ownership requires lots of effort. IIoW reduces the effort. Many companies have found that in house expertise and centralized decison making is necessary. Intel, BASF, and Arcelor Mittal are examples of companies with individuals assigned to insuring Lowest Total Cost of Ownership LTCO purchases.
The value of the IIoW initiative by purchsers was demonstrated by BHE Energy and McIlvaine http://www.mcilvainecompany.com/BHPG/subscriber/Default.htm
For IIoW to achieve maximum effectiveness it needs to be structured in the same manner as IIoT. This entails the adoption of commony used and accepted segmentation.
Relative to applications, the starting point can be the NAICS codes. The challenge comes in agreeing on the second level of segmentation. Should it be sugar or should cane and beet sugar have equal status with plasma fractionaton, and green hydrogen. McIlvaine efforts on this are shown at http://www.mcilvainecompany.com/Decision_Tree/subscriber/Tree/Default.htm
The identification of supplier companies is complicated by name changes and unique names for some divisions. It is further complicated by language. Therefore McIlvaine developed a unique number for each supplier.

The segmentation by product is challenging. Associations such as Hydraulic Institute (pumps) and Valve Users along with exhibition organizers such as Achema, IFAT, and Filtech can collaborate to create product segmentations which are granular enough to describe specific products in each process and application.
IIoW is all about connecton of clearly defined segments. There has been extensive collaboration to create IIoT. The same level of collaboratiion is needed to create IIoW for AWE products and services.
Bob McIlvaine is available to discuss ways various companies can collaborate in this initiative. You can contact him at 847 226 2391 or This email address is being protected from spambots. You need JavaScript enabled to view it.