NEWS RELEASE February 2022
Russian Invasion is Already Impacting AWE Markets
The price of oil rising to $100/barrel is in part due to the sanctions against the Nord Stream 2 pipeline. Over the last few months the U.S has become the leading gas supplier to Europe. The worry is that the Russian aggression is not a minor or temporary situation but a major ebb in the flow of human history.
Many in the U.S. want to ignore the Ukrainian crisis. But others believe that at the heart lies a fundamental question about the nature of history and the nature of humanity: is change possible? Can humans change the way they behave, or does history repeat itself endlessly, with humans forever condemned to re-enact past tragedies without changing anything except the décor?
Ukraine has been a poster child for the benefits of democratic rule. If it falls there is no assurance that other Eastern European countries will not follow.
The movement in China toward greater authoritarianism and less autonomy for private companies has shaken many of the suppliers of air, water, and energy products. How comfortable does Thermo Fisher feel with China as a major air monitoring research center. What about all the AWE companies which are exporting to Asia from Chinese facilities?
Michael Norris, an analyst with Shanghai-based consultancy AgencyChina said . "We are going to be in a situation where the regulation and the slowdown in China's economy happen side by side."
The Russian invasion of Ukraine is coming along with increased trade and collaboration between Russia and China. It is a relatively minor factor in worldwide AWE product sales if Russia is no longer a market. China with the world's second largest economy is a major factor in the AWE market.
Free trade is clearly the most beneficial environment for a democratic world. But if autocracy is on the rise, then it is a different environment.
Energy Market
In 2021, a large share of Europe's supply of liquefied natural gas (LNG) originated in the United States, Qatar, and Russia. Combined, these three countries accounted for almost 70% of Europe's total LNG imports. The United States became Europe's largest source of LNG in 2021, accounting for 26% of all LNG imported by European Union member countries (EU-27) and the United Kingdom (UK), followed by Qatar with 24%, and Russia with 20%.
In January 2022, the United States supplied more than half of all LNG imports into Europe for the month. Exports of LNG from the United States to EU-27 and the UK increased from 3.4 billion cubic feet per day (Bcf/d) in November 2021 to 6.5 Bcf/d in January 2022—the most LNG shipped to Europe from the United States on a monthly basis to date.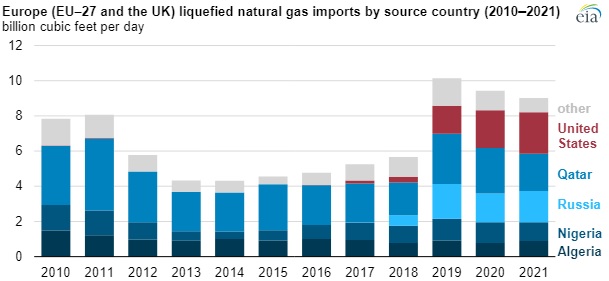 Supply challenges in the European market have led to rising regional prices for natural gas. The natural gas spot price at the Title Transfer Facility (TTF) in the Netherlands—the most liquid virtual natural gas hub in Europe—has been trading at all-time high levels. The TTF price averaged $28.52 per million British thermal units (MMBtu) from September 2021 through the first week of February 2022. The TTF price peaked at $60.20/MMBtu on December 21, 2021. Prior to this sharp price increase, the TTF price had averaged $9.28/MMBtu from January through August 2021, $3.28/MMBtu during 2020, $4.45/MMBtu during 2019, and $6.45/MMBtu from 2014 through 2018.
Oil Prices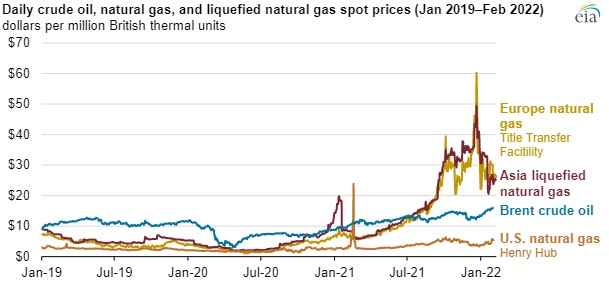 There are 5.6 mmbtu/barrel. So oil is pushing $100/ barrel. Prices are well above the break even point for shale extraction in the U.S. However expansion is not taking place for three reasons:
Shareholders are emphasizing dividends and not expansion.
The most profitable wells may have already been drilled.
Costs of production are increasing due to inflation and shortages.
One of the supply problems in Europe is regasification terminal capacity. Germany has none.
Renewables
Europe is already pursuing wind and solar. Drax in the UK is a leader in biomass combustion. Extending the life of some coal plants about to be shut down and using biomass co-firing is one option deserving serious consideration.
Analysis of the world air, water, and energy market is provided in
http://home.mcilvainecompany.com/index.php/markets/air/n064-air-gas-water-fluid-treatment-and-control-world-market
Bob McIlvaine can answer your questions at 847 226 2391 or This email address is being protected from spambots. You need JavaScript enabled to view it.