NEWS RELEASE April 2022
Simulated Trials as a Winning Sales Strategy
McIlvaine Company can help Air, Water, Energy (AWE) product suppliers with a simulated trial strategy.
Detailed market forecasts plus competitor analyses can be leveraged for increased profits.
New and better products can be more profitable if purchasers understand the advantages. Even with standard products, if the customer has only used the competitor product, then the challenge is the same as selling a new product.
Simulated Trial Sales Campaign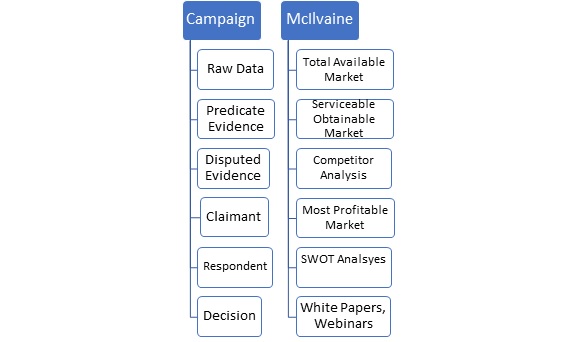 The sales campaign can be viewed as a series of trials. Each is expensive. The claimant can better focus where he can most profitably win the business. This is based on detailed forecasts and analysis. The market is divided into two segments. One is where price and delivery are dominant. The other is where performance shapes total cost of ownership. The simulated trial approach is uniquely suited to opportunities where performance counts.
Raw Data - Total Available Market (TAM) The effort starts with evaluating raw data relative to customers, industries, and processes. McIlvaine also evaluates this data to determine the total available market. The effort needs to be ongoing. This is particularly true in 2022 when the future of democracy may in part be shaped by AWE suppliers understanding new dynamics.
Predicate Evidence - Serviceable Obtainable Market (SOM) Only a portion of TAM can be serviced profitably. This is determined by predicate evidence which is needed in claims over disputed evidence.
Disputed Evidence - Competitor Analyses The product advantages are not absolute but relative compared to competitors. The competitor analysis needs to be specific to the project (trial).
Claimant - Most Profitable Market Claims should be most aggressively pursued where the maximum EBITA is available.
Respondent - SWOT Analyses The arguments of the competition can be countered with thorough analysis of the specific application. This in turn depends on leveraging the predicate and disputed evidence.
Decision - White Papers, Webinars Preparing a good case is only the beginning. Convincing the purchaser requires the use of the media and events. McIlvaine can assist with whitepapers and webinars.
The simulated trial approach can increase EBITA through increasing sales of new and better products as well as existing products where competitors are entrenched. Each opportunity can be viewed as a separate trial. The preparation of evidence needs to be continuous. The market forecasting can lead the way but only if it is extensive and ongoing.
The relevant McIlvaine services are explained at www.mcilvainecompany.com

Bob McIlvaine can answer your questions at 847 226 2391 or This email address is being protected from spambots. You need JavaScript enabled to view it.