NEWS RELEASE May 2022
Value of Acquisitions in the Valve Industry
There are firms who acquire companies based on their standalone profit potential. This is a strategy that works for general service valves which are sold more on price and delivery. For high performance valves success depends on having better products, knowledge of customer needs, and a route to convince them of the product superiority.
EBITA as high as 30% is achievable with this strategy. However the investment in gathering needed knowledge and converting it to wisdom is substantial. By acquiring companies with unique and synergistic wisdom the goals can be achieved more quickly than through organic growth.
The benefits include the following.
Wisdom Benefits
complimentary products with lower total cost of ownership than competitors
synergistic application and industry knowledge
customer access by geography and industry
new products and industries
A review of recent valve company transactions shows that one or more of these wisdom benefits has been acquired in each case.
The purchase of Habonim by ITT is an example. "Habonim is a great addition to the ITT portfolio," said Luca Savi, chief executive officer and president of ITT. "The acquisition provides ITT access to new, attractive niche markets, (benefit 4) expands IP's existing specialty valves portfolio, including through its cryogenic and hydrogen ball valves offerings for green energy applications, (benefit 1) and builds on an already strong distribution network in North America." (benefit 3)
Neles has purchased Flowrox. "Diversification of our customer industries is a key component of Neles' strategy. (benefits 2,3) Flowrox is a well-known niche player in flow control within mining and metals, and it has the right offering and very strong competence and know-how. This acquisition will enable Neles to better leverage the attractive growth opportunities in minerals processing," (benefit 4) says Olli Isotalo, president and CEO, Neles.
Neles became part of Valmet as of April 2022. This creates benefits 1, 2, and 3.
Here are recent acquisitions which have been analyzed.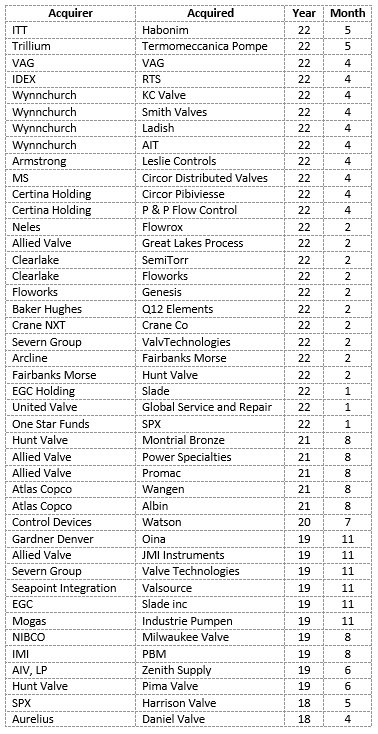 The McIlvaine Industrial Valves: World Market has been reporting these acquisitions on a monthly basis since 2002. More than 400 acquisitions have been reported. Here are acquisitions just for 2004.
2004 Acquisitions
Crane Company Acquires the Hattersley Brand
Here is a sample analysis from 2004.
CIRCOR Acquires Texas Sampling and D.Q.S. and Realigns Company
CIRCOR International, Inc. a leading provider of valves and other fluid control devices for the instrumentation, thermal fluid and petrochemical markets, announced two acquisitions and the formation of two new product groups within its Instrumentation and Thermal Fluid Controls segment.
The Company disclosed that it has acquired Texas Sampling, Inc., located in Victoria, Texas, and D.Q.S. International B.V., headquartered in Rotterdam, Netherlands, in separate transactions. Both companies provide analytical sampling systems to process manufacturers and have combined annual revenues of approximately $11 million. The total purchase price for the two all-cash transactions, including the assumption of debt, amounted to $12 million and the acquisitions are expected to add $0.04 to CIRCOR's diluted earnings per share in 2004.
CIRCOR's Chairman, President and CEO, David A. Bloss, Sr., said, "Our acquisition program remains focused on the higher-growth and higher-technology segments of the vast fluid control market that we serve. Texas Sampling and the Dopak product line marketed by D.Q.S. have well-established brand recognition and strong technologies in the analytical sampling device market and utilize many of the components produced by CIRCOR's Instrumentation Technologies product group. In addition, CIRCOR has recently developed new, miniature substrate devices that can reduce the overall size of the sampling systems and improve the quality of the fluid samples taken from our end-users' processes for evaluation purposes. We view sampling systems as a growth market opportunity as process industries drive toward more efficient systems by using more reliable sample data for control purposes."
In a related matter, the Company announced the realignment of certain product lines within its Instrumentation and Thermal Fluid Controls segment to form two new product groups within this segment. The new CIRCOR Instrumentation Technologies product group will include the two announced acquisitions as well as the Hoke, Circle Seal Industrial Products, GO Regulator and Tomco product lines of fluid control devices, which serve a wide variety of fluid process applications worldwide. The new CIRCOR Aerospace Products group will be comprised of the Circle Seal Aerospace Products, Aerodyne Controls and US Para Plate lines of fluid control devices for commercial, business and military aircraft and other aerospace applications, worldwide. CIRCOR's Thermal Fluid Controls product group, which contains the businesses serving heating and air conditioning, maritime, power, chemical processing, cryogenic and general industrial markets, will remain unchanged.
The acquisition database with regular updates is included in Industrial Valves: World Markets.
For more information click on http://home.mcilvainecompany.com/index.php/markets/water-and-flow/n028-industrial-valves-world-market
Bob McIlvaine can answer your questions at 847 226 2391
This email address is being protected from spambots. You need JavaScript enabled to view it.