NEWS RELEASE June 2022
Thousands of AWE Market Niches Will Shape a $300 billion IIoT Market
The industrial process IIoT and Remote O&M world market will exceed $300 billion by 2026. It is comprised of thousands of air, water, and energy (AWE) market niches.
The growth rate from 2016 to 2026 will be closer to 6% than the 10% predicted by McIlvaine five years ago.
On the other hand the EBITA growth will be higher than revenue growth indicating the higher profitability of IIoT and Remote O&M products.
The scope of this forecast just includes processes. It does not include automation of administrative activities. Nor does it include discrete machine automation.
In fact, the other way to define the scope is the applicability to the operation of filters, scrubbers, centrifuges, combustors, heat exchangers, fans, compressors, pumps, valves, and reactors. These are the subjects which are also forecasted In the McIlvaine Air, Water, Energy report portfolio.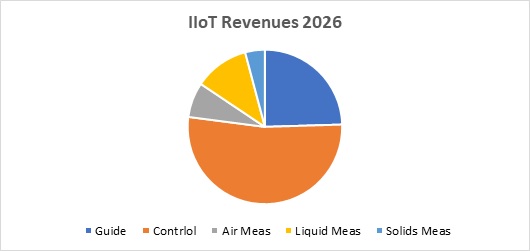 Forecasts are continually updated and include five product categories x 19 industries x 10 years x 80 countries and sub regions = 68,000 forecasts. Subscribers receive excel files which they can manipulate. There are sort capabilities by sub region and the four world segments (Americas, Asia, EMEA and Africa).
The seventeen industries analyzed are shown below.


The major categories of guide, control, and measure have been utilized and were selected because they best segment the different product groups.
Guide:includes process management, data analytics and subject matter expertise. McIlvaine has introduced a new category-sub subject matter ultra-experts (SMUE).these are experts who keep current through an industrial internet of wisdom
Control:includes SCADA, PLCs, wireless transmission, and cloud hardware (not software)
Measure:includes sensors, analyzers, and edge computing technology to measure parameters relative to liquids, gases, and free flowing solids. Since fans and pumps are used in the pertinent processes, the category also includes vibration measurement, corrosion and other measurements used in combustion, separation, transport, heat exchange, evaporation etc.
There are more than 20 hours of webinars with presentations on the use of IIoT and Remote O&M in each industry.
There is a 15 page monthly newsletter which is retained on the website and is searchable. You can view the June issue at http://www.mcilvainecompany.com/sample/IIoT_Newsletter/June_2022.htm
Those articles relative to acquisitions are listed in a retrievable acquisitions database.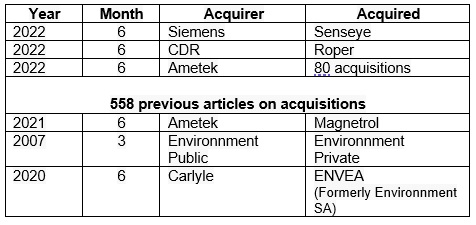 The current issue covers the 80 acquisitions by Ametek and provides an analysis of Magnetrol. This acquisition gives Ametek leadership in a number of market niches. These are summarized in the June issue. There are links to previous issues analyzing Magnetrol marketing strategy including advertising expenditure in certain magazines with comparison to Ametek

The older acquisition articles are important.
The newsletter covered the initial public offering for Environnment SA in 2007 and its acquisition by Carlyle in 2020. Typically, financial information becomes scarce when a private equity firm makes an acquisition. So, information from previous acquisition transactions becomes important.
ISEO, Becker/Amesa, Altech, PCME, and TDL have all been acquired in the 2007-2020 period. The newsletter has close to 100 articles on these ENVEA subsidiaries at the time they were acquired. These shed light on acquisitions.
The various components of the IIoT & Remote O&M World Markets combine to provide the supplier with quantification of the market niches, competition, acquisitions, and technology. This comprises a continually updated internet of wisdom to help suppliers maximize profits in this dynamic market.
Details on ordering the report are found at http://home.mcilvainecompany.com/index.php/markets/air/n031-industrial-iot-and-remote-o-m
Bob McIlvaine can answer your questions at This email address is being protected from spambots. You need JavaScript enabled to view it. cell: 847 226 2391