NEWS RELEASE July 2022
Acquisition and Expansion Guide in Air, Water, and Energy
Multi divisional companies and private equity firms are looking for the next best fit. It may be in the $500 billion market involving movement, measurement and treatment of air, gases, water, and liquids.
This best fit for higher revenues and profits can be the result of synergistic products and or knowledge.
For example, Ametek last year purchased Magnetrol who is a market leader in level control for tough applications in pollution control and process separation. The fit for a major instrument company such as Ametek is obvious. But what about a system supplier such as Andritz who is expanding their Metris Digital Solutions? Is it a question of synergistic products or synergistic processes? What about a private equity firm who may have synergistic companies in its portfolio or is interested in a standalone acquisition?
McIlvaine analyzes the markets, competitors, processes and acquisitions in dozens of segments of this market. But these individual services are designed to answer the question of whether a specific target company is a great fit.
NO64 Air/Gas/Water/Fluid Treatment and Control: World Markets answers a more basic question which is what company or class of companies deserve attention.
This service can be combined as part of package. NO 64 is Step1. A focused report is Step 2. Step 3 can be follow-on consulting.
Here is what you get with NO 64 versus the focused reports.

The report includes the following subjects.

The June 2022 newsletter is shown at http://www.mcilvainecompany.com/sample/AWE_529/AWE_June_2022.htm
The acquisition directory rates the synergy. If all the products are in the NO64 scope a score of 100 is assigned. The synergy with other N0 64 products is also rated with a potential from 0-100. So a perfect score is 200.
The directory additions for June show a synergy low of 20% where the acquired measurement company is mostly focused outside the NO64 scope. The high is 173% for a measurement acquisition tied closely to filtration and separation.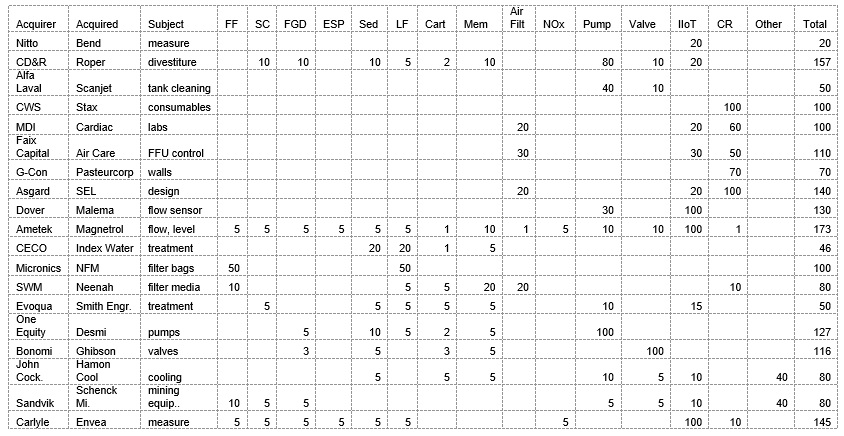 Abbreviations: FF= fabric filters, SC = scrubbers and adsorbers; FGD = flue gas desulfurization, ESP = electrostatic precipitator, sed = sedimentation and centrifugation; LF = liquid filtration, cart = cartridge; mem = membrane; Air Filt = air filter, NOx= DeNOx, Pump = pumps, Valve = valves, IIoT= guide, control, measure, CR = cleanroom hardware, consumables, service; Other = related process equipment
For more information on this report click on NO64 Air/Gas/Water/Fluid Treatment and Control: World Markets.
Bob McIlvaine can answer your questions at 847 226 2391 or This email address is being protected from spambots. You need JavaScript enabled to view it.