NEWS RELEASE August 2022
Holistic Approach to Acquisitions and Organic Growth
Many companies take a piecemeal approach to market research and acquisitions. They buy a market report occasionally. Periodically when contemplating an acquisition or strategy change they invest quite a bit.
McIlvaine believes that a continuous holistic and focused approach can generate the highest ROI. This approach is based on

Detailed forecasts sufficient to set targets for divisions and even individual salesmen
Identification of higher profit future niches
Continuous evaluation of competitor shares and strengths
Analysis of top customers
Identifying the best opportunities through acquisitions or organic growth
The McIlvaine approach is focused but holistic. It covers the entire $750 billion air, water, energy market. But it is focused by using the structure to drill down to the relevant niches.
The structure is clearly defined by an umbrella report which provides an overview and size for each of 27 segments.

http://home.mcilvainecompany.com/index.php/other-services/free-news/news-releases/47-uncategorised/news/1727-nr2712
There are individual continuously updated reports with analysis by industry and country for each product. Each has market share and acquisition updates.

Private consulting is available as a supplement or alternative option.

How to use the service: The holistic approach starts with five year forecasts which identify likely high growth niches.
The Holistic/Focused Approach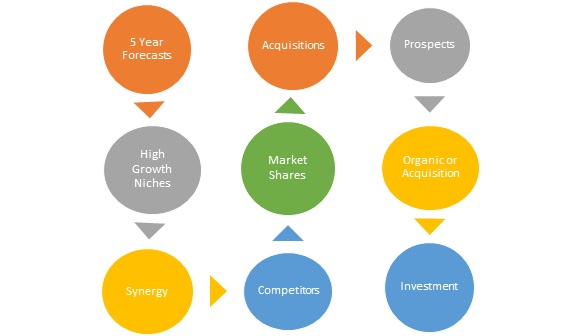 Details on the products used and the processes allow the user to determine the potential synergy for his company. The analysis of competitor market shares and total cost of ownership is then needed.

Recent acquisitions provide unique insights into the competitor positioning. Then a list of potential acquisition candidates can be prepared. The attractiveness of an acquisition can be compared to an organic route to pursue the market.
With this information the company can proceed toward investment.
For more information visit our website at www.mcilvainecompany.com or contact Bob McIlvaine at 847 226 2391 or This email address is being protected from spambots. You need JavaScript enabled to view it.