NEWS RELEASE May 2023
Industrial Cartridge Market Dominated by Life Sciences
The industrial cartridge filter market generates revenues of more than $15 billion per year. This new report by the Mcilvaine Company is a companion to Cartridges: World Market. The scope is more limited but the definition broader. For example, the definition for biopharmaceuticals includes tangential filters.
The report provides over 28,000 forecasts by country, cartridge type and application for the 2022-28 period. There are analyses of the various processes in each major industry and the facts and factors surrounding cartridge selection.

Pharmaceutical is the largest segment with 2022 cartridge revenues of over $5 billion of which $1.2 billion is in the U.S.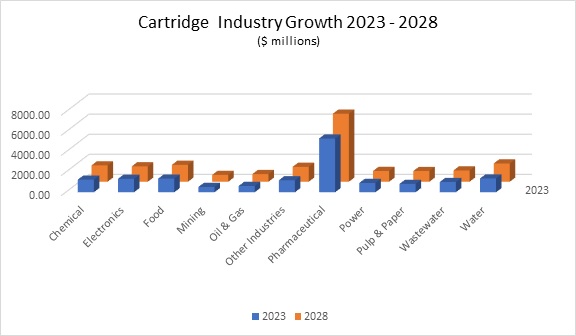 Forecasts by country are provided. This is particularly important for the major countries. Forecasts are also provided by regions.
The analysis by trading zone is quite important. Most trade takes place in a 3000-mile radius. Europe and Asia have very successfully traded in their zones while the Americas has a relatively low amount of trading activity.
The largest cartridge suppliers for industrial applications are also the largest in the pharmaceutical segment. The substantial investment to meet the high-performance requirements compared to costs of doing business internationally has resulted in the high technology companies becoming global and achieving substantial size. Pall, Millipore, and Sartorius have nearly a quarter of the total market and nearly 50% of the pharmaceutical segment.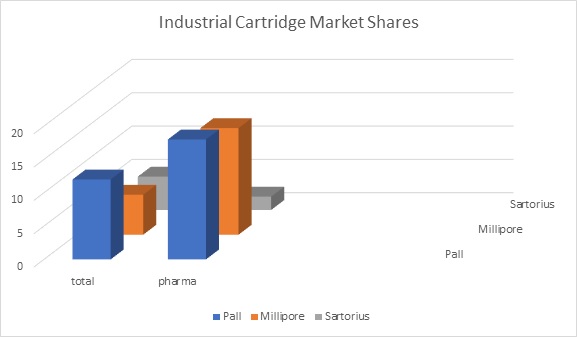 The top 3 suppliers are averaging annual revenues for industrial cartridges in excess of $1 billion each. Suppliers 3-10 are averaging $300 million. Suppliers 11-20 are averaging $100 million.


Small companies account for 40% of the total market but only 13% of the high-performance segment. These companies are offering general performance cartridges to the local market. Liquid cartridges are manufactured along with bag filters and dust collector cartridges. Customers can be end-users, system suppliers or filter suppliers for whom they provide custom made filters.
The Industrial Cartridge Market is available separately or in combination with Cartridges: World Market. It can also be combined with the Air Filtration and Purification World Market report which covers cartridges for air filtration. The Fabric Filter World Market report covers cartridges for dust collection. Custom reports provide cartridge media analysis and forecasts.
Bob Mcilvaine can answer your questions at 847 226 2391 or email him at This email address is being protected from spambots. You need JavaScript enabled to view it.