NEWS RELEASE May 2023
25% of Air, Water, Energy (AWE) People Rely on Sales Forecasts
Every phone call by your salesmen is based on the potential purchases. Every decision on exhibitions is based on geographic and industry forecasts. The decision to expand a plant or personnel is made based on anticipated demand.
An AWE company with 2000 employees will have 400 people relying on as many as 50,000 forecasts resulting in decisions which impact EBITDA.
If these 50,000 forecasts are so important is there a way to improve their accuracy and better communicate them?
The following aspects need to be considered.
There are benefits to replacing generalizations with actual numbers.
Some decentralized individual participation in the process is beneficial.
All forecasts should be based as much as possible on relevant facts and factors and not the guess of an expert.
Each of the 400 people relying on forecasts has superior insights on facts and factors in his niche.
If he is given the numbers along with the facts and factors, he can revise the numbers for his niche.
In the Mcilvaine Most Profitable Market (MPM) Program a website is set up for the corporation. Employees are given passwords to applicable sections of the site. Hundreds of thousands of forecasts are posted and revised on a continuing basis. All the relevant facts and factors behind the forecasts are also provided. For example, a standard price in U.S dollars is provided for a specific product regardless of the geographical point of sale. If the salesman in Indonesia has not just the revenue but the number of units and price per unit, he can adjust the forecasts based on unique pricing in his country.
A formal corporate wide program is desirable. But the approach can just be used by those who request access. In fact, the program can start with just a few participants and be broadened as the merits are demonstrated.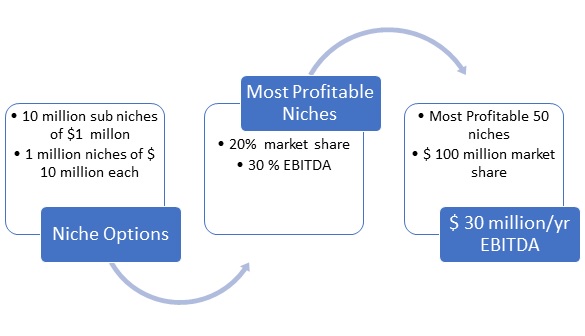 Relevant forecasts for the 2000-person company need to be an aggregation of niche numbers. The $10 trillion air, water, energy market is comprised of 10 million sub niches. A reliable forecast on which to build a business strategy should be an aggregation of niche forecasts.
The company with revenue likely as multiple products sold to multiple industries in a number of countries. With the MPM program forecasts through 2028 are provided for each sub niche. A custom FFF Alert (Facts, Factors, Forecasts) is provided to interested personnel on a monthly basis. Zoom meetings can be scheduled as warranted. Custom consulting is available as needed. This approach avoids administrative burdens and will be easy to implement.
For more information on the program contact Bob Mcilvaine at 847 226 2391 or This email address is being protected from spambots. You need JavaScript enabled to view it.