NEWS RELEASE NOVEMBER 2015
Top 50 Companies Sell 41 Percent of the Valves While 16,000 Companies Sell the Balance
Sales of industrial valves in 2014 were $56 billion. The top 50 companies generated revenues of $22,900 billion representing 41 percent of the total.
Market shares and sales are continuously compiled by the McIlvaine Company in N028 Industrial Valves: World Market. These rankings are based on the latest 12 month determinations. For public companies, the rankings are based on the latest fiscal year report. For private companies, the rankings are based on the year ending December 31, 2014 or for the most current 12 months as specifically analyzed. Smaller companies are analyzed less frequently than large ones.
The aggregate sales of the individual companies are integrated with market forecasts by valve type, industry and geography. The total sales of aggregated companies equal the total sales in the McIlvaine valve forecast. So actuators and repair parts included as valve revenue by valve suppliers are included in the market totals. On the other hand, actuators or parts sold directly to users by third parties are not included.
The rankings are based on U.S. dollars. So American based companies reporting sales in dollars have moved up in the rankings due to the stronger U.S. currency.
The top five valve companies have average sales of over $1.6 billion each and account for 15 percent of the total sales. The next five companies account for 7 percent of the sales. Therefore, the top 10 companies have 22 percent of the market.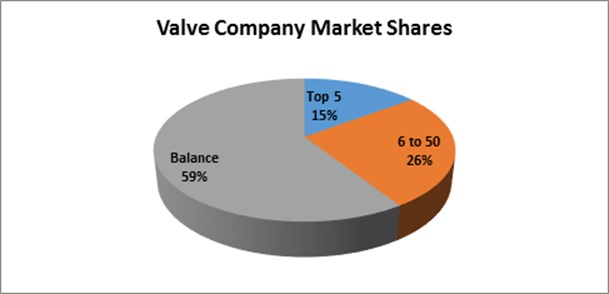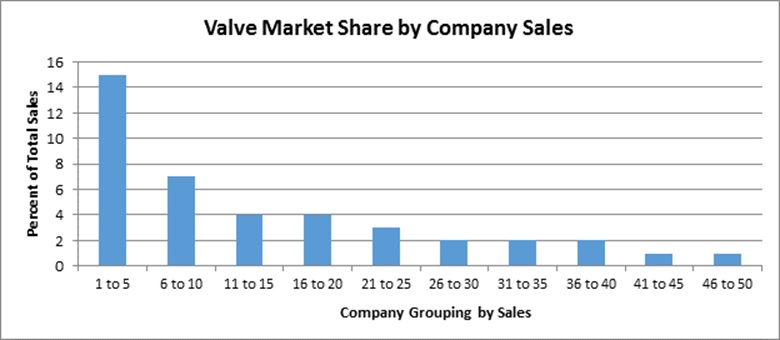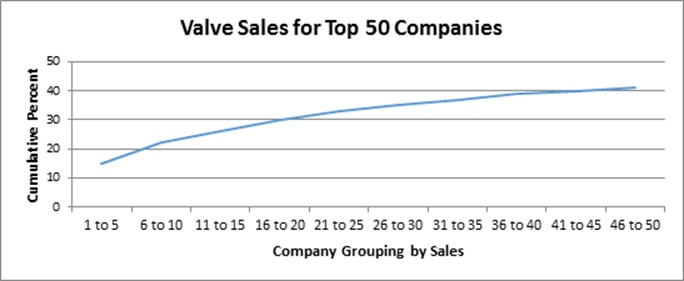 Large valve companies are expanding through acquisitions and organic growth. Purchasers are also expanding geographically and need the support of international valve suppliers. This need is greatest for high performance valves. McIlvaine predicts the concentration of the industrial valve industry generally and particularly for high performance valves will continue. For more information on N028 Industrial Valves: World Market click on: http://home.mcilvainecompany.com/index.php/markets/2-uncategorised/115-n028