NEWS RELEASE JANUARY 2016
Aquaculture is a Steady Growth Market
Fish is a major source of protein for over one billion people around the world, especially in the developing countries. In the U.S. the awareness of protein from fish consumption and other health benefits is making fish farming a profitable business.
Over 70 percent of the world's wild fish stock has been exploited or depleted due to over fishing and, therefore, fish farming has become a necessity.
The market is concentrated in Asia with China and Indonesia accounting for 80 percent of current production.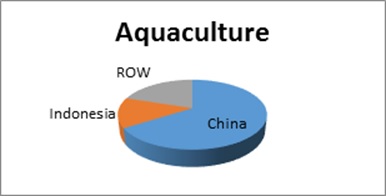 Recirculating Aquaculture has advantages over sea pens and land pondsbecause it reuses all resources, minimizes waste of water and other resources and has least negative impact on the environment. This growing segment uses oxygen monitors, aerators and other process equipment. The recirculated water is continually purified. It is therefore an attractive market for suppliers of flow control and treatment equipment.
There is a direct relationship between weight of fish, input air, gallons of water to be treated and waste products. McIlvaine has compiled a forecast with tons of fish which will be harvested by aquaculture in the next five years in each of 80 countries and sub regions. Each excel spreadsheet also contains a total for the region and continent for analysis of larger geographies. Aquaculture 2015-2021 is an electronic database delivered as an excel spreadsheet with tons of fish forecasted for each country in each future year through 2021. The price is $500. To order contact: This email address is being protected from spambots. You need JavaScript enabled to view it..