NEWS RELEASE JULY 2016
$600 Million Market for Gas Turbine Air Filters
The market for air filters for gas turbines will climb to $600 million per year by 2021. This is the conclusion reached by the McIlvaine Company in N022 Air Filtration and Purification World Market. Much of the growth will be for installations located in coastal environments. Each of these planned projects is tracked in 59EI Gas Turbine and Combined Cycle Supplier Program.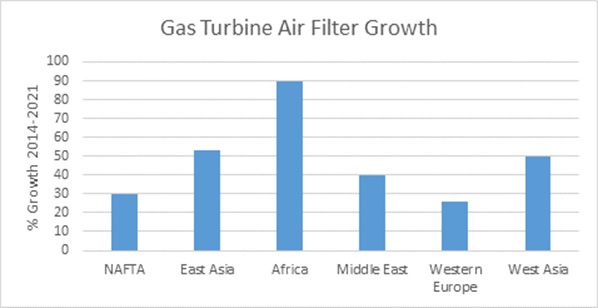 The high growth regions have a greater ratio of plants located on sea coasts. This environment with salt and humidity requires special filter design. McIlvaine has created a gas turbine air filter Decision Guide to help end users select the right air filter for specific conditions. The key is the use of filter media which can withstand the humidity and prevent the carryover of salts to the turbine. It is also necessary to design the balance of the inlet filter house to resist corrosion.
Many utilities are focusing on the coastal problem. Israel Electric has 31 gas turbine systems, all of which are located on coasts. Victor Litinetski, senior gas turbine specialist with the company discussed a successful installation in a coastal environment using advanced air filtration last month at PowerGen Europe.
There will be a number of new coastal gas turbine installations in the U.S. California has a number of plants slated for operation in the next few years.
For more information, click on N022 Air Filtration and Purification World Market
For more information, click on 59EI Gas Turbine and Combined Cycle Supplier Program