NEWS RELEASE JANUARY 2017
Industrial IoT and Remote Operations and Maintenance Will Generate Revenues In Excess Of $1.4 Trillion
Industrial IoT combined with remote operations and support will be worth $1.4 trillion in 2030. This is the conclusion of the McIlvaine Company in N031 Industrial IoT and Remote O&M. Industrial IoT or IIoT is growing faster than IIoT generally and will eventually be a much larger market. It will also be a catalyst for major industry changes which Accenture predicts will add $14 trillion to the global economy in 2030. One near-term achievement is asset management but longer term IIoT will transform the process industries and allow individuals to focus on problem solving and collaboration as machines replace some of their prior duties. It will result in better products produced at lower cost. It will be a catalyst for more rapid development of new products. This includes products made by the process industries and products used in the process industries.
One of the most important opportunities is remote monitoring along with remote operation and maintenance support. Remote monitoring centers have been set up by suppliers and end users such as power plants. Initially they were used primarily to warn the operator of problems such as vibration of rotating parts or temperature increases due to lube oil problems. However, the development of inexpensive sensors and sophisticated software, remote operations and maintenance management will not only be possible but will result in better outcomes.
Software platforms which allow systems to communicate with each other will allow collaborative remote monitoring. System, component and consumable suppliers will collaborate with the operators and subject matter experts to solve problems and improve operations with the introduction of innovative solutions.
The resultant revenues accruing from this development will be $1.4 trillion by 2030. This includes $590 billion of new revenues and $870 billion of revenues which would have otherwise been generated by traditional market routes.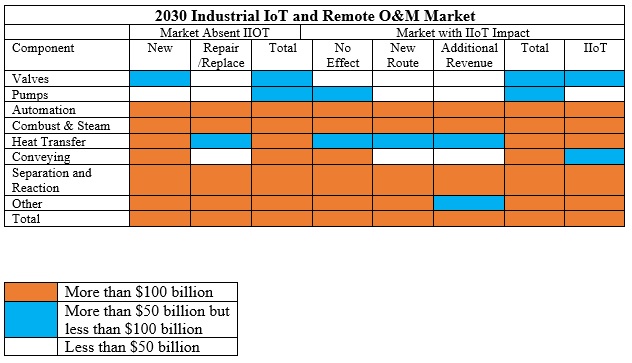 Shaping and forming such as machining are not included. There is a big market already in this area and includes semiconductors, automotive and other industries using castings, forgings, etc. However, the lubrication monitoring in these machining applications is included.
There is much of the new revenue which will be attributed to onsite investments. Many plants will install many thousands of new sensors and will use sophisticated software in the plant to take advantage of the IIoT. The biggest growth area will in the hardware, software and service revenues generated offsite. This remote O&M will create a market exceeding $500 billion by 2025.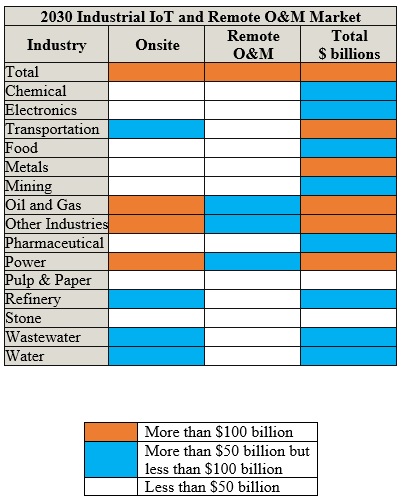 The power industry segment includes nuclear, fossil and renewables along with transmission. It is therefore the largest segment. Oil and gas IIoT is rapidly growing and will be the second largest segment in 2025.
The transportation segment primarily includes aerospace and automotive manufacturing plants but also includes remote monitoring of off-road machinery. It does not include machining applications within these manufacturing plants and it does not include on-road vehicle IIoT.
For more information on N031 Industrial IoT and Remote O&M. (Formerly Air and Water Monitoring) click on: http://home.mcilvainecompany.com/index.php/markets/2-uncategorised/106-n031