NEWS RELEASE August 2017
Liquid, Powder and Gas Analyzer Market Forecasts for 550 Purchasers
In 2018 the pulp and paper industry will spend $220 million for analysers to measure gases, liquids and powders, (Including chips and fibers). These are instruments in continuous service or for periodic use to analyse processes.
The total market for these analysers for all industries will be over $4 billion in 2018. Forecasts by industry and individually for 550 of the largest purchasers are included in N031 Industrial IoT and Remote O&M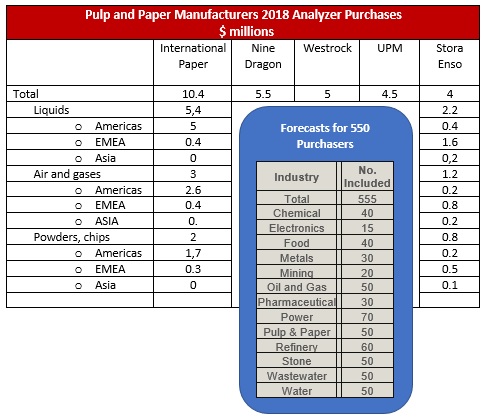 The forecasts for each of the 550 companies include segmentation by type of medium (liquids, gases, powders). Further segmentation is by use. Pressure, flow, and temperature are segmented from contaminant and constituent analysis.
The analyzer suppliers are boosting revenues by including features to more accurately measure and communicate those measurements to remote monitoring centers. Companies such as Yokogawa, ABB, and Emerson manufacture both the instruments and process management systems. This gives them advantages in the new IIoT shaped world.
Other large suppliers are pursuing different strategies. Hach division of Danaher has a good position in water measuring analyzers. Their Chemtreat division supplies treatment chemicals while the Pall division supplies reverse osmosis units. This combined expertise allows measurement of membrane fouling and addition of chemicals to most efficiently operate the processes.
Other instrument suppliers are aligning themselves with process management system suppliers. Endress + Hauser is employing this strategy.
For more information on this report click on N031 Industrial IoT and Remote O&M