NEWS RELEASE September 2017
550 Companies will spend $5 Billion for Sedimentation and Centrifugation Equipment
550 companies will spend $5 billion for sedimentation and sedimentation equipment in 2018. This group will purchase more than 62 percent of the $8 billion total spent by all companies. McIlvaine has a number of market reports on filtration including one on sedimentation and centrifugation which forecasts a 2018 market of $8 billion for these products.
Sedimentation/Centrifugation Revenues - $ millions

Subject

2018

Total

8000

Clarifiers and Thickeners

3400

Decanter Centrifuge

900

Disc Centrifuge

1400

Dissolved Air Flotation

800

Hydrocyclones

500

Basket and other Centrifuges

1000
These are devices which are directly purchased by the plants or purchased by suppliers and then installed in the plants. The purchasing decision can be made solely by the supplier but in many cases, there is at least a plant specification with a preferred vendor list. With IIoT and Remote O&M monitoring decision making will be centralized. Less than 20,000 people at 2000 end user corporations and suppliers will account for 86 percent of all sedimentation and centrifugation purchases. The impact of IIoT the market is analyzed in N031 Industrial IOT and Remote O&M.Top of Form
Sedimentation/Centrifugation Purchases 2018 by Category

Category
Percent
$ millions
Top 1000 Direct by operators
62
5,000
Top 1000 Suppliers for top 1000 Plans
20
1600
Top 1000 Suppliers for Smaller Plants
4
320
Sub total
86
6920
Smaller Plants and Suppliers
14
1080
Total
100
8000
In the U.S. sedimentation decisions have often been made by the consultants such as AMEC, Sargent & Lundy, Black & Veatch, Burns & McDonnell, or Bechtel. In Asia there is a complex tier of decision makers. System suppliers typically include sedimentation and centrifugation equipment as part of their package. Most scrubbers are sold by companies offering a package including initial separation and recycling of scrubber liquor.
McIlvaine is providing forecasts for each of the major suppliers and operators. Here is an example of the forecasts for five food manufacturing companies for the various centrifuge types.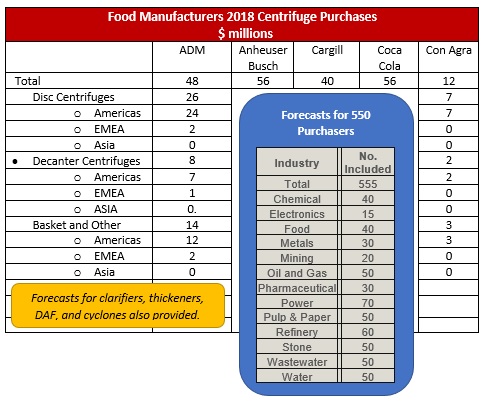 Forecasts for the 1000 largest operators and suppliers are included in N005 Sedimentation and Centrifugation World Markets.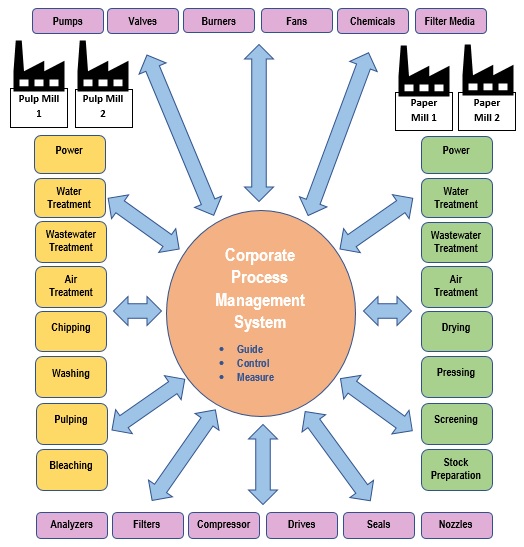 You will see support for the following conclusions.
IIoT & Remote O&M is going to change the market routes and increase the sales potential for combust, flow and treat products and services in 12 industries.
Process management systems will deliver lower costs and increased production
IIoW (wisdom) provided by suppliers will greatly improve results
The cloud analytics will provide continuous white papers on the performance of each component and be the basis for corporate purchasing
Money will be better spent on improving products than on promotion
Component suppliers will both compete and collaborate with the process management systems suppliers to supply the wisdom related software for the component
McIlvaine provides the tools to pursue this opportunity
The IIoT road map plus guide, control and measure product forecasts for 550 companies and for 12 industries are included in

N031 Industrial IOT and Remote O&M

Forecasts for each specific component purchase for each of the 550 major purchasers are provided in specific market reports listed at

MARKETS

Profiles of the 550 companies and sales programs are described at

DATABASES
For more information contact Bob McIlvaine 847 784 0012 ext. 112 This email address is being protected from spambots. You need JavaScript enabled to view it.