NEWS RELEASE February 2018
$250 billion 2022 Market for Guide, Control and Measure in Combust, Flow and Treat (CFT)
The $2 trillion market for products and systems which combust, move, treat gases including air, liquids including fuels and water and free flowing solids is growing at 4 percent per year. Thanks to the accelerating adoption of the industrial internet of things (IIoT), the guide, control and measure products and services segment will be growing at a faster rate than the whole according to the latest forecasts in the McIlvaine publication IIoT and Remote O&M.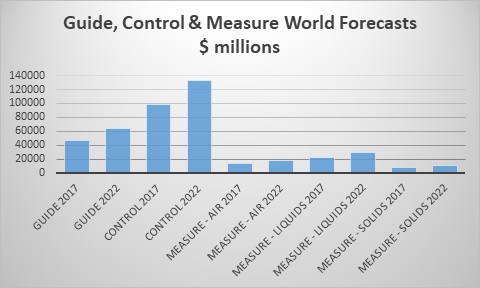 Guide: includes software for process management and support for automated operation of processes. It includes data analytics and subject matter expertise related to CFT. It includes asset management, predictive maintenance and other enterprise management tools related to the operations. It does not include human resources or other non-operations related software. The application scope is the user industries including oil, gas, power, refining, chemical, pharmaceuticals, mining, metals, pulp and paper, water and wastewater treatment and other industrial processes using CFT.
For those industries making discrete products such as semiconductors the scope only includes CFT and not guidance relative to the product manufacturing.
The CAGR for this segment will be 10%. This high growth rate is predicated on the use of the Industrial Internet of Wisdom (IIoW) to empower IIoT and increase the ROI on IIoT investments.
Control: includes all the products from wireless transmitters to cloud based data processing. They communicate and organize data and then operate processes. It includes SCADA, PLCs, DCS, edge computing and then transmission to and from the cloud. This segment has a 7% CAGR.
Measure - air: Analyzers measuring flow, pressure, contaminants, temperature and other parameters for air, stack gas, process gas and vapors (e.g. steam) are included in this segment. It also includes measurements such as vibration of air moving equipment. The segment is growing at 7 %.
Measure – liquids: this segment includes analyzers measuring level, flow, pressure, temperature, contaminants, density, viscosity and other parameters in water, fuels, slurries and other liquids. It also includes related measurements such as corrosion potential or strain on a shaft.
Measure: - free flowing solids. this category is often referred to as powder and bulk solids and includes small diameter particles such as dust conveyed from a filter to larger solids such as grain or coal. Measurement includes, particle size, flow, level, weight, temperature, chemical constituents and other parameters. This segment also has a predicted 7% CAGR.
IIoT and Remote O&M contains forecasts for each product in each industry in each country of the world for the next five years. It also includes forecasts for the 500 largest purchasers. Since these products will be increasingly specified or purchased by the corporate staff and not the plants it is important to predict worldwide purchases by each of the large companies who comprise more than half of the total market.
For more information click on N031 Industrial IOT and Remote O&M