NEWS RELEASE June 2018
Growth in Semiconductor Industry has Impact on Special Combust, Flow and Treat (CFT) Markets
The semiconductor industry growth is higher than that of other industries purchasing combust flow and treat products and services. However, for most CFT products this industry is a small percentage of the total. However, the needs are unique and high performance products with high margins are sold to a relative small number of large producers.
There is a cleanroom consumables market which is included in CFT because these are products which reduce contaminants in the semiconductor plant air. The semiconductor industry is the major purchaser of these products followed by the pharmaceutical industry and a variety of other "clean" manufacturing industries.
The Semiconductor Industry Association says worldwide sales of semiconductors reached $37.6 billion for the month of April 2018, an increase of 20.2 percent from the April 2017 total of $31.3 billion and 1.4 percent more than last month's total of $37.1 billion. The World Semiconductor Trade Statistics (WSTS) organization projects annual global market growth of 12.4 percent in 2018 and 4.4 percent in 2019.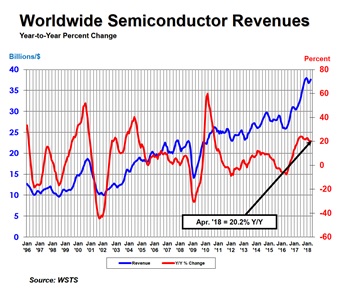 "The global semiconductor industry has posted consistently strong sales so far in 2018, and the global market has now experienced year-to-year growth of greater than 20 percent for 13 consecutive months," said John Neuffer, president and CEO, Semiconductor Industry Association. "Although boosted in part by impressive growth in the memory market, sales of non-memory products also grew by double digits in April on a year-to-year basis and all major regional markets posted double-digit year-to-year gains. The global market is projected to experience significant annual growth this year, with more modest growth expected next year."
The impact of semiconductor growth varies widely depending on the CFT product.
| | |
| --- | --- |
| Product | Semiconductor Market Share |
| Pumps | 0.1% of total market but 15% for special pumps for sanitary and ultra clean applications |
| Valves | Same as pumps |
| Instrumentation | 2% overall but 30% for ultrapure measurement devices which also are used in power and pharmaceutical applications |
| Guide, Control, Measurement as part of IIoT and Remote O&M | 3% but this segment will lead other segments in adoption of the technology |
| Cartridges | 3% for all cartridge types but 9% for membrane cartridges |
| Liquid Filtration Macro Filtration | 0.5% |
| Cleanroom Gloves | 33% |
| Cleanroom Disposable Garments | 15% (pharmaceutical industry is big user of disposable garments) |
| Cleanroom Reusable Garments | 34% |
| Scrubbers, Adsorbers, Oxidizers | 1.5% ( special high performance small units for toxic materials) |
| High Efficiency Air Filters | 23% |
| Treatment Chemicals | 2% |
| Fabric Filters, Precipitators, Sedimentation and Centrifugation Equipment | < 1% |
Market reports on all these products take into account the robust semiconductor growth. More information on each is found at http://home.mcilvainecompany.com/index.php/markets