NEWS RELEASE July 2018
Sea Change in the Industrial Valve Business
There is a sea change in the way industrial valves will be purchased in the future. With increasing use of data analytics and continuous monitoring of valve performance 6600 large purchasers will be making very informed decisions. Lowest Total Cost of Ownership Validation (LTCOV) will become the basis for making sales. Data analytics incorporated in IIoT based programs will provide part of the basis of LTCOV. The interconnection will be enhanced by Decision Systems to facilitate the LTCOV. Valve suppliers are now generating revenues of $62 billion rising to $64 billion next year. Operators are spending $200 billion per year to own, operate and maintain those valves. Furthermore the decisions regarding 84 percent of these expenditures are being made by 15,000 companies and less than 30,000 individuals, all of whom can be identified and pursued well in time to provide maximum influence on their choices.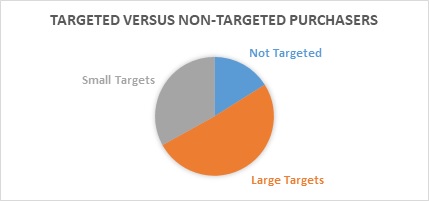 The majority of the purchase decisions will be made by end users. However plant, system and other suppliers will also be either direct purchasers or decision makers.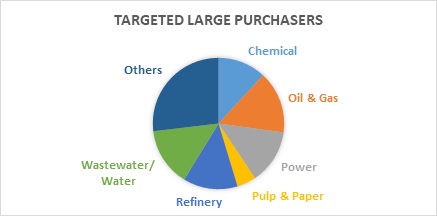 For a new plant (greenfield) the end user is likely to provide a bidder list but the plant, system supplier or engineering firm will probably make the specific valve choice.
Presently most of the repair and service decisions are made by the end user. Guide and control revenues generated by valve companies are small. However, "IIoT and Remote O&M"is creating a sea change in the market and has the potential to greatly increase valve company revenue and impact market share.
Targets are divided into large and small. 6600 large end users will spend $32 billion for valves next year. This will account for 50 percent of total purchases. Smaller targets will spend $20 billion. Non targeted purchases will account for $12 billion.
Five hundred oil and gas companies will spend $4.9 billion for valves next year. Two hundred power companies will spend $4.3 billion. Three hundred twenty refineries will spend $4.3 billion. These 6600 large targets will spend $32 billion for valves in 2019.
These companies can be considered the low hanging fruit. Each will average valve purchases of over $4.8 million. This includes the direct purchases and the indirect purchases through A/Es and plant suppliers.
Relatively few A/Es, plant suppliers and system suppliers will account for most of the purchases by non-users. Large power plant system suppliers such as MHPS, Doosan, GE, Siemens and B&W are major purchasers. Some large oil and gas contractors have valve divisions but they are mostly in specialty areas such as oil extraction. Suez, BEWG and Veolia are examples of companies who both own water and wastewater plants, operate others and also design and offer systems using valves.
Some companies are consultants, OEMs and operators. Jacobs CH2M designs and builds plants in various industries. It operates municipal wastewater plants in a number of countries. Bechtel, SNC Lavalin, and Sinopec are also active in all three categories. Sinopec spends $672 million/yr for valves of which $527 million is for chemical and oil/gas operations and the balance is for design and supply for others.
Valve companies and the large users are already starting to navigate this sea change. However, there are a number of challenges in these uncharted waters. Innovation and all the tools in the Industrial Internet of Wisdom will need to be utilized. Identifying and interconnecting with the 6660 largest purchasers is the best starting point.
Information on Valves: World Markets is found at http://home.mcilvainecompany.com/index.php/markets/2-uncategorised/115-n028
Details on the purchases by major targets are found in
Oil, Gas, and Refining http://home.mcilvainecompany.com/index.php/markets/28-energy/471-n049
Utility Tracking http://home.mcilvainecompany.com/index.php/databases/2-uncategorised/89-42ei
Industrial Plants and Projects http://home.mcilvainecompany.com/index.php/databases/2-uncategorised/93-n032
Municipal Wastewater Plants and People http://home.mcilvainecompany.com/index.php/databases/2-uncategorised/114-62ei-2