NEWS RELEASE July 2018
Market Forecasting by Type of Purchaser
Forecasts for pumps, valves, scrubbers, filters and other combust flow and treat (CFT) equipment are typically divided into new equipment and repair/service. However, with further divisions by use it is possible to forecast purchases by individual customers.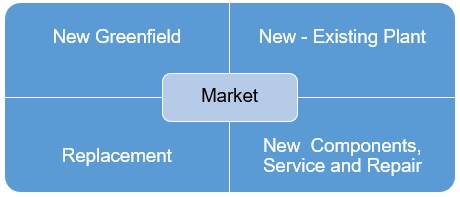 When a system supplier provides a new system at an existing plant, the plant owner is likely to provide a preferred bidders list. If a unit is going to be replaced or for normal service and repair the plant will be the purchaser.
Only a few percent of purchases will be for greenfield plants not owned by companies already operating CFT products. Expansion at existing plants is more common. Replacement of equipment is likely to be a bigger potential than purchase of equipment for a new system. If the industry growth rate is 5 percent and the CFT product life is 20 years, the replacement market will be the same size as the new system market.
Segmentation in this manner shows that the end user is making most of the CFT decisions. Since there is consolidation and centralization of purchasing in industries buying CFT products most of the purchases will be made by less than 35,000 companies.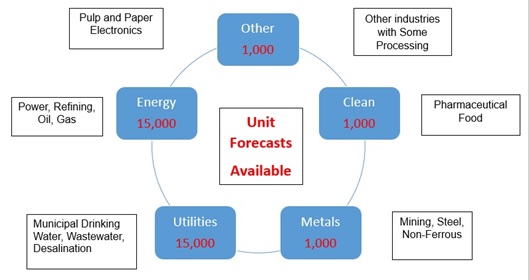 The energy and utilities sectors have the most large purchasers. Other industries have fewer large purchasers but in the case of the food or metal working industry there are many very small purchasers. However their total share is small.
The ability to forecast most of the purchases provides a foundation for a whole new marketing approach. Details are found at www.mcilvainecompany.com